It's the end of an era that I didn't think would come true. I thought it was kind of funny realizing how the backlash with Daniel Craig taking on the mental of playing James Bond was ridiculous, and that was gone very quickly 15 years later. The crazy thing is I've seen around for the ride with theses, with Casino Royale coming when I was in fourth grade, Quantum of Solace in middle school, Skyfall in high school, Spectre in college, and now No Time to Die as an adult. This remains an action franchise beloved by many, and there's no better way to tie things up with what I think will be another hit.
What's the Story: James Bond (Daniel Craig) is enjoying a tranquil life in Jamaica after leaving active service. However, his peace is short-lived as his old CIA friend, Felix Leiter (Jeffery Wright), shows up and asks for help. The mission to rescue a kidnapped scientist turns out to be far more treacherous than expected, leading Bond on the trail of a mysterious villain who's armed with a dangerous new technology.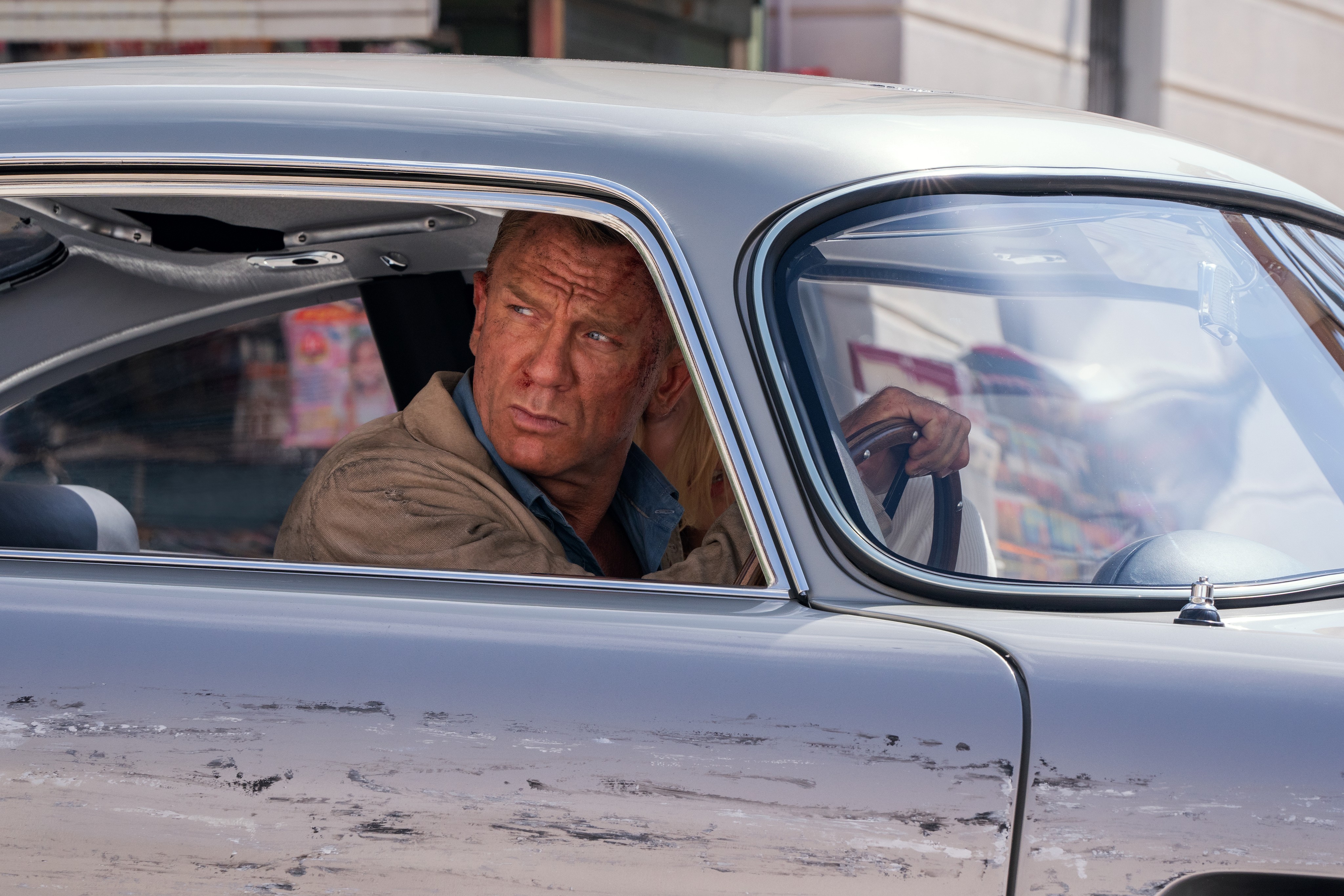 Finally, No Time to Die has come to theaters around the world, and it's one that's been one of my most anticipated films in forever. Of course, it was exciting to know the world is getting another Bond film after six years. Still, it's also bittersweet knowing we'll be sitting through the final outing for what most fans say is their favorite actor portraying the beloved 007 agent. But the road to get here wasn't entirely straightforward. Not only was Danny Boyle first attached to direct it, leaving after creative differences, but this was the first major blockbuster to be affected by the COVID-19 pandemic when it had to shift its original April 2020 date to a then November release date. That was back when it was crazy how studios had to pull their films off the calendar for a chance for everyone to see them. Heck, Craig hosted Saturday Night Live right when the delay was announced, including the now-famous "Ladies and Gentlemen, The Weeknd" meme I'll never get tired of. But here we are as everyone has the chance to see the latest adventure. Excited as I was, you never know what reaction I'll take away from this because I was hoping it'll be like a pattern: Casino Royale was the perfect reboot for fans to love, Quantum of Solace was a big bag of disappointment, Skyfall reigns supreme as one of the best action movies of the 2010s, and Spectre lands on being a mixed bag after re-watching it. But I'm happy to report No Time to Die is unbelievable, and there's no better way to make this a finale everyone can hopefully appreciate.
Even though I still haven't watched every single film in the franchise, I feel it's safe to say we have ourselves the best last movie for an actor to play Bond since Timothy Dalton in License to Kill. Even memorable since Die Another Day did Pierce Bronson wrong for numerous reasons. In this round, Cary Joji Fukunaga is in the director's chair, best known for True Detective and Beasts of No Nation. Considering he's the first American ever to direct a Bond film that's part of the canon, he wouldn't have been my first choice. Still, he brought some of that incredible energy to play in what I felt brought the best of both worlds, with a dash of that classic taste mixed with the modern touch we've come to know by now. That didn't work to its advantage in the last installment, which might be due to Mendes coming back, but it worked so much better in here. What becomes clear is these past five films have a way of staying connected instead of having them be standalone stories, affecting Bond somehow. There's a mention of Vesper Lynn and containing the organization of SPECTRE through this emotional throughline. Hopefully, we get to see Fukunaga helm another action movie soon.
Let's start with the obvious positive in discussing the film, which is Daniel Craig. Craig has been my favorite since the beginning and he delivers an outstanding performance as James Bond. As of now, it's impossible figuring out which film gives his best, but we know he's been on this incredible journey now and you know he's still able to make this character his own, even with subtle nods to the actors who inspired him the most. Was this the time where he was going to be sidelined by the other actors? Nope, this is still his film for the best. This feels like the first time to notice how the character has darkly evolved with each movie, and that's a high credit to Craig's commitment to this role for 15 years now. Even when it's getting older, you still notice how great he is in the action and he captivates us through his charm. It's hard to believe most thought he would be terrible. How dumb were we? Not only that, but Craig always looks dashing when he wears a suit.
We also ourselves some new and returning characters that work in both ways. Léa Seydoux reprises her role as Madeleine Swann from Spectre, a rare occasion of a Bond girl returning. While she doesn't get much to do before, it's a good thing her character is allowed to be fleshed out more when it delves into her past, which we catch a glimpse of in a chilling opening after the gun barrel. The chemistry between her and Craig remains the same here. And seriously, Seydoux is too gorgeous. Then it's also great to see Ben Whishaw as Q, Ralph Fiennes as M, and Naomie Harris as Moneypenny back again. And we get Jeffery Wright as Felix Leiter in his first appearance since Quantum of Solace. As for the new characters, oh how much I loved them so. Aside from Craig, I couldn't get enough of Lashana Lynch as Nomi. Ever since she was announced to be part of the cast, some have worried about how she will be the new agent with the 007 number. Why worry? She becomes 007 since Bond went rogue on retirement, and she steals nearly every scene she's in. The back and forth between her and Craig is what you would expect. We also have Ana de Armas as Paloma, a CIA agent who assists Bond on their mission in Cuba. Unfortunately, she doesn't have that much screen time, but I wouldn't call her performance wasted since she kicks ass in her scene. Let's hope she appears once more in a later film. Plus, it's also nice to see a little Knives Out (so good) reunion with the two, and de Armas is always a beautiful win.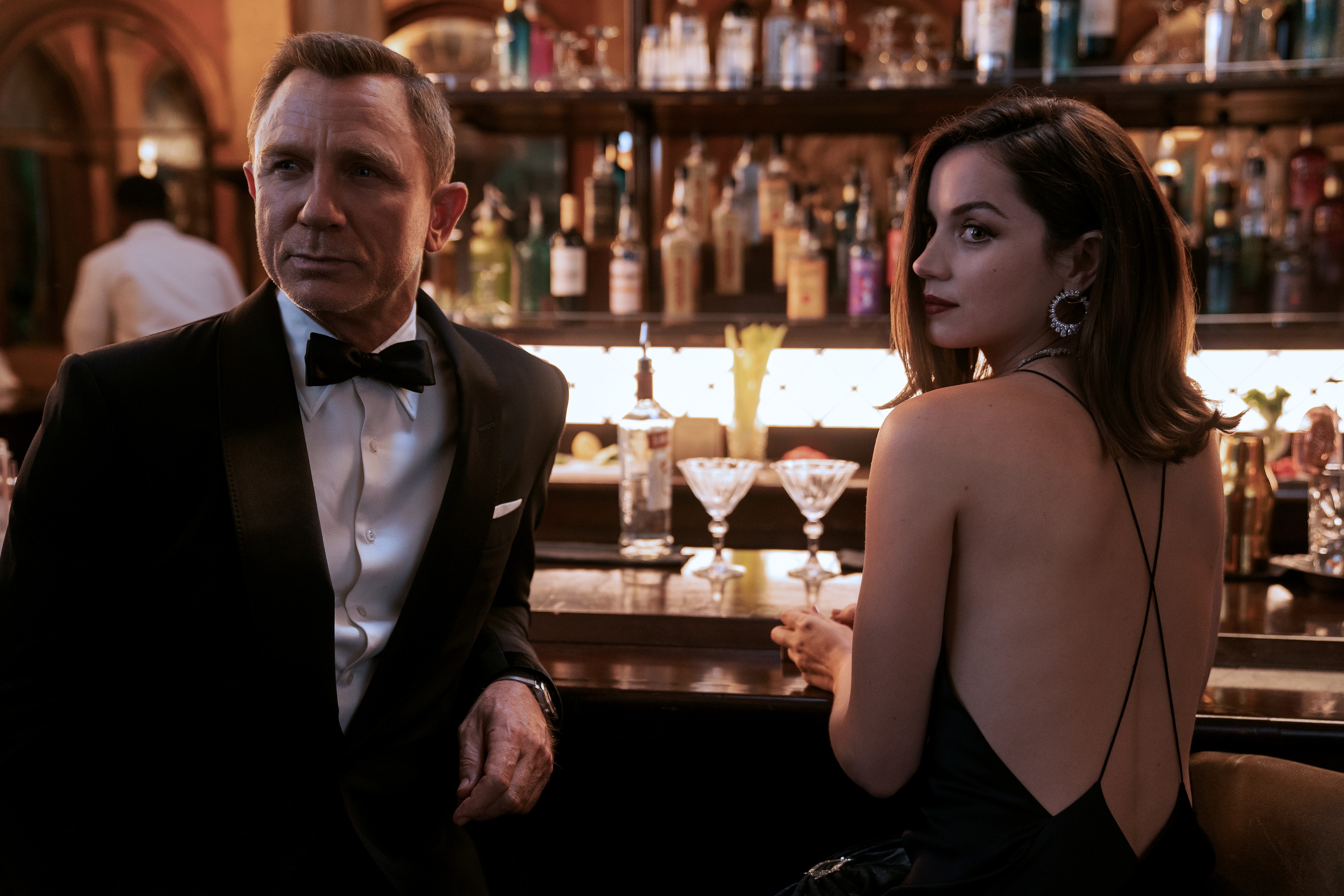 We are also treated with a new villain in our introduction to Rami Malek's Lyutsifer Safin. An interesting actor to play the next Bond villain, and to me, this is his first massive role following his Best Actor win for Bohemian Rhapsody. To no one's surprise, Malek presents Safin as creepy and unsettling with the path of vengeance towards Madeleine. Was he powerful as I expected him to be? I probably wouldn't go that far since I felt his character was underused where his role wasn't as bombastic as I thought despite a good performance from Malek. He just didn't have enough screen time to make him entirely threatening besides knowing the connection he shares with one character. And for him to be subtle without going over-the-top was a safe play for Malek to take on. However, he's not another one of those weirder villains from before. Of course, I wouldn't put him on the same level from what we've seen previously with Le Chiffre and Silva; nobody will ever compete against those two, in my mind.
But you go into a James Bond movie wanted to get blown away by the action, and they certainly didn't disappoint me. Just in the first 30 minutes before the opening credits, I had a smile on my face the entire time since I had a feeling we were getting some stellar action when the story calls for it. I feel it's not at the peak of what we've seen in Skyfall, but Fukunaga and the rest of the stunt team pulled them off. This set piece in a foggy forest in Norway was exciting, and the opening car chase in Matera was breathtaking, which was shot entirely in IMAX. And we also got a pretty quick one-shot where James goes up a stairwell with these goons. Once again, the gadgets are limited, but you have a killer scene with the Aston Martin DB5 you probably saw in the trailers. The one downside is the rest of them aren't present in the typical IMAX aspect ratio. The action stood out the most because I felt there were high stakes to them that probably wasn't thought of prior where any character might not make it.
What else does No Time to Die deliver? So much. I'm a sucker for a good-looking action movie, and Linus Sandgren's cinematography is very stunning, which is no surprise coming from the man who won an Oscar for shooting La La Land. Hans Zimmer came in to replace Dan Romer to provide the score, and it's shocking the combination of Zimmer and Bond hasn't happened sooner since I listened to it again right as I got home. It's no Thomas Newman, but he gets the job done with a few clever nods to past films.
A day after riding the high on the 25th entry, I had a couple of issues that could be the same for others. These issues probably won't bother me on a repeat viewing, but I had these on the back of my mind. For one, it is a long film, running at 165 minutes. Being the longest Bond film yet, it never becomes boring, though some scenes can feel stretched out when there is action happening on-screen. And sometimes, the story can appear convoluted right around the third act. Series' regulars Neal Purvis and Robert Wade wrote the script with Fukunaga and Phoebe Waller-Bridge, and I'll admit, it does get a bit confusing on what's going on in the third act where I had to look up what exactly happened. They're more of the catchy one-liners that didn't bother me, though the inclusion of the MI6 scientist Valdo Obruchev came across as a cartoon character as the film continues.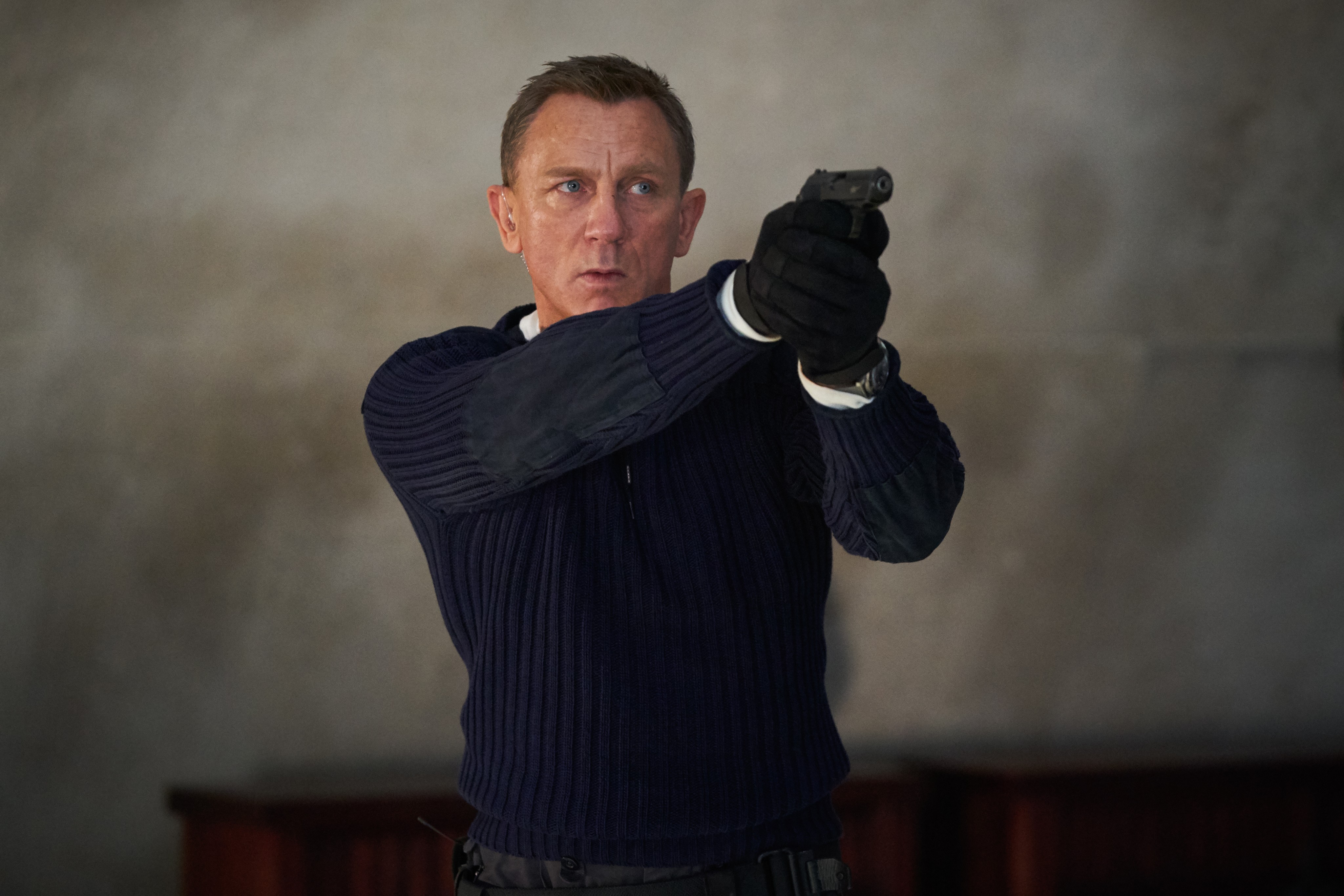 I didn't know how the film would play out with those high expectations, and it doesn't for that predictable formula frequently found. And it's a good thing we didn't have Spectre be the last movie. What we got with the finale was surprised, and I wasn't sure if they would go along with what was made. I didn't find myself emotional when it ended, but it was worth ending the film.
Bond Theme Corner:
As with constantly talking about the themes that appear in each film, Billie Eilish performs the titular title track. Eilish's, the youngest artist to perform a theme, recent music hasn't been my jam lately, but "No Time to Die" has grown on me ever since it was released early last year. The moody lyrics from Eilish and her brother Finneas represent the dark tone of the film, and it works effectively during the opening credits. Honestly, it sounds like a better "Writing's On the Wall" than "Writing's On the Wall." We could see an Oscar nomination for Best Original Song, and it already won the Grammy for Best Song Written for Visual Media.
With No Time to Die, I certainly had a blast with one of the franchise's most ambitious installments that won't be forgotten anytime soon. It's going to be difficult knowing a true Bond fan will find this disappointing when it's the exact opposite as the best send-off to think of possibly. Besides those couple qualms, I couldn't ask for a better farewell to an actor's tenured iconic character that I can still consider my favorite. This needs to be seen on the big screen and not on some giant television screen. I love Craig, and I must say I'm proud of him for continuing to play this role for everyone who has loved him since his first outing in Casino Royale. Now that he's finished, there's nothing harder than imagining another actor to play this character with a new set of class.
Final Thoughts: No Time to Die is the satisfying conclusion we rightfully deserve in this era of James Bond. It's definitely long, but it doesn't matter when Craig's performance, cinematography, and all its action sequences left me captivated. A part of me wants to see this in theaters again to see if I can love it more before the end of the year, but I still had a fun time sitting through one of the coolest action movies this year.
My Ranking of the Craig Bond Films from favorite to least favorite:
Grade: B+