What's the Story: A cryptic message from the past sends James Bond (Daniel Craig) on a rogue mission to infiltrate a sinister organization known as SPECTRE. Meanwhile back in London, Max Denbigh (Andrew Scott), the new head of the Centre for National Security, questions Bond's actions and challenges the relevance of MI6, led by M (Ralph Fiennes). As Bond ventures towards the heart of SPECTRE, he learns of a chilling connection between himself and the enemy (Christoph Waltz) he seeks.
There was only one action movie worth caring about six years ago, and it was Spectre. In the three years since we last saw the inspiring 007 agent back in action, let's not forget Skyfall turned out to be one of the best in the spy series, and it simply accomplished what a sequel needed to be. With Sam Mendes returning to direct, the hype was pretty real for this to succeed.
For me, Spectre was in my top five most anticipated films of 2015 for many reasons. Strongly enough, that year gave us a lot of spy-centric movies for the world to get by on. Because of that, it would be easy to think it would be on the same excitement level as its predecessor. This could've been awesome with this, where it could be like Mission: Impossible- Rogue Nation or ease on an unmemorable lane like The Man From U.N.C.L.E. I haven't seen it since opening day, and after re-watching it just recently, I can't say I'm more positive as I used to think about the 24th entry.
With this serving as a follow-up, it would be impossible not to find this as another thrilling adventure for Bond. When it comes to Spectre and how it was played out, it does harken back to the classic/ old school techniques with style, including opening with the famous Gun Barrel sequence, some gadgets, and the gorgeous women, maybe that was Mendes intended to do here. So while it carries all the material that makes the character the way he is, that doesn't mean working off the basic formula won't make the entire experience work 100% of the time. Mendes probably wanted to go in that direction while still making it modern enough, but it made me wonder why he was brought back. I've always liked how the previous films gave off a different vibe that still makes them unique in their way.
In his fourth time portraying James Bond, Daniel Craig still brings that committed outlook to his performance. A part of me had me worried it would be noticeable he already grew tired of the role based on his then comments about he rather slash his wrist if he did another one of these. Yet, without acting in anything between the two films, I thought he was still serviceable is never losing what it means for him to be Bond, continuing to showcase why he's the best.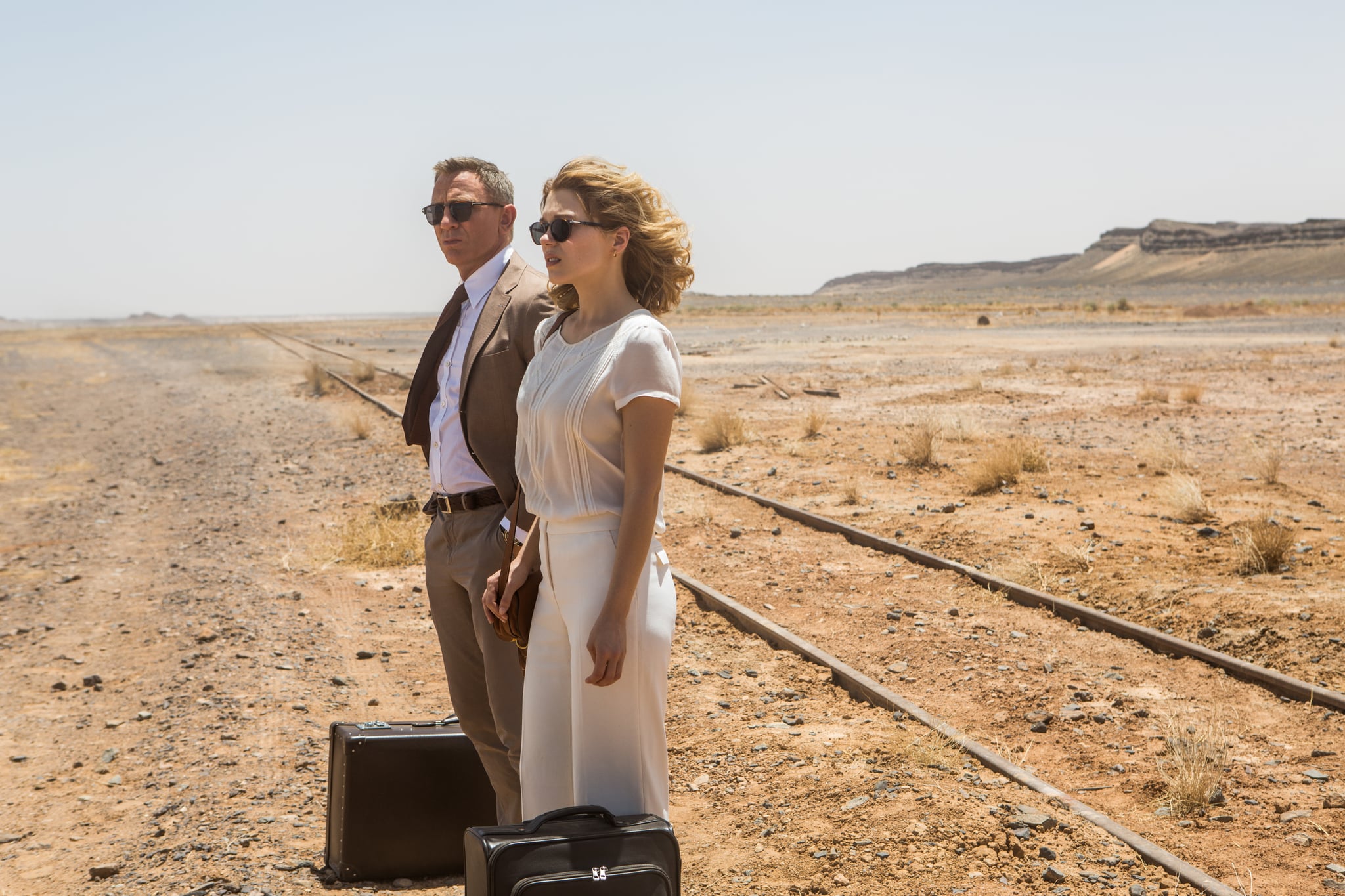 With the rest of the supporting cast, French actress Léa Seydoux as Dr. Madeleine Swann wasn't too bad, and she's undoubtedly one of the most beautiful Bond girls we had. The chemistry she shares with Craig grew on me, and the film went on, but I don't know if I entirely bought their quick romance when they tag along on this mission and Bond must protect her at all cost. That could be explored more in the next film, but I don't believe she's his one true love. The returns from Ben Whishaw as Q, Ralph Fiennes as M, and Naomie Harris as Moneypenny did the best with what they were given. But if you're expecting much from Dave Bautista as the assassin Mr. Hink or Monica Bellucci as the oldest actress to play a Bond girl, they don't get much to do here. Bautista doesn't get as much dialogue as I thought except for one word, but he proved to be a badass in his scenes.
And I'll say this about the action: There's more in here than in Skyfall, but they were still exciting to watch them. It already grabbed me with the opening sequence in Mexico City, Day of the Dead parade that opener with a tracking shot that'll tell how much Mendes like his long takes. But then it delivers with a pretty slick car chase with a sweet Aston Martin DB10 along with a fight scene on a train that was able to keep that momentum going.
But the biggest problem why Spectre rides down the middle is because of the story. We aren't dealing with a brilliant storyline this time. It wasn't great since it felt disjointed and unfocused whenever it cuts to Andrew Scott's Max "C" Denbigh, who wants to move past the bygone age of using agents and use more surveillance over at MI6, that subplot just doesn't have anything interesting to provide when it comes across as unimportant when it doesn't involve Bond. And it's more or less about the SPECTRE element that didn't work for me either. This was the first time the mention of the criminal organization since 1971's Diamonds Are Forever. There's no issue with how those films deal with Bond's personal life, but it's feels forced when SPECTRE has to be connected with him was almost head stretching. Also, it has a third act climax that was certainly underwhelming, where it led breadcrumbs to the end didn't keep me interested. And it's 8-minutes longer than Skyfall, and the pacing doesn't always work fully.
We've seen our fair share of memorable villains James Bond has faced against in his time. So it was pretty interesting to hear Christoph Waltz was going to be the film's main villain. Unfortunately, I thought Waltz as "Franz Oberhauser" was wasteful who didn't get to do that much to become menacing. His first scene with a shadowy appearance seemed promising, but then he doesn't show up again until the 100-minute mark. Also, it was self-evident who he was really playing if you're a true Bond fan or just from the title alone. It happens to be Ernst Stavro Blofeld. I felt Waltz was getting typecast in villainous roles, but they never won me over after his Oscar-winning role as Col. Hans Landa.
Bond Theme Corner:
As with the music, Thomas Newman returns to compose and gives us another listenable score, though not as great as his previous work in the last one. The theme was titled "Writing's On The Wall" by Grammy-winner Sam Smith. The first time I listened to it was during the movie after that fantastic opening, and honestly, it's probably the most boring Bond theme I've heard thus far. The worst part is it gets stuck in your mind, and not in a good way. Smith is hit-or-miss for me with his music, but I thought he was trying too hard to copy the success of Adele's song, and it doesn't even touch what the other songs had—matched with the uninspired opening credit sequence, that's a combination that didn't sit well with me. On the other hand, Radiohead recorded a rejected song that's slightly better, and the reason why they didn't choose it was because it was "too dark." Despite the mixed reviews it received, it won the Academy Award for Best Original Song. So undeserving since it wasn't even the best song from a movie that year. That award should've gone to Lady Gaga or "See You Again" from Furious 7, which they didn't even nominate for reasons I don't understand.
Anytime Spectre's brought up, it seems to be one of the more divisive Bond installments, where you either love it or find it to be lackluster. Either way, while it wasn't on par with the last one with the reviews and box office, it still made $880 million worldwide. So it's a shame I didn't love it as much as I wanted to. But even with those high components that work well, some things could've been improved upon. I wouldn't say this is nowhere near Casino Royale or Skyfall, but it's at least better than Quantum of Solace, and that's a fact. Thankfully, this wasn't Craig's swan dong when we all know the upcoming follow-up will make for one exciting conclusion that won't leave frustrated.
Final Thoughts: Spectre had a tough act to follow, and it did not lead to much captivation as expected. While it contains exceptional action sequences and an acceptable performance from Craig as Bond, the pacing and muddled script make for a disappointment upon rewatching.
Grade: C+