What's the Story: The marriage of Princess Diana and Prince Charles has long since grown cold. Though rumors of affairs and a divorce abound, peace is ordained for the Christmas festivities at the Queen's Sandringham Estate. There's eating and drinking, shooting and hunting. Diana knows the game. But this year, things will be a whole lot different.
After making its debut last month at the Venice International Film Festival, I had the great opportunity to see Pablo Larraín's latest Spencer at the Heartland International Film Festival, my first festival to attend. And it's almost crazy how we see the popularity of the '90s recently, which includes different portrayals of one of the most influential women to ever lived. Before walking in, I didn't know what Spencer was going to be about. Instead of being just a conventional biopic about her, it serves as a tribute to her in what's going to be a film that'll like divide many, but one I didn't think could love as it was over.
Spencer does a tremendous job of making sure the focus is on her and not having that much interest in the royal family. But, as someone who doesn't know a ton about her or the personal life she brought to the world, it is a hard feeling knowing she's been gone for a long time now. Because it's Larraín, it carries over that same atmospheric mood from Jackie, which I happened to enjoy with one of Natalie Portman's most incredible performances. As you're watching it, not only does it look natural for a story that's probably not entirely accurate, but it's like you've traveled inside a dream you can't let go of once it starts.
When we saw the first official image of Kristen Stewart as Diana, there was no way that could be her, but it was. Honestly, I didn't know what to think when it was announced, and this is, without a doubt, my favorite performance she has ever given. Maybe I said this last year when talking about the underrated Happiest Season, but watching her completely transform into Princess Di totally surprised me just from her first scene. The best part is her own take on this portrayal that's different from what people have watched recently with Emma Corrin's award-winning work on The Crown. She perfectly nails her voice and certain mannerisms. We're able to catch on pretty quickly how Larraín and screenwriter Steven Knight (Locke, Peaky Blinders) have us in her mind. We're meant to feel the same struggle Diana faced at the time or how the royal family wants her to manage these high expectations they want from her. But, because of Stewart giving it her all here, we have this sadness of the character in just wanting her to be free from the stress of her day-to-day life at the time.
Watching this made me happy never to be a part of a royal family. I've always felt the pressure watching down on Diana; she wants to do stuff herself without someone looking over her shoulders, especially when getting dressed. After this, it made me want to read an autobiography about her and not watch that other biopic with Naomi Watts that I heard was dreadful.
Larraín made it his mission to make this a character piece that spans three days in the vein of a psychological drama that has the same effect as sitting through a play. But, of course, you have to be in the right mood to watch this since it settles on what the tones will be in the first 10 minutes, and it's one where it has to be on a rainy afternoon as opposed to being happy. So it's an experience more than a film where you can feel his direction through this estate and catching this sense of claustrophobia Diana must suffer from. That being said, I was surprised with it having some genuine moments of humor that had me and the audience I saw it with laughed at. The scene that stood out the most is the candlelight moment with Diana and her songs, William (Jack Nielen) and Henry (Freddie Spry), and it's definitely one of the most moving scenes so far this year.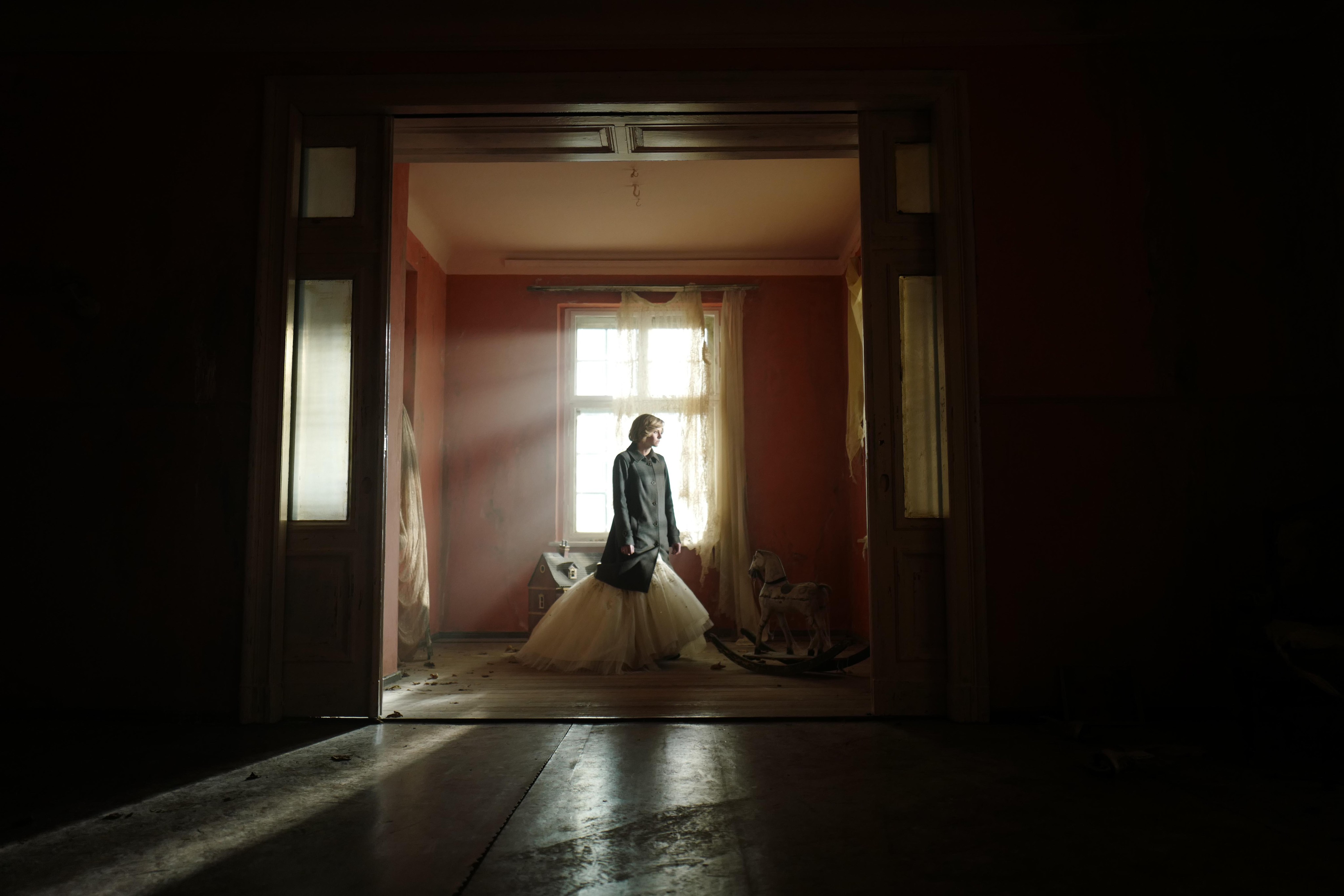 Much like Jackie, Spencer goes for that slow burn motion almost throughout, which I had expected. For me, it didn't bother me aside from probably two scenes in the second act. It will be difficult to recommend this to someone like my mom since some might think this was nothing interesting to say for a runtime of 111 minutes. That might be my only negative in an overall brilliant drama. The supporting cast from Timothy Spall, Sean Harris, and Sally Hawkins were equally excellent when acting alongside Stewart.
As with the technical aspects, I couldn't stop gushing about it while driving home. The costume design from Jacqueline Durran is perfect in presenting the kinds of dresses Diana wore back then, and if a film doesn't take place in the present, you get Durran to prepare the outfits. The cinematography from Claire Mathon (who also shot Portrait of a Lady on Fire) is simply stunning from every frame. And Jonny Greenwood delivers one of his best musical scores yet that had this fusion of jazz mixed with his music from There Will Be Blood.
Overall, Spencer gives us a mesmerizing portrayal that can find and explore the personality that we know must break free. It's a human story that won't please everyone, but it's worth checking out once it comes out near you. In terms of awards, call me crazy, but Stewart was so great; she might be the front-runner to possibly in Best Actress, which I'll be more than happy with.
Final Thoughts: Spencer is quiet and melancholy, with a hint of being beautifully haunting. It's a slow burn that won't be for everyone, but it's one that still kept me engaged. Kristen Stewart's performance as Princess Diana is undoubtedly flawless.
Grade: A-