Knowing we have a new film from my favorite filmmaker Steven Spielberg, the world can be better. Not only that, but the most exciting thing is that it's a musical. Just based on what he's been delivering to audiences over the decades, he can do whatever he wants. For being a two-time Oscar-winning director, he can make a masterpiece about dinosaurs, a boy and his alien, or a story of a shark terrorizing citizens on the beach. With his reimagining of West Side Story finally dancing its way to theaters after being pushed back a whole year, there was a lot of confidence to know he could pull off his take of one of his favorite films. And with this being his first of the 2020s, let it be known the man has made his best since Catch Me If You Can.
What's the Story: In 1957's New York City, two rival streets gangs have been at each other throats in their neighborhood: the Caucasian Jets and the Puerto Rico Sharks. Tony (Ansel Elgort), who's on parole after almost filling a rival gang member, catches the eyes of the beautiful María (Rachel Zegler), who's new to the city and is living with his brother Bernardo (David Alvarez) and his girlfriend Anita (Ariana DeBose), across the dance floor at a late-night social. The two quickly fall in love despite being from different sides of the track of forbidden love.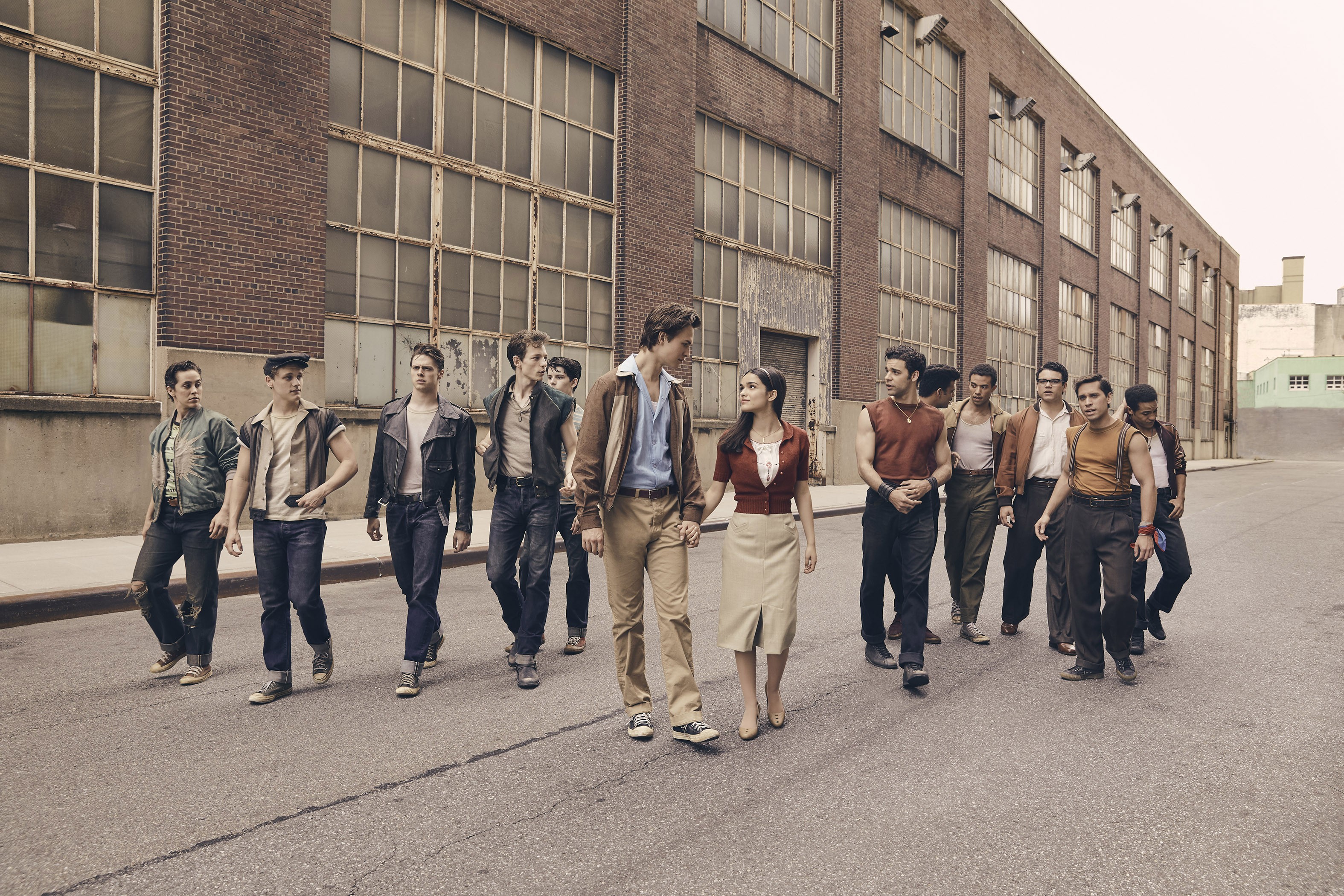 Being one of my most anticipated films of the year, this was my first experience with this story. I know. It all started as a 1957 Broadway musical inspired heavily by William Shakespeare's Romeo and Juliet in the present that ran for 732 performances. Big names were behind the creation, as Arthur Laurents wrote the book, Leonard Bernstein wrote the music, and Stephen Sondheim wrote the lyrics. Sadly, Sondheim, the musical theater legend, passed away recently at the age of 91. Then, the show's popularity turned into a feature adaptation from 1961 directed by Robert Wise and choreographer Jerome Robbins. Regarded as one of the best movie musicals of all time, it received 10 Academy Awards, including Best Picture. In the hands of someone like Spielberg seems easy enough since he completely fell in love with this when he was a kid. Luckily, this is what a memorable musical should be and more.
There was never questioning why West Side Story needed to be remade. If Spielberg wanted to adapt an over 60-year-old piece of art, you would let him. Besides, you can't really complain when Broadway shows constantly get revived with a new cast and everything. And this had the appeal of sitting in front of a show with high production value and making this come to life. We basically have a love letter to what everyone loved before, even if it means watching the original movie or having been in a high school version when they were teens. As he's working alongside writer Tony Kushner (Munich, Lincoln), they know how to blend everyone into this world that works to reinvent the Romeo and Juliet story and keep the film as faithful as possible. Did I have an idea of how it will all play out based on the structure? Yes and no, and it kept me glued to the screen in what would happen with these characters and wasn't going to bother me with specific changes that didn't carry over to here. If there were, it might've enhanced the film overall.
Let's now talk about the cast because that's always important to keep track of when witnessing anything from the genre. To start off, we have newcomer Rachel Zegler playing the role of Maria, initially portrayed by the late Natalie Wood. Many of us didn't know who she was when she was announced for this role, and she's best known for cover songs on her YouTube channel. The hopes were high for this unknown, especially when your first film is being helmed by none other than a legend. But, thankfully, it's a role that won't be forgotten anytime soon. In her acting debut, Zegler gives one of the year's best performances that stays forever as one of the strongest debuts from a young actress since probably Hailee Steinfeld in True Grit. Just the dramatic heft, with the addition of a fantastic singing voice. I was already in the mindset to love her walking into this and crushing it to be the next big name in Hollywood.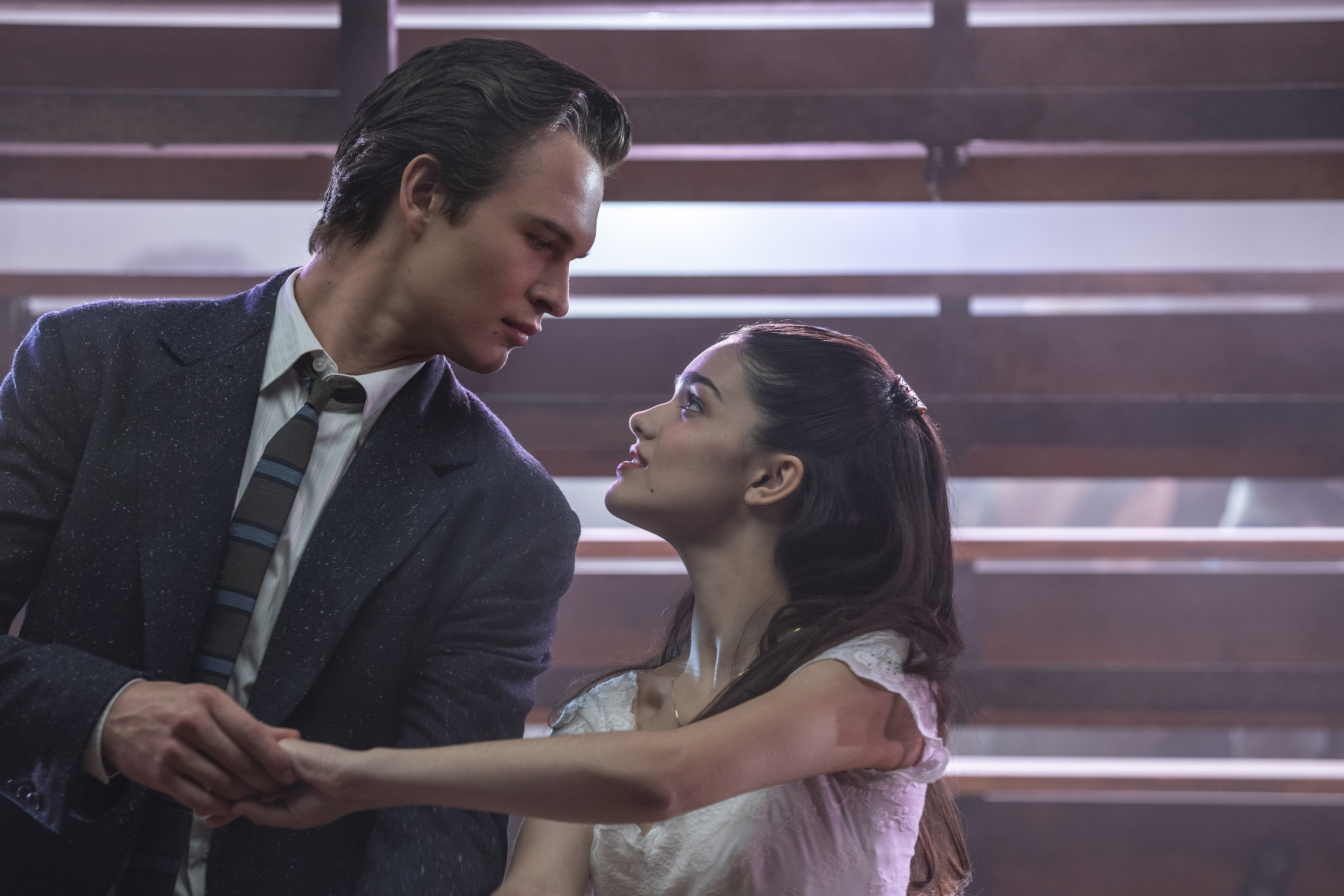 But not just her that's full of surprises; everybody will also be talking highly about Mike Faist and Ariana DeBose as Riff and Anita, respectably. Faist, best known for his Tony-nominated work in the Broadway productions of Dear Evan Hansen and Newsies, was another actor I wasn't familiar with prior. It was almost like he was born to play the leader of the Jets who isn't afraid to get into a fight. Just the first few minutes we see of Riff indicted I was going to love him. And as for DeBose, this was finally the time to showcase her acting skills more. She last appeared in last year's musical The Prom, which I didn't feel her character gave much to work off for the means of the actual movie. None of that is in here when she puts in a nice spin on the character of Anita where you want to pay attention to what she's saying or doing since there's something about DeBose's screen presence that's hard not to look away from when keeping her Bernardo intact. That hits in the third act alone.
Without delving into the backlash he'd been covered with over the past year and focusing solely on his performance, Ansel Elgort as Tony did have me worried based on wondering if he would be a bland or miscast lead opposite Zegler. And while he's probably the weakest out of the bunch when everyone else is at the top of their game here, I wouldn't even say it's an excellent performance. However, he still does a reasonably good job conveying his emotions during his acting and singing chops. In addition, there's good enough romantic chemistry between him and Zegler to make sure this love between them is believable. That said, it's a romance that's a bit rushed and understandable for those thinking it wasn't entirely reasonable, especially for being the central point of the film. I also have to mention David Alvarez as Bernardo to make his character come to life, and we have Rita Moreno. She played Anita in the original and won the Oscar Best Supporting Actress. The EGOT wasn't in it as much with her playing shop owner Valentina, but still memorable nonetheless.
With this being a true musical first and foremost, of course, it made me want to listen to the soundtrack while writing all of this? It would be a massive disservice if I didn't. So those who loved the original songs of what came before are still here with new actors (without dubbing over), giving them a unique taste, and there are no complaints of what came from the creative brains of Bernstein and Sondheim. This was my first time hearing all of them together, and they represented each scene of when it comes into play as expected. In addition, I knew a few from listening to them in passing that still sound great, from "America," "I Feel Pretty," and "Tonight." Just imagine my excitement whenever there's a moment of the actors dancing on screen. Everything about them was incredible in watching Justin Peck's choreography displayed on the screen that's on pace with how Robbins' delivered before, especially during "Cool" or anything with the dance at the gym. Full-on incredible. Everything about them made me wish I had the body to dance like them, and I danced a little when I was in choir in high school but not to that extent.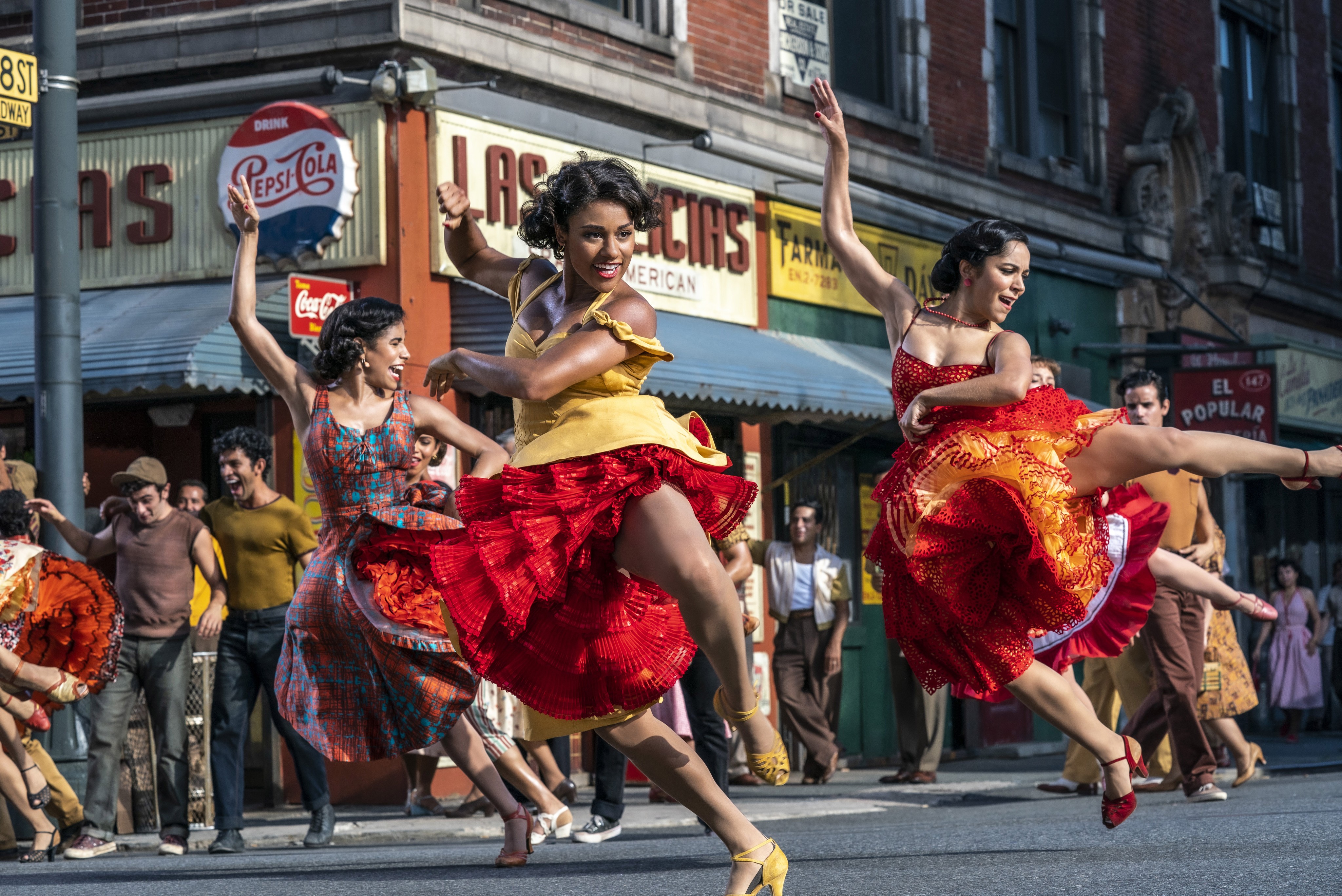 You think about West Side Story made and wonder if it makes sense to be touched again today. In a time where it can still be troubling for immigrants to feel like they belong in the country and the amounts of ignorance that comes with it. The love between Tony and Maria puts them in danger of both these sides. It's a credit to Kustner's screenplay that manages to give this the timely update it deserves without shying away from those heavy themes. And it was on purpose to never use subtitles whenever a character is not speaking English to understand the dialogue for ourselves. Spielberg and his usual suspect of collaborators to bring everything to life don't disappoint. Every shot from cinematographer Janusz Kamiński is stunning that can be important as a puddle shot that almost blew me away. And the editing and production value to make the streets of New York of the past is unbelievable how we're able to be transported back in time.
As for flaws that might've kept this from being the placement of masterpiece, the pacing can sometimes dip as it's already over two and a half hours long. Still, they liven up when an exciting musical number occurs on screen. 2021 turns out to be a solid year for the genre, which had me nervous about how this was going to turn out since I have an appreciation for In the Heights and recently with tick, tick… BOOM!. What a sign of relief to hopefully see this in my best list of the year. But are we looking at a serious Oscar recognition? Absolutely. We could see this being the film with the most nominations, as I can see this getting the spots for Best Picture, Spielberg for Director, Adapted Screenplay for Kushner, and many more. Honestly, I'll be more than down to see another musical from him, whether an original or based on something familiar.
West Side Story lets the world know Steven Spielberg can handle a damn great adaptation of one of the most celebrated musicals ever made. From its songs, the flawless choreography, and stunning performances from Rachel Zegler, Mike Faist, and Ariana DeBose, it's a massive win for those who grew up with this work. With it being one of the better remakes in a long time, I genuinely sense there will be a lot of respect for what we've gotten here that will have fans fall for this as well. And thankfully, this did persuade me to finally watch the original to compare and contrast.
Grade: A-