Maybe it's just me, but I've been waiting for a new musical to get the feeling of singing and dancing in public appears normal without the judgment of others. 2021 seems to be a huge year in musicals, with the big-screen adaptation of In the Heights being the most talked about. Not that I wanted on the level of a masterpiece like La La Land, but I desperately needed a memorable musical adaptation that wouldn't fall under straight-up abomination (Cats) or needed some improvements (The Prom). Thankfully, it's the kind of films like this that will make audiences believe in them once again.
What's the Story: In Washington Heights, N.Y., the scent of warm coffee hangs in the air just outside of the 181st St. subway stop, where a kaleidoscope of dreams rallies a vibrant and tight-knit community. At the intersection of it all is a likable and magnetic bodega owner who hopes, imagines and sings about a better life.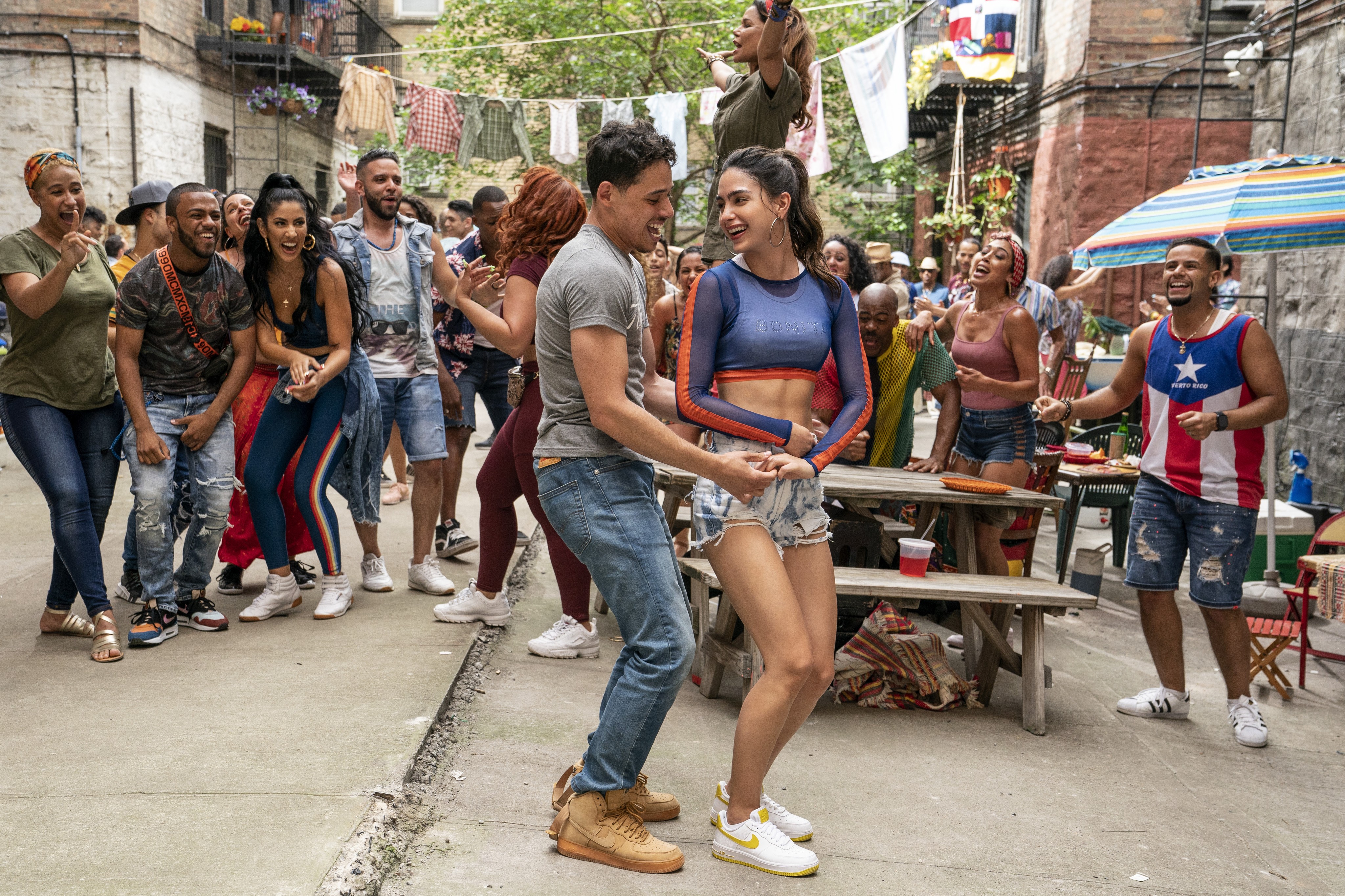 In the Heights was a very anticipated film for me this year. This is a feature adaptation of the musical of the same name from Lin-Manuel Miranda, which was his huge project into the music scene when it had its debut on Broadway in 2008 and led to winning four awards at the Tonys, including Best Musical. Before Hamilton was the hit we know it to be now, Miranda started big a decade ago. I've always heard of it but knew little background behind it. Until recently, making it into a film took a long time to get made back when director Kenny Ortega would have directed it for Universal Pictures; but they decidedly canceled it. But Warner Bros. picked it back up with a brand new team involved until it had to be taken off its release schedule because of the pandemic (duh) and was meant to come out last June. That being said, all I wanted from this is to be entertained and feel a sense of joy while watching. And even though I'm one of the last people to see this after everybody saw it in advance, I couldn't believe we had to wait an entire year to see a burst of energy from a musical.
This is coming from someone who chose to walk into this cold without listening to any of the music, similar to my experience with Hamilton, and it's sometimes a tough job to make a film adaptation of a popular Broadway musical the right way without the peer pressure of hardcore fans out there. Director Jon M. Chu had the task of bringing to life Miranda's songs and screenwriter Quiara Alegría Hudes' writing to more than a stage play, and I have to give massive praise for making this in the style of an actual musical in which he certainly has an eye for doing justice to them and accomplishing them better here than in his previous efforts. Just like in his last box office hit Crazy Rich Asians, he worked with this incredible ensemble cast with all these musical numbers better than most directors have done recently. Making Washington Heights a character of its own in the present-day era made it feel like a love letter to the neighborhood and the important people who represent it in the past and now, and that's what I expected Miranda wanted to explore when writing the play. Even while not all of us are from or live in New York, Chu still makes us resonate with those living in the community. And you know what, this is probably my favorite in all his filmography.
As for the performances in here, these are going to be names worth remembering as time goes on with characters worth caring about. Anthony Ramos has been seen in a few recognizable appearances before with Hamilton and A Star Is Born, but for him to be in a major lead as Usnavi de la Vega (originally by Miranda in the play), probably won't be in the conversation for Best Actor, but it's a performance made for him. Usnavi is the owner of the local bodega who hopes to get out of his neighborhood to run his late dad's bar in his home county of the Dominican Republic, and it kindly shows he'll come to a much bigger name now. Corey Hawkins as Benny also impressed me with how lively his character is, and shows how great of a singing voice he has. But it's the female leads, Leslie Grace as Nina and Melissa Barrera as Vanessa, that's going to get the most attention from those watching because they completely stole my heart with what they brought to their respective roles. Barrera, in particular, will be an actress I'm definitely looking out for in future projects since she was great as Vanessa, Usnavi's long-time crush who wants to become a fashion designer and hopes to move to a place of her own. And this is Grace's first on-screen role since she's a musical artist that's fresh in my mind, and she absolutely crushes it as Nina, who's back home from her first semester at Stanford, but decided to drop out.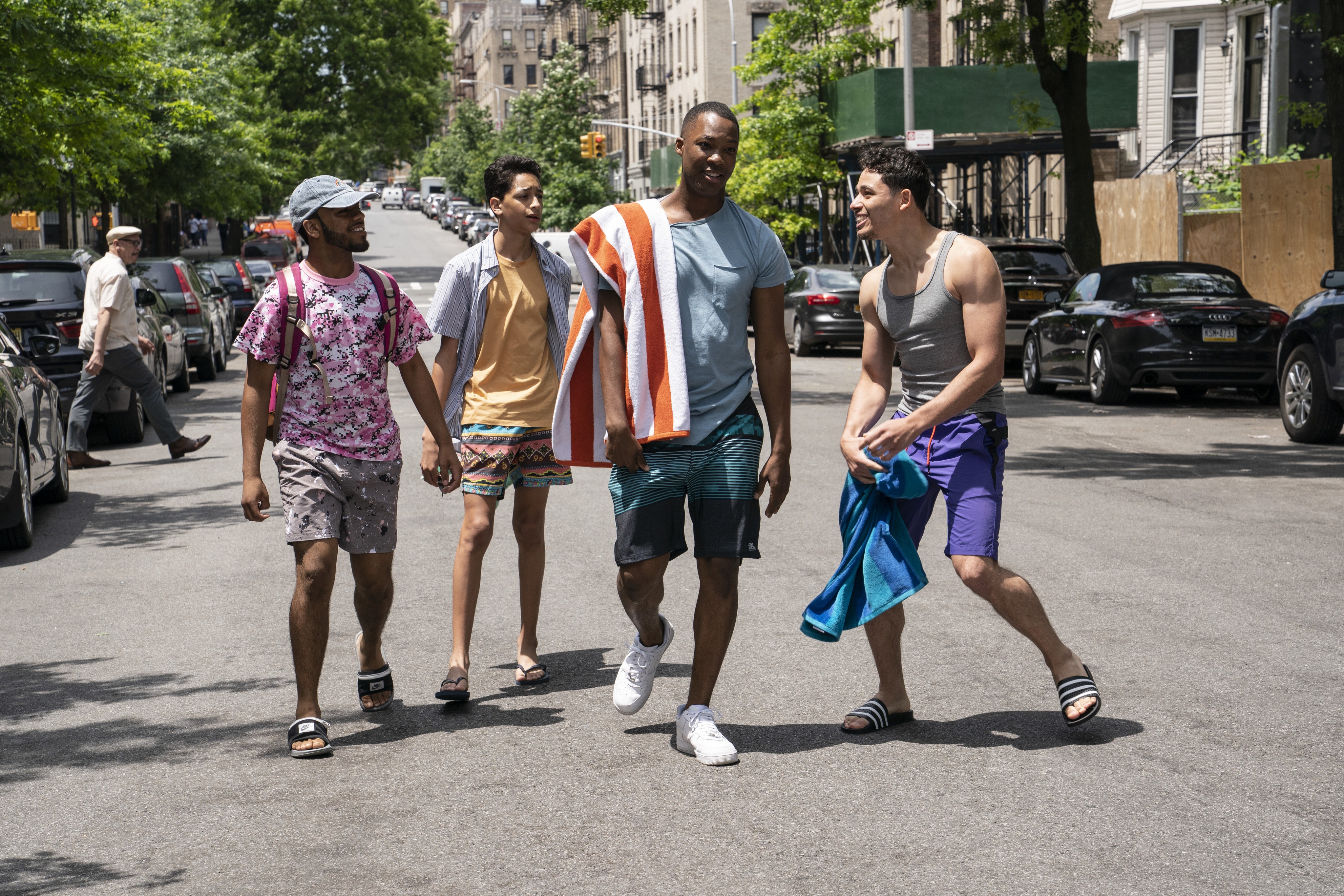 Those four central performances are essentially the heart of the film. And while the other supporting cast might have less to do, there's no denying it was a blast seeing Jimmy Smits, Daphne Rubin-Vega, Gregory Diaz IV, and Stephanie Beatriz have strong screen presences whenever they're needed. Even Miranda has a minor role as Piraguero, the Piragua Guy. By the way, I wouldn't mind trying shaved ice. But even though it might be too early for conversations surrounding awards season, I wouldn't be surprised if Olga Merediz, who reprises her Tony-nominated role of Abuela Claudia from the Broadway show, gets brought up because she has one scene with her song, "Paciencia y Fe," worth remembering.
And what about the music since that's the most important element of any movie musical? Only hearing probably two songs before, hearing them for the first time in the theater made it more impactful since these are great. And the choreography is so great, it made me believe I will never become that good of a dancer. Coming from someone like Miranda to write the original music and lyrics of combining freestyling and hop-hop doesn't sound surprising, but each musical number the characters sang is lyrical poetry I couldn't get enough and wanted more when they're over. There's the titular song in the opening number that was an easy way to get everyone hooked, but my favorite sequence of the entire film was with "96,000" since it took place in a community pool was the most visually infectious number I couldn't get out of my head after it was over. Who hasn't sung a song about what one would do if winning $96,000 from the lottery? I literally thought about listening to the songs on Spotify when I got home.
Moreso or not, this is going to be more attached to those who'll have a high connection to what the story goes through. But even though In the Heights provided some unexpected laughs and a couple of moments of shedding tears from my eyes that's more than just, Chu still transfers over the themes of hope and dreams, never giving up on the latter, especially. Washington Heights is under gentrification where most of its shops are moving and almost being forgotten, but the spirit of the Latino community doesn't stop them from appreciating what they already had. This allows us to see what the characters might be challenging within having a certain goal of wanting to be achieved with the optimistic attitude of each other to help each other out. Familiarity comes into play when it's another movie talking about following your dreams, but they make us who we want to become. I'll be honest, I sometimes thought about giving up on my ambitions of becoming a writer because I just don't think I'll ever be good enough. Do I still strive to give people what I have to offer? Of course, I do. Who would've thought great musicals like this and La La Land talk about not giving up on those personal dreams and help out in putting some confidence back in you? The latter is more important to me, but still. Musicals are awesome, right?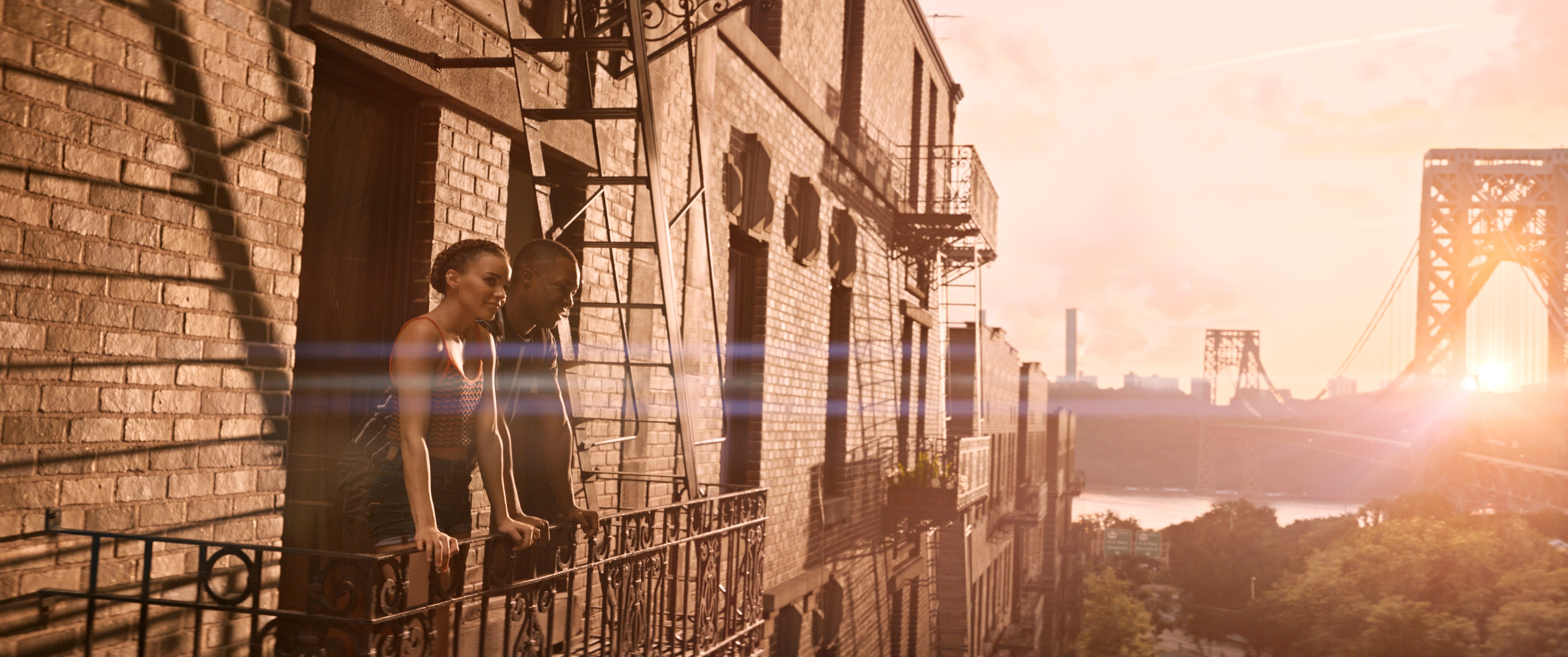 My negatives with this are very little and that it feels like it goes on a bit longer than expected. I liked the third act, but it stretched itself out and they could've made it easy to cut out about 15 minutes to make the pace flow smoother. There are certain movies released on HBO Max and in theaters simultaneously that I can watch at home, but as a way to begin my summer vacation from work, I made the right decision to see this in theaters since there's no other way, and since I'll more than likely re-watch it again before it gets taken off. More importantly, it's the most comforting watch to let us forget who last summer didn't offer many options to do. With the opening of Broadway shows coming closer than we thought, this might be the closest to gaining that feeling again, and I can sense longtime fans will be very pleased with what we got.
Final Thoughts: In the Heights is one of the best of 2021 and is the most entertaining movie musical we've gotten in the last few years that won't be forgotten soon. Even if you're unfamiliar with the Broadway hit, its performances you'll completely blow you away, along with the catchy music that will be on repeat, and the care to adapt this to the big screen shows in spades. If there's one movie to see in theaters this summer, this should, if possible, be it since it deserves to be seen on a huge scale.
Grade: A-
In the Heights is now in theaters and is streaming on HBO MAX