Franchises reaching their fifth installment doesn't hold many surprises when it's from a popular property, but the rare thing about this is we don't see them often with action blockbusters to showcase for a general audience. Normally, people would get tired of them quickly and stop when they're ahead, but nobody would've thought Fast Five was the one to not only be a thrilling good time but one that changed the action series for the best, just ten years after the original came to theaters.
What's the Story: After Dominic "Dom" Toretto (Vin Diesel) was broken out of custody with the help of ex-cop Brian O'Conner (Paul Walker) and Mia Toretto (Jordana Brewster), they are now branded as wanted fugitives, hiding out in Rio de Janeiro to keep a low profile. For one last job to gain their freedom, they assembled together a team of their old friends to pull off a tricky heist of stealing $100 million from the vault of corrupt businessman Hernan Reyes (Joaquim de Almeida) after a previous heist gone wrong, while being pursued by U.S. DSS agent Luke Hobbs (Dwayne Johnson).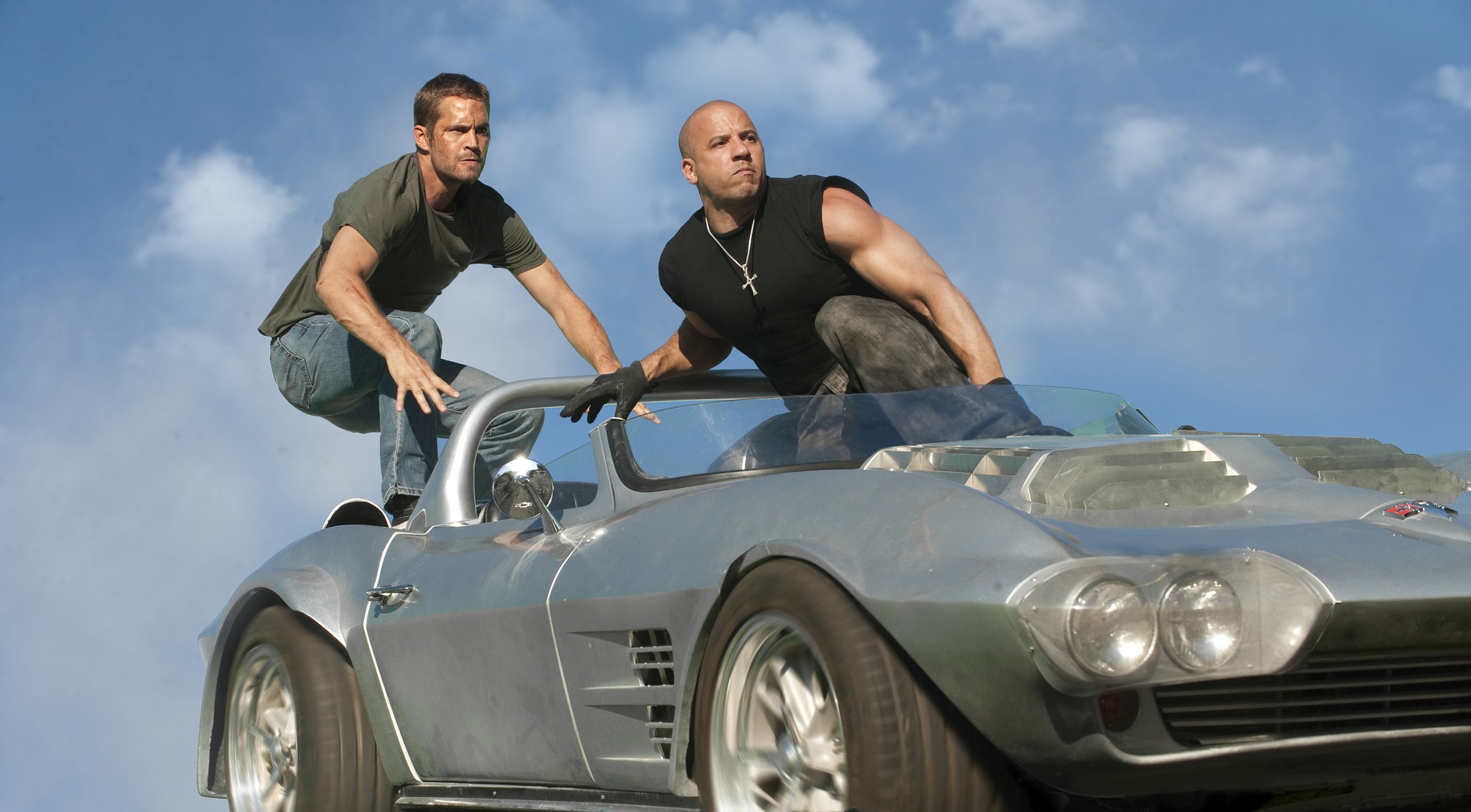 Being how Fast Five is the fifth entry in the Fast and the Furious franchise, my excitement level was probably about a 6 ½ out of 10. It could've been a bit higher, but this was at a point where I, and other people, didn't care too much about these movies anymore. That's not to say I was a fan, but most would agree The Fast and the Furious was fun enough, but the subsequent sequels afterward were honestly a waste of time and the ones people usually skip. Especially the fourth movie Fast & Furious, which even though it made huge numbers at the box office, it received unfavorable reviews from critics. Even I thought it was boring to sit through. While the trailers certainly went different, I totally wasn't sure it was going to change my mind in how it could lead to the same ol' stuff. This is what you'd call a massive improvement on a franchise that was almost dying. But with those low expectations, Fast Five is a total blast to sit through. 
It was like someone from Universal Pictures had a conversation with director Justin Lin and screenwriter Chris Morgan, both directed and wrote the third and fourth films, and told them the street-racing angle of the series seems to run dry and doesn't bring much else to everyone else. How about we change it up with continuing the fast car action, but have the characters centered on a plot that's slick like the remakes of Ocean's Eleven and The Italian Job? Does that sound like an improvement? Here's a budget of $125 million to make it work. Basically, all Fast Five had to do is accomplish one simple job: Be entertaining without taking itself seriously. Those hardcore fans will find any amount of disappointment since you're going to expect fast cars, action, and some cleverness to hold your attention for two hours. What it definitely improves upon is having a plot that's the most interesting since it has a dangerous heist and making us care for these characters for the first time.
The ensemble is big here, and probably the best they've been thus far. Are we going to see them give amazing performances of Oscar-caliber? Not quite, but there's no questioning the dynamic between Vin Diesel as Dom and Paul Walker as Brian transfer over and you get a better understanding they've reconnected their bond. Then you have the returning cast in Tyrese Gibson as Roman Pearce, Ludacris as Tej Parker, Sung Kang as Han, Gal Gadot as Giselle, and Tego Calderón and Don Omar as Leo and Santos respectively all back to pull off as a team. The idea of having the other characters from 2 Fast 2 Furious and Fast & Furious respectively sounded cool, and seeing this cast playoff and interact with others better than when we first saw them and have them be utilized more. Honestly, besides Han, I wasn't sure if adding the others would make much difference, but it was a lot of fun for them to come back, especially the best use of Roman and Tej as comic relief. This was the first time we've come to know this team as a family (said in Diesel's voice). It was also pretty cool to see Matt Schulze return as Vince from the first movie because I didn't even know he would appear.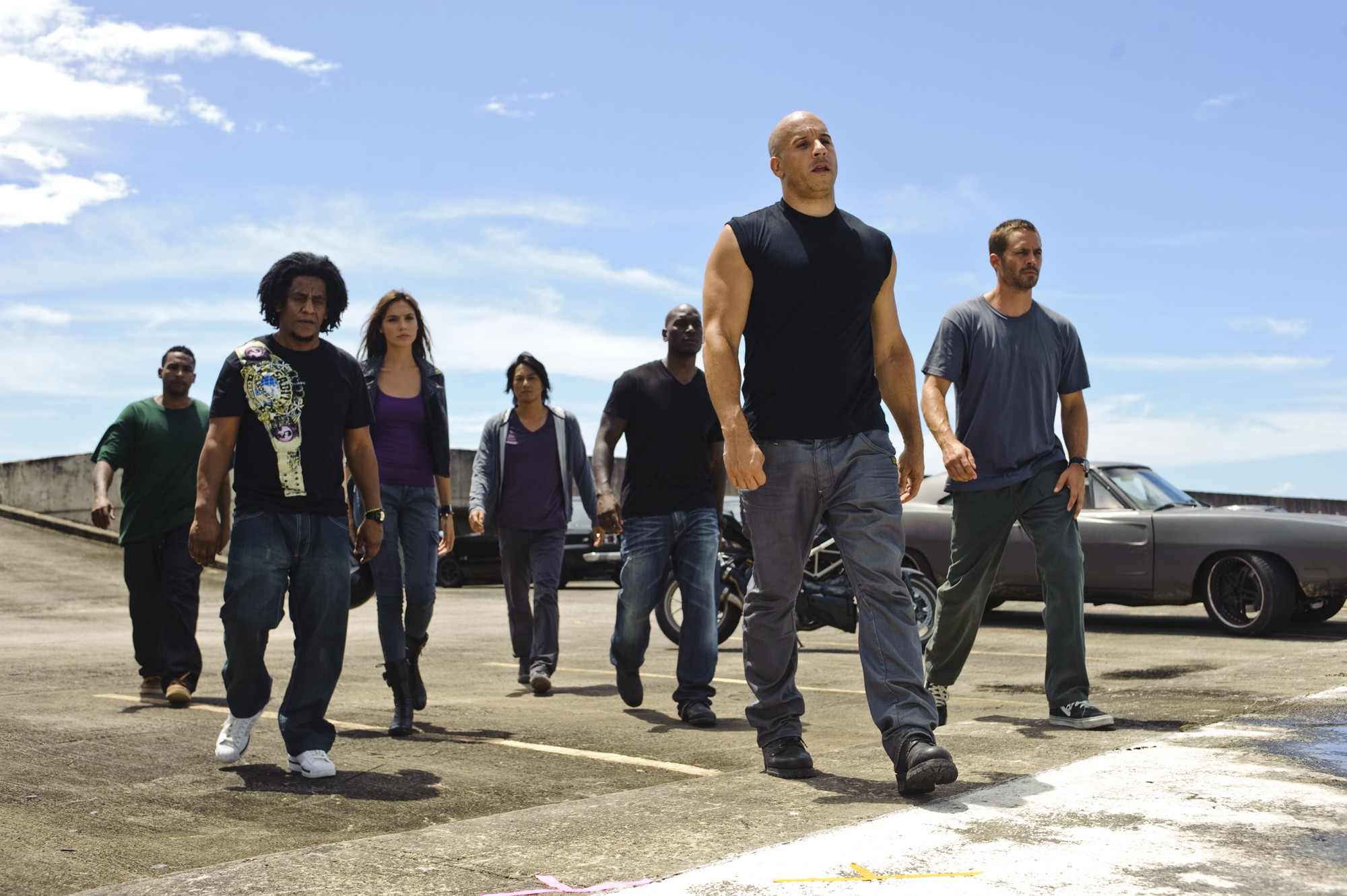 But let me tell you, there's no way of making this sequel already better than the decision of adding Dwayne Johnson in the mix. Being a massive fan of the actor, it excited me to learn he'll be joining the cast. It's a role that had Oscar-winner Tommy Lee Jones in mind to be like his character in The Fugitive, but it was on Diesel's Facebook page that fans wanted to see him and Johnson together, and the rest is history. Seriously, nobody else could play this role in their sleep. He as Hobbs isn't someone you want to mess with or he could knock you out with just his pecks. And I haven't re-watched this in a while, but I forgot how much he sweats in the film and how I look at his body, and made me wish I had what he got.
But with the action, I know some of these sequences are impossible to do in real life. But when it's a Fast and the Furious movie, all you have to do is turn your brain off and not care as much. None of the set pieces Lin brought in the last two impressed me much when they weren't anything particularly new, but this succeeds with flying colors in some of the best action to come out of 2011. Do you want to know the best part? They weren't distracting with poor camera work and you can see what's happening in front of you. The car chases are a given, anything revolving around the heist, and the third act climax where they're literally driving off with the vault through the streets of Rio remains one of my favorites from the franchise since it looked all practical, barely any CGI used. We even got an unforgettable fight scene between Dom and Hobbs that might've been the most incredible thing to see as a teenager. People have Godzilla versus "Insert iconic monster here", I have this fight to always remember that's probably better than any wrestling match that comes to mind.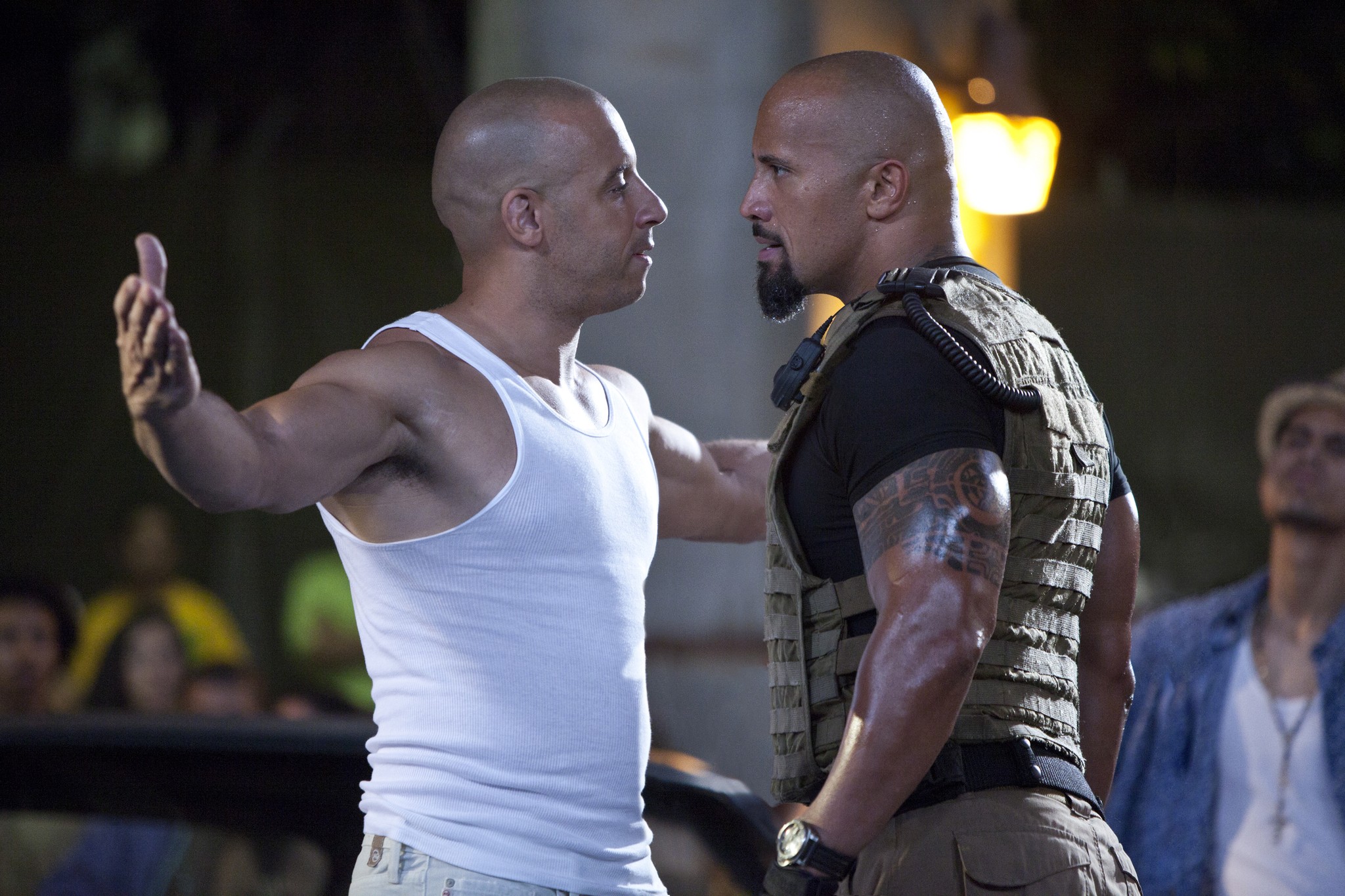 You're not going into this thinking this is the hottest condenser for getting Oscar love, of course not. Maybe aside from some lines of dialogue, sometimes it gets a bit slow around the first act before the plot kicks into gear, but once it gets there and the crew knows what needs to get done, you're in for a fun ride from beginning to end. After I walked out of the theater, I thought I was the crazy one for thinking this was excellent, but it was the first in the series to have a positive response (77% on Rotten Tomatoes) and dominate at the box office, grossing over $625 million worldwide and proves the month of April showcases the early start to the summer movie season because this is how you start it. And if the mid-credit scene had me hyped for the sixth movie, it did its job right.
Final Thoughts: Fast Five revamps the franchise in a whole new direction, and it turned out to be not only a surprise back in 2011, but it's one of the coolest action sequels we've got. Delivering some of the best moments inside the series, expanding the ensemble more than ever, and finally adding excitement to the story this time around, I'm glad to say this is still my favorite movie that continues to stay awesome.
Grade: A-