All you need to get me hooked on a film is finding a versatile director and a fascinating story to get behind all the way through. For any movie that came out in the year 2010, nothing was probably more popular than David Fincher's most pristine film he has ever done, The Social Network. I thought this was the smartest thing to come out from an eighth-grade perspective, and with a drama that's the most talked-about ever since, what's not to love when it deserves your full attention?
What's the Story: In 2003, Harvard undergrad and computer genius Mark Zuckerberg (Jesse Eisenberg) begins work on a new concept that eventually turns into the global social network known as Facebook. Six years later, he is one of the youngest billionaires ever, but Zuckerberg finds that his unprecedented success leads to both personal and legal complications when he ends up on the receiving end of two lawsuits from Cameron and Tyler Winklevoss (Armie Hammer) and former friend Eduardo Saverin (Andrew Garfield).
Can you believe The Social Network came out ten years ago in October 2010? How crazy is that? This was coming out at the perfect position since it was still fresh in the fall movie season, where all the Oscar hopefuls were going to lead the charge to be the favorites around awards season. When I first heard about this, I thought it sounded lame, just calling it "The Facebook Movie." Who would want to see a two-hour movie about how the popular social media site came to be and everything afterward? This was coming from someone who didn't come to the social media craze until four years later. But when the full-length trailer dropped and as it was getting closer to release date after hearing the positive buzz surrounding it, there was a possibility it was going to be something. One of the best trailers ever put together, if you ask me. And I honestly think The Social Network is one of the best American films to be treasured forever.
You look at this and you wouldn't think right away David Fincher is in the director's chair. But it's him. Since he's best known for darker films like Fight Club, Se7en, or Zodiac, in which people liked already, it was cool to see him in a confined drama that doesn't involve anyone getting killed. I also just remembered this was the first film I've ever seen from him, so consider me impressed. Only a filmmaker like Fincher can make a true story about Facebook and Zuckerberg himself interesting without making it dull at any given moment. Back when this came out, and even now, millions of people are still using it for their daily posts and keeping up with what everyone else has been up to every day. The Internet was around when it launched at Myspace and Friendster already existed, but Facebook was a game-changer in a lot of ways. Though it's not entirely about the site, this is still an engaging story that touches on the themes of success, betrayal, and friendship that made it work perfectly.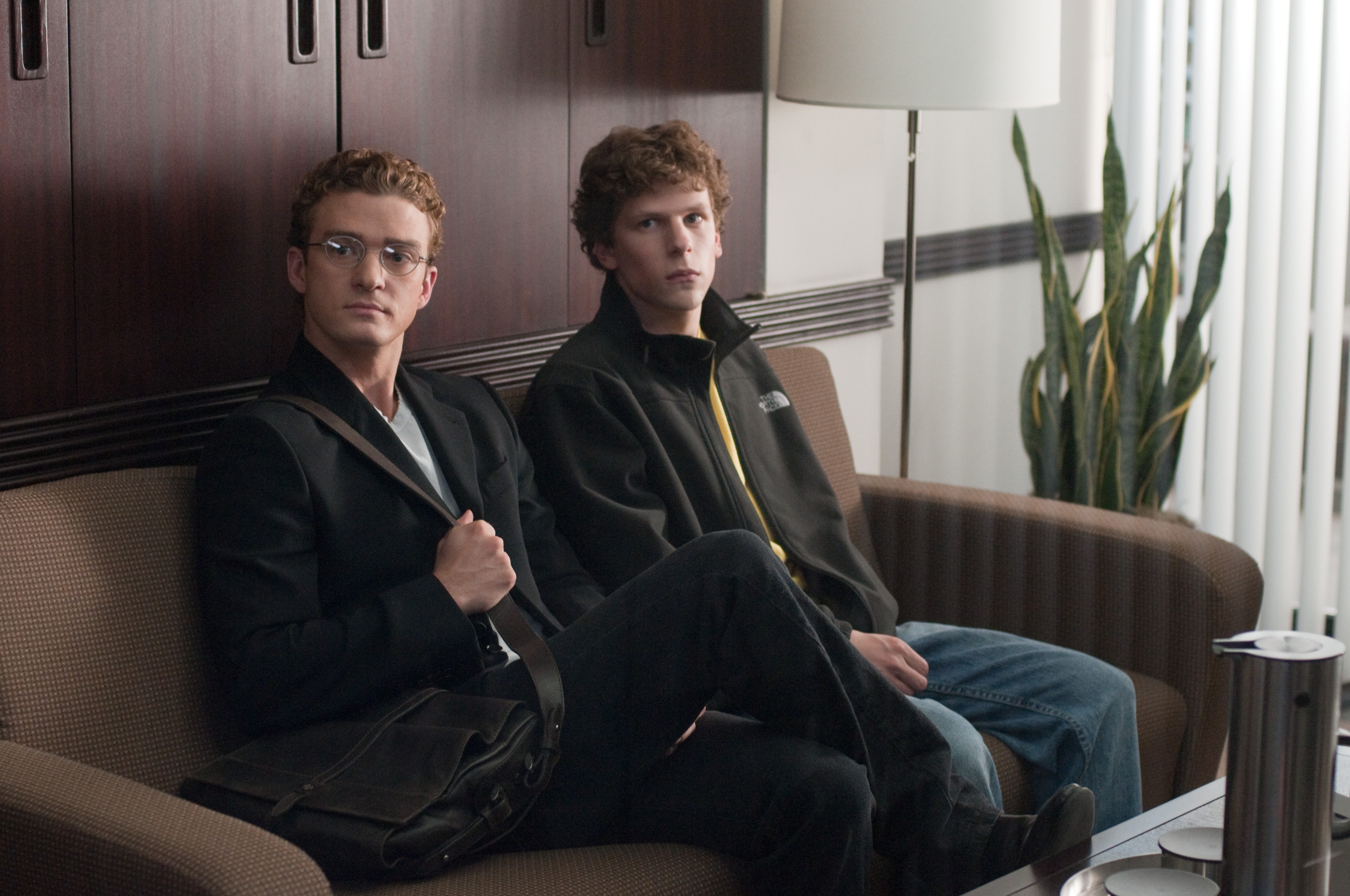 A lot of the story structure cuts between essentially three storylines: Mark developing Facebook, the lawsuit case with Eduardo, and the lawsuit case with the Winklevoss twins. Nominally, it could've been hard paying attention going back and forth, but it gives us the chance to talk about it, picking a side that might tell the truth. No side is good or bad with its characters. He has always been a meticulous director where he will do so many multiple takes to get it perfect. It already hooked by the opening scene where Mark and his girlfriend Erica Albright (Rooney Mara) are in the bar where we already know his motivations with this conversation of misunderstandings. I have seen every movie he has directed, but I will always say this is my personal favorite in his filmography.
How would you feel if you created a social media platform similar to Facebook? I wouldn't have the brainpower to do what Zukerberg did- wanting to provide the entire social experience of college and putting it online. To me, that kind of power can seem too much. Most of the characters want or have gained a power that has impacted their lives and what makes a man great with gathering information. But besides that, they represent friendship where everything between Mark and Eduardo doesn't go the way we expected since the former betrayed his friend, who was loyal to him and completely screwed him over for a ton of money. These are still prevalent themes hard to ignore.
Amongst all the performances, I thought everyone did an excellent job making these characters realistic. Jesse Eisenberg playing the role of the now-controversial billionaire anti-hero Mark Zuckerberg is definitely his star-making career as this person you either tried to root for or against him throughout. Something we haven't seen from him before. This is one of his rare performances where we get to see him step out of his comfort zone, where he somehow managed to be the envision we think Zuckerberg would be like an unlikable outcast. Here is just a man who borrowed a simple idea and turned it into a phenomenon, making him the youngest billionaire in the world. It's an impressive take that still holds up today. The one who nearly stole the show was Andrew Garfield as Facebook co-founder and Mark's only friend, Eduardo Saverin. Some of us just knew he was going to be our next Peter Parker in The Amazing Spider-Man. He basically steals every scene he's in, asking nothing else about it. The chemistry between him and Eisenberg works out perfectly, and it makes matters even sadder knowing he's suing his friend. Garfield's performance was one of the year's best, and it's pretty dumb he was snubbed for a Best Supporting Actor nomination. His last scene alone is worthy of major recognition since it's one worth remembering for a long time.
The most surprised the one was Justin Timberlake as Sean Parker, the co-founder of the file-sharing service Napster. It's not that I don't like him, but I wasn't so sure if I look past the singer and see him as a serious actor. Yet, his performance was better than I thought. I can easily say he can be a solid actor when given a good script to work behind. We see Sean Parker being the piece of the puzzle that breaks the friendship between Mark and Eduardo since he's the cool guy. Besides, he considered dropping "the" since it's cleaner. And I'm not the biggest fan of Armie Hammer with what he has been in after this, but I have to give it to him for portraying the Winklevoss twins, and it was very convincing to feel like he's playing two characters as some thought he actually had a twin. When in reality, they put his face on Josh Pence's body with seamless CGI to make it happen. Props to Fincher and using CGI without us knowing.
But besides Fincher's direction, what do I believe gives The Social Network a good name? That honor has to go to the work of Mr. Aaron Sorkin and the fantastic writing that went into the story. They adapt this from the 2009 book "The Accidental Billionaires" by Ben Mezrich, and while I've never read it, this has gotta be one of the coolest translations to hit the screen. Those who were familiar with his work in the past, like A Few Good Men or Charlie Wilson's War, know his words of dialogue never leave your mind when most of the scenes are just the characters talking. Does it sound realistic? Who cares. It never sounds boring in the slightest when it's quick and informative at the same time. They also used well the moments of humor in here. I've never paid much attention to dialogue before watching this, but this made me invested in how everybody is written. Because of this, I and everyone else are always anticipating anything with Sorkin's name attached to it. For me, it's the best screenplay ever written.
Even though I thought Hans Zimmer's score for Inception was the best music from a film all year, I cannot praise the musical score provided by Nine Inch Nails' Trent Reznor and Atticus Ross enough. Right from the opening credits set to "Hand Covers Bruise," the vibe throughout with this cool electronic sound fits perfectly within almost every scene when used. You listen to the whole thing, and it makes you want to do your work more efficiently when you're in the zone. Also, name a better film that opens and closes with two great tracks: "Ball and Biscuit" by The White Stripes and "Baby, You're a Rich Man" by The Beatles.
Technically, I also have to mention the editing by Angus Wall and Kirk Baxter because it never becomes boring with its brisk two-hour runtime. And Jeff Cronenweth's cinematography breathes through every frame, living through the environment.
Do I believe there are any major flaws this has? Not in my mind. But is this the most factual biopic to come out? Probably not. Most wouldn't pay attention to what was true or false, since you're so focused on the intrigue of it all. I know for certain the real Zuckerberg probably didn't like the film. Some right facts include Eduardo freezing the Facebook bank account or how Mark dropped out of Harvard. The fictional material involves how Sean discovered Facebook or the realization that Erica Albright was made up, yet a breakup led to the creation of Facebook.
"You know, you really don't need a forensics team to get to the bottom of this. If you guys were the inventors of Facebook, you'd have invented Facebook."
After it came out, everyone is still talking about this, including myself. It claimed the number one spot at the domestic box office for two weeks straight. So many have this as one of their favorites, and it had it somewhere in the top ten best of 2010 (number three for me). When I bought the DVD, I re-watched it during our day off of school because I was eager to check it out again. I used to have the ticket stub and kept it in my glasses case. But I do not understand where it went nine years later.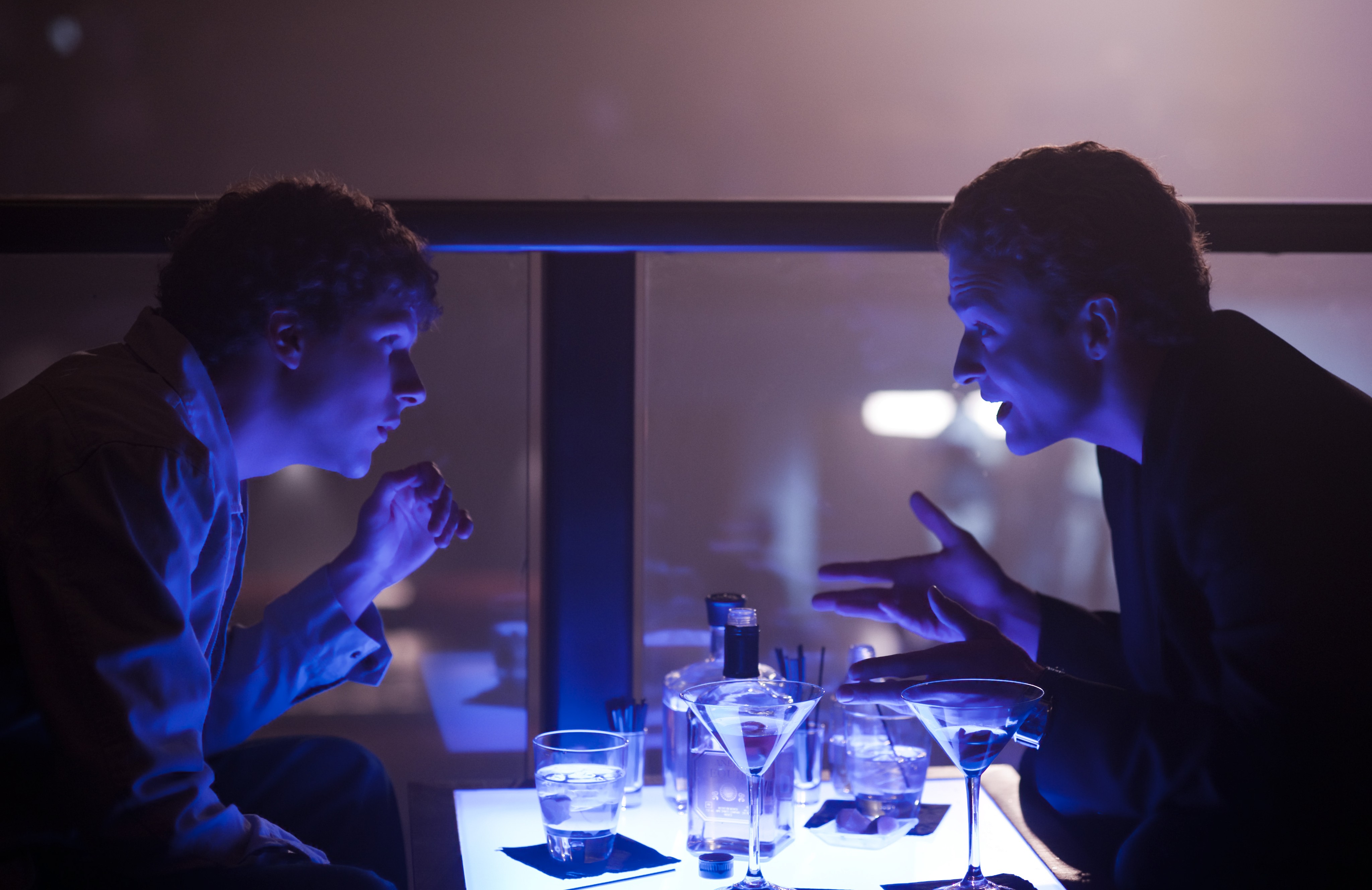 Winner of three Academy Awards, including Best Adapted Screenplay, Editing, and Original Score, and five additional nominations, many of us still aren't sure why it lost Best Picture to The King's Speech. It's a good drama, but which is more memorable between the two? Better yet, Fincher should've won Best Director. If I had to compare this to three films from before, it would be like throwing Fight Club, Catch Me If You Can, and 21 into a delicious cake for all to enjoy. If that is not enough, film critic Scott "Movie" Mantz called this "The Citizen Kane of the 21st century," and his comparisons why are reasonable.
In the end, The Social Network never disappoints a decade later after its release, and it's easy to call this one of the greatest films not only of all-time but a timeless one that will forever hold up. From the start to the last frame, it's impossible not to find it captivating. What truly makes this a drama worth watching is finding Fincher's filmmaking brilliant, Aaron Sorkin's screenplay flawless, a terrific score, and unforgettable performances from everyone involved. Here we have something that has the right to be considered a masterpiece.
Grade: A