From what I can remember about the family movies that came out during the summer of 2005, it wasn't the best time to take the children out to the theater when most of them lean on to the side of being a waste of time. However, if there was one that was a blast to sit in the theater, that would have to go to Disney's Sky High, a film that doesn't get talked about much anymore.
What's the Story: Will Stronghold (Michael Angarano) is the 14-year-old son of Steve and Josie Stronghold (Kurt Russell and Kelly Preston, respectively), who also happen to be the two most famous and powerful superhero in the world- Commander and Jetstream. He and his friends are about to attend Sky High, a secret high school in the sky where teenagers learn how to be superheroes. But there's one problem, Will has obtained his powers yet, which his parents aren't aware of.
Since I was nine-years-old when this came out, I pretty much had to see every movie to come from Disney in theaters. When did I see it? I went with my family the Friday after it came out and it was right as I began third grade. Sky High was the right movie children needed to see since they might be too young for Batman Begins, and we as humans really needed another wonderful superhero movie after Fantastic Four didn't live up to the hype for everybody. And let's not forget Disney doing another original superhero movie after the massive success of The Incredibles has set a high bar. Though it was only the second-best movie to come from the House of Mouse that year, there's no denying it's an awesome superhero anyone can be pleased with.
Director Mike Mitchell was a good choice to make this since I can tell from his filming he was a fan of the superhero of the past. It's a good thing he made this because this was only his third movie after the reak of both Deuce Bigalow: Male Gigolo and the Surviving Christmas (a Christmas movie I couldn't finish). But this is definitely his best work yet by giving us a superhero movie kids and adults can enjoy without thinking too much about the basics of it all. We should take nothing serious about this. This had the feel of reading a comic book made for a younger audience just from the camera work.
Aside from Mitchell's direction, he's aided by the cool screenplay by Paul Hernandez and Bob Schooley and Mark McCorkle, the creators of Disney Channel's Kim Possible. The most interesting piece of trivia about the movie I never knew before was this was originally supposed to be a live-action adaptation of the popular animated series, but it was re-written into an original concept. Did I work? In a heartbeat, because having a high school filled with students who have superpowers just sounds cool, especially for the target demographic. I don't believe we've seen that before. And it's different seeing this is a world where heroes have their other identities but are totally aware of their alter egos with no problems of hiding them.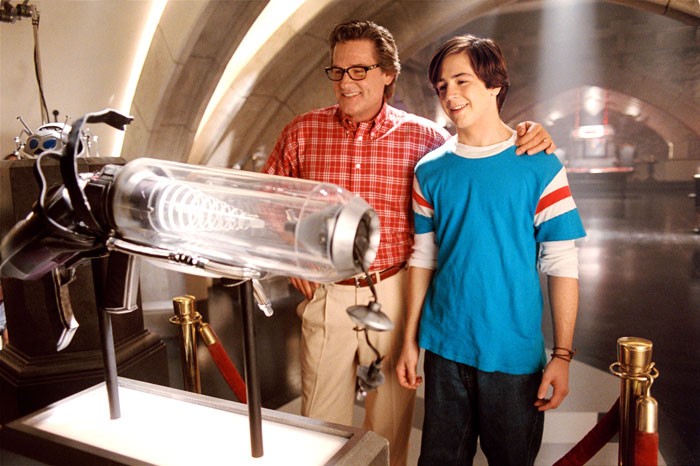 You can take the John Hughes formula of his classic coming-of-age teen movies and blend X-Men, Mystery Men, and Harry Potter all together. And it's interesting to watch this as an adult and understand what it means to be a hero, and it doesn't mean having the most unique powers in the world. With its high school setting, they split everybody up. The sidekicks with useless powers are looked at as the victims, while those with actual powers are the bullies. The powers you're developed with still makes you a person, and it shouldn't make you any different. For Will, he's trying to live up to his parents' high expectations by trying to best he can during the first act.
All the performances were enjoyable to watch all the way through. Michael Angarano as Will is such a likable protagonist in nearly every scene as we the viewer feel for him when it doesn't want to appear as a disappointment to his parents. Because when you're the only child of two superheroes, there's a colossal weight on your shoulders to not let anyone down. And though Russell and Preston aren't as utilized that much as I wanted, they played their roles well to the point of really buying them as superheroes. Russell is always an actor I always anticipate whenever I hear he's in a movie because he's a pleasure to watch on screen. Also, rest in peace, Kelly Preston. A talented actress who was taken from the world too soon.
As for everyone else, they all had really good chemistry throughout. The standout for me was Danielle Panabaker (Caitlin Snow from The Flash) as Layla, who was excellent playing opposite Angarano in a lot of their scenes together, and Steven Strait as Warren Peace ("War and Peace"), a pyrokinetic hero who hates Will after his dad put Warren's dad in jail, could've been this edgy student who hates the main character for no reason, but I bought into him pretty early on. This was also the first time I ever saw Mary Elizabeth Winstead, who plays the beautiful senior Gwen Grayson, in a movie, and she was great. It would be very easy to see how any guy would fall head over heels for her.
Even the grown-up characters were a blast to watch, from Bruce Campbell as Coach Boomer to Kids in the Hall alums Dave Foley and Kevin McDonald as Mr. Boy/ All-American Boy and Professor Medulla. And for those who grew up watching Wonder Woman on television, seeing Lynda Carter, the original Wonder Woman, as Principal Powers is a surprise any fan will get a kick out of. They even threw in a funny Wonder Woman line near the end as a clever wink to the audience. Out of everybody, Campbell was my favorite because he's freakin' Bruce Campbell.
The action in this isn't the most groundbreaking thing to be captured on film, even for a Disney movie, but I got a kick out of them when you honestly believe these are people who have these powers given to them. Are some of the effects look dated now? Sure, but I kind of expected them to be at this point. And I forgot how funny this was as the humor knows when a joke hits or not. One of the earliest gags was a PA announcement about how sides aren't permitted to eat hero sandwiches. Cheesy, but I never caught that before.
When I watched this as a kid, I give credit to the writers for putting together a bit of an unpredictable story. I mean, the usual tropes we've come to notice in almost every high school is clearly there, from the bullies and the fight in the cafeteria. Since I know what's going to happen now, it wasn't shocking elements wasn't as such since I start putting the pieces together, but it didn't matter since it's a movie made for kids. The only thing that can be seen coming a mile away is knowing Layla is a secret crush on Will for a long time.
Sky High also has a soundtrack filled with covers of '80s song that fits perfectly since I always like to view this as a movie that could've worked for a movie in that decade. There's Bowling for Soup's cover of "I'll Melt With You" (originally by Modern English) I didn't mind, Christian Burns' "Everybody Wants to Rule the World" (originally by Tears for Fears), and Vitamin C's "Voices Carry" (originally by 'Til Tuesday).
It's been a very long time I sat down and watched it to see if it was as good when viewing this from older eyes, and it does. It still holds up today, if you ask me. But it's a shame we never got a sequel to this because I, along with the fans, have always wanted what adventures the characters would go on next. There were talks of it set in college (Save U), but nothing has been discussed since last year. Let's make this happen, Disney; let's make sequels to your films we might actually like.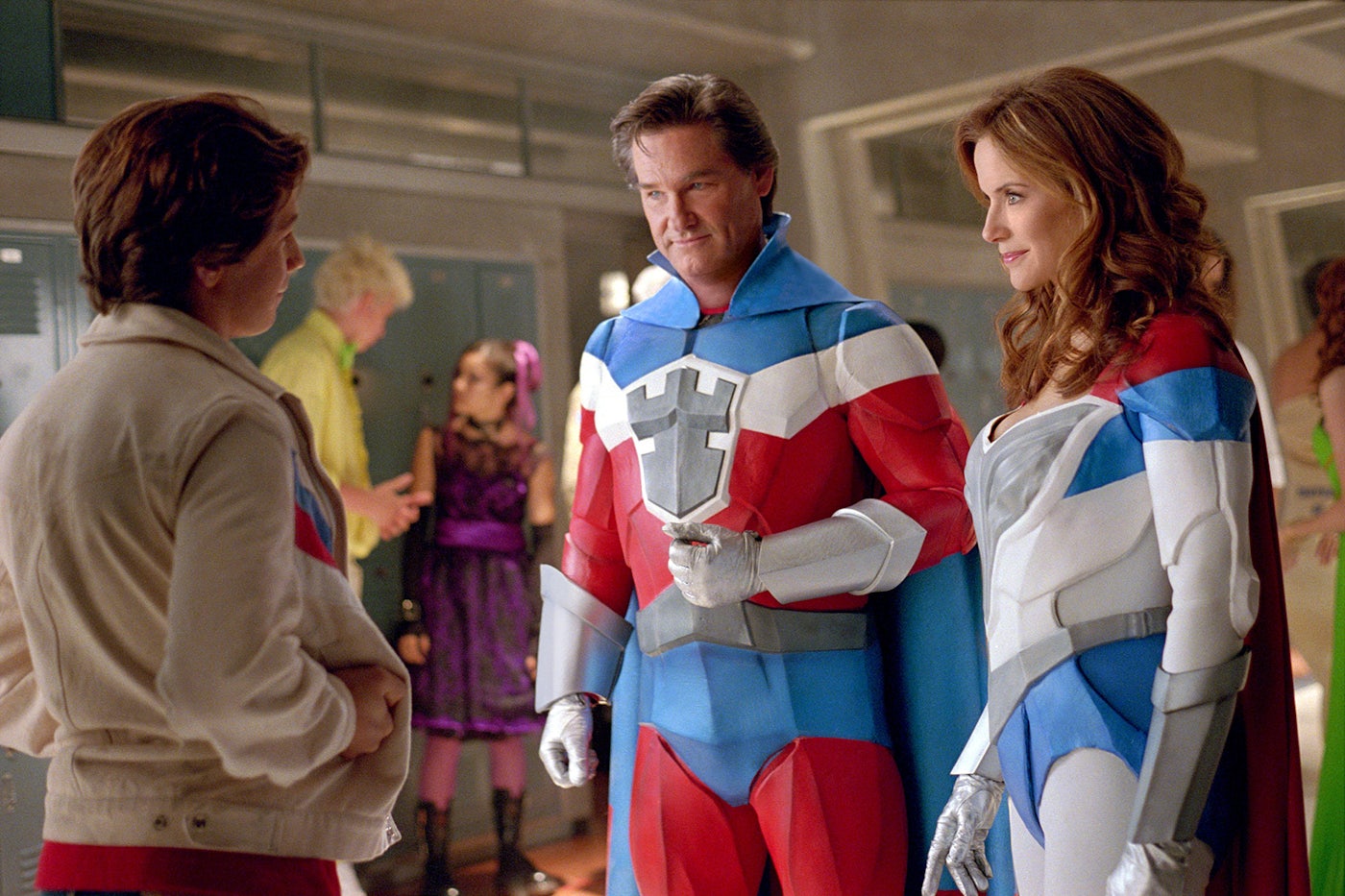 In conclusion, Sky High is one of Disney's more underrated releases in recent memory. Fast-paced, filled with adventure, and able to get a ton of laughs out of, it's an entertaining superhero flick to have a ton of fun with from beginning to end. It's a smaller movie from the genre, but if you want to take a short break from all the MCU and DC movies you've been watching monthly, I would highly recommend this childhood favorite.
Grade: B+