Seeing how Wedding Crashers turned out, haven't we all wanted to crash a certain wedding in our days? I guess it all depends on the celebration. Getting into a famous person's big day would be heaven. And the best thing about this 2005 comedy, it practically came out of nowhere, which is the best thing possible for this. But if this movie stepped it up a notch and played Busted's "Crashed the Wedding," the universe would be a perfect place.
What's the Story: John Beckwith (Owen Wilson) and Jeremy Grey (Vince Vaughn) are two divorce mediators who have been best buddies for a long time. But what they love to do most in their free time is one thing — Crashing weddings. To them, it's like Christmas, but better. Around the wedding season, it's their way of having a great time with the atmosphere of the wedding itself, drinking and hooking up with random women. When the oldest daughter of Secretary of the Treasury William Cleary (Christopher Walken) is announced to get married, they plan to do their usual play-by-play until John has his eyes set on Claire (Rachel McAdams) and Jeremy gets attached to her sister Gloria (Isla Fisher). When all seem lucky, they spent the weekend at Cleary's huge estate so John could get closer to his latest crush.
As someone who remembers nearly everything from memory, I saw the trailer for Wedding Crashers for the first time before watching the dreadful King's Ransom and thought it looked hilarious. There was one problem? I was nine-years-old and wasn't old enough to see R-rated movies in theaters just yet. It's always an annoyance when you're a kid. But I bought the movie months later because I was dying to see what I was missing since those were the only times I can watch them without the supervision of a parent. Did I buy into the hype back then? I did, but after watching it again, I say it's easy to believe this took it to the bank and ended up being one funny comedy.
The heart and soul of this come from the performances of Owen Wilson and Vince Vaughn. You can't have a buddy comedy without the perfect duo to make anything work for an entire movie length. They worked so perfectly with them playing off each other throughout this, where you believe in their friendship so much without thinking twice about it, and it's impossible to imagine another comedic pair to capture these characters who are the ultimate pleasers. If I were reading the screenplay in front of me a year before it came out, these two actors would be the first to come to mind. Around 2005, you already know Vaughn's character will be the rapid-fire one out of the two to Wilson's more laid-back approach to life, and you respect those character traits. The more relatable one will go to Wilson's John by a long shot.
The rest of the supporting cast is also a blast to watch. Seeing Rachel McAdams in a charming performance is always a blessing, and I love the chemistry between her and Wilson in every scene they share, which might just be my favorite moments. Does it feel weird and predictable for him to fall for this girl he just met? Who cares? That was a relationship I was curious to see how it plays out. Someone can fall madly in love with someone like McAdams. This was Isla Fisher's breakout role here as Gloria, who's obsessed with Vaughn's Jeremy and becomes a "Stage-Five Clinger" to him, and she was terrific, stealing the show from everyone. Both she and Vaughn had good chemistry also, and made me wonder why she isn't more in wonderful comedies like this? Of course, you can never forget about Christopher Walken as U.S. Secretary William Cleary and Jane Seymour as his wife Mrs. Cleary.
But out of every movie I've ever seen where it has the occasional movie douchebags to root against, Bradley Cooper as Sack Lodge is number one in my book. This was the first thing I knew the Oscar-nominated actor from, and he completely nails the role of Clarie's boyfriend, who you want to punch in the face. We all don't want to see Clarie end up with a guy like him since it's clear John is good enough for her. He's like every '80s jock rich boy all in one person who makes you hate this character so much you honestly believe the actor is one in real-life. But that's not true since Cooper is a very talented actor.
Director David Dobkin, who worked with its two stars separately in the past with Clay Pigeons (1998) and Shanghai Knights (2003), respectively, does what every comedy should be: Fun. There was this fresh breath of air in almost every scene that delivers a fast-paced motion where it never becomes boring and planning everything to a confident level. A concept like this is probably unheard of since I never knew random people attend multiple weddings and receptions, not knowing anyone there. Watching Wilson and Vaughn through the montage of weddings made it feel like you're also part of the excitement that goes down at every gathering of love. But once the two arrive at this house for the weekend, they have no clue what's coming to them when some of them aren't as classy as expected. Just from hearing about the plot could've made for another generic movie written by screenwriters Steve Faber & Bob Fisher (We're the Millers) by the end of the year. The results are very opposite. And it was the best decision to go for the R-rating here because it would've been a much different experience if they rated it anything else.
Is this a comedy everybody will laugh at? Probably not by every scene, but this was so funny from beginning to end. Even when I watched this as a kid and watching it on television now, there were so many jokes I didn't understand but do now. This is a comedy that doesn't rely on the raunchy or over-the-top humor, yet it becomes subtle with the hitting jokes and takes its time to connect with the characters well enough. The football sequence will always make me laugh every time Vaughn gets hit to the ground in pain. But it was a total surprise to see an uncredited Will Ferrell make an appearance as Chazz Reinhold, Jeremy's former mentor who crashes funerals and lives with his mom. I believe many of us didn't expect him to show up. Every line he was given in this brief, but memorable role is hilarious, especially when he's asking his mom to make meatloaf, in a yelling fashion.
"Yeah, her boyfriend just died. Dude died in a hang-gliding accident! What an idiot! Aaaahhh, I'm hang-gliding! Take a good picture, honey, I'm dead!"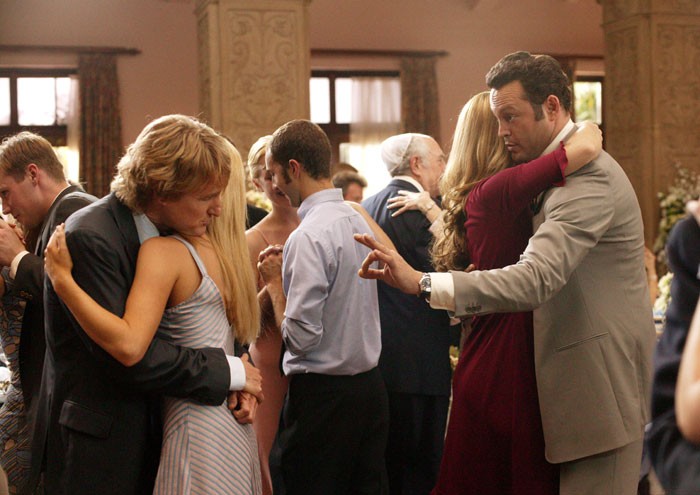 As for what I didn't like about the film, it ran a little too long when it pushes two hours where there was about a ten-minute break where the laughs weren't coming through. But the scene where Gloria rapes Jeremy in his bedroom followed by the moment with the gay son Todd (Keir O'Donnell) doesn't hold up well, and it has been discussed as controversial scenes that have aged quite poorly.
Some have reexamined the movie and don't consider it good anymore, but it's still one of those comedies that's always enjoyable to watch, especially when you're in the wedding mood. Also, this might've helped make R-rated adult comedies more popular now than they've ever been along with The 40-Year-Old Virgin, another hilarious comedy released a month later. Following its positive reviews from critics, it also became the sixth and original highest-grossing movie of the year. And though the MTV Movie Awards have been pointless for a decade now based on who the voters are, it won Best Movie and two other awards during that year's ceremony. At least they did something right back then.
Would I love to see a sequel to this? I would've said say "Yes" if it came out five years later. But it's best to leave things as it is. The closest we got to some kind of spiritual sequel was 2013's The Internship, which was underwhelming from my perspective.
In the end, Wedding Crashers is one of my favorite comedies of the 21st century that's always pleasing to sit back and watch. Thanks to a hilarious script and the unlikely team-up of Wilson and Vaughn (his last great comedy) to make it all worth it, there's no reason to be disappointed by this hit. I don't even what to know the people who dislike this. I don't even what to know the people who dislike this. To quote Vaughn, "Please don't turn a turn to negative town." If you put together classics like Swingers and Old School together, and you got yourself an unforgettable ride from the genre that's always worth the re-watch.
Grade: A-