You can always get a kick out of watching stoner comedies, and you don't even have to be a pothead to find it relatable. Does it make me want to smoke a joint? It doesn't, but I always wanted to have that feeling livid and just brainstorm ideas that will save the universe or something. It can also lead to getting the munchies at any given moment, which is what Harold and Kumar Go to White Castle made me and everyone who watches it want to persuade.
What's the Story: Harold Lee (John Cho) is an investment banker who never dares to stand up for himself, while his best friend Kumar Patel (Kal Penn) is a slacker who doesn't want to be following in his family's footsteps of becoming a doctor. But what they love most is smoking marijuana to kick off the weekend right. But as both of them crave the munchies and want to enjoy the best thing possible, they see an ad for the fast-food chain White Castle. It might sound easy to drive to the nearest restaurant to eat some sliders, but their night turns into a strange odyssey in New Jersey that keeps them from getting to their destination.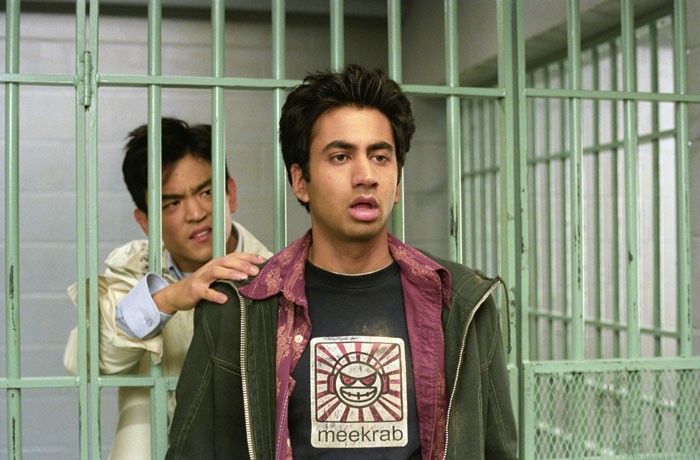 It's always weird to never be allowed to watch R-rated movies when I was a kid, but have always been aware of them whenever they come out or at least watch them when they air on HBO or cable. The first time I ever heard of this was when I saw the trailer before White Chicks, which is my biggest guilty pleasure of all-time. In my mind, it was so weird for a studio like New Line Cinema to do a stoner road comedy with a fast-food restaurant in the title. I just thought it sounded ridiculous to accomplish. Was this going to be an 88-minute commercial? If it was, I bought it. We bought it from Hollywood Video because I always wanted to check it out, and Harold and Kumar Go to White Castle is a prime example of a comedy being surprisingly good.
What drives this comedy forward into being a great one is believing in the performances from the duo of John Cho and Kal Penn as the titular characters. I love the chemistry that blossoms between Cho and Penn throughout the film because it truly felt like they had a splendid time working together. Neither one of them is boring to watch through since their personalities contrast from each other, balancing each other well. I always thought of them to be underrated talents whenever I see them in a project outside this franchise. Plus, it's a comedy that has two main characters who are Asian-American and Indian-American, respectively, that didn't play into the kind of stereotypes we expect from them. Something I didn't notice until years later. However, I noticed the trailer referred to them as "That Asian guy from American Pie" and "That Indian guy from Van Wilder" since those were the only movies we recognized them from.
Directed by the late Danny Leiner, who also helmed 2000's Dude, Where's My Car, and written by screenwriters Jon Hurwitz and Hayden Schlossberg (Cobra Kai) did something when it should've been them doing a simple task of getting some sliders. As their quest continues, you have no clue why nothing comes their way is easy. Nothing like this should take all night to do. Stories that take place over a single day are always an interest, but how this was entertaining without being dull is still a mystery. On their way, they stop at Princeton University; they picked up Neil Patrick Harris and later steal Harold's car; they meet a creepy mechanic and his hot wife (Malin Akerman). Between this and Dude, Where's My Car?, I had a much better time watching this since the latter is just plain stupid.
But the thing I just came to know about this movie that was ahead of its time 16 years ago was how it breaks away from having the two characters not be resorted to being stereotypes. We see Harold and Kumar as regular Americans like we see every day, but we never associate them with the typical tropes we see in Hollywood movies, especially in the 2000s. The representation was there before we even knew it, and the creators took us on an unexpected path. It tackles stereotypes and the American dream people have dreamt of for years having nothing impede their freedom. Almost every person that comes their way in are basically a-holes who hurl insults at them, including the extreme- sports dudes and the police officer who eventually arrests Harold after he accidentally punches him.
You go into expecting this to be funny, and it did its job at making me laugh the whole time. Sometimes, it goes for R-rated humor that's gross-out. Just take the bathroom scene with the English girls that went in a different direction, but the laughs aren't cheap. When I watched this as I was a kid, most of the jokes didn't go over my head since I understood them. Some of them are still funny, while others weren't laugh-out-loud as I expected. Two scenes will never get old every time I watch this: The first being when the lame version of them gets beat up in Newark, and the other being when Harold was about the jaywalk to get to the phone booth, that police car came completely out of nowhere.
Another moment that I strongly love was when they are singing Wilson Phillips' "Hold On" in the car. That was such a random moment, but it's a scene filled with joy. The greatest moment in movie history?
The film also has supporting characters that come and go as our primary characters go about their journey, but you always remember them when it ends. There's appears from Ryan Reynolds as an OR nurse, Anthony Anderson as a Burger Shack employee, and David Krumholtz and Eddie Kaye Thomas and Goldstein and Rosenberg, Harold and Kumar's Jewish neighbors. And before preparing to watch this again, I was today years ago to find out about an unrecognizable Christopher Meloni playing Freakshow, the auto mechanic with the disgusting pimples. I never knew it was him under that makeup. But this was the comeback for the one and only Neil Patrick Harris, who plays himself in a way we didn't expect to see him from, and he nails every scene. I didn't know who he was back then since I never heard of Doogie Howser, M.D., but it's a performance that was hilarious when he's just tripping balls almost the entire time.
As you're watching, the journey is the most important aspect of the entire movie. Since these are likable guys, we want them to reach their journey and see them become better people along the way. After they've been through, they need something amazing to happen to make everything complete. Especially Harold, who wants to overcome his shyness with his co-workers who unload their work on him over the weekend and with his neighbor/crush Maria (Paula Garcés).  Just as they finally succeeded, and the relief of them eating White Castle is the goal we wanted them to accomplish the whole time, and it's satisfying. We didn't watch this to see them stop what they've been doing and give up. I only had White Castle about three times in my life, and it was because of this movie that made me want to have it for dinner one time. I re-watched this at night because I haven't watched it in a while, and it made me mildly crave it, but not enough to drive over there for ten minutes. Now, if they made it with Burger King in mind, this would've been a perfect movie, in my opinion.
Only making $18 million at the domestic box office, it still became an overnight sensation by having a cult following, and it was the start of an unexpected franchise. I wasn't a fan of the sequel Harold & Kumar Escape from Guantanamo Bay since a lot of the crude jokes didn't make me laugh, but I did feel the third installment, A Very Harold & Kumar 3D Christmas, was the much better comedy sequel.
In the end, Harold & Kumar Go to White Castle is a hilarious stoner comedy that's more enjoyable than the occasional Cheech and Chong or Friday sequel. Because of its laugh-a-minute humor and performances/ chemistry from John Cho and Kal Penn, there isn't much to complain about this for something much more than a paid advertisement. If you require laughs for 90 minutes and you haven't watched this, I believe you'll have a splendid time with one of the funniest comedies to come out that year.
Grade: B+