In keeping up with 2021 being his best and busiest year yet when it comes to entertainment in film, Lin Manuel Miranda steps in front of the camera for his directorial debut. We've already seen how his work was brought to life with In the Heights, but it's about time the Tony-winning actor shows what fans will love when he takes on the adaptation of Jonathan Larson's tick, tick…BOOM! (in select theaters and on Netflix on Nov. 19) to give us another memorable musical to come out this year. A combination of musical minds that was always going to work.
What's the Story: On the cusp of his 30th birthday in 1990, Jonathan Larson (Andrew Garfield) is an aspiring playwright living in New York City who has dreams of becoming the next massive name on Broadway next to the likes of Andrew Lloyd Webber or Stephen Sondheim. For years, he has been working on his eight-year-long passion project to life called "Superbia." He believes this futuristic, sci-fi musical will be the next American musical for the ages. The problem? A lot of stuff that's going on in his mind, from having writer's block to creating one last song for the musical before a vital showcase to producers, being broke, and working a job at the Moondance Diner. With the support of his girlfriend Susan (Alexandra Shipp) and his longtime best friend Michael (Robin de Jesus), Jon is suffering a life crisis in wondering if his life will be meaningless with the time he wasted.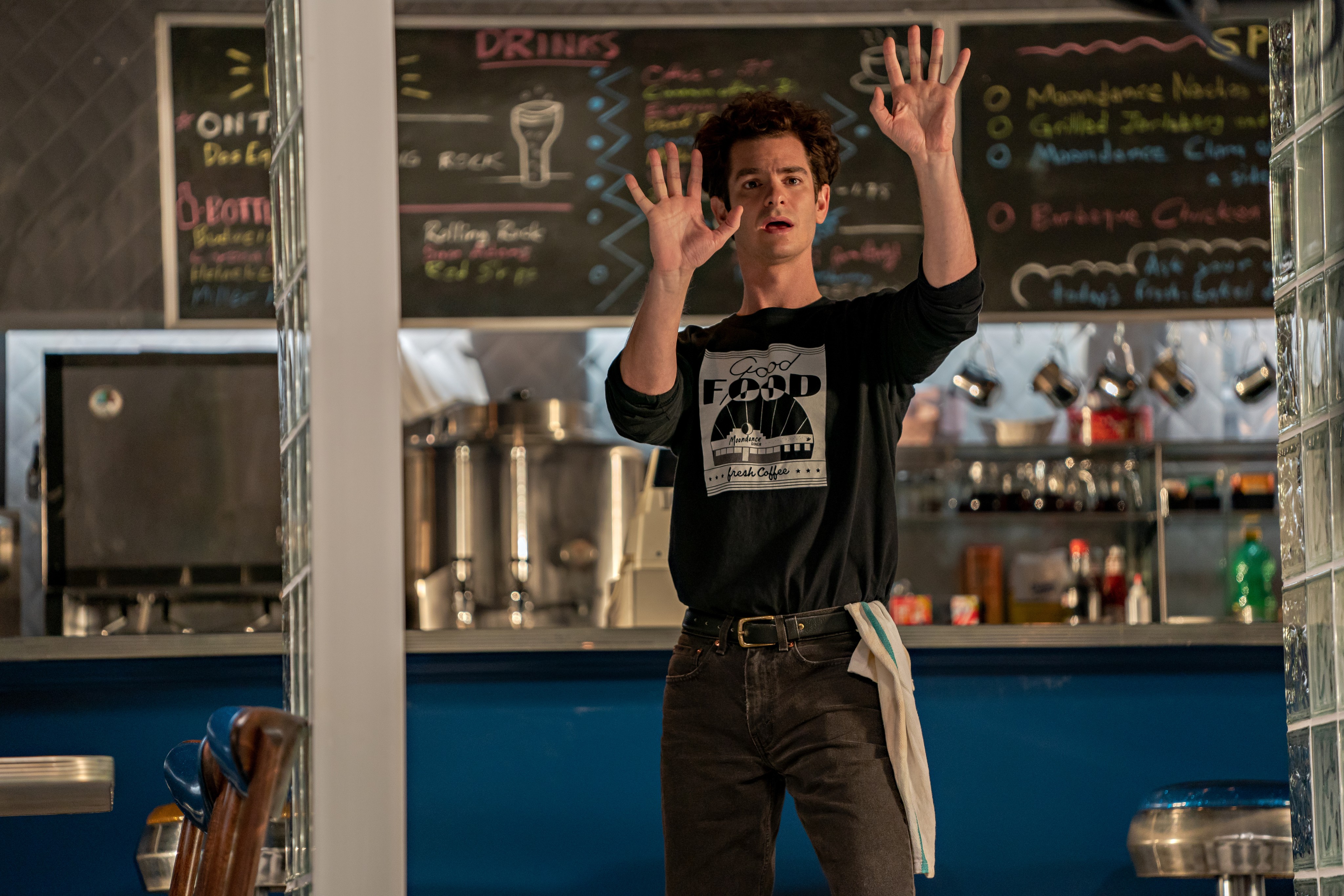 While there have been a few musicals this year that haven't left a good taste in my mouth, my anticipation for tick, tick…BOOM! was pretty high despite not knowing this was coming out until last year. But the fascinating thing is going into this musical drama knowing nothing about this semi-autobiographical show, which performed off-Broadway in 1990 and was revived 20 years ago. If the name of Jonathan Larson sounds familiar, he's the one responsible for giving the Broadway world the phenomenon Rent. Most probably didn't know that he, unfortunately, died at 35-years-old from a brain aneurysm the night before his show premiered off-Broadway. It's truly a sad thing to know he'd never seen what will become one of the most popular Broadway musicals throughout its run. Since it came out, I have usually heard different opinions from theater geeks, whether they love or hate it. I haven't seen it, but I had watched the 2005 film adaptation that's not as good as I remembered when I was nine. But in terms of which film version is better, you better believe it's this as I couldn't stop thinking about it as I left the theater.
There's only one word to describe Miranda behind the camera: Impressive. It was exciting learning the Hamilton creator would be taking the next step in film in directing a musical, which doesn't surprise anyone. But watching this wouldn't have me guessing this was his first time since it must've been a project he'd wanted to make for a long time. Being one of today's musical geniuses, I can see where Larson was one of the biggest inspirations for him when getting his work off the ground. Someone like him was the right choice to make this film adaptation that made me want to watch the show for myself. How different it was when translating it from stage to screen is beyond me. For him to tell this true story in the life of Larson both in the musical fashion and switching back to see him performing the titular play won't be for everyone as this rock monologue. Still, it's unique enough just to sit back and understand one man's complicated creative process. Do you want to write a musical one day? It won't be the most straightforward task to do, which I think Miranda thought about when he first saw the show. When I first heard about this and saw the trailer, my mind thought this would be about Larson creating Rent. But, as it turns out, this takes place earlier in his career with this other musical of his that already sounds a little out there for potential producers to witness.
Though it wouldn't be a fantastic musical without a great leading man to make the story worth it, seeing Andrew Garfield portraying Larson is the proof I need to explain why he's been one of my favorite actors working today. Watching him in here is enough to showcase his talent when giving one of his very best performances. Jon doesn't know how to handle things when he's about to hit 30 and doesn't want to be a failed person when he wasn't done anything worth his name. His life seems at a standstill while everybody else in his life has moved on to better things, making his relationships shaking when he's focused on his writing. What matters to him is that his baby "Superbia" gets him the attention he deserves. He possesses the unexpected singing chops to perform these songs and the embodiment of him. He completely disappeared as the late playwright where I wasn't seeing the actor through his voice and mannerisms I can picture in my head. I still think Will Smith in King Richard is my front-runner to win Best Actor, but I wouldn't be surprised if Garfield gets more attention. Hopefully, we will see him earning his second Oscar nomination very soon.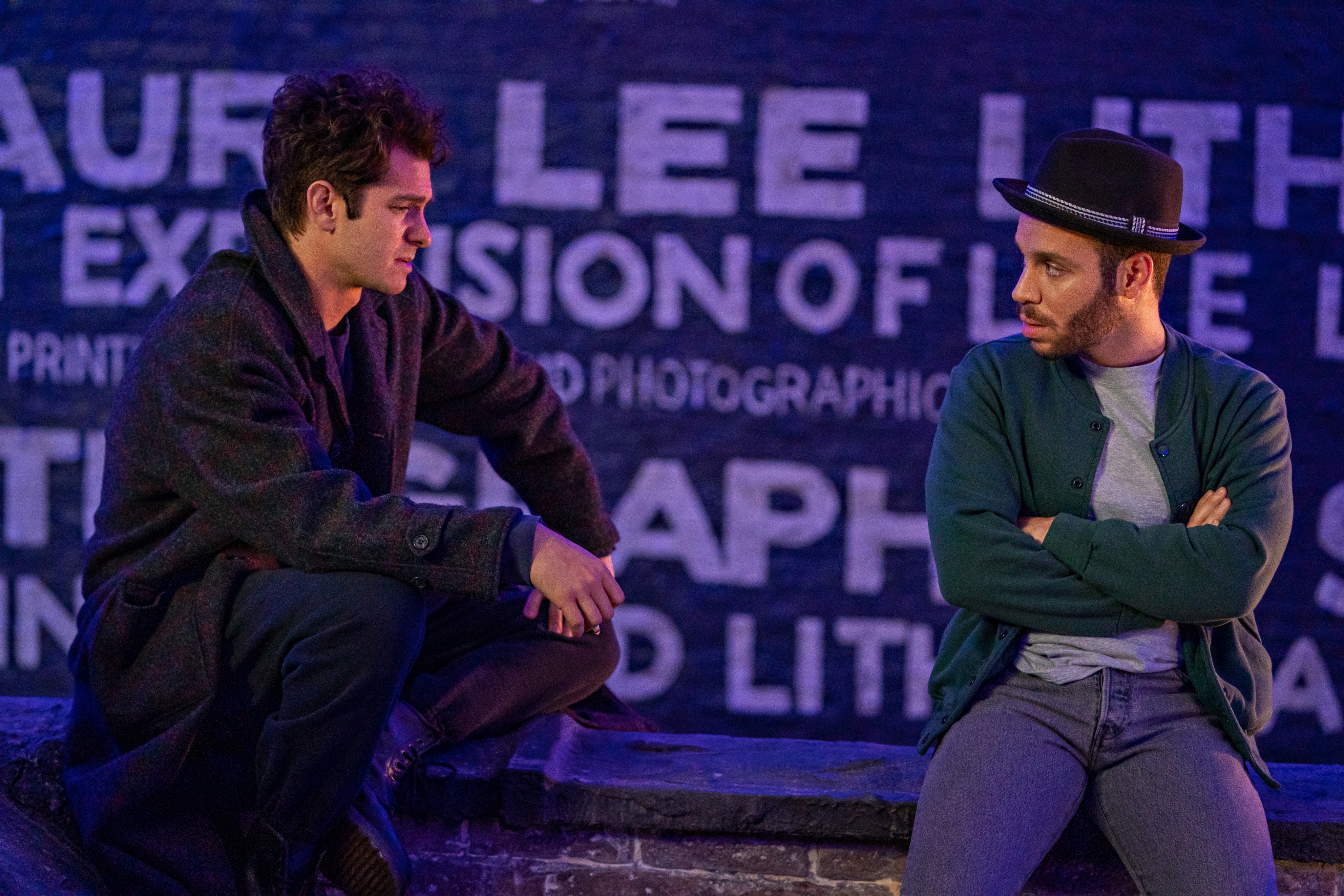 Everybody else acting alongside Garfield also does a splendid job in the supporting roles. Alexandra Shipp as Jon's girlfriend Susan, probably gives her strongest performance to date. At the same time, De Jesus as Michael was great as someone who's got a successful career in advertising and living in a lovely apartment. The chemistry between him and Garfield. Also, it was nice to see Bradley Whitford appear as Stephen Sondheim, someone who sees the potential Jon has in the theater.
With musicals, adapted or original, the determination for my enjoyment is to listen to the songs as soon as I get home, and I couldn't get over how much I love the music Larson created for his work. Some of them contain that rock opera vibe I can get into, but these are the kinds of songs from a musical that will get my feet to tapping along with them and continue thinking about them when it's on to the next scene. But is it better than what we've heard in Rent? Probably. tick, tick…BOOM! hooked me right away with the opening "30/90," which I happened to put on repeat about seven times, and it ends on a high note for me with the last song. The musical numbers won't stand out for some since Miranda's direction didn't come across as stylish, but it's not a bad thing to be engrossed by the lyrics Larson presents here through every song from beginning to end. Why can't more rock operas sound this awesome? And if you're looking for a way to get emotionally unprepared, just look out for the piece "Why" because it got to me in the theater. Thankfully, there was only me and someone in the theater, so she wouldn't see me cry.
Throughout the film, Jon says he keeps hearing a ticking clock as the days go by, signifying he'll run out of time to get through everything. Everybody has that driving passion that keeps them going in life, and for Larson, it's basically creating music for the world to hear. Our crossroads has us worrying if we can carry on with specific dreams that make us who we are. Miranda made this clear that this is a film, and Larson himself represents all the struggling artists who keep trying their hardest to stay true to themselves, never giving up on what something means to them. tick, tick… BOOM! serves as a love letter for those with artistic inspirations. And if there's one thing musical know how to do, don't stop dreaming. If this was the best way of making a tribute to this man, it's a worthy one. It makes me sadder knowing how he could've been a much bigger name in the Broadway world where he'd given us equally fantastic musicals we'd all be obsessed with now.
Overall, tick, tick…BOOM! is a great musical that's worth watching. You can sense the passion Miranda brought to bring Jonathan Larson's work to life most productively and memorably. Not only are the songs great, but Andrew Garfield also gives one of my favorite performances this year. Anytime I find myself gravitating towards a musical, it's always a good time when they make me want to write one of my own, despite knowing nothing about writing music or a good story. But Miranda knows, and I hope this is successful enough to have him do another musical soon. When it hits Netflix next weekend, I'm eager to watch it again to see if I'll like it even more.
Grade: A-