*Minor Spoilers Ahead*
You got to have a soft spot for those 1990s teen comedies. Always recognizable with famous celebrities, catchy soundtracks, and an unrelatable story that some will ultimately fall for in the end. Sure, we all might think of them as dumb and cliche, but the replay value is constant. Though many have been pretty good and gained cult followings over the years, there's always one movie that I feel is the definition of a really good teen comedy that nobody can debate on: 10 Things I Hate About You. And since the classic turns 20 this year, feels like the perfect time to talk about it.
Based loosely off of William Shakespeare's play The Taming of the Shrew, Cameron James (Joseph Gordon-Levitt) is the new kid at school and instantly becomes smitten with Bianca Stratford (Larisa Oleynik), the most popular girl there. But there's something that throws a wrench into plans: she isn't allowed to date unless her smart, ill-tempered sister Kat (Julia Stiles) starts dating, as told by their overprotective father Walter (Larry Miller). The thing is she has eyes for the handsome Joey (Andrew Keegan). The best way to get Cameron to go out with Bianca is to set Kat up with "bad boy" Patrick (Heath Ledger) in hopes everything works out.
I can declare that the best year for movies is 1999, as it was a stepping stone for many genres. And we were at a point where rom-coms were becoming the new norm in Hollywood. Some moderately well more than others. This was also the same year everybody was falling for other teen movies like Election (underrated), She's All That (not all that), American Pie (funny movie), and Never Been Kissed (haven't seen it). Legitimately, 10 Things I Hate About You is one of the best teen movies not just from the '90s, but of all-time, in my opinion.
I was only three-years-old when this came out, but I believe the first I watched this was on TV somewhere. And whenever it is on, I kinda have to stop what I am doing just to get a few laughs. I just bought the Blu-ray last fall at Best Buy for only $6, and I was like, "Why not?". This never felt like it didn't need to be overly crazy about everything and just be an almost laid-back romantic comedy for everybody, especially back in 1999. I personally think it aged well.
When I took Shakespeare in school, and while we were reading and watching The Taming of the Shrew, I couldn't help but think of the similarities between the play and 10 Things (the names and familiar beats to the story). Director Gil Junger and screenwriting duo Karen McCullah and Kirsten Smith, who also wrote Legally Blonde and She's the Man (another Shakespeare based movie), knew how to direct and write these characters in the same style as the play in today's world. There has to be some difference to make it more appealing to its general audience, but it's done so cleverly. Some of the best dialogue come from Kat. This is the kind of modern take on Shakespeare that's enjoyable and not anything like Romeo + Juliet. And this does take more of a comedic approach to the story rather than the actual play where it can get a bit uneasy with its misogyny.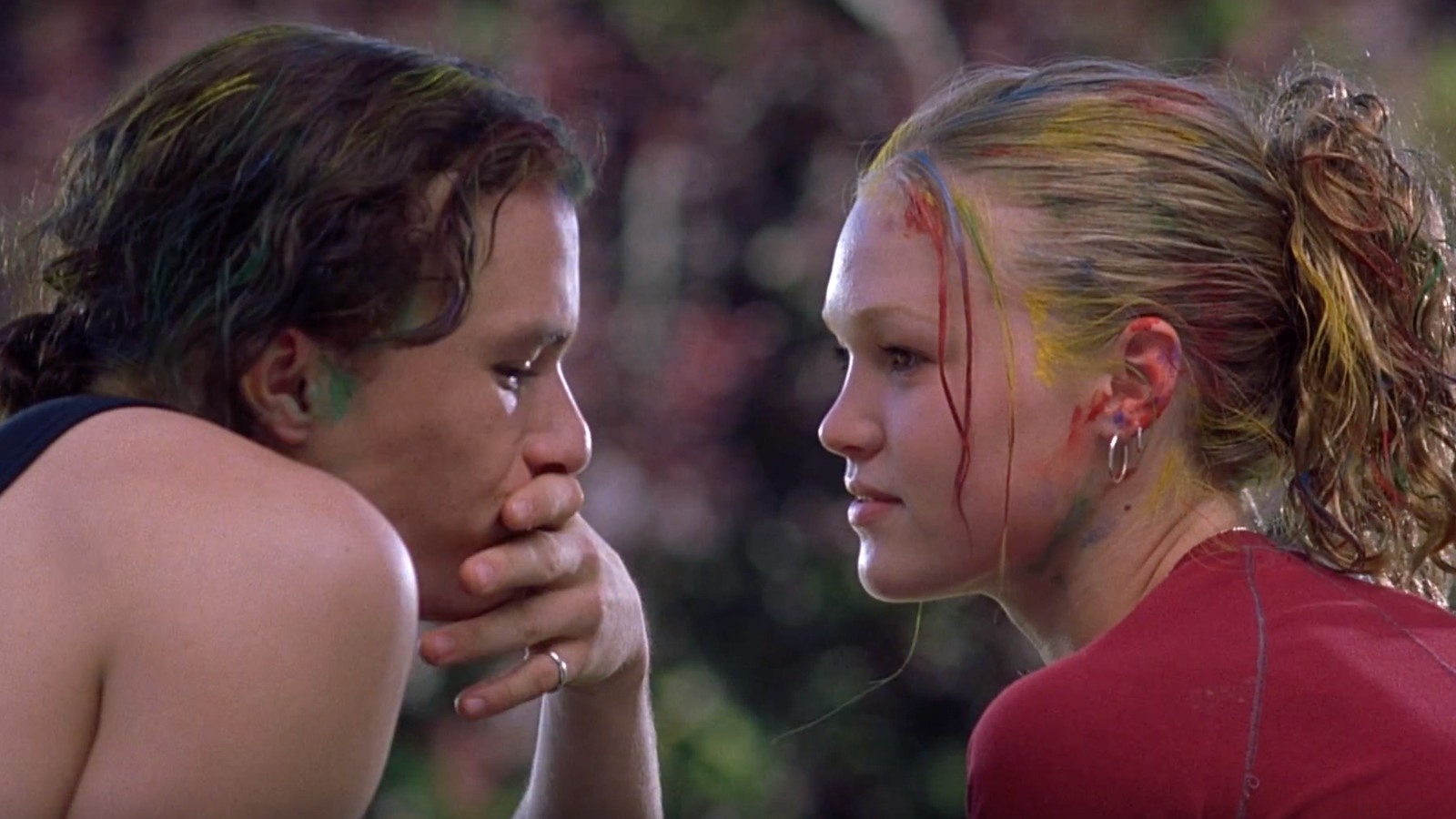 All of the performances were on-point, particularly from Stiles and Ledger. Since Stiles became sinuously for her role as Kat, there's really nobody else you can't imagine playing her. Honestly, Kat is one of my favorite characters in any comedy because of how independent and brutally honest she truly is. Keegan as the stereotypical, good-looking, wannabe model Joey brought out the kind of a jerk in high school that we hope doesn't exist, and he plays it perfectly. An underrated performance that rarely gets talked about is David Krumholtz as Michael. He's essentially the biggest geek out of everybody trying to help Cameron out in winning Bianca's heart, and Krumholtz delivers every scene he's in.
And then there's Ledger as Patrick. There's always something about the movie bad boy that comes off attractive when done right. Ledger crushes this role that came off as charming and respectable. Everything that people said about him while filming is that he was the nicest guy, and I can believe it. There's no denying that I think his performance as The Joker in The Dark Knight is magnificent, but his performance as Patrick is his third best performances just behind Brokeback Mountain. Anytime I revisit it, this still proves that we all miss him right now.
Everybody has terrific chemistry with one another. The best scenes are with Stiles and Ledger. Sure, it's pretty predictable that they might end up and the end (which might be the only criticism throughout the entire movie), but it was cute seeing sort-of opposites attract when trying to win for affection, even if it wasn't the money anymore. And the moments between Oleynik and Gordon-Levitt make them a really cute couple, even if Bianca isn't attracted to Cameron at the beginning. I say that because I think some of us would want to be in Gordon-Levitt's position.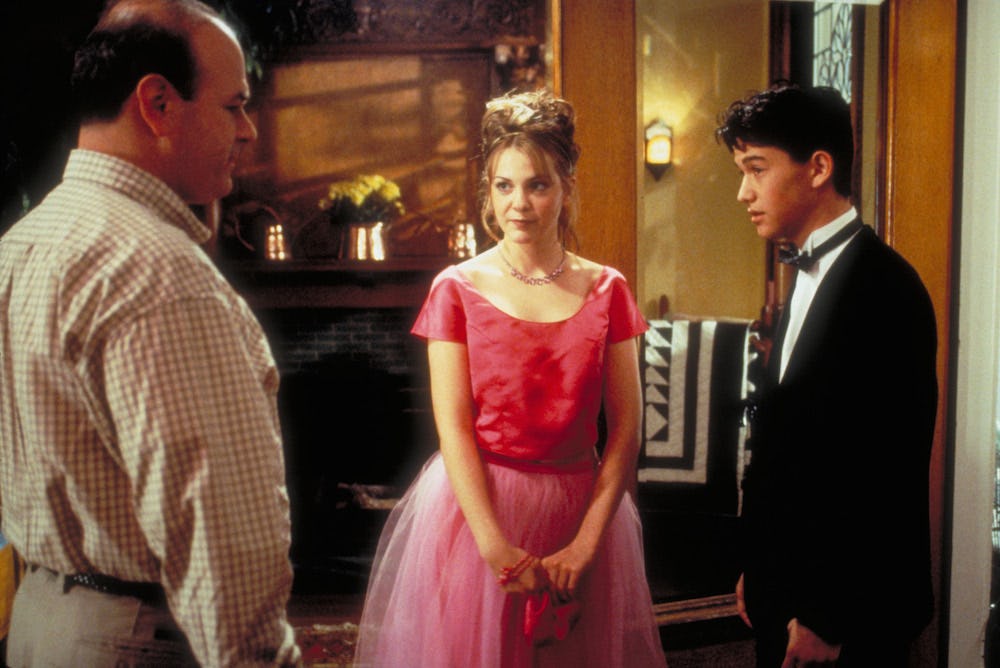 The film is also noticeable for the launching pad for many careers because of how popular this came to be. Gordon-Levitt was still on the hit show 3rd Rock from the Sun when this was released, but this was the role that made him into the movie star he is now. Gabrielle Union, who plays Bianca's best friend Chastity, went on to do a ton of work in her ever-spanning career, like TV's Being Mary Jane and Think Like a Man. I always consider Stiles to be an underrated actress and her performance as Kat, which won her an MTV Movie Award for Breakthrough Female Performance, is believable. She later starred in Save the Last Dance, The Prince and Me, and the Bourne series.
And the comedy thrown in here hits. That's probably one of the keys to a solid teen comedy: good laughs. Perhaps two of the funniest scene that I don't know why it makes me laugh so much is when Kat's coach confiscated a bag of pot from a student and take another kid's bag of Cheetos (you know why) replying with, "This too." The second time is when Walter straight-up closed to door on Joey in the most deadpan way imaginable.
And it's because of its memorable quotes that can't be forgotten:
"I know you can be overwhelmed, and you can be underwhelmed, but can you ever just be whelmed?"- Chastity
"Woops?! My Insurance does not cover PMS!"- Walter Stratford
We are screwed. Hey, no, hey. I don't wanna hear that defeatist attitude… I wanna hear you upbeat! [more upbeat] We're Screwed!- Cameron and Michael
One of my favorite scenes is when Patrick sings Frankie Valli and the Four Season's "Can't Take My Eyes Off You" in a way to apologize to Kat (not kissing her on the soccer field bleachers. That scene literally makes me swoon every single time. I mean, who hasn't thought about performing a romantic song when trying to woo someone you like? Would any of us ever try that in real life? More important, what's the right song to sing?
Perhaps the most emotional moment in 10 Things comes from Kat reading her version Sonnet 141  listing off the 10 things that she hates about Patrick. Just this scene alone brought out Stiles' commitment to this scene that needs to be sad when we feel like Patrick towards the end. Even as I was re-reading it, I got a little emotional.
For a movie of its time, I can easily say it gives a pretty accurate portrayal of teen relationships and/or with sibling relationships at the same time. Love can make you do some crazy things to the point of causing us to act rebellious between two people. And what I love the most is that it doesn't exactly feel like all another high school with the many cliches that follow.
Since its release, it gained more of a cult following years later, as it should be. This also came out on the very same day as another classic: The Matrix (Love It). And it's probably on a ton of lists of the best high school movies to watch. The movie was so popular that spawned a television show on Freeform (ABC Family) 10 years later with Meaghan Martin, Lindsey Shaw, Nicholas Braun, and Larry Miller reprising his role as Walter. The show itself wasn't particularly good, and it was canceled after one season due to low ratings.
If I were older in the 90s, this would've made my top 10 of the year. Many would agree that 10 Things I Hate About You is one of the better movies based on Shakespeare's work. It's great as a comedy, romantic comedy, and a teen movie. I can easily re-watch this anytime I want due to how funny and sweet it can really be. If you've never watched 10 Things I Hate You About, do yourself a favor and sit down for an easy 97 minutes. This is close up there with Superbad as one of my favorite high school movies ever.
Grade: A-