What's the Story: Paul Atreides (Timothée Chalamet), a brilliant and gifted young man born into a great destiny beyond his understanding, must travel to the most dangerous planet in the universe, Arrakis, to ensure the future of his family and his people. As malevolent forces explode into conflict over the planet's exclusive supply of the most precious resource in existence (The Spice), only those who can conquer their own fear will survive.
There has only been one film everybody and their mothers have been waiting for forever since last year, and that is the long-awaited adaptation of Dune, the latest sci-fi film from director Denis Villeneuve. Over a year after it was supposed to come out, this was my most anticipated film of the entire year for several reasons. One of which is Villeneuve, who's one of the best directors working in Hollywood. My excitement when this film was announced five years ago wasn't as high as it was now. Of course, this is based on Frank Herbert's best-selling 1965 novel of the same name, which has been regarded as a crowning achievement in science fiction literature. Have I ever read it? I haven't. And this is the second attempt at cracking the story following David Lynch's 1984 version starring Kyle MacLachlan, Patrick Stewart, and Sting. Now, have I seen that version? Nope, because the overall consensus from those who've seen the critical and commercial flop said it was boring and didn't follow the book too well.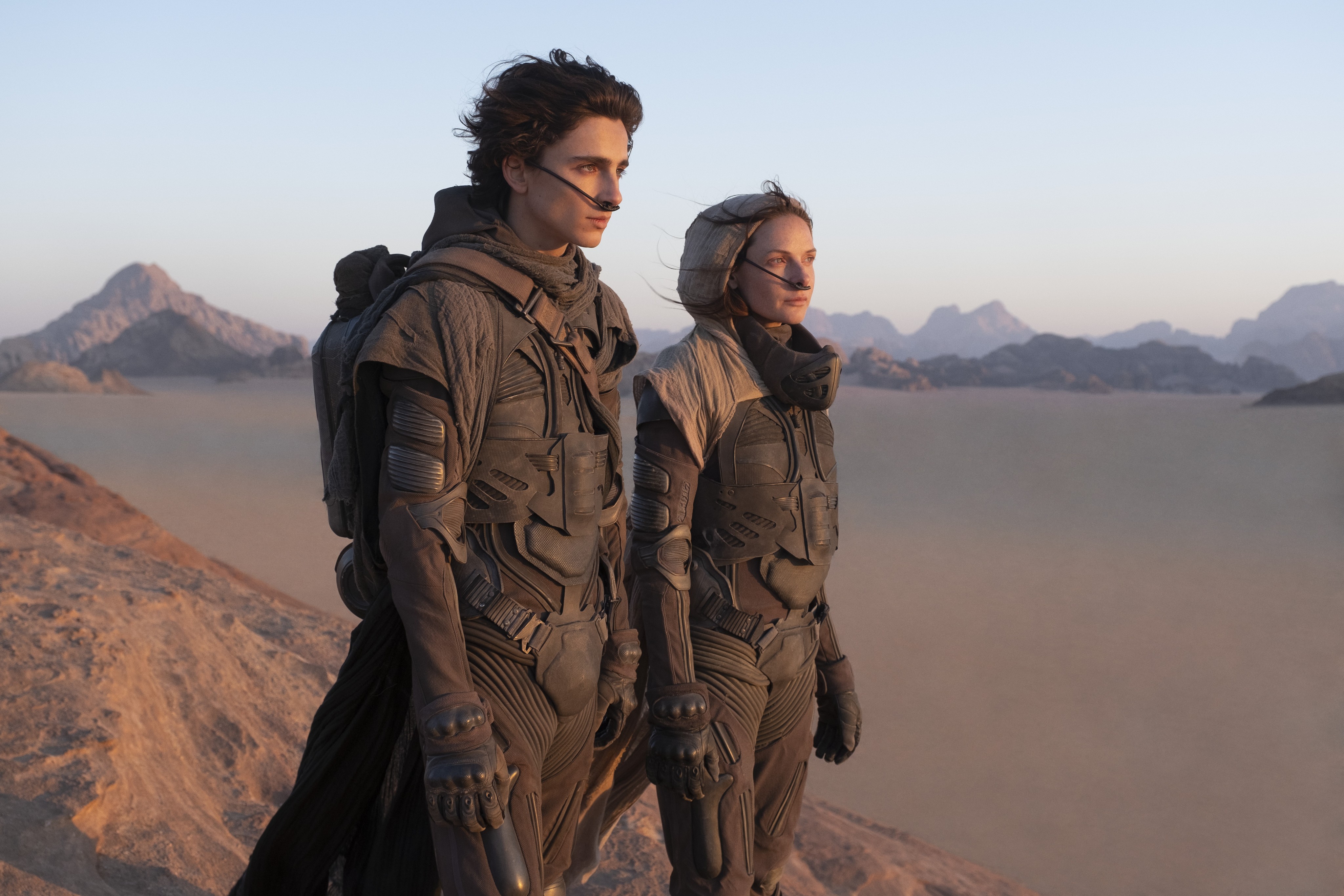 As we've already seen before, the Oscar-nominated director isn't a stranger in the world of sci-fi, dabbling greatly with his previous films Arrival and Blade Runner 2049. But this must've been a long-time passion project for him to do justice for the fans of Herbert's creation. From what I heard, Dune is one of those properties that can be hard to make into a film, especially when telling half of a story. Was I going to watch it first at home on my computer screen? Absolutely not; this would be the fourth Warner Bros. movie I'm was willing to pay money to see in theaters instead of watching it first on HBO Max. Excited as I was, the fear I had while watching the trailers was the fact I'm a newbie to all this complex world being brought to the big screen, not knowing if I was going to enjoy it or not. Fortunately, being unfamiliar with the source material wasn't as big a worry as I imagined since I found this translation of Dune to be a great film.
Not having that understanding of knowing the basics some had at the back of their heads while watching, was it able to keep me invested throughout this? Surprisingly, yes. There's this unexpected trust to put in the hands of someone like Villeneuve since I can believe he loves this series of books and wanted to do them right. With his vision, we're able to see how he can transport us into the planets of Caladan and Arrakis and become fascinated with its surroundings that won't exist for another thousand years. Did it take me a while to remember the names of the houses and the emperor involved in this universe? It did, which did require me to focus my attention during the first act when it's already expected to have that slow-burn style Villeneuve has been known by now. However, given how much depth and dedicated lore that's definitely a lot to process, it's still enough to get by without asking too many questions. The sheer scope of what's being brought to life is astounding when it not only had the feel of Game of Thrones mixed with Shakespeare set in a different universe, but presenting a fictional world I believed in that wasn't just another fantasy world.
The treatment of the source material seems to be well-handled for someone who wanted not to mess everything up to end up as another box office flop like its first attempt. As you're watching, you can really tell Hebert's work was respected well enough to please the fans, as well as if you're reading the book too, noticing there's a lot to take in a once based on the dense field around everything it holds. For some, it will be easy to follow what's going on based on the screenplay (by Jon Spaihts, Villeneuve, and Eric Roth) when giving off different kinds of themes to keep things interesting. It has its fair share of exposition (without the need for lousy narration), but it works well. Since I'm new to this, I'm sure some noticeable changes from the novel that probably won't bother me.
And when you're talking about this lineup of talents on screen, this must be my favorite ensemble in a major blockbuster all year with fleshed-out characters. The two standouts came from Timothée Chalamet and Rebecca Ferguson as Paul Atreides and Lady Jessica, respectively. In portraying the lead role of Paul, Chalament gives his best performance in years as the character's journey has been made before. Still, his path in making certain decisions determines what his future holds for him, especially as a potential leader. Even when he might not display many emotions early on, that doesn't take away from him being perfectly cast. And Ferguson's Lady Jessica gives the film that needed emotional screen presence who cares about his son than anything else. Luckily, Ferguson has more to do than I thought when she and Chalamet share more screen time near the latter half. And obviously, who doesn't love her? Just the chemistry between the two of them was excellent.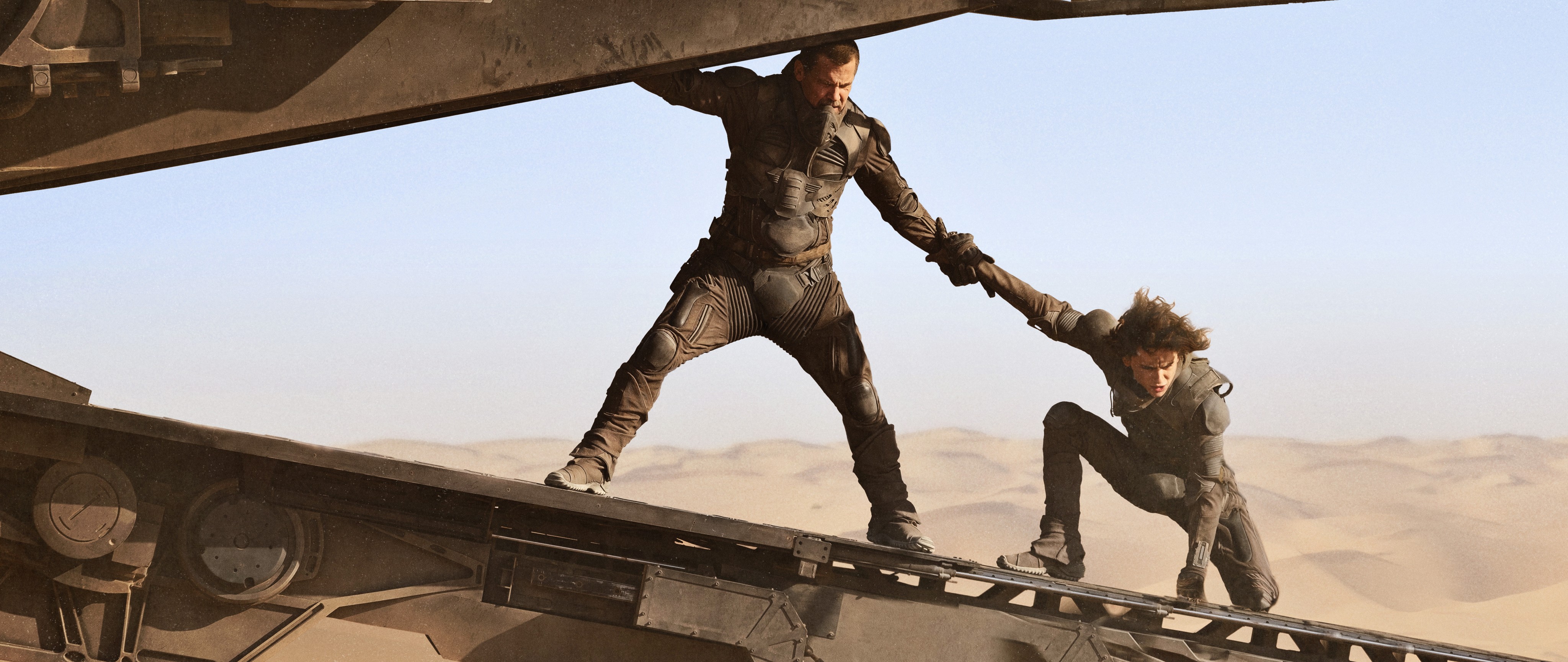 Another one of my favorite performances goes to Jason Momoa as Duncan Idaho, who I didn't know what to think when he was cast, but he really shines through each scene he's in, especially when he has to get his hands dirty. You also have Oscar Issac as Duke Leto Atreides, Josh Brolin as Gurney Halleck, Dave Bautista as Glossu Rabban, Javier Bardem as Fremen leader Stilgar, Zendaya as Chani, and an unrecognizable and relentless Stellan Skarsgård as Baron Vladimir Harkonnen. Surprisingly enough, Zendaya wasn't in it as much as one would think since her first few appearances come from Paul's dreams and visions. Maybe they're saving a more prominent role for her in the sequel (fingers crossed).
Did I love the action? You bet. These are some of the best-filmed action you'll probably witness all year, and why I say that is because what's to appreciate about Villeneuve's tackling of them is that they're given this ground approach despite displaying them as a big-budget film. Most of the locations looked as if they were filming them in the desert. Plus, there's a lot of sand to look forward to that'll not please Anakin Skywalker. All of them were presented beautifully when I made the right choice to see this in IMAX, some of the best scenes filmed with IMAX cameras in recent memory. Keeping track with everything else I loved about this, I thought the cinematography by Greig Fraser (Rogue One, next year's The Batman) was unbelievably stunning in every scene where I couldn't get over how beautiful each shot was. The visual effects look so seamless where they blend into each action sequence perfectly, where there's no competition for who's the front runner for Best Visual Effects. Seriously, I couldn't take my eyes off them, probably the most stunning CGI in the past couple of years. The production and costume design are what I can consider flawless. Yes, there are giant sandworms in here, which is the one thing I knew came from the book. To answer your question, they are huge, and you definitely want to run fast as your life depends on them. And just like previously with his work on No Time to Die (I love that music IDK), Hans Zimmer delivers yet again a powerful musical score that matches the epic quality of the film that I had to listen to once I got home to write this.
It does have that notion of feeling incomplete since this is just Part One, and I already had that in mind since there was no way a book consisting of over 400 pages would condense into a two-and-a-half-hour film. And at that length, it can be too long, but I didn't tend to mind it after a while since it didn't lose my attention in exploring the world more than I wanted. Nervous as I thought this shouldn't be anything to be hyped about, it goes to show Dune does its job at being a visually arresting piece of filmmaking that won't be forgotten soon. All I ever wanted was an awe-inspiring science fiction film that won't leave me hanging cold; however, it's unlike anything else I'll probably see in the next few months. After it ended, I honestly wanted more since this feels like the first half of a two-parter, and this is one of those films I want to see be a major success because that'll be a strong indicator if a sequel will happen soon.
Final Thoughts: Dune is simply mesmerizing. Enriched with dense world-building and storytelling of its source material, Denis Villeneuve can be trusted with captivating sci-fi. Aided by a great ensemble cast, beautiful cinematography, and Oscar-worthy visual effects, it didn't disappoint me. You have to see this in theaters since I feel it won't be a huge box office success. My showing wasn't entirely packed as I hoped for, but I think positive word of mouth will get more people to see this. Let's make Part Two happen.
Grade: A-