What's the Story: A woman with a metal plate in her head from a childhood car accident embarks on a bizarre journey, bringing her into contact with a firefighter who's reunited with his missing son after 10 years.
In trying my hardest to make my valuable time watching a foreign language film every year based on solid popularity, there was so much buzz from what will be a complex film for everyone: Titane. Writer/ director Julia Ducouranu's long-awaited follow-up to 2016's Raw had its premiere at the Cannes Film Festival, where she became the second female director to win the Palme d'Or. But when I watched the trailers or even read a couple of descriptions on what's it's about, you still go in knowing next to nothing on what will occur for two hours. That said, I was unsure about going to the theater to seek out Titane because who knows how I'll react to it.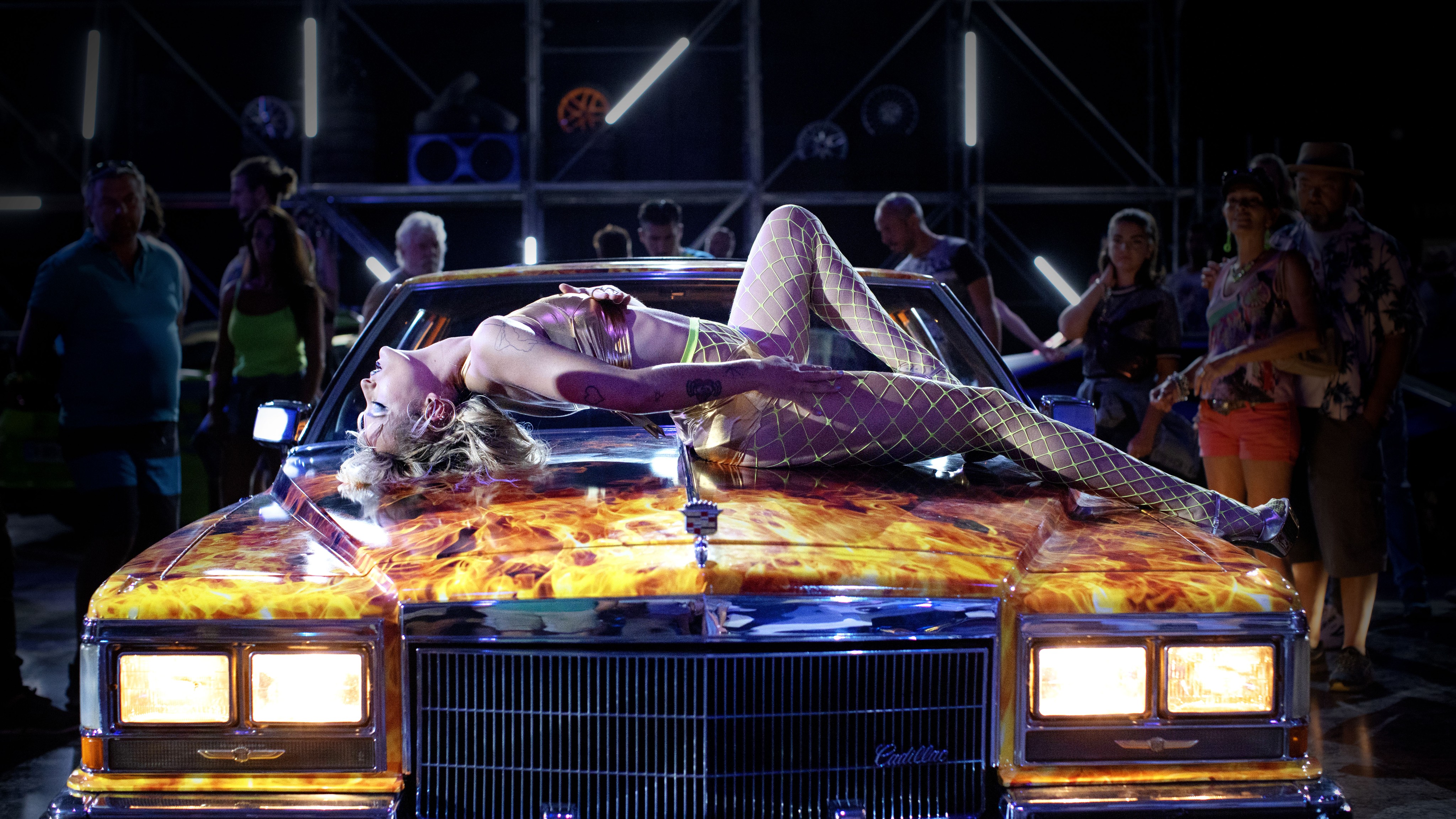 A few friends from online saw it at TIFF a month ago, where they seemed to really enjoy it, and I think somebody fainted while watching and an ambulance was outside the theater. In any case, I was prepared to be shocked that will either leave me loving or hating when this wanted to accomplish. However, after it was over, I couldn't help to admire the wild ambition this takes on, and I can now see why Titane is bizarre in the best way, surprisingly.
This is the first feature I've seen from Ducouranu since I don't think Raw would sit right with me, but it won't be all that difficult for fans of the French director to fully understand what type of body horror piece she's doing this time. Even someone like me will have no clue how to execute a story like this without the help of drugs or a weird fever dream. The film does play on the fact that it won't provide the audience with many answers as to why characters make certain decisions, and maybe that was the direct approach she wanted to get through here. There are indeed two stories that feel different from each other, where the first act plays out as some slasher flick where Alexia kills people with her hairpin as her weapon of choice. The second act touches slightly on the subjects of identity and fatherhood.
There can be a disconnect in how we see Alexia as a character in the beginning since it can be hard to know if we should root for her as a lead. That can be challenging, without a doubt, and it's like that during the first half. Occasionally, I had to shield my eyes when something shocking may happen, and it was. But I guess since it doesn't go in that direction, later on, it was still able to keep me engaged in what goes on with Alexia and Vincent when their paths cross unexpectedly. Watching Titane will leave many with different interpretations on what it could all mean, and it'll lead to many discussions, for better or worse. The first 15 minutes alone will help your decision to stay or not because any scene with a Cadillac was truly an eye-opening experience.
Since there are only two main characters, both Agathe Rousselle and Vincent Lindon's performances were great as a couple of broken individuals. To my surprise, Rousselle makes her acting debut here as Alexia, and I wouldn't have guessed that. While it's hard to relate to her, we step into her world and understand what she's recently struggling with, and she puts on a brave face considering she doesn't speak a lot of dialogue. And Vincent Lindon as Vincent gives an equally stellar role as the father who hadn't seen his missing son in ages; he does own the second half where the film shows this tender side to itself as the two have a unique relationship with each other.
The vibe Ducournau puts you in won't be an easy ride, especially early on. While the rest of the film didn't precisely measure up to that level of adrenaline afterward, it's still something I found myself getting behind. Her direction is beautifully shot and framed, and the music was another standout with some killer tracks involving scenes of dancing, from "She's Not There" by The Zombies and "Doing It To Death" by The Kills set to a scene after the title showing Alexia's dance skills at a car show. However, if I had to mention the grips I had, there were probably a couple of scenes that dragged in the middle.
Titane will probably be the most polarizing film all year where it's one people will either love, hate, or think it was really good without being on the side of love. For me, I found myself in the camp of really liking but, but not sure if I want to watch it again right away. Did I expect it to shock me more from what I heard? I think so, but it is hard not to be intrigued by it when it comes to a close. Recommending to everybody will be a hard sell, but it's an arthouse film that'll get much attention in the next few months.
Final Thoughts: Titane is undoubtedly twisted and unpredictable, surprisingly ending up as one of the year's best original films. Brimming with beautiful imagery from Julia Ducournau and standout performance in Agathe Rousselle, it balances a lot, but it's definitely unforgettable.
Grade: A-