Naming off the central characters sounds like the setup to a funny joke or something. But as you're watching One Night in Miami made me believe this could've happened in real-life because seeing these four men who meant so much to many African-Americans will leave you locked in.
What's the Story: On the night of February 25, 1964, human rights activist Malcolm X (Kingsley Ben-Adir), boxer Muhammad Ali a.k.a. Cassius Clay (Eli Goree), NFL player Jim Brown (Aldis Hodge), and singer Sam Cooke (Leslie Odom Jr.) meet at the Hampton House to discuss their roles in the civil rights movement and cultural upheaval of the '60s.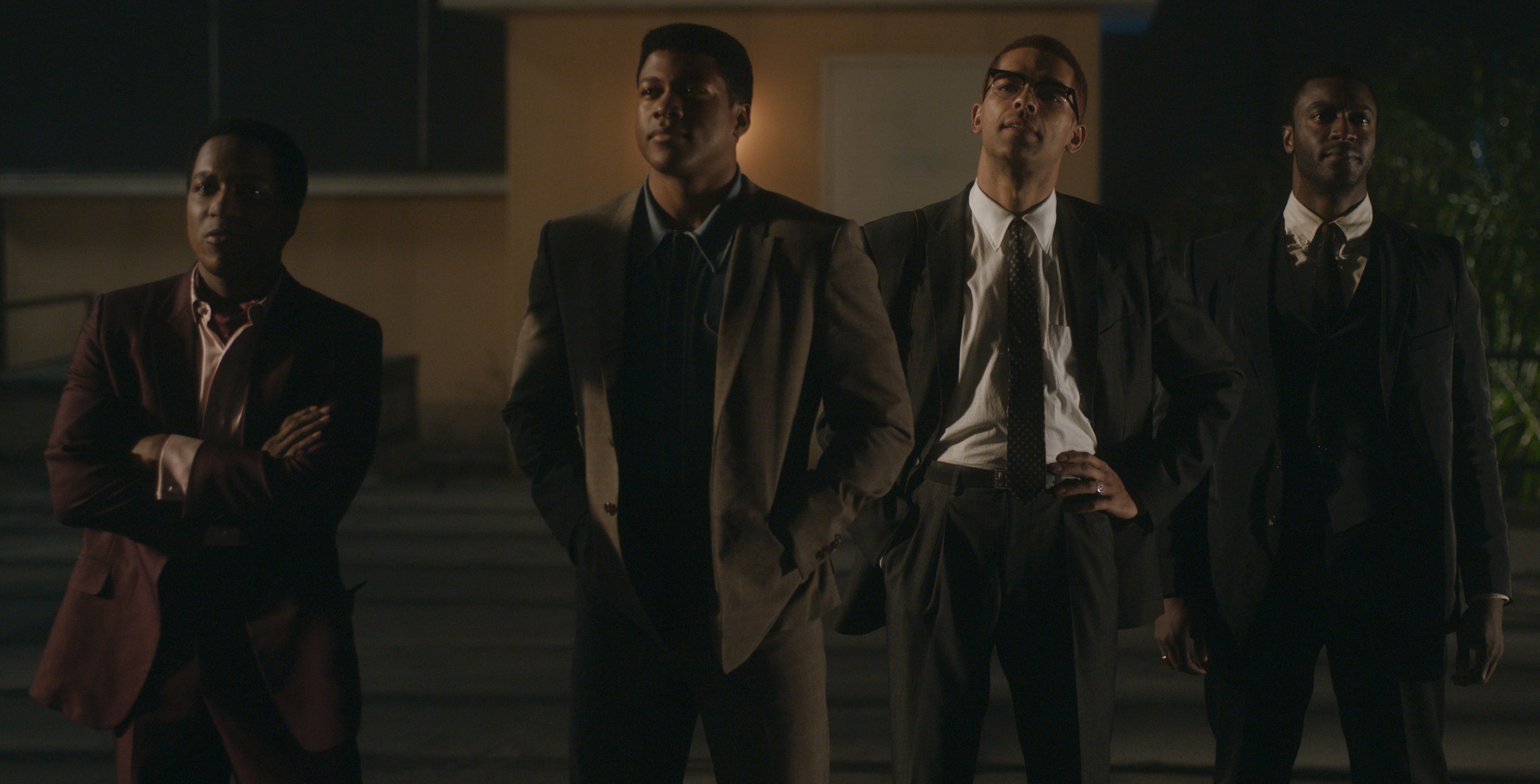 We're at a point where Regina King can do about anything. She has always been a talented actress for decades, which doesn't come as a surprise when she won the Best Supporting Actress Oscar for If Beale Street Could Talk and currently a four-time Emmy winner. But it was about time to see what she can do with her directorial debut right here. One Night in Miami gained much attention at the Venice Film Festival, which was the first for a female African-American director, and at TIFF. I must've been one of the few people who missed the virtual screenings last fall. Thankfully, it can now be watched on Amazon Prime. It's a film that's a pose to be a prime contender this Oscar season.
A lot of films this past year had that immersed experience of feeling like watching a stage play (like Ma Rainey's Black Bottom or Pieces of a Woman), but this is no exception. King adapted this from the 2013 play of the same name by Kemp Powers (Soul), who wrote the screenplay. Why it might appeal to those who have an attachment to had the chance to see the play will appreciate King's directing. And she did the best she could to work with the material. Right from the start, we're offered a glimpse of what these four men have been going through before meeting each other in the motel room. Cassius' in a boxing match with Henry Cooper at Wembley Stadium; Sam Cooke's performance at the Copacabana didn't fly well with the audience; Jim Brown visits a family friend to what ends disrespectfully; and Malcolm X is about to leave the Nation of Islam. All of that within the first half. She made a story like this work useful when it doesn't take place in a ton of locations outside the motel area and shows how to block her actors in a scene so perfectly.
But why King's debut can keep a certain momentum is because Power's screenplay is filled with amazing dialogue from its historical figures. This is another one of those dialogue-driven films that's laid back once watching it. A part of me was wondering how something like this could be made in a cinematic way without taking it boring. It was fun and unique watching them connecting or giving one of them crap with how they're contributing during the era of civil rights. For the black community, this has always been portrayed it as a troublesome time for those wanting power and to change, for which this came out at a perfect time. Is this all true if they hung out? Probably not, but how would you not want to go back in time to witness greatness in one room?
The performances are what you go for, and since they own a chunk of time together, it was all worth it with the four actors playing these icons of their own. You got Kingsley Ben-Adir as Malcolm X, Leslie Odom Jr. as Sam Cooke, the underrated Aldis Hodge as Jim Brown, and Eli Goree as Cassius Clay/ Muhammad Ali. All of them shared excellent chemistry to where you honestly believe they got along while filming.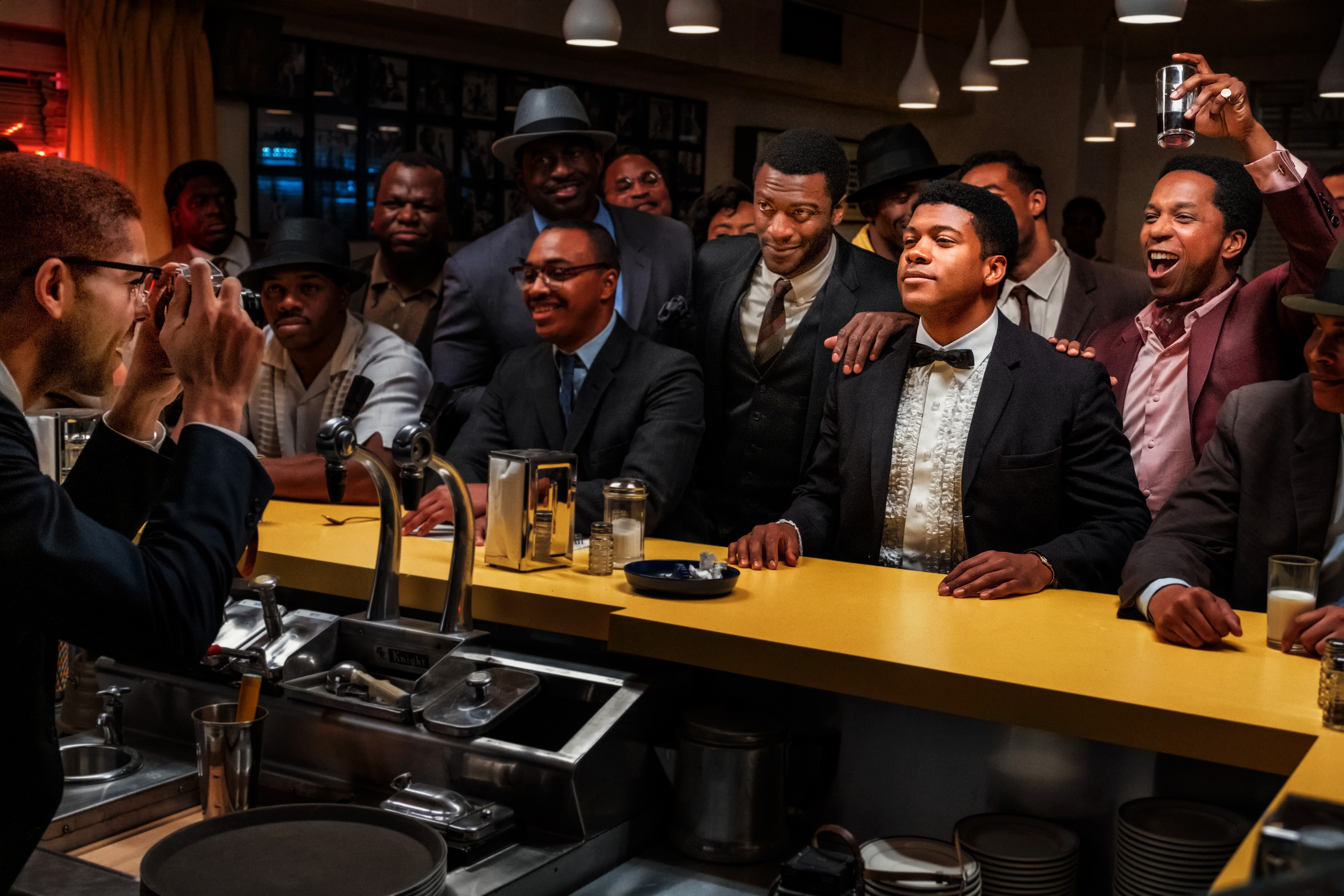 Out of the four, my favorite was Ben-Adir as Malcolm X. While I won't say he was better than Denzel Washington's Oscar-nominated role in the 1992 biopic, he brought a charismatic spirit who keeps calm with what's in front of him and worries what his life will be like after this crazy night is over. Eli Goree was too incredible as Ali. Shown to be the cocky athlete he was, he brought so much light to him, especially when he's about to convert to Islam after his recent win. But who's better: him or Will Smith? I can't decide. But I can't forget about Aldis Hodge and Leslie Odom Jr. as Jim Brown and Sam Cooke, respectively. Each man is best known for their field of profession, and they're still prominent enough to figure out what they mean now in the present than in the past. They handle the potential to deliver this message to efficient use.
Fictional or not, these are a group of friends in this motel room to help each other out and comment on what they've dealt with in these conversations that were either funny or expressing the truth, which is usually between Malcolm X and Sam Cooke for a few moments. One moment involving a Bob Dylan song was a scene, in particular, I couldn't stop thinking about since it's so true.
Honestly, there was only one problem I had while watching that probably won't be to others, which was the pacing. It had that feel of a stage play, but much like with Bradley Cooper's feature debut with A Star Is Born, that was a superb drama, but you feel the length for something that's near two hours. This sole negative could change my mind, though.
This will be ripe to get around some awards consideration during the Oscars. We could see nominations for Best Adapted Screenplay, Supporting Actor for Odom Jr., Best Picture, King for Director, and "Speak Now" for Original Song.
Final Thoughts: One Night in Miami shows Regina King to be a promising director in the future with a well-told and eye-opening drama, fueled by an incredible screenplay from Kemp Powers and amazing performances of its four leads, especially from Kingsley Ben-Adir and Eli Goree. Again, a tad slow, but thoroughly entertaining enough to watch it again.
Grade- B+