Ever wanted a pulse-pounding action movie feature fast cars, cheesy one-liners, a dangerous villain, and family (the most important aspect of all), then you've come to the right place. There's never forgetting 2015 for being the biggest year in blockbuster sequels that had the potential to sit back, eat popcorn, and enjoy the ride, which is what Furious 7 intended to do in the most fashioned way possible.
What's the Story: After completing their latest adventure, Dominic "Dom" Toretto (Vin Diesel), Brian O'Conner (Paul Walker), and the rest of the crew have separated to return to more normal lives after being fully pardoned. However, that goes out the window quickly when they're being hunted by an ex-Special Forces assassin named Deckard Shaw (Jason Statham), Owen Shaw's brother, is out for revenge, doing so by being the one responsible for the death of Han in Tokyo. To stop him, slick government agent Mr. Nobody (Kurt Russell) offers the chance for Dom and his team to go on another global mission to track him down by securing a computer program called "God's Eye."
We all figured it out by now, but it's a blessing this series really turned into a new ride when it was just a street racing series into a big-budgeted action heist series that beginning seeing a massive improvement with Fast Five and Fast & Furious 6. It also must've been a good sign when Universal Picture announced the seventh movie even before the last installment came out. Having newfound respect following the last two, Furious 7 was one of my most anticipated movies of the year, and despite the troubling production the film sadly faced, no one can deny this is another worthy entry.  
With Justin Lin taking a break from the franchise after directing three through six, it was interesting, yet exciting to learn director James Wan would be taking his first step into the realm of action. Seeing how he's mainly known for his background in horror with movies like The Conjuring and Insidious, I was curious to see how he can transition his style in what we've already seen before. For what he did, he pulled through when continuing what fans watched from before, just wanting a fast-paced, dumb, and entertaining action movie to turn your brain off. The best thing about his direction is you feel confident in knowing he fits well enough following the past six movies and having that connection to a few callbacks from the original and Tokyo Drift that finally ties to everything we got. That's not to say this makes Tokyo Drift good because it's still a mediocre sequel not deserving of a cult following, but it's a vengeance on vengeance storyline that still makes high interest in pushing the action forward while having a couple of its characters still adjusting to a new life.
The cast still works well together just like the previous films. The key theme from not only this movie but the entire series is family. Every character from a certain scene where they all together make it feel like they are one in real life, becoming the most important factor in this movie in particular. Vin Diesel and Paul Walker still have that chemistry that really works perfectly with these movies ever since the beginning. Along with the returns of Michelle Rodriguez as Letty, Tyrese Gibson as Roman, and Ludacris as Tej worked well too in gelling into their characters again. Adding Kurt Russell as a newcomer to the series with his performance as Mr. Nobody was a new way of making these movies better. Have we've ever seen Statham the bad guy before? Probably not in a while, but after his cameo in the last movie's mid-credit scene, I was excited to see what he had to bring to the series. You already know the mentality in every role Statham plays, and as Decker Shaw, I'd say he's probably the strongest antagonist out of everything we got. While he doesn't show up as often as much as I wanted since he just appears when the characters are on a mission, he knows how to be a badass as much as they could.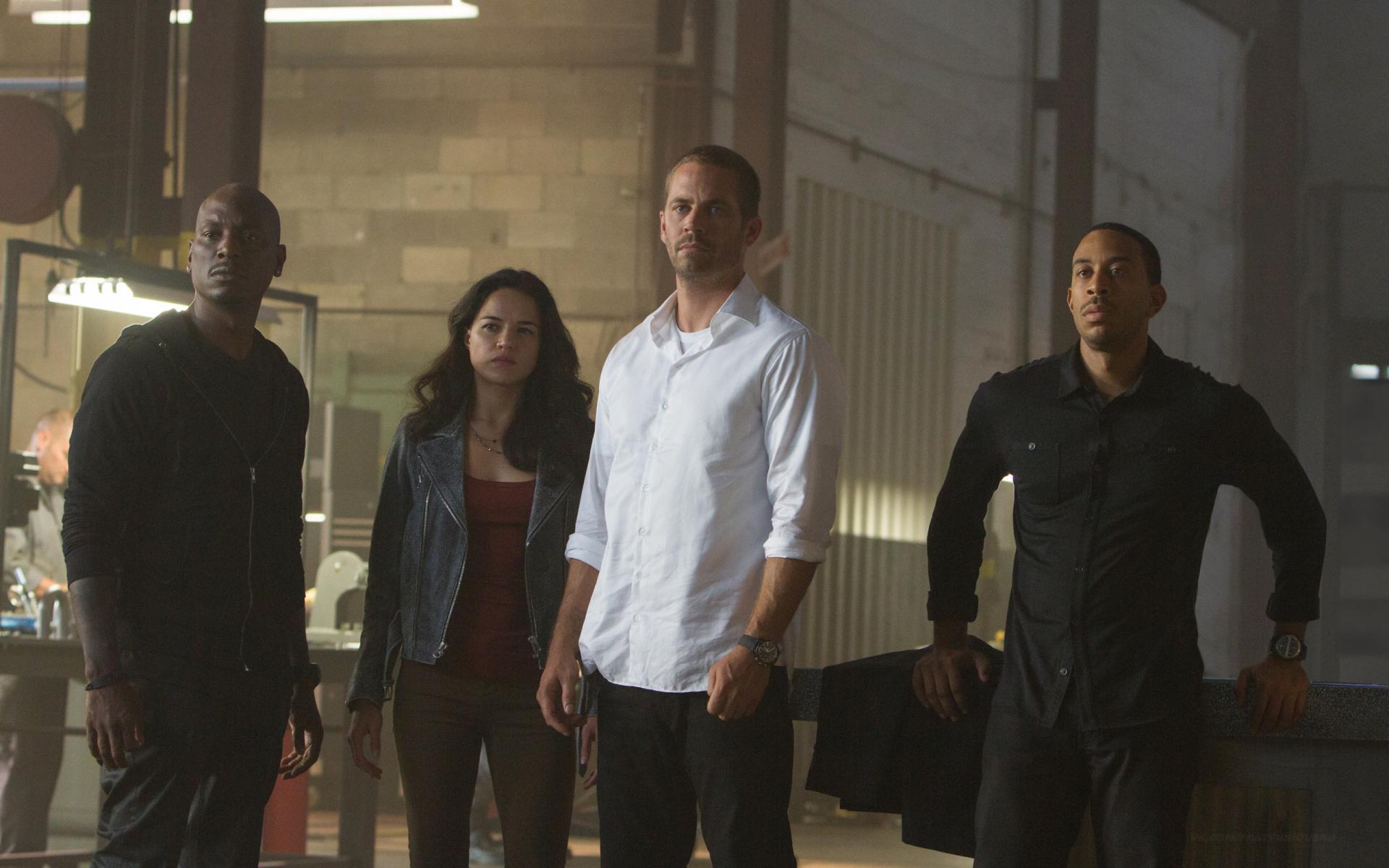 Of course, as always, everybody walks into this wanting some of the insane action sequences and stunts that have the potential to be better than before. Chase? Check. Fights? Check. Wan doesn't do too bad of a job since all of them were pretty impressive, but Lin is still the better director in terms of the hand-to-hand combat scenes. My favorite sequence has to be where the team drops free falls inside their cars parachuting from an airborne plane fueling that adrenaline and landing on the roads of the Caucasus Mountains to rescue kidnapped hacker Ramsey (Nathalie Emmanuel, Game of Thrones) that increases the intensity, too. Not only that, but there's literally a scene where a car crashes through three skyscrapers in Abu Dhabi, and I laughed hard when I saw that during the Super Bowl ad, but what can you do besides accept it?
The problems are far from between. Sure, it's not always best to pick apart the plot, but since there are a lot of things going that sound more convoluted, I didn't feel like there was a need to include a great actor like Djimon Hounsou as a forgettable secondary villain. Seeing Dwayne Johnson as Luke Hobbs is a blast, but it was sad he wasn't in the movie that much as he's confident in a hospital bed until the third act. Some of the action sequences were dumb but all the Fast and the Furious movies have you suspend disbelief. It is ridiculous, to no one's surprise. Even I'm not the smartest person in the world, and I know it's impossible to drive a Lykan HyperSport through buildings since you'll be dead. Despite those issues, this still makes for a watchable sequel.
Finally, the thing the fans of the series will be worried about was how they were gonna handle Paul Walker in this sequel, because his tragic car accident that led to his death in November 2013 was very unexpected and it was heartbreaking not only to those he worked with but his family. Since he completed most of his scenes before they held off production, a lot of us were spectating if they would cancel the entire movie and start from scratch or kill off Brian. They decided the best plan was to retire his character, and I thought they handled it smoothly with the help of Walker's brothers to fill in his shoes with re-creating his face onto their bodies and some rewrites to help complete his story.
Who knows what the original intended to be the ending, but the one we got ended up as was one the most touching endings of the year dedicated to one of the most important keys that made this franchise the way is it, and I won't lie when I say it got me to tear up. Never in a million years would a Fast and the Furious movie brought the emotions? It was also made better with the hit single "See You Again" by Wiz Khalifa ft. Charlie Puth being the perfect song to capture its sentimental wrap-up telling us even though it's saying goodbye isn't easy, we all know we'll meet again in another life. Normally, I joke about how none of these movies ever try to be a favorite for the Oscars, but I will argue "See You Again" was snubbed for Best Original Song since it was the best song from a movie the entire year, better than the actual nominees. Even the Golden Globes are a joke and they nominated it.
Overall, Furious 7 knows what it aims to be and nothing more, expecting more than what it brought when reinventing to better results just means this ain't for me. As of right now, I think this is my second favorite in the franchise behind number five, and I wouldn't have been mad if they decided to end it right here. This felt more like it belongs in the other summer movies instead of April, but that's because it didn't want to compete with the other equally interesting blockbusters. To date, not only is this the best-reviewed movie in the series (82% on Rotten Tomatoes) and dominated at the box office, but it's the fifth highest-grossing movie of 2015 ($353 million) and grossed $1.5 billion worldwide, the ninth biggest movie of all-time.
Final Thoughts: Furious 7 is another fun and action-packed sequel that not only showcases James Wan's impressive eye for directing action but also providing a touching tribute to the late Paul Walker.
Grade: B