*Spoilers Ahead
After ten years and seven films, it just felt like it was only yesterday the Wizarding World came to a close in one of the most popular fantasy sagas in the world with Harry Potter and the Deathly Hallows- Part 2. It would be impossible knowing how everything will wrap up nicely, but no matter how different it was from the book, there's no denying we got ourselves a satisfying finale that was worth the wait. 
What's the Story: Harry Potter (Daniel Radcliffe), Ron Weasley (Rupert Grint), and Hermione Granger (Emma Watson) are still on their quest to search for the remaining Horcruxes and destroy them, which can lead them to defeat the sinister Lord Voldemort (Ralph Fiennes) once and for all in a final battle at Hogwarts.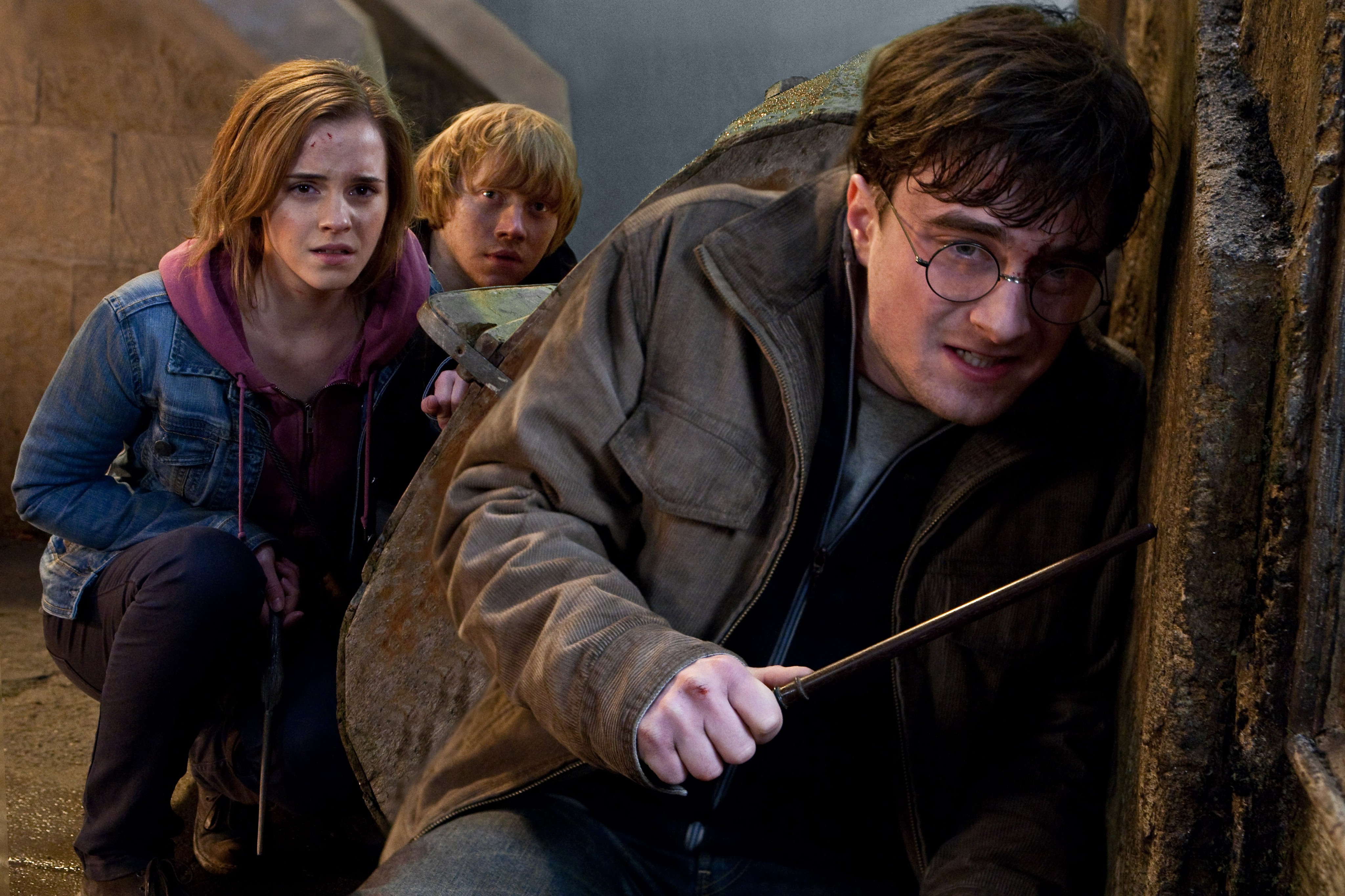 Out of all the major blockbusters to come out throughout the 2011 calendar year, all I cared about seeing was Harry Potter and the Deathly Hallows- Part 2. This was pretty much my most anticipated film of the year, and I've always been a big fan of the adaptation of J. K. Rowling's fantasy book series. Have I ever read books? I haven't then and now, and I've always heard Deathly Hallows book was the longest one to read through. Still, it was a sad thought everything was coming to a close in what I had to imagine was an epic conclusion. I was pumped out of my mind so much I re-watched the previous films to prepare myself, which included watching Deathly Hallows- Part 1 twice: Once after finishing my marathon and again the morning I saw the sequel. In reality, I knew it was going to be a film to love it since it's Harry Potter, but it's amazing to know it paid off big time in one of the most exciting endings to a franchise in all of cinema that give me everything I wanted and more.
I was immediately excited when right before the title shows up, they show the cliffhanger from the end of Deathly Hallows- Part 1 where Voldemort steals Dumbledore's elder wand from his tomb. But it was after where it had a much-needed slow start, where the trio must break into Bellatrix Lestrange's vault to steal one of the Horcruxes, Helga Hufflepuff's cup. I was immediately excited when right before the title shows up, it shows the cliffhanger from the end of Deathly Hallows- Part 1 where Voldemort steals Dumbledore's elder wand from his tomb. But it takes some much-needed time to have a slow start, where the trio must break into Bellatrix Lestrange's vault to steal and escape with one of the Horcruxes, Helga Hufflepuff's cup. But as they arrived at Hogwarts, that was when it got real and the entire school is in this battle between the students and staff of the school against Voldemort and his army as the film begins. Because if you went into this not knowing what happened the last time, it probably wouldn't help you out with what's going on in the story. And this was the entry where I believe the pacing was at its best as opposed to not a lot happening in the previous film since everything was building up to this moment. It's the shortest film clocking in at 131 minutes and there's no shame in saying I wouldn't mind being a little longer.
Director David Yates, writer Steve Kloves, and company knew they had to keep that dark tone and energy going to let you know this won't be the kid-friendly stuff from the first two. Since he's been attached since the fifth film, there was no one else to get the job done than Yates. And was where it feels like there's never a break, allowing us to know why it was a smart move to split the last book into two movies where other book translations were unnecessary to copy for the same success. Everything was coming to a head, and we were finally seeing all the students and staff risk their lives in saving the one boy in casting spells and doing whatever it takes to die for him.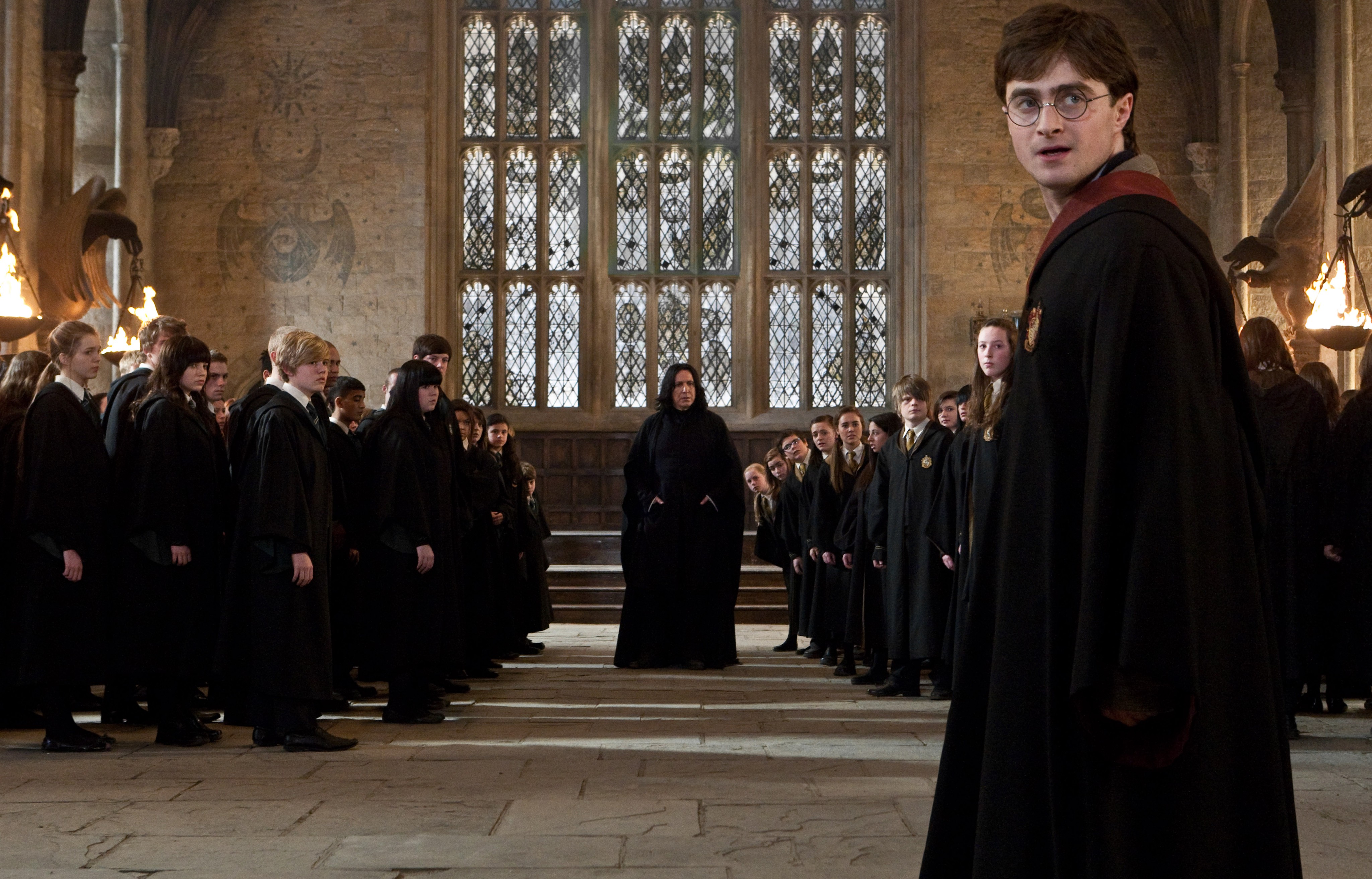 At this point and eight movies deep, you going to expect the cast to do a great job, as always. This was going to be the last time we were going to see all of them on screen, and they truly gave it their all with their performances. Daniel Radcliffe as Harry, Rupert Grint as Ron, and Emma Watson as Hermione. Radcliffe, in particular, gives his best performance out of all eight films as the protagonist that shows how much bravery is going through Harry this time around where everyone now sees him as a leader where he's willing to sacrifice himself to Voldemort in the forbidden forest to face his death to solve ending it all. Maggie Smith as Professor McGonagall is always a win and the moment where she orders Slytherin to the dungeon was all too good, as someone who identifies himself as a Ravenclaw. But I know it's a cliche to say Ralph Fiennes as Voldemort was phenomenal, but how could you not since he just knows how to play evil flawlessly. I always thought Matthew Lewis' Neville Longbottom was the unsung hero of the movie, and I'm all here for it since he's always been another one of my favorite supporting characters. That speech he gives to remind his fellow friends of the school why they're there when he's facing Voldemort alone hits you.
But who did I think gave the best performance with his time as this character? That honor goes to the late Alan Rickman as one of my favorite characters, Severus Snape. No lie, I was emotional when he died, and the film offers the backstory about him where he was close to Harry's mother and how he was grown to protect Harry despite having mixed feelings towards him with every school year. Not only that, his reason for killing Dumbledore in Half-Blood Prince was because he was cursed from the Gaunt ring and tells Snape to kill him. I didn't expect Deathly Hallows- Part 2 to be the one to help us understand why Snape as a person is ultimately complex in sacrificing his life with the reveal through his memories.
This has some of the coolest action out of all the films as you're just watching these wizards battling around the destruction of the school. They're always entertaining to watch since you come to realize the stakes are higher and you never know if a character you care about will bite the dust. From Voldemort destroying the force shield outside Hogwarts to the entire sequence inside The Room of Requirement, dull is never the word to describe them. Some might complain that the third act showdown between Harry and Voldemort was underwhelming, but since I've waited far too long to see them dual it out again, I didn't have minor problems with how it ended for him. The visual effects still hold up, and it shows how much the progression of the effects has gratuitously improved since the beginning, especially the design of the dragon guarding the Gringotts vault.
There's only one problem I've always had with watching this, which is that it moves past a few characters' deaths in one quick and moves on quickly. As sad as it was, I wouldn't mind taking the time to let the audience soak it in. And since I've never read the books, I suspect the readers will notice certain details that weren't in here. But I also wished I had a better theater experience because I was in one of the smaller theaters where I had to sit at the right end in the back. Love the movie back then, but I regretted not seeing it for the second time in theaters. As it wraps up and you're wiping away the tears, all you're left wondering is what to do with your life since it's over now. Why should I care about future young adult books translated to screen when nothing can compare to Harry Potter? But for me, I've always thought this was the perfect sense of finality where it wraps up better. There didn't need to be the eighth book/ Broadway show to be some sort of epilogue or having those lame Fantastic Beasts movies. They should've left it as is.
Above all, it's pretty unanimous everyone loves this and is found somewhere in the top five when ranking this series. Deathly Hallows- Part 2 crushed at the box office, making $381 million domestically and $1.3 billion worldwide, the highest-grossing entry thus far in the Wizarding World and of 2011. I think between this and Lord of the Rings: Return of the King, I might prefer LOTR more since everything about that finale stays with you, along with this. And the Academy didn't even award it with an Oscar win? Unfortunately, no. It only earned three nominations for Art Direction, Makeup, and Visual Effects. Honestly, I don't know how it didn't win the last two while I thought it should've gotten a rightful spot for Best Picture since it was already a dry year for that category. And while it won two MTV Movie Awards for Best Hero and Best Cast, I want to know who's dumb enough to let this loose Movie of the Year to The Twilight Saga: Breaking Dawn- Part 1? Stupidest win ever.
Final Thoughts: Harry Potter and the Deathly Hallows- Part 2 knows how to make a proper conclusion most epically and spectacularly. The reason being to why it remains my favorite is because it's well-acted, visually and emotionally pleasing, and overall satisfying to resonate with all fans alike that it's impossible not wanting this end, but it does in the best for accomplishing a true closer.
Grade: A