Watched Date: 12/6/2020
Has it been six years since we last saw David Fincher direct a film? Indeed, it has, and that's too long of a wait coming from one of this biggest fans. Mank, his latest drama on Netflix, is his eleventh film following 2014's Gone Girl and just ten years after The Social Network, which has been compared to Citizen Kane by many. With an homage to the classic era of the 1930s and 40s, this might live to the hype for major cinephiles out there.
What's the Story: 1930's Hollywood is reevaluated through the eyes of scathing social critic and alcoholic screenwriter Herman J. Mankiewicz as he races to finish the screenplay of Citizen Kane.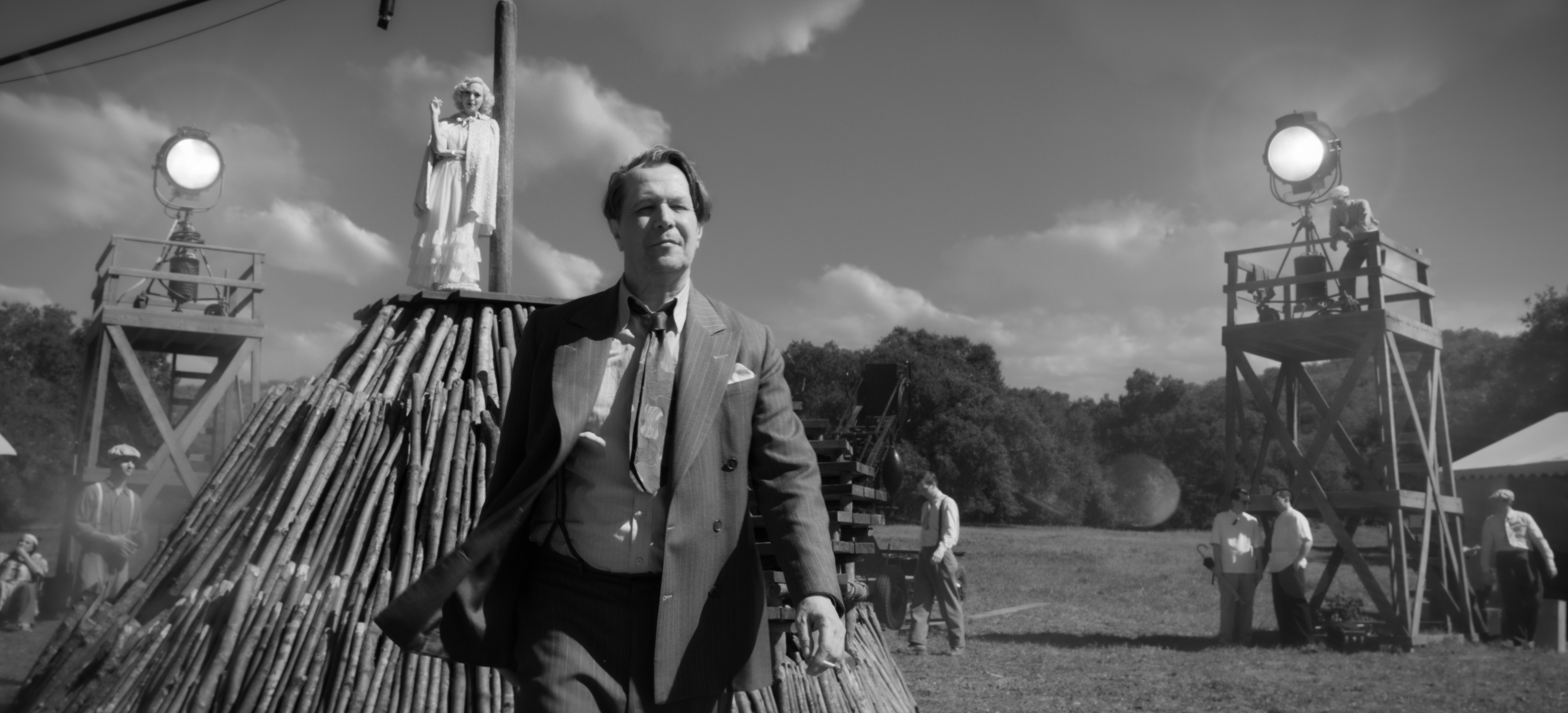 Knowing this is a new flick from Fincher already had me excited, but many people might not know this has been a passion project for him as his late father Jack Fincher, who passed away in 2003, wrote the screenplay. Originally, this was meant to be his follow-up to 1997's The Game with Kevin Spacey and Jodie Foster to be its leading stars, but it seemed like no studio wanted to make a black-and-white movie with him. Sounds stupid, right? It's a biopic about the man who co-wrote Citizen Kane, arguably one of the greatest films in history. Since I love who's involved, my expectations were high, even though the premise doesn't sound right up my way. I'll say Mank is different from what he has done before, but it's only alright if you ask me. 
Easily the film's greatest strength is the technical achievement that's all over this, and it's usually always what makes anything from Fincher amazing. They shoot everything in black-and-white, but it looks like it was filmed around in the period the setting is and where some of the most culturally impactful pieces of cinema were coming out. With a touch of Erik Messerschmidt (Mindhunter)'s gorgeous cinematography, it captures every scene so beautiful. The production design to bring the audience back to this time didn't have this fake look to it at all, and I also noticed the sound design quality when dialogue is in spokenmonaural sound mix way. And the fourth collaboration with composers Trent Reznor & Atticus Ross is a home run with another terrific score, even though their work on Soul is so much better.
There was a part of me that thought Mank was going to be a biopic all about the making of Citizen Kane, but it's more about Mankiewicz writing it and his personal life. Is watching the Orsen Wells classic a requirement watch before jumping into this? I wouldn't say so, and it's been years since I watched it for the first time. Fincher mostly focuses the attention on the political side of Hollywood rather than him writing the movie and trying to craft it together. The structure is also similar, where it contains a non-linear narrative with flashbacks, which confused me more than once while watching.
The performances here are excellent from everyone involved. Gary Oldman as Mank gives another great performance that's right up in his wheelhouse after winning his long-overdue Oscar for Darkest Hour from a few years back. I didn't know how to feel about his character at first since he spends his time in bed drunk dealing with his alcoholism and everything else bringing him down. But he brought this man to life the best he could. Amanda Seyfried as actress Marion Davies quite possibly the best role she has given despite not having that much screen time. Though I'm unfamiliar with the actress she's portraying, those who are will be very impressed. Other supporting performances from Charles Dance as William Randolph Hearst, Lily Collins, Tuppence Middleton, and Tom Burke as Orson Welles played well to their parts.
Having said all that, do I believe this to be a phenomenal film? No, and I wouldn't call it one of his best either. This will be something that will most definitely divide many people who'll express disappointment or didn't care for it. For me, there's enough to enjoy. However, it won't be one I'll re-watch for a while. My primary concern with Mank was that the story doesn't leave you emotionally connected to some characters, unlike those who are intrigued by older films.
And while sometimes Fincher's films can seem fast for long runtimes, this pacing after the first act ultimately drags, becoming the slow burn I wasn't entirely expecting. There will be those who will find this boring, and that's completely understandable. We spend a lot of time on dialogue-driven scenes that are well written from Jack Fincher's script, but we can forget it afterward for a scene that doesn't have much importance later on. Plus, since it's based on a true story, there might be some stuff that might be labeled as factually right or wrong.
Whether you love or hate it, this has Oscars written all over it, as it will get several nominations for Best Picture, Director, Cinematography, Editing, and anything else. It'll most likely win more than Citizen Kane, which only won for Best Original Screenplay. It's a shame that I wanted this to be in my favorites of the year. I finally caught up on all of Fincher's films this past summer to prepare, and it was an alright mood after it was over and my life continued.
Final Thoughts: Mank won't be David Fincher's most memorable film compared to his previous efforts, since it can be seen as cold and won't hold many's interests. But there's no denying how great the performances are from Oldman and Seyfried, and how technically incredible it made this to be. Again, I'll get divisive responses, but it just depends on your taste.
Grade: B-