What's the Story: In the world of Free City, Guy (Ryan Reynolds) lives his pretty average life. He greets his goldfish in the morning, grabs a hot coffee, and goes to work as a bank teller while working alongside his security guard Buddy (Lil Rel Howery) that constantly gets robbed every day. But something in his mind clicks where he expects more out of life. That all seems normal to him until it turns out Guy is known as an NPC (non-player character) in an entire popular video game world where the users are living it up with causing crime and violence without his acknowledgment. With no limits against him, Guy decides to be the good guy instead of a background player.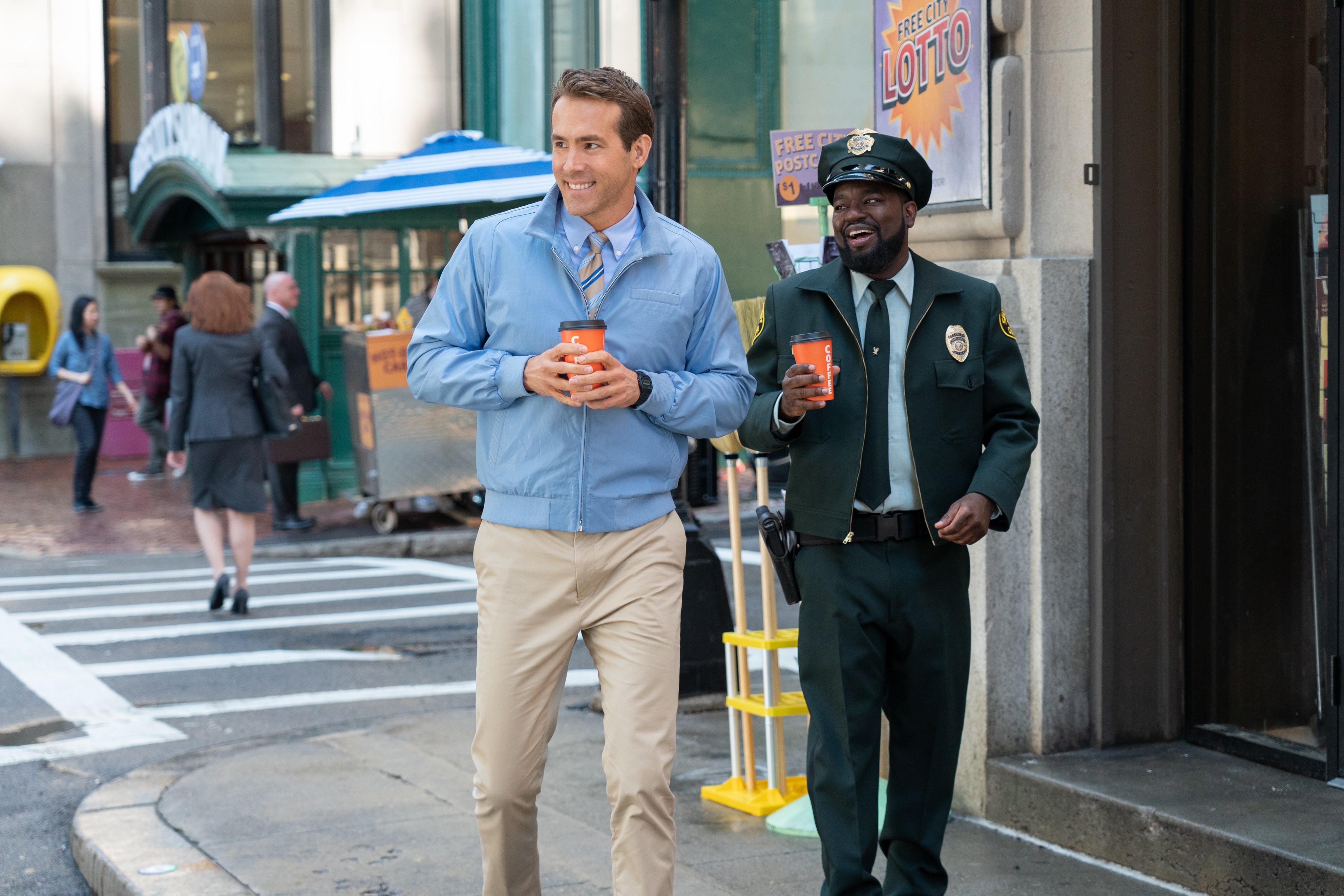 It took over a year since its original summer release last year, but it's about time we finally have Free Guy to see in theaters. This would've been a nice early birthday present, but the world had other plans. Just the concept alone sounded so fascinating to see if the team behind it could pull it off. And while this isn't a straight-up adaptation of a popular video game series since it's more of an original idea, there was a fear of feeling like it wasn't going to live up to its potential. However, sometimes those movies where the plot is centered on characters stuck inside a video game in their world usually lead to entertainment. But I'm glad to report this will provide some of the hardest laughs out of any movie this entire summer.
I have a few friends who love playing games of all kinds and, having the time to watch Free Guy will be an awesome time since it essentially belongs to them. I'm not into them as much as I used to since I feel it can be overexposed with a ton of creators online doing the same thing, which is great for them. There hasn't been one that screamed my attention in a while, but this is coming from someone who constantly plays Grand Theft Auto out of every other game ever exists because you just feel so free when you're playing open-world games. And the world-building of Free City reminds me so much of the GTA series, Saints Row, or Fortnite. But having this idea of having our attention focus on Reynold's now self-aware background character is something I occasionally think about since you have to wonder about the lives of everyone else in this city where they get killed through a heavy accident caused by a mission for something. That gives me something to think about when I play GTA V during my free time.
We already know how we'll see Ryan Reynolds in any performance nowadays, but it's not difficult to find the character of Guy charming to have as the film's protagonist. As the character learns more about what he's dealing with in this world, I was always entertained by how he became part of this fish out of water circle that helps him to find out what he's meant to do with his new purpose of reality. Just as I expected, he does well in playing the likable NPC coming to life. I love how he starts as clueless, not given much personality, and then changes with a new attitude about himself once he knows his goals. Am I getting tired of him usually playing himself? I wouldn't say that, but I'm very much pleased he came out with this since he owns me for sitting through Hitman's Wife's Bodyguard (Terrible), and for me, he's always at his best when he's given good material that wasn't waste his comedic talents.
Did I enjoy Reynolds' performance? Indeed. But did I expect Jodie Comer to show off more that makes me love her more as an actress? Honestly, I didn't. The Emmy-winner as Millie a.k.a Molotov Girl owns every moment she's into where I found myself caring for her in the game and in real-life when she's pairing up with Joe Kerry's Keys, who helped co-create a similar indie game to Free City without a lawsuit ongoing. For Guy, it's basically love at first sight when he spots her, nearly wanting to change himself for the better, and I really enjoyed Reynolds and Comer's chemistry when they're on-screen together. Kerry, alongside Howery and Utkarsh Ambudkar, also did a great job carrying their own in this, especially Kerry who I didn't expect him to have a bigger part.
It's been a while since I can remember having fun with a straight-forward comedy where the laughs were it gets the job done at making me laugh from start to finish, and I think anyone with a great sense of humor will find anything in here hilarious. From those small details and Easter eggs are ones will notice easily to a casual reference to other video games or with Reynolds' Guy going out his business in getting himself ranked higher. I had to sit in the front row, but I know my row was having a ball to where they were clapping at the end. There are a few surprises that'll come your way that had the hardest laughs out of me where I was grinning and thinking about it through the next scene. Thankfully, it wasn't spoiled for me.
Much of the credit goes to director Shawn Levy and writers Matt Liberman & Zak Penn for never allowing the time to slow things down here since they got themselves a clever action-comedy that doesn't fail in the pacing department and just know when to have fun with this concept. Judging from his filmography, this is his best film since 2011's Real Steel. Never did I thought about a film about an NPC being aware of his existence could be rewarding and giving a nice thought process questioning about everyone's reason for living. And even though it cuts back between the Free City and going on in the outside world, I was still able to pay attention since they're both important enough to keep up getting through the next scene. This isn't the most profound film out there but offers the advance of not staying in one place when there's a whole world out there to explore to find yourself. Stepping out of your comfort zone could make you a better person and will help with that potential waiting for you. The action sequences have their fair share of incorporating CGI, but being how it's in a video game environment, it makes sense, and they were all well-put-together that's able to still pleases everyone.
As for what I didn't like about Free Guy, there's isn't much, honestly. The story is as familiar as it can get where it's easy to see this as a kinda lighthearted take on The Truman Show, despite the certain surprises I didn't see coming where it has moments of heart I bought. You can see similarities to other things, yet I still find it original enough. But as much as I'm someone who loves Taika Waititi and the normal amount of hilarity he occasionally brings when he shows up, I surprisingly found his performance to be the weakest out of everybody as the owner of the game, Antwan, who's trying to get rid of Guy after the popularity he's been gaining recently. Aside from a funny moment where he's trying to get off the ground, his jokes didn't land, for some reason, and he was more on the side of being a little over-the-top. If those issues don't seem to bother you once you see it, then I hope you'll find this to be a good time just like me, and you don't have to be a hardcore gamer to find enjoyment either.
Final Thoughts: Free Guy is one of the year's biggest surprises that exceeded my already high expectations. Avid video game lovers will find this highly entertaining with its laugh-out-loud comedy, the world-building inside the fictional game, and top-notch performances from Ryan Reynolds and Jodie Comer. Just a fun summer blockbuster that made me have a smile throughout and while leaving the theater.
Grade: B+