Always trust films that make their debut at Sundance since those filmmakers know how to make quality coming-of-age features to grab your attention. Who could ever forget crowd-pleasers like Sing Street and Blinded By the Light? With the latest release of CODA, how could one not find this comforting?
What's the Story: Ruby Rossi (Emilia Jones) is a seventeen-year-old teenager living in a small Massachusetts town of Gloucester, where she's the only hearing member of a deaf family, or a CODA (Child of Deaf Adults). Living at home with parents Frank (Troy Kotsur) and Jackie (Marlee Matlin) and her older brother Leo (Daniel Durant), they run a fishing business where they're doing catches that won't do them good financially. Ruby decides to join her school's choir club since she believes she has a voice. Between her time practicing and helping her family, she must know what really matters in following her dreams.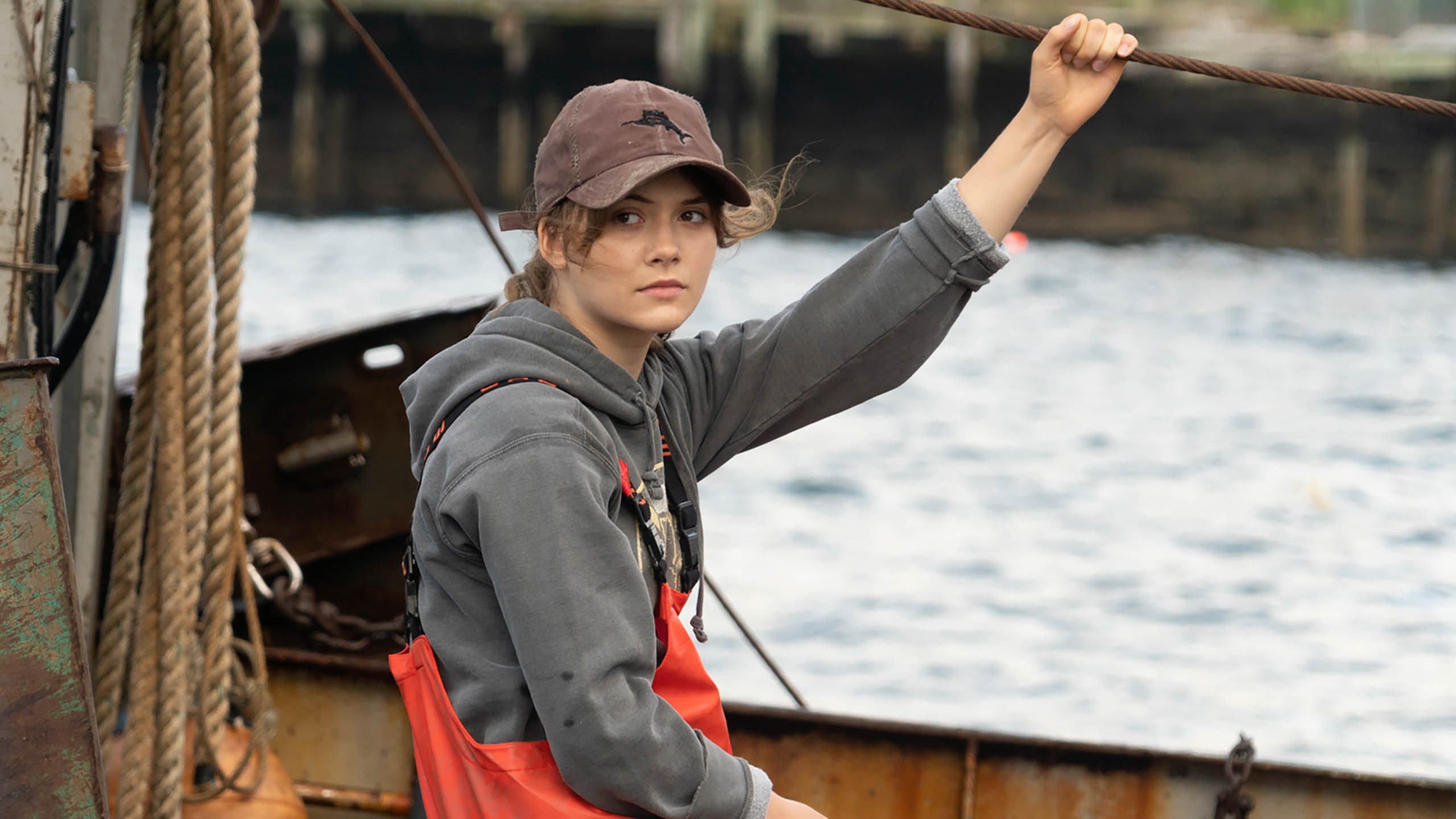 Like I said, CODA premiered on opening night at the Sundance Film Festival, where it received rave reviews, especially from a few mutual friends online who were lucky enough to watch it virtually. Not only was it the recipient of several awards, including the U.S. Dramatic Audience Award, but Apple also bought the rights for a record-breaking $25 million to be released in select theaters and stream on Apple TV+. I haven't done this in a while, but I didn't want to watch any trailers for this because I wanted to go in as cold as possible, and then worrying about not being all that was quickly vanished since I thought CODA is the heartwarming film for everyone to see.
Because I knew little about this, the entire time I was thinking writer-director Sian Heder (Tallulah) made an original film, but it was a surprise to learn this is an American remake of the French film titled La Famille Bélier. The difference from what I researched was real deaf actors were portrayed in this, which will get a better response from the community for its true authenticity. Its story is much different than what I thought it would be but better. This plays out as one could think of when it's a coming-of-age tale cling your way, but I tend to look past that minor con when I'm able to see the outcome of these characters.
Seeing how we're getting the chance to see Hollywood focus the attention on characters around the deaf community is always fascinating to me, even when the Oscar-winning Sound of Metal explored that culture to a new brand in some way. The term "CODA" is a little fresh to me, but I haven't come across them in real life where it isn't hard to understand where the character of Ruby is coming from. And what Heder does is create a sweet and perfectly balanced way of finding relatability to those finding their voice in the world.
The best thing about Heder behind the work here is that I would've thought this was her first feature, but it wasn't where it this is a film she drove a ton of passion to do, even more so learned ASL to communicate with its actors. That's dedication at its finest. More importantly, what I thought was going to be a straightforward drama has some levity incorporating some surprisingly funny moments that don't just make fun of the deaf.
There's always a chance an indie darling will have its major breakout star I hope will be remembered till the end of the year, and I'm glad to say Emilia Jones's performance as Ruby completely surprised me. This isn't her first role or anything, but it's impressive that the nineteen-year-old actress handles herself in speaking through sign language and realizing she has an incredible singing voice. The character of Ruby is likable, a little headstrong, shy, and relatable enough to love her throughout. And that was an accent the whole time? Could've fooled me.
And the family dynamic of the Rossi's is what I expected for a clan to handle their own business. It's great to see Marlee Maltin, Oscar-winning actress of Children of a Lesser God (the only deaf actor to win an Oscar), in another memorable role while acting against fellow deaf actor Troy Kotsur as Ruby's parents you probably wouldn't mind hanging out with. Daniel Durant's Leo gives a layered performance as the member of the family who feels left out, while Eugenio Derbez as choir teacher Bernardo Villalobos had me nervous since he can be rather annoying when he's something, but here's some charm to him in helping Ruby out in trying to get a scholarship to Berklee College of Music, and it's one of his better roles. Also, it's nice to see Sing Street's own Ferdia- Walsh Peelo in something again playing Miles, who must sing a duet with Ruby for the upcoming fall concert.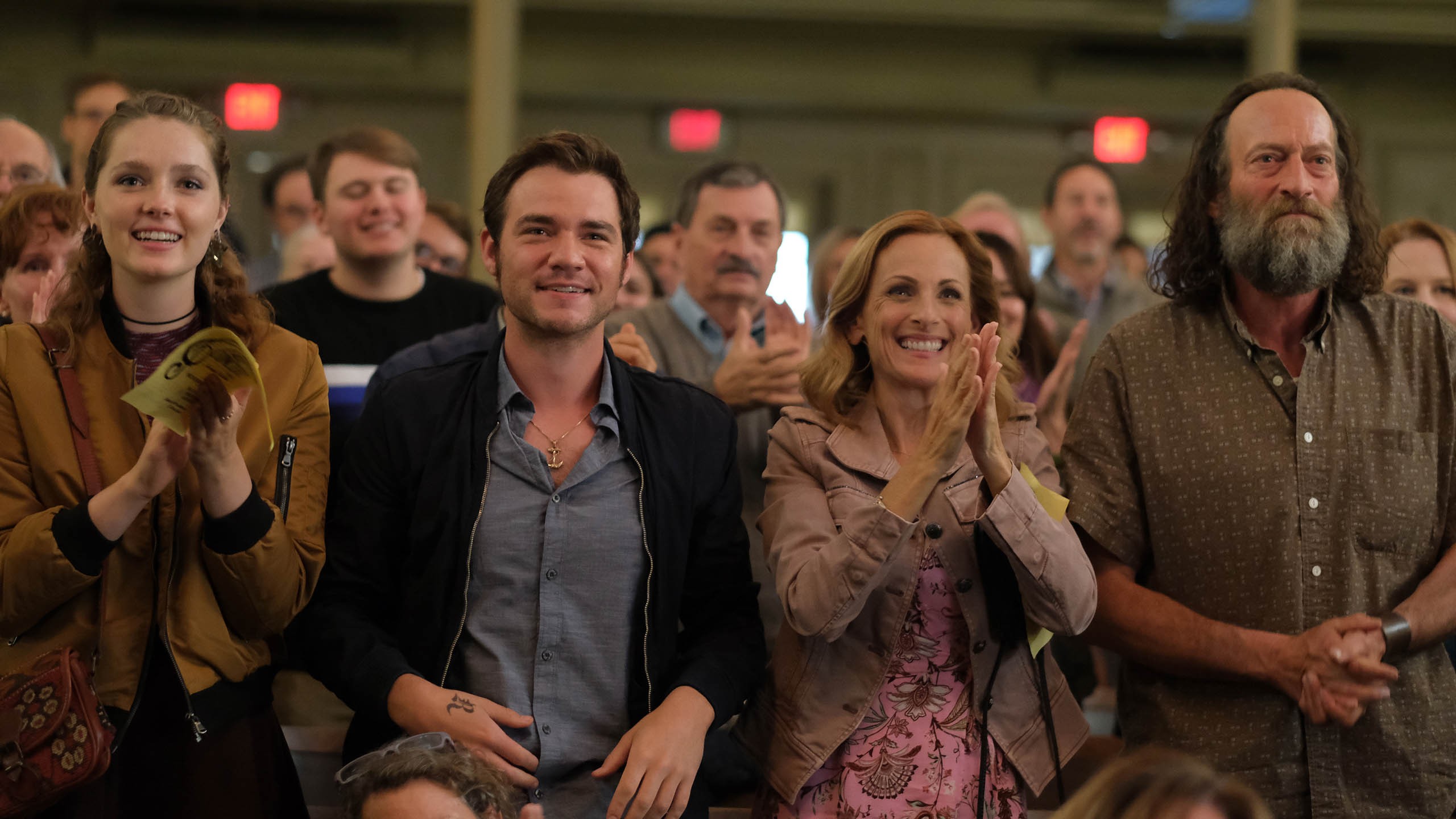 Seeing how we're seeing this from the perspective of the sole hearing family member, what Ruby has to go through with this does sound like a struggle. Since she's the only one who listens to music, it makes sense to step out of her comfort zone to make this dream happen without having to be an obligation to stay with her family for the rest of her life. Singing brings her joy in life. You have to be a cynical person in the room to not find any moment in the third act tear-worthy. Just when I thought it was over, it continues for another 20 minutes, and I couldn't hold back the tears where those were earned, not feeling manipulated in any case. And if you want to make a good movie, the key is to have Joni Mitchell's "Both Sides Now."
Overall, I can finally see what everybody has been talking about for months, with CODA capable of being a family dramedy that doesn't lean into the offensive crowd. Familiar as it may appear, Heder should be proud of herself for directing one compelling film that'll warm anyone's heart that's worth watching for your pleasure. It would be nice to see some recognition around Oscar season.
Final Thoughts: CODA is a film I went into almost completely cold, and I'm glad to report it's one of the best this year. Endearing, surprisingly funny, and emotional, this is a coming-of-age story so genuine to please everybody, especially with a breakout performance from Emilia Jones.
Grade: A-