It has finally come down to this. Keeping up with the fact I posted my favorite movies from each year of the decade, it wouldn't be any trouble to might as well do a top 10 of my favorite movies of the 2010s. But what a decade it has been in terms of how everything from big-budget blockbusters, independent films, streaming services, and showing a bit more diversity that anybody can attach themselves to throughout each year.
Coming up with this list wasn't too hard when I already know what I loved from before. But keep in mind that several of these were my number one favorite movie from their respective year. Does that mean the other ones aren't great anymore? Absolutely not. These are the ones I have chosen based on re-watches and thinking about them constantly afterward. These are the ones that I will always look back on in what I believe shaped my mind in the way I think of films now and forever.
This is only ten since there's no way of coming up with 100. That's just impossible. In talking about an entire decade, I saw a combined total of 554 movies in theaters over the past ten years. Wow! Also, these are my own personal favorites that might range from blockbusters to smaller flicks, so there might not be more critically acclaimed movies that have been on every "Best of the Decade" list. And oddly enough, you won't find any Best Picture winners on this list, even though I think 5 out of 9 that deserved to win.
With that bit of housekeeping out of the way, let me discuss my 10 favorite movies from the past decade.
Honorable Mentions: Silver Linings Playbook, The Avengers, Birdman, Inside Out, Scott Pilgrim vs. the World, Dunkirk, Wonder Woman, Eighth Grade, Spider-Man: Into the Spider-Verse, Edge of Tomorrow, Get Out, Dawn of the Planet of the Apes, Gravity, 21 Jump Street, Logan, Guardians of the Galaxy, Lady Bird, 12 Years a Slave, Bridesmaids, Creed, Skyfall, Django Unchained, Baby Driver, and many others that I have mentioned in my best lists from 2010 to 2019.
10) 'Harry Potter and the Deathly Hallows Part 2' (2011)
---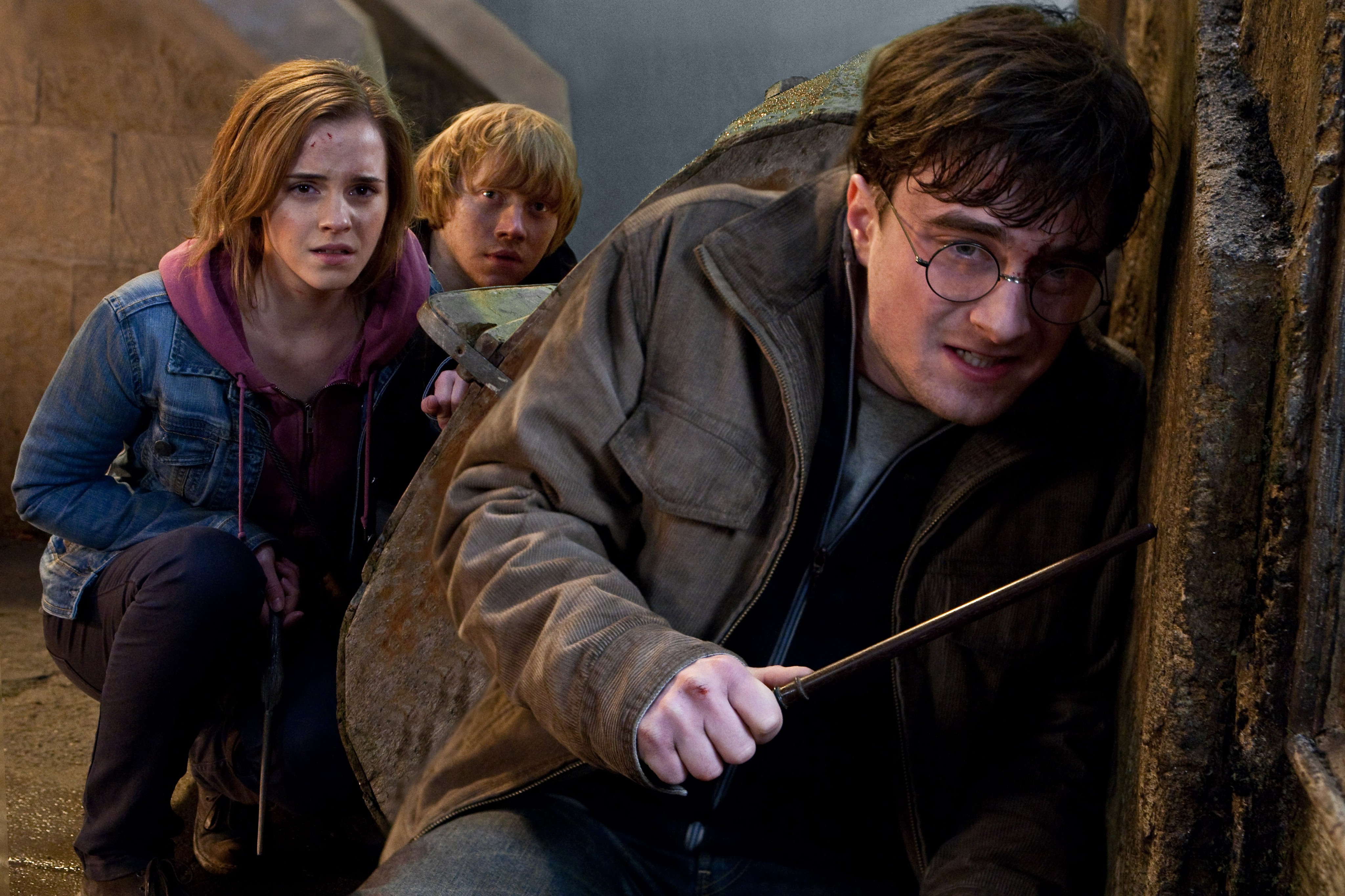 Harry Potter and the Deathly Hallows Part 2 deserves a place on this list just for being the most satisfying conclusion to a franchise that has beloved by fans of the books. I wouldn't call myself a "Potterhead," but I grew up with these movies. Never read the books FYI. Even though I wished my theater experience was better (small theater, had to sit at the last seat at the stairs), it didn't take away from this being a proper way to and wrap things up where the final stand is at Hogwarts, and everybody joins in the fight to defeat Voldemort and his army.
With Deathly Hallows Part 1 just a set-up, this was when it becomes epic in all the right ways. In terms of action, emotional weight, and ending everything nicely for all these characters, it's unbeatable and shows this can be the only book that has the right to split into two parts. The entire film is proof positive that Potter was the cinematic hero we needed. How is it that this didn't get a Best Picture nomination, let alone a single win at the Oscars?
"C'mon, Tom… let's finish this the way we started it. Together!"
9) 'Toy Story 3' (2010)
---
There were some fantastic animated movies from the decade: Inside Out, Spider-Man: Into the Spider-Verse, The Lego Movie. But the one that made that everyone cry was Toy Story 3. This franchise has been a part of my childhood, so seeing this when I was a teenager on screen with Woody, Buzz, and the rest of the gang in this family film/ prison escape was full of fun and heart that's perfect in my mind.
When I re-watched this to prepare myself for Toy Story 4 this past summer, that third act has emotions swirling all over, and the ending was something I never thought would happen in a mature light. Toy Stroy 3 just does a phenomenal job at taking the message of letting go of what we love, but remembering what we care about most in life. This also has the best antagonist in the entire franchise in Lotso (voiced by Ned Beatty) and this has Michael Keaton voicing a Ken doll. You're heartless if you don't love this balance of action, comedy, and drama in one movie.
"So long… partner."
8) 'The Wolf of Wall Street' (2013)
---
It's no secret that The Wolf of Wall Street isn't made for everyone since it contains insane amounts of drugs, nudity, and a ton of F-bombs. But that didn't stop me from thinking Martin Scorsese's 2013 film was a three-hour ride of excitement. We get a glimpse at how stockbroker Jordan Belfort became this Wall Street genius in scheming these people with a company that was a game-changer.
Leonardo DiCaprio's performance might be my favorite of his as this despicable man that's basically Ferris Bueller but does quaaludes. The story of the American dream without knowing the consequences that eventually follow. The Wolf of Wall Street is vastly an incredible non-stop hilarious comedy that's entertaining and remarkable that marked this the second-best collaboration between the director and lead star that never failed.
"They're gonna need to send in the National Guard to take me out, cos I ain't going nowhere!"
7) 'Mad Max: Fury Road' (2015)
---
You don't have to watch the other films in this series to understand what's going down in Mad Max: Fury Road since it's one crazy and thrilling ride from start to finish. How is that director George Miller filmed all of this at this age where he handled these practical action sequences seamlessly? Incredible, I say. Tom Hardy didn't have to say much to make an awesome replacement for Mel Gibson as the titular character, but it was Charlize Theron as Furiosa that stole this entire film, making her one of the best heroines in recent memory.
Its story is just an extended car chase through a dry wasteland of nothing; that's all I need for two hours without being repetitive. Mad Max: Fury Road gets better with each repeat viewing as my embraces the eye-popping cinematography, killer score from Junkie XL, and just experiencing one of the coolest action movies ever made.
"You know, hope is a mistake. If you can't fix what's broken, you'll, uh… you'll go insane."
---
So many superhero blockbusters impacted the landscape of cinema with much love from fans and massive box office numbers. Even though Avengers: Endgame is one of the most recent comic book movies to come out, I won't apologize when I say it a mesmerizing entry in the Marvel Cinematic Universe that culminated through 22 films. The three hours that it took me through this perilous adventure didn't leave my mind when I first saw it, and I was constantly thinking about nearly every single detail the next morning without telling my roommates about it.
My reason of it beating the other installments in this series is that you don't know what to expect after the cliffhanger at the end of Avengers: Infinity War, and besides being a ton of fun, containing amazing and unforgettable moments (Cap wielding Thor's hammer, the third act battle), and having an emotional punch, it had that feel of a series finale I wouldn't mind if Avengers: Endgame was the last movie in this long-running series with its strength in these performances and making fans care about these fictional characters. This paid off big time for me to call this the greatest superhero movie of the decade, regardless of those claiming these aren't cinema.
"Avengers! Assemble."
5) 'Whiplash' (2014)
---
The film that helped put Damien Chazelle's name on the map. Whiplash can perfectly be described as The Karate Kid, Black Swan, and Full Metal Jacket's love child, and that child turned out to be spectacular from frame one. This drama about this aspiring drummer striving to be the best takes you on an intense ride through determination, and it becomes stressful when it comes through blood and sweat. Fueled by great performances from Miles Teller as Andrew Nieman and J.K. Simmons' Oscar-winning villainous turn as Fletcher, and a screenplay that was rushing and not dragging, it's astonishing filmmaking.
Truth be told, both this and Birdman are the two best and memorable movies of 2014. While I still love Birdman much so, Whiplash might be a little better, as this is another film that has pristine editing and leaves you captivating to know what happens in the next scene. Just the ending alone goes beyond mind-blowing when it's one of the most incredible endings I've ever seen.
"I'll tell you, man – and every Starbucks "jazz" album just proves my point, really – there are no two words in the English language more harmful than "good job"."
4) 'The Social Network' (2010)
---
For a biopic about the origin of Facebook and the difficulties of its founder with lawsuits, The Social Network is smart, all with the brilliance of David Fincher's direction and Aaron Sorkin's relevant screenplay, which I believe has the best-written dialogue ever. This is an engaging story that touches on the themes of success, betrayal, and friendship that made it work perfectly. Never has a single moment that's dull with a non-linear narrative that still feels important.
Jesse Eisenberg as the ego-centric Mark Zuckerberg gives a performance unlike anything we've seen from him, and Andrew Garfield's breakout performance as Eduardo Saverin is remarkable. When this came out in the eighth grade and we didn't have school one day, I watched this because it's that good. I also need to mention Trent Reznor and Atticus Ross's moody yet electronic score that energizes the veins. How did this not win Best Picture again?
"You know, you really don't need a forensics team to get to the bottom of this. If you guys were the inventors of Facebook, you'd have invented Facebook."
---
Knowing that a brand new Star Wars film was coming out made every fan out there nervous yet excited. Star Wars: The Force Awakens was everything I wanted and more. Maybe because it's perhaps the best movie theater experience I ever had in my life sitting in the theater with opening night with tons of fans, but it was knowing J.J. Abrams could make wrongs right again. The Force Awakens introduced us to new characters (Rey, Finn, Kylo Ren), new planets, and revisiting our old favorites (Han Solo, Leia) in the most exciting way imaginable. Who cares if it borrowed elements of A New Hope? Every sequel borrows elements from its previous movies.
Although this new trilogy didn't end the way I hoped for, most people think this too, this still felt fresh and a return to form to the beloved saga with only positive feelings towards this seventh installment.
"I used to wonder about that myself. Thought it was a bunch of mumbo jumbo. A magical power holding together good and evil, the dark side and the light. Crazy thing is… it's true. The Force, the Jedi. All of it. It's all true"
---
Ever had that feeling of falling in love with somebody? That was the feeling I had when I saw La La Land for the first time. Damien Chazelle's outstanding musical symbolizes his love letter to Los Angeles, it harkens back to classic movie musicals of the past similar to Singin' in the Rain, and an impactful message about believing that achieving dreams is very possible. Here, the spark of chemistry between Ryan Gosling and Emma Stone as the Jazz aspiring musician Sebastian and aspiring actress Mia was nothing short of greatness, its beautiful cinematography made to be framed on walls, the music is catchy, and the direction that earned Chazelle the Oscar for Best Director is flawless.
Normally, I never thought about writing a screenplay because I don't think I'll be good at writing dialogue, but La La Land kinda made me want to write a musical of my own. But it was the ending that, like Whiplash, floored me and broke my heart. That made me realize that most of what we want in life can't become a reality with love or our careers. In the long run, it's all about feeling happy for each other. Here's to the film that made me feel alive. This didn't win Best Picture, but like me and Scott Mantz, it won in our hearts.
"It's conflict and it's compromise, and it's just… it's new every time. It's brand new every night. It's very, very exciting!"
---
Thought-provoking. Not counting The Dark Knight, Inception is Christopher Nolan's masterpiece of cinema. This came out during a summer movie season that didn't have a ton of hits until this came out, and we didn't expect it to have our minds blown in amazement. For an original, sci-fi blockbuster, it never becomes confusing. When this was the decade he owned different genres to science fiction to war, reaching a point when none of them were terrible, then he's truly a genius. Boasting a stellar ensemble (Leonardo DiCaprio, Joseph Gordon-Levitt, Tom Hardy, etc.) and incredible, heart-pounding action set pieces (the hallway sequence is an all-timer), they destined it to be a classic when it first came out. This became the most talked-about movie where there's a lot to analyze, especially the most ambiguous ending in recent memory.
Every time I catch this, there are new things I discover, and this is because of the complex premise that has the same effects as a time travel movie. This requires a ton of brainpower to understand what's going on in the layered plot. It's all about planting a dream inside a dream with a heist feel in the mix, how does that not excite you? Inception was a reminder of why I love movies. Personally, if you don't like this, then you shouldn't give your opinion on movies ever again. Everything from the script, the visual effects, cinematography, and Hans Zimmer's breathtaking score that captures each scene are good enough reasons to say Nolan will never fail as a director and Inception as the best film to come out of the decade.
"You mustn't be afraid to dream a little bigger, darling."
Stay tune later on to see my Top 10 worst movies of the decade!