How are things going for everyone? As we begin a new year, I hope everyone is doing well and staying safe. Before I announce my top ten picks of the best movies of 2021, I've put together another combo review of three current films that I just watched, rather than individual reviews: Mass, The Last Duel, and The Harder They Fall.
And there were a few movies I also watched I didn't have time to go in-depth about them, but if you're wondering: Wrath of Man (B-), The Forever Purge (D+), Pig (A-), Nine Days (A-) Ron's Gone Wrong (B-), Red Notice (C+), and Being the Richardos (C+).
'Mass'
Mass has been a drama I've been waiting anxiously to see ever since its debut at this past year's Sundance Film Festival. But it took the studio long enough to finally release at the end of the year after it had a minimal run in theaters. So when you have Fran Kranz, who some will remember fondly as Marty in The Cabin in the Woods, making his directorial debut set in one location that'll have us feel an insane amount of tension over a sensitive topic that's a difficult watch, but one that requires us to listen. 
It takes place in a downstairs conference room in a small Episcopalian church, it lets you breathe where you don't know what will go down that day. Everything is getting set up by church worker Judy to prepare for the arrival of four parents-Jay and Gail (Jason Isaacs and Martha Plimpton) and Richard and Linda (Reed Birney and Ann Dowd)-agreeing to meet each other six years after the devastating tragedy that had to do with their kids, a school shooting caused by the son of Richard and Linda. What follows is a real-time conversation that shows both sides while exploring the true stages of what a parent must confront.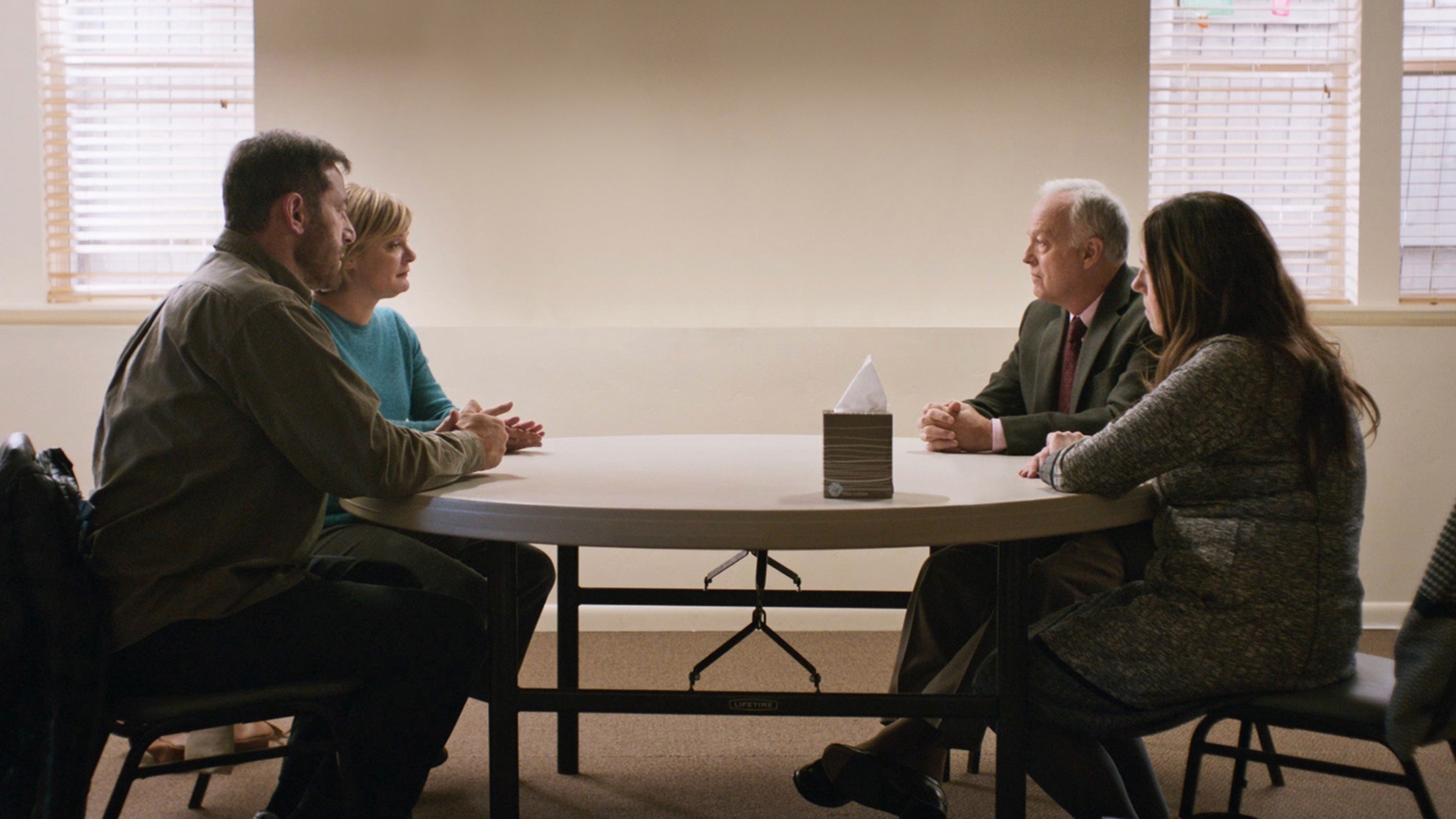 Kranz unexpectedly manages to take us on an emotional journey that carefully places us as a fly on the wall, watching everything coming between these two couples that were a long time coming. But when a film Mass has a limited cast and a premise consisting of talking throughout, one would automatically think it would be a tedious experience; that was my thought originally. And it wasn't. This took the patience it needed to let these characters know what they're feeling emotional, and it's hard not to sympathize with any of them. Nothing is more heartbreaking than a school shooting, especially in the last decade alone, regardless of the age. The basic structure of how Kranz played it out could've also served as a stage play, but maybe he wanted to make it more cinematic with them talking about the fallout and the trauma seething through them. What's impressive was that they shot this in 14 days in what I thought was completed in one day, for all I know.
Since only four performers are the focus here, all four were flawless in what they had to present, and then a moment of two showed how strong they were getting through filming. This was some of the rawest acting out of anything I've seen this year when all I saw were these parents discussing and going through this event with a sense of clarity at the end of the day. I've been pretty familiar with everyone except Birney, but they brought immense humanity to their respective characters. Jason Issacs has always been an underrated actor, and as Jay, this is the best thing I've ever seen from him where he wants answers and under his skin is brimming with anger; Martha Plimpton as Gail is a bit more reserved to even be apart for a mother still grieving; Ann Dowd as Linda tries to bring humanity, while Birney does his best to stay calm when it gets uncomfortable. When it gives you an idea of which side to be on, there isn't a right side in explaining how it would've led up to the innocent or political beliefs or an unfocused understanding.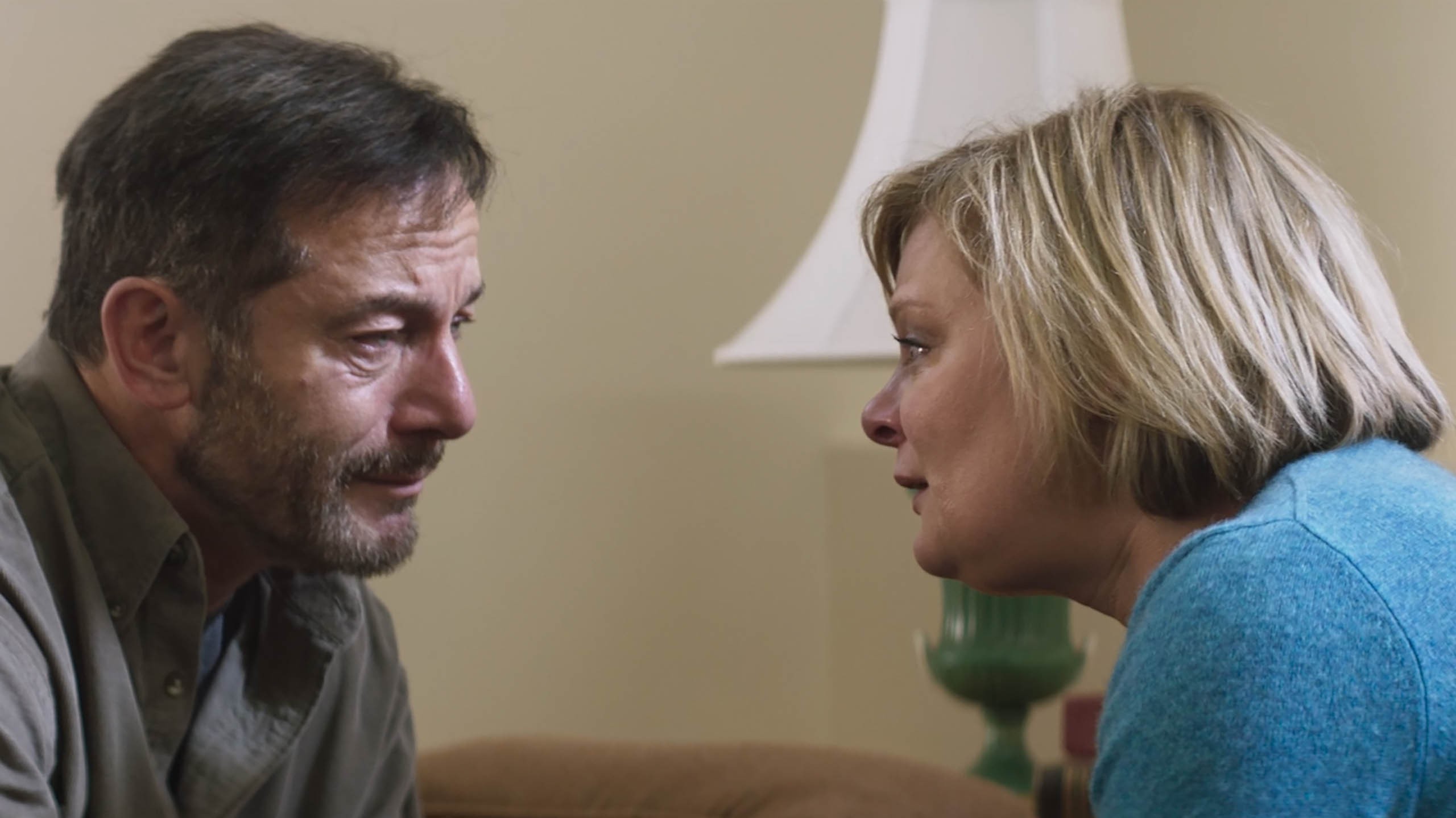 A film like Mass needs to start an honest conversation involving victim-blaming. The choice of not having any flashbacks to get a perspective of what went down was the right move when it's more heartbreaking to listen to what the four has to say, and it's thanks to Kranz's screenplay for having the dialogue authentic to this interaction. Not the most accessible watch since it'll be difficult for those who've gone through the same thing, but it'll leave you deviated, especially the third act, where it almost broke me in tears. It's just a shame this has become one of the more overlooked films in the past few months when it's nothing more than excellent. This should be in talks for the Oscars, but it won't, sadly.
Mass is dialogue-heavy throughout, but it's certainly didn't prepare me for one of the most emotional dramas this year. Fran Kranz's puts in a strong directional debut that couldn't have worked without the powerhouse performances of its four leads. It grew on me as it continued. If you haven't heard of it, it's absolutely worth adding to your watchlist, and it has me curious to see what Kranz does next.
Grade: A-
'The Last Duel'
If Hollywood ever needs to hire a director who has a clear eye for having a film with swords and drama, Sir Ridley Scott is the right choice. His latest, The Last Duel, sees him come back doing a historical epic, and while it worked to great success with Gladiator, that hasn't gotten the same reaction in disappointments such as Kingdom of Heaven and Exodus: Gods and Kings. And while he's always been hit-or-miss, there was enough confidence to see this play out, especially with the cast and essential story told to us. Luckily, I found this to be engrossing, even if I didn't love it as of right now.
Set in the 14th century, it reveals the last judicial duel to the death on the cold day of December 29, 1386. The two competing in the combat trail are none other than knight Jean de Carrouges (Matt Damon) and Jacques Le Gris (Adam Driver). Both of them were good friends, fighting alongside each other that has been long gone and becomes a scene of betrayal after Jean's wife Marguerite de Carrouges (Jodie Comer) accuses Jacques of raping her.
Besides knowing the plot, I didn't know anything about the real-life history between these two men. The most interesting aspect that surprised me is how the film comprises three different perspectives of its characters, reflecting what happened leading up to the assault and duel, respectively. The decision to split this into chapters instead of telling the story straightforward could've been a mistake, but it made it rather fascinating. It's a structure being told in how we perceive what occurred in a scene handled one way, but it might be seen changed from how the characters see it through their point-of-view. This made me rethink specific questions I had during the first act that got brought up and made sense looking back at it.
Building the tension of crossing this with Gladiator with The Accused with his spin of Rashomon, Scott makes this not just as the medieval epic he usually succeeds in. Still, he can tell a relevant story able to work in today's climate of sexual assault accusations that hits hard for those who've experienced this as well. Can it be an easy watch? I don't think it could've worked if it did follow a conventional structure. It can't be when it does show the scene of the rape happening that's very uncomfortable to sit through. It's growing layers of how could've gone down and changed in personalities of them storms of what's to believe since it's challenging to know what's to be truthful or not, especially from what a woman had to go through to make sure her story needs to be heard and listen to.
The cast is exceptional here with dealing with their characters with each chapter. Re-teaming with the director following The Martian, Damon with a mullet is this man wanting to be liked by his fellow men and get respected by his people, wanting to be the best in his condition with his wife that allows him to give another standout performance in this past couple years. Driver gets the best role out of the three movies he recently played with his subtle yet pretty unlikable role of Jacques. And I didn't know what to expect from Ben Affleck after sporting a questionable bleach blonde hairpiece, but although he wasn't in it as much as I wanted, he surprisingly gave a fun role as Count Pierre d'Alençon. Though I was already expected to pay more attention to Jodie Comer's Marguerite, who indeed shows she dares to be an incredible actor in films, more importantly when it's her story in how much her life's on the line for telling the truth. Was it shocking she was the best out of her three co-stars? Nope, since I believe her in every scene, she's in.
Based on the 2004 novel by Eric Jager, I was thrilled to hear Affleck and Damon would co-write the script for the second time after winning their Oscars for Good Will Hunting. They also brought in Nicole Holofcener (Can You Ever Forgive Me?) to write the side of the female character is a smart move in making this work in terms of stakes and total investment. The action has to be the most brutal Scott has done by far anytime it wants to slow its battle sequences with blood and staying power. And when it all culminates in the climactic showdown between Jean and Jacques, it's undeniably the best part where everything is riding on who wins. What a strange time for two men to duke it out over a woman with a chance of Jean dying leads to her death over the false accusations?
Most will find its overall structure repetitive, but that wasn't as bothersome as I hoped. But like most of Scott's films, it does feel a bit too long. Some won't notice it and think it flies by, but that's been something that always shows, even with his period pieces. But as much as I enjoyed catching up on this finally, this made me wish I saw it in theaters. Unfortunately, it didn't perform too well at the box office, making it one of the year's biggest bombs. This could be because the people behind the marketing had a hard time selling this adult drama with a sensitive subject matter. Comer seems like a dark horse contender for Best Actress in terms of Oscar chances.
In the end, The Last Duel might not be perfect as I imagined it would be, but this gives us one of Ridley Scott's strongest historical dramas that wasn't a waste of time. Maybe a little too long from my perspective, but it's worth the attention from the performances, writing, and it's unique storytelling structure. Since I watched this after I saw House of Gucci, there's no debate I enjoyed this more than the disappointment the other one turned out to be.
Grade: B
'The Harder They Fall'
Lastly, The Harder They Fall is the latest western to stream on Netflix, and it's one of those films I didn't have very high expectations for after watching the trailers. For me, it can be questioning for anybody to sell me on westerns in general because I'm very indifferent to the genre, which does seem to be drying out. That said, rewatches such as True Grit and Django Unchained impressed me highly. But to my shock, this is the kind of westerns that'll have me engrossed since Jeymes Samuel's directorial debut is flat-out entertaining.
As he witnessed his mother and father gunned down by the vicious Rufus Buck (Idris Elba) and carves a cross into his forehead to remind him, Nat Love (Jonathan Majors) is now an outlaw himself where he has killed off Buck's accomplice. That goes well until Buck's gang led by "Treacherous" Trudy Smith (Regina King) and Cherokee Bill (LaKeith Stanfield) broke him out of prison after he'd been pardoned. The news has Nat reuniting with his gang- Stagecoach Mary (Zazie Beetz), Jim Beckwourth (RJ Cyler), Bill Pickett (Edi Gathegi), and newcomer "Cuffie" (Danielle Deadwyler)- for some sweet revenge against Buck once and for all.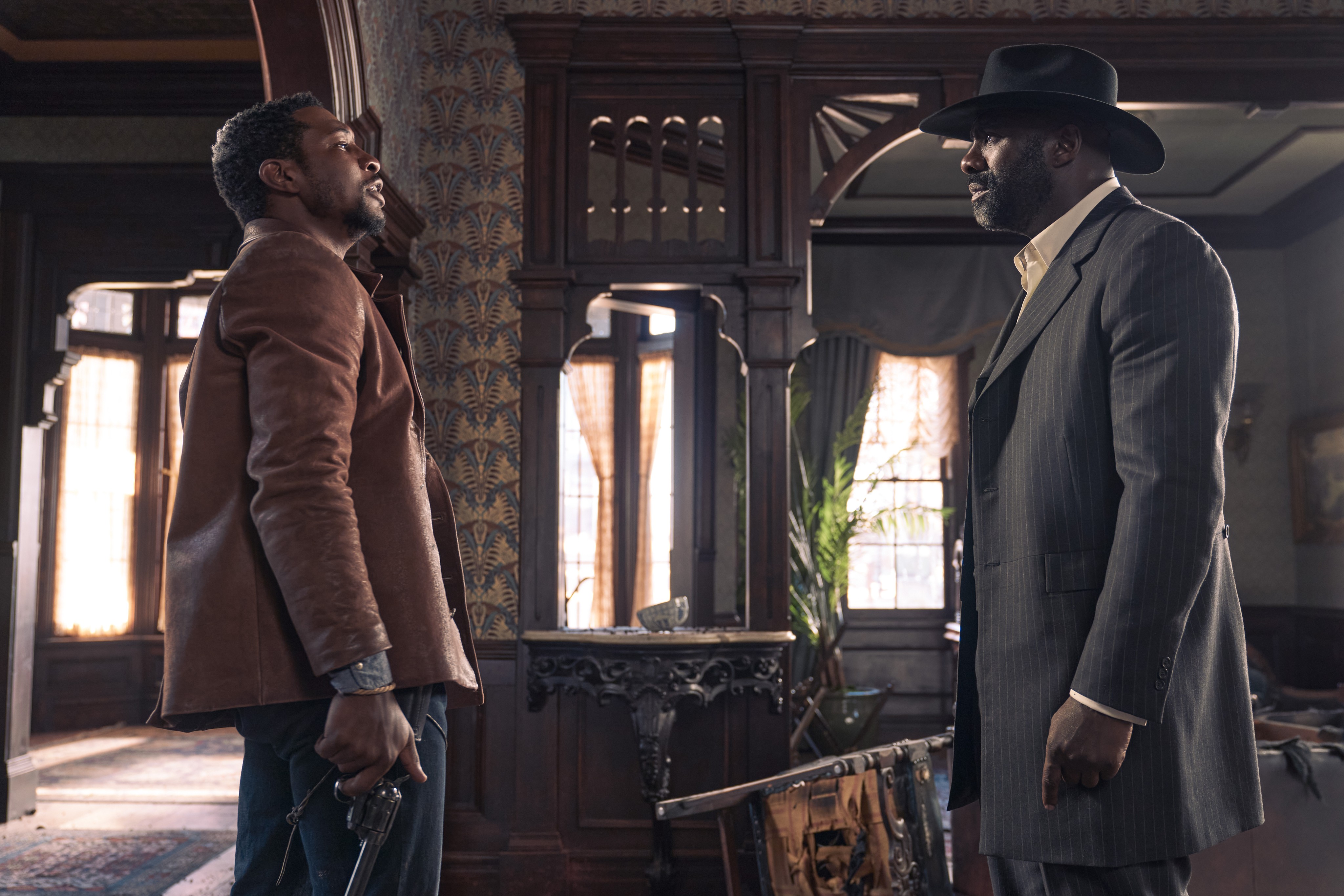 Because we have a western, it's not the biggest surprise this centers on a revenge tale. Isn't that like every one of them? But though the familiarity is there, it's all in the hands of Samuel to eject it with his style, making it both old-fashioned and bold for an audience that might not care much for these types of movies. Here we have a fictional story with characters based on real-life black cowboys, which never gets represented in entertainment. And man, does this make cowboys awesome again, thankfully. Without knowing anything about Samuel before pressing play, everything he puts forth through his thoughts on what kind of bloody shoot em' up action would be from him that has his own take for the modern-day. It won't work on all spades for many, but it hooked me right when the opening credits popped up. Then, he managed to throw in that energy, whether with the action or suspense, to keep the storytelling flowing, making the rest of the time fun and a tad unpredictable, going into surprises I didn't see coming.
But it's not just his superb direction that makes it work as well as it does; look at the names they recruited to appear in this, led by Jonathan Majors, who is always great. It seems like only yesterday that I first heard of him thanks to his roles in The Last Black Man in San Francisco, Da 5 Bloods, and most recently as "He Who Remains" in the Loki finale. With his dynamic portrayal as Nat Love, he appeared to be having a fantastic time in the significant part. While he was the stand-out, there's nothing I love more than seeing Elba and King in the villain roles when you know precisely how'll they be. But I couldn't complain about the presence of LaKeith Stanfield, Zazie Beetz, and Delory Lindo rounding out the ensemble. And while some characters, in particular, didn't have much to do aside from their traits, this didn't take away from the general enjoyment of how fantastic everyone was.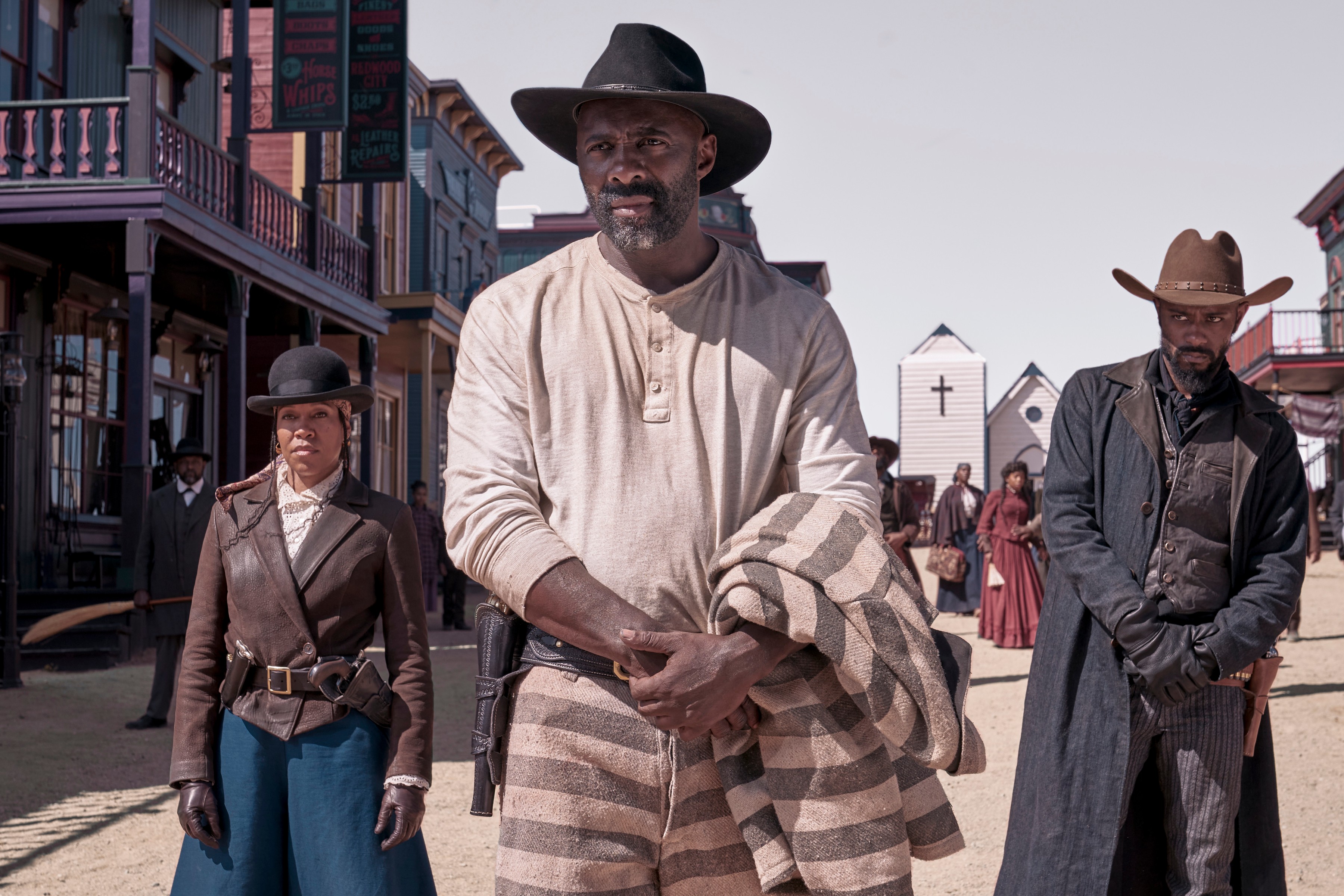 Perhaps it didn't need to be 138 minutes long, but Samuel deserves credit for not crafting a dull western; The Harder They Fall gets its vitality from all of the action, as each of the fights and shootouts wowed me. By looking at how bloody it was, I can tell Quentin Tarantino influenced him. But, based only on sound design and cinematography, the third act shootout was the most enjoyable of any action film this year. And I was first concerned about how the soundtrack would be utilized effectively, as I am not a fan of contemporary music in historical films. The only time it worked was in A Knight's Tale, and it falls short in everything Baz Luhrmann creates, especially The Great Gatsby, in my opinion. The black westerns, on the other hand, are always the greatest. Every song in the playlist fits into the sequence, including "Guns Go Bang" by Kid Cudi and producer Jay-Z, introducing the characters in the opening credits. When finished, I was eager to listen to some of them again.
The Harder They Fall is one badass western I honestly didn't expect to love generally. But, even when it's your typical revenge premise follows through the familiarity, it brims with Samuel's style, fueled by intense action, a blastin' soundtrack, and an all-star cast bringing their all. I don't know what took me a month later to watch this, but it's a high recommendation to watch on Netflix.
Grade: A-