'Encanto'
Anytime it's around Thanksgiving and Disney goes all out in releasing a film good enough for the whole family, it's what you call a win for everybody. With their latest animated film, Encanto, the enthusiasm with this wasn't as high as it should've. That's mainly because the trailers didn't entirely impress me, for some reason. That said, there's hope to be found, considering this is the studio's 60th animated movie, which is a surprise to me. And it won't be a win if it doesn't even have hints of charm and music to please all ages, which it does.
In the mountains of a village in Colombia lives the Madrigals, where they live in a magical home and members of the family have unique powers passed down to them–all except Mirabel (voiced by Stephanie Beatriz), who hasn't been given her special powers yet, unlike her two sisters: Isabela's ability to make beautiful flowers or Luisa's strong strength like it's nothing. The people in their town aren't even scared of them, as they do their part to help their community from life's daily problems. But, just as everybody is celebrating a member discovering his powers, the house's magic seems to be in danger of disappearing forever. Everything now comes down to Mirabel figuring out how to fix whatever is causing the home and hopefully discovering what she's meant to do.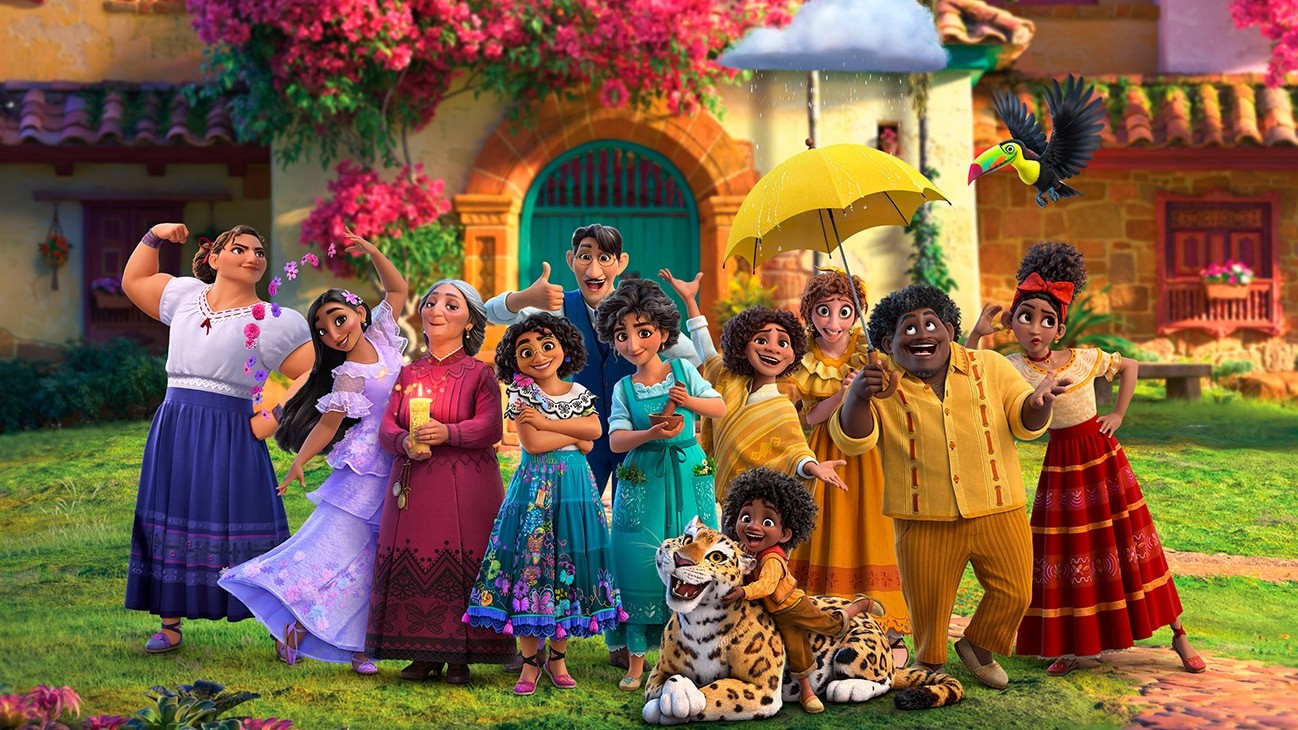 Suppose you're like me and thought a few of the recent animated family releases hadn't made a lasting impression. In that case, Encanto gets the job done not only in just having fun, but it's nice to see a story that's pretty familiar for how the formula lays out. Because Jared Bush and Baron Howard directed this, the same team behind Bolt (2008), Tangled (2010), and Zootopia (2016), know how to create a world filled with a few memorable characters. We're meant to feel like we're in Mirabel's shoes when it's too relatable to be the outcast or the black sheep of the family. It's like the members with these powers are the most famous siblings in high school that get a little more attention with their sports and grades, while Mirabel's mainly in the background since everybody sees her as just ordinary. The story has a predictable plotline, but knowing this journey will pull through in a particular way matters. 
Once something might be up where their home starts seeing cracks on the tiles and some of the magic begins to fade; nobody seems to notice besides Mirabel. But even though she doesn't possess shape-lifting, super strength and the power to heal people with delicious food, she does the best she can in not letting it bother her and still helping everyone around her. The thing to take to heart while watching Encanto is that we're watching our protagonist proving herself to be important, not shut out because of how she never received her gift. Not only can this be viewed as a recognition of its cultural setting in a refreshing touch, but it allows children to realize who they can become and how they can be themselves without the judgment of those around them. Many people go through this even as adults where we can be at a standstill in life while the rest of our friends and family have it together in their success. Anybody can be unique without the needed pressure, and it's easy to see this as the takeaway from here.
The work of the animation with these movies always blows me away, and this is no exception since everything about it is full-on colorful and vibrant inside the house, which is basically a character in how it moves inside and outside and the unreachable space each room has. If only I had my glasses with me to take in it more (I left them in the car). I absolutely loved Stephanie Beatriz's vocal performance as Mirabel, who will be one of the more likable and relatable Disney characters, as she does a great job of making sure we're rooting for her while everyone else doesn't see more from her. The rest of the voice cast captures the characters well, including John Leguizamo as the family outcast Bruno and Diane Guerrero as Isabela.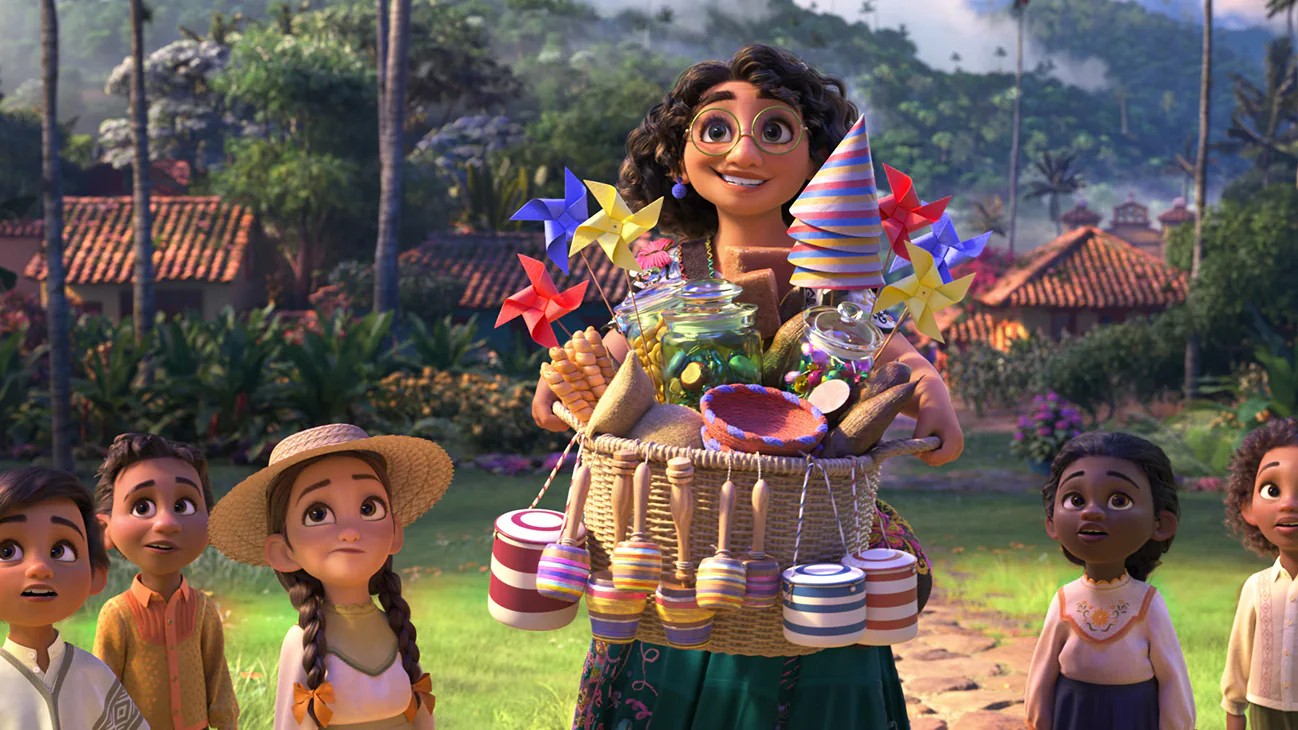 And it wouldn't be a Disney movie without the tradition of having its fair share of musical numbers. The music was all made by the mind of Lin-Manuel Miranda, who's no stranger to providing original songs since he also hit it out of the park with Moana previously. The characters sing some pretty solid songs, from the opening number of "The Family Madrigal" of introducing everyone hilariously to my favorite "Surface Pressure" sung by Luisa. But, as good and catchy they were, I wouldn't say there was one that ended up being a definite standout the same way of a "Let It Go" or "How Far I'll Go" that could lead an Oscar nom. And I won't disagree with those who say the soundtrack isn't that memorable.
Surprisingly, everything to make this with a much-needed heart doesn't fail when it doesn't provide the main character with a romantic love interest or a villain. While it's not one to be the most complex in exploring the family more, this did the possible in making me tear up during a particular moment near the end because it's Disney, of course.
By the end, Encanto is a wonderful surprise, and it's a good thing when it's a Disney animation. But, familiar as it was, it doesn't take away from the engagement of the beautiful animation, original songs courtesy of Miranda, and a story of self-discovery kids can relate to quickly. Probably not as great as Coco or Moana, but it's definitely one to watch on the big screen. Does this have a chance of possibly winning Best Animated Feature? That I wouldn't be mad if it happens comes the Oscars.
Grade: B+
'House of Gucci'
House of Gucci brings us director Ridley Scott's second film during this fall movie season following the box office bomb The Last Duel (which I will be watching soon) and it's been one that I didn't know was in the works to make into reality until recently. Initially, Scott had this planned 15 years ago with different actors and a couple directors almost taking over. Now, we have a crime drama about the infamous Gucci family based on Sara Gay Forden's book The House of Gucci: A Sensational Story of Murder, Madness, Glamour, and Greed. Having known nothing about the history of this well-known dynasty, this story and this talented ensemble had me hooked when first hearing about it. But for being one of my most anticipated films, this turned out to be not so great as I wanted it to be, to say the least.
Based on true events, as it tells us in the opening, this is the unbelievable story of Patrizia Reggiani (Lady Gaga), who first met law student Maurizio Gucci (Adam Driver) at a party in 1978. With Maurizio, he's the heir of the Gucci family even though he doesn't have much interest in being a part of the wealthy family business, unlike his father Rodolfo (Jeremy Irons) and uncle Aldo (Al Pacino), both owning 50%. Despite not being pleased to want his son to marry her, Maurizio marries Patrizia and helps him rise to the top of the empire.
I know the empire Guccio Gucci is the biggest name in fashion, that's for sure. Everything about this is all new to me going in, whether the essential details about specific facts are factual or not to make into The Godfather in the fashion industry. House of Gucci wasn't going to set the bar for centering around a story about the power this family goes through with betrayal, money, and it fits to tell this in the form of a film rather than a miniseries. Did I imagine this to be dull? For the first half, I probably got a sense of what to expect if it was going for a sort of campy feel with a particular style that got me thinking everybody knows what they're in at first. Afterward, it had a hard time being one or the other when it's a little more serious, getting rid of the lighthearted material. It was over that was when it lost my interest very quickly. Usually, Scott's movie runs about this length, and this was one of those times where it really didn't need to be almost three hours long (clocking in at 158 minutes). So that shouldn't be much of a problem. Unfortunately, the screenplay from Becky Johnston (The Prince of Tides) and first-time screenwriter Roberto Bentivegna doesn't land with good dialogue or well-executed buildup to essential moments with time. No joke, the fact nothing exciting was going on led me to check the time three times since there was no sense of energy thrown into this to make an engaging story like this to be attached to when the film ends, making the overall experience totally lackluster. This could've worked more if another director's hands were involved in making this instead of Scott, who wasn't the right person to put this together.
As mentioned before, some talented actors were involved where I wasn't expected to balance from great to what they were thinking. Of course, who doesn't love Lady Gaga? After her excellent Oscar-nominated performance in the remake of A Star is Born, the singer has definitely proven herself she can be a great leading actress with a role that's even better to show off her range. Everything about this is her movie, which is why I thought she was the perfect choice in portraying Patrizia Reggiani. It's the typical raise of power type of story that's impossible to believe, but it's one with her that's able to transform her personality into this power-hungry person. For her to sneak her way into everyone's interest was enough to have us care about Patrizia or when she eventually starts pitting family members against family members. Al Pacino is also great as Aldo Gucci, the one member of the family who respects Patrizia when she joins the family. Even though Adam Driver doesn't have that much to work with despite being the second lead in a subtle, not the explosive Driver I love seeing, this won't go down as one of his greatest roles since he's the one who isn't as showy as his co-stars, but it helps when he and Gaga have good chemistry that was showcased around the first act as they fall madly in love.
As for Jared Leto as Paolo Gucci, the black sheep of the entire family, this has been a performance most people like. Not me. We know we're supposed to look at him as a loser. Surprising to say, I was not too fond of Leto's performance in this when he was clearly the one in the cast that stood out in the worst way. This could've been a laughably bad role to get through to the end, but it never grew on me whenever he's in a scene with another character. After winning his Oscar for Dallas Buyers Club, he hasn't been in the most memorable roles lately. Though he's almost unrecognizable underneath the makeup, it was like he was a totally different movie, especially with his "attempt" of an Italian accent that was basically his audition for voicing freakin' Mario or Luigi. I felt offended, and I'm not even Italian. So now this shows why I don't appreciate him as much as I used to. Then you also have Jeremy Irons and Salma Hayek (who's actually married to the CEO of Kering) who didn't have a lot of screen time, especially Hayek's character, as I tend to forget she's still in this until she shares a scene with Gaga.
The soundtrack wasn't too bad as it consists of your typical late 70s to 80s bangers. However, some of the editing with them didn't work at times. For example, they played "Faith" by George Michael, and that song wasn't released until 1987. The problem? I thought they used it weirdly during Maurizio and Patrizia's wedding in the late '70s. But as someone who desperately wanted them to use Donna Summer's "I Feel Love," they were lucky.
I thought there was high potential to walk away from this in a good enough mood since Scott's back to making hits; he's always been a hit-or-miss director, in my opinion. Did this make me want to dress up nice? Yes. Did it have shades of goods? Yes. Was the sex scene with Gaga and Driver ridiculous as I thought? Seems likely. With it getting mixed-to-positive reviews and the recent reactions from the Gucci family., there's no chance it's getting a Best Picture nomination. In terms of anything else, I would love to see Gaga earn her second Best Actress nomination, along with the film's recognition for Costume Design and maybe Makeup & Hairstyling. But if Leto actually gets nominated for Best Supporting Actor, let alone ends up winning, who knows what I'll do.
There's always one film that has me being in the minority, and it's a shame it had to be House of Gucci since Ridley Scott's latest didn't work for me as it's one slog of a drama that couldn't keep me interested after the first act. How I didn't end up loving or even liking this upsets me. Unsurprisingly, Lady Gaga dominates her performance and the costume design hits. But this felt like a trashy soap opera that can't be enjoyable—just a huge disappointment.
Grade: C-