What's the Story: After becoming the first female group to be crowned national champions, The Barden Bellas has since become a true staple in the world of a cappella. That heigh of success changes when a scandal at Lincoln Center causes them to be suspended from the ICCA. To get them back in, The Bellas are willing to do whatever it takes to redeem themselves and get their groove back in competing in the Acapella World Championship, a competition where no American group has ever won. Now, this is their chance to find their sound and become aca-awesome once more.
You better believe they made a sequel. To a surprise, 2012s Pitch Perfect ended up as one of those movies that didn't leave me feelin' angry 'cause it was surprisingly good. Even when I thought it wasn't going to hold much interest in me, it got a kick out of me, and it was a prevalent form of entertainment during the choir crowd. Was it hard to think they wouldn't make another one? Well, the first was considered a sleeper hit, and it was one I secretly got behind. This came out at the time perfect as I saw this, along with the masterpiece Mad Max: Fury Road, the day after my final Sping Sing of high school. So, it seemed appropriate to watch people sing. It's been years since I watched this since there's more attachment to the first, but Pitch Perfect 2 settles as an alright sequel to come by.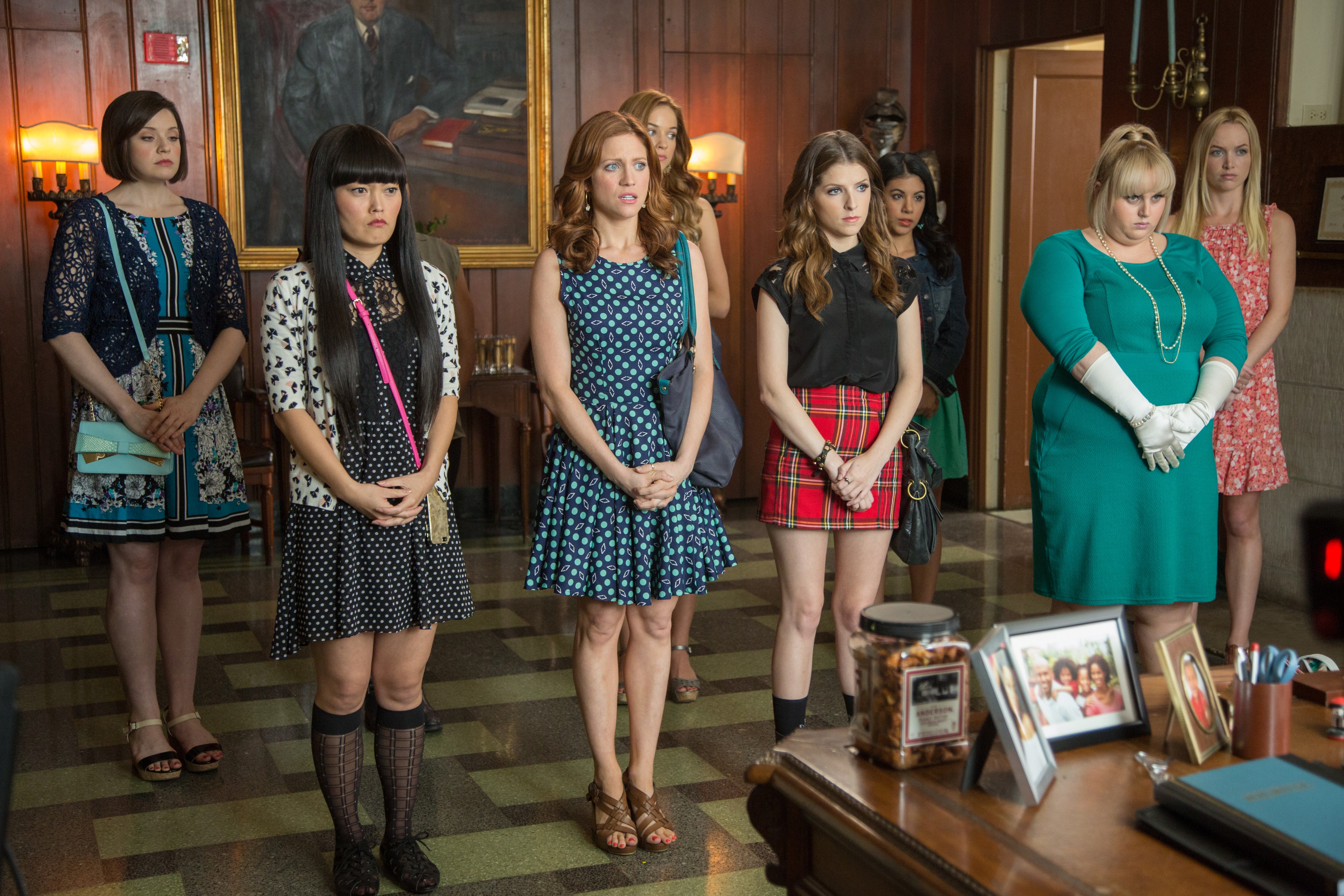 Though the second installment in the franchise didn't see the return of Jason Moore, we do have Elizabeth Banks, who produced the first with her husband/ reprising her role as commentator Gail Abernathy-McKadden-Feinberger alongside John Michael Higgins' John Smith, takes over in her first full-length feature. With her taking charge this time, I was curious to see how she could continue to follow these characters' fans come to like before. As the movie started, I quickly noticed this was heading towards the same formula that hooked some right away. But it was like Banks knew enough in the world now where it doesn't feel like it taints what came before, but almost in a more significant step forward.
The weird part is feeling like I thought this was almost mediocre, but though it has flaws I'll get to, I still had a good time, and the best part carried over is the chemistry of the Bellas themselves. All the girls are back at it again as they need to find their sound again since for some, being a Bella is all that matters to them and a friendship that'll last for ages. But it looked as if they all had fun playing off each other where I now believe they're best friends in real life outside these movies. Anna Kendrick doesn't disappoint as Beca Mitchell, and this was at a point where I was utterly obsessed with her back then, and her character is the only one who's paying attention to her future after college; Rebel Wilson as Fat Amy always comes swingin' with her usual sense of humor. And everybody else from Britney Snow as Chloe, Ester Dean as Cynthia Rose, Hana Mae Lee as Lilly, Alexis Knapp as Stacie, Chrissie Fit as Flow, and Kelley Jakle and Shelley Regner as Jessica and Ashley, respectively knows what they're doing without any problems.
Of course, the famous newcomer to the franchise is Hailee Steinfeld as Emily Junk, a freshman excited to join the Bellas since she's a Legacy from her mother (Katey Sagal). Seeing how she was a fan of the first, I thought Steinfeld was a nice addition to the cast where she totally fits with the other actresses. The worrying factor in thinking she's gonna be a potential lead for future sequels didn't come to mind. There were awkward moments with her that didn't bother me, and I think it's because of this movie that pushed her music career. And I liked the scenes she shares with Benji (Ben Platt) when he has a crush on her. Of course, who wouldn't when Steinfeld herself is an angel?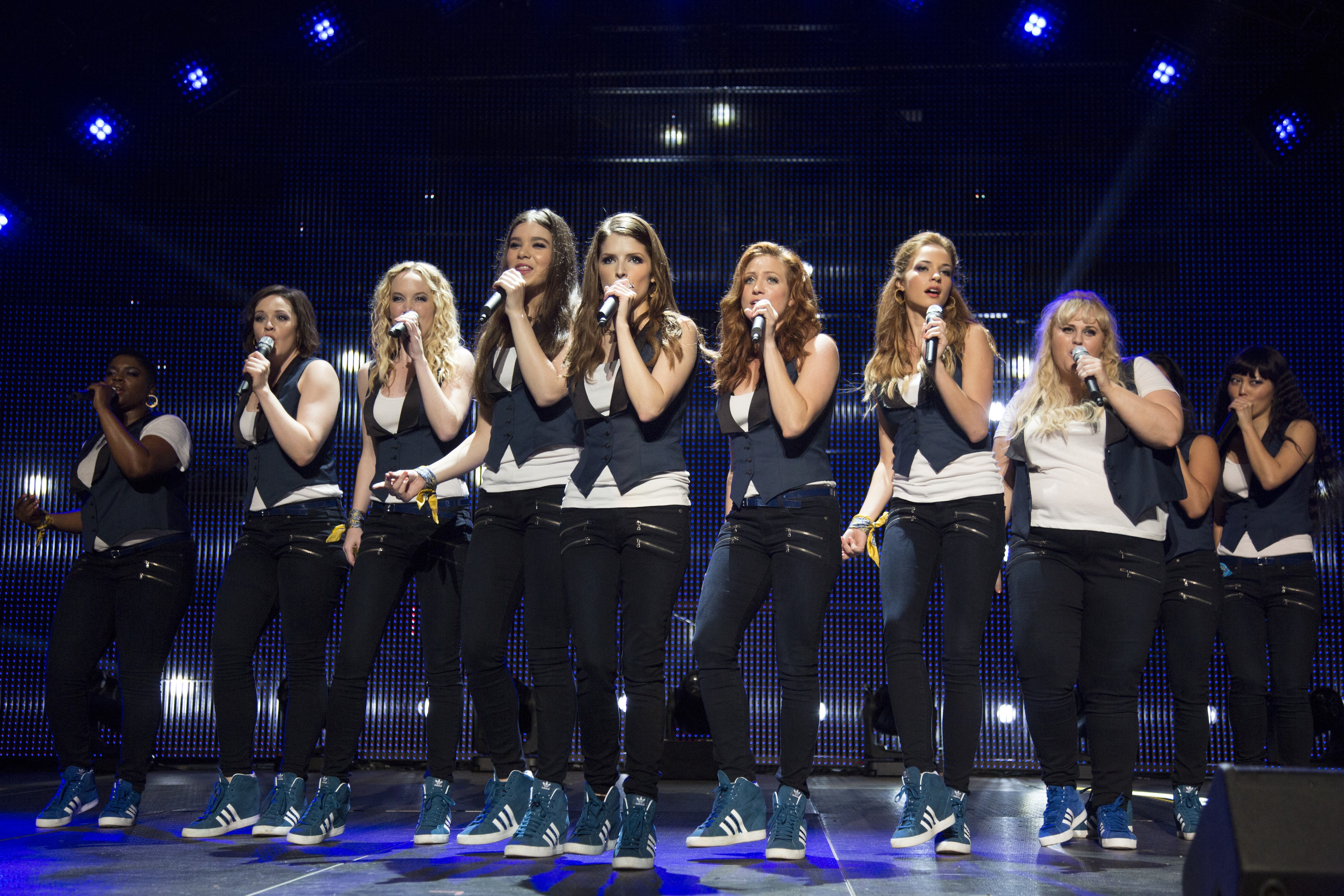 What's a sequel without the occasional a cappella? Just like before, there's some excellent usage of everybody singing through this style of music. Though the music doesn't incorporate into the story, it would be hard not to jam out at any given moment. Having songs from various genres is all so enjoyable that the actors do their thing on the mic. There's even a serviceable foe in Das Sound Machine, the ultra-popular group from Germany attempting to be at the top, led by Birgitte Hjort Sorensen's Kommissar and Flula Borg's Pieter Kramer. To be honest, they sound great. We're rooting for the Bellas, obviously. But can they perform a killer mash-up of Muse's "Uprising" (I geeked out in the theater) and Dvbbs and Borgeous' "Tsunami?" I don't think so. But this delivers another memorable riff-off that was fun watching. Was it random seeing the Green Bay Packers in here? Oh, yeah.
But would I consider Pitch Perfect 2 superior? Not quite. Maybe it's because the plot does ride the line of predictability, or it didn't entirely capture that light in the bottle surprise like last time. The reason why the Bellas are banned is pretty ridiculous when you think about it. The stuff with the Bellas wasn't as important to follow, where the subplot of Beca interning at a record label with the always hilarious Keegan-Michael Key as her boss. Those scenes alone worked to be a little more interesting to follow. And not all the humor worked as much where it wasn't as consistent. The one running joke that got old very quick was every line out of Fit's Flow is some kind of stereotypical immigrant joke that wasn't funny, to begin with.
Bottom line, if you weren't on board with what went down in the first, you want to find anything in here entertaining. But if you're a fan, you're one of the reasons it became the highest-grossing music comedy, beating out School of Rock. As far as music sequels go, it wasn't terrible, but it serves as a decent comedy sequel that's I consider a guilty pleasure. Banks behind the camera did well to give what established fans liked, and it's probably going to be her best-directed movie yet. Again, this wasn't aiming to be the most outstanding sequel of that year, but you won't be looking at this and feel as if it's the most disappointing thing of your life.
Pitch Perfect 2 might not be on the same level as its predecessor due to not many laughs and a plot that doesn't pop this time around, but it's still a rewatchable sequel, albeit one that could've been better. Overall, it's strictly for the fans. I've also would've been okay if this ended here and not made a third movie that wasn't very good at all.
Grade: B-