Four years is a very long wait for what visionary director Guillermo del Toro has up his sleeves. After his previous film, The Shape of Water, was the major talk of that awards season, not only did he win the Oscar for Best Director, but the film itself took home Best Picture (which I don't have any problems with). Everyone was waiting in anticipation of how he will be taking his latest work on Nightmare Alley, an adaptation of William Lindsay Gresham's novel and a loose remake of the 1947 film of the same name. We see him taking a step back in having the premise not be in the field of horror or supernatural to deliver a taste of what he can do with a psychological tale that works for most of his fans or is unexpectedly shallow for others. For me, I wouldn't say it's another masterpiece from him, but one I found myself getting into through the end.
What's the Story: In 1940s New York, down-on-his-luck Stanton "Stan" Carlisle (Bradley Cooper) endears himself to a clairvoyant and her mentalist husband at a traveling carnival. Using newly acquired knowledge, Carlisle crafts a golden ticket to success by swindling the elite and wealthy. Hoping for a big score, he soon hatches a scheme to con a dangerous tycoon with help from a mysterious psychiatrist Dr. Lilith Ritter (Cate Blanchett) who might be his most formidable opponent yet.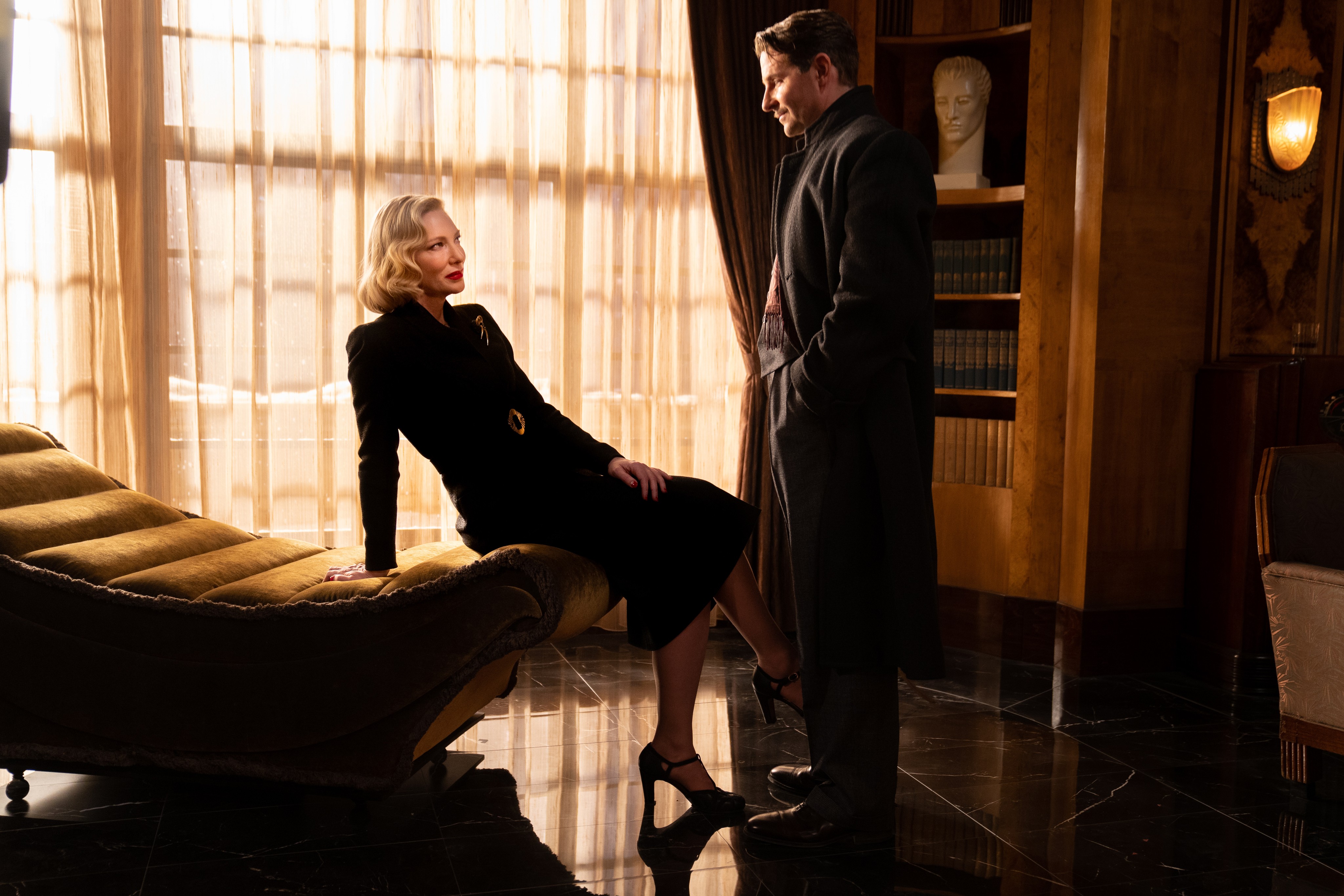 Given how I knew next to nothing about the source material from the book's perspective or original movie, this is all new to me without comparing what was kept the same or was different. This went in the direction I hoped it would be in how del Toro leaned into the dark atmosphere I latched onto from the beginning. The way del Toro and his wife Kim Morgan's screenplay delves into the height of this man's scamming had me primarily invested in how everything will come to an end that doesn't become very predictable. You kind of already expected this to carry on the theme of greed, but executed it well enough. And because del Toro has a unique style to nearly all of his films, there's nothing I can say wrong about the overall production and cinematography from Dan Lausten. This is another beautiful-looking film that fits perfectly in the genre. His general look of the '40s around all its sets always amazes me that it'll take the time to show off the different locations, especially anything revolving around the carnival.
Nobody won't find any complaints about the cast, and that's one of the many reasons I was looking forward to the film. Like always, Bradley Cooper gives another top-notch performance in his career as this man who gains wealth and power once it becomes this surprisingly charming and manipulating mentalist. His character's darkness goes about the way as expected, but the curiosity of how his downfall will play out kept everything about him interesting the whole time. And watching this proves continues to be a man-crush of mine. Once Cate Blanchett comes into the story about halfway through, I thought that was when things started to get interesting when they formed this strange companionship. Nothing can be poorly said about the two of them in any scene with each other when you start to discover Blanchett is genuinely more brilliant than him. There's also Rooney Mara as the sweet Molly Cahill, and it's been a while since she's been in anything big after a two year hiatus. While there wasn't much to know about her character besides falling for Cooper's Stan, she makes her presence worthwhile despite wishing she had more to work with. Finally, will I say anything terrible about Willem Dafoe's performance? Nope. Toni Collette, Richard Jenkins, Ron Perlman, and David Strathairn rounded out in the minor supporting roles and didn't have that much to do, especially near the second act.
Where the film will lose for a lot of viewers is one of two things that came to mind while sitting in the theater: Most would assume Nightmare Alley is going to be a horror movie since del Toro's name is attached, and you wouldn't have that idea if you watched the trailers. There are no creatures you usually see in any of his films, but it's more of a character study about how dangerous one man's lying profession can lead him down a path of hell. And probably one of the issues that kept me from really liking it was that it needed to be a lot shorter rather than its 140 minutes. Regardless of the tone during the first act, it hooked me right away as I loved watching Stan fitting into the life around the carnival world. Around the second act, where it was focusing more on Stan scamming Jenkins' Ezra Grindle, took it to that slow burn feel that was engaging, but the more I thought about it, and who it'll appeal to, I won't blame those who thought this was uneven and shallow. What landed was the last act that culminates in one of the best endings del Toro has given us and made my eyes widen once the credits rolled. That's a final scene I'll be thinking about for the rest of my evening.
For some, Nightmare Alley won't be considered Guillermo del Toro's next greatest, unlike The Shape of Water or Pan's Labyrinth, but I quite enjoyed his noir thriller. Straying away from his usual supernatural aesthetic, it might run too long, but it's the performances (Cooper & Blanchett) and the outstanding production design to make it satisfying. Looking at it now, it doesn't have a shot of getting a Best Picture nomination, but this was something different from the director to attract the attention of those wanting a big-budget film targeted at adults. I'm willing to say it's worth recommending and catching again.
Grade: B