What's the Story: A semi-autobiographical film that chronicles the life of a working-class family and their young son's childhood during the tumult of the late 1960s in the Northern Ireland capital.
Let's take a moment to realize we are witnessing a total Hollywood mulligan in recent memory here. Belfast is the latest effort from writer/ director Kenneth Branagh, and it's a film that was suddenly sneaking up on everyone after its premiere at Telluride and TIFF over a month ago, the latter of which awarded the film with the People's Choice Award. But let's not forget as talented he is behind the camera, he's also responsible for coming out with Artemis Fowl, a genuinely terrible adaptation. That being said, this drama was very much so anticipated, making its Midwest debut at the Heartland International Film Festival, where I didn't know how I'd come out of it. Luckily, Branagh gone from making the worst film of last year to one of the very favorites this year as Belfast will win everyone's heart.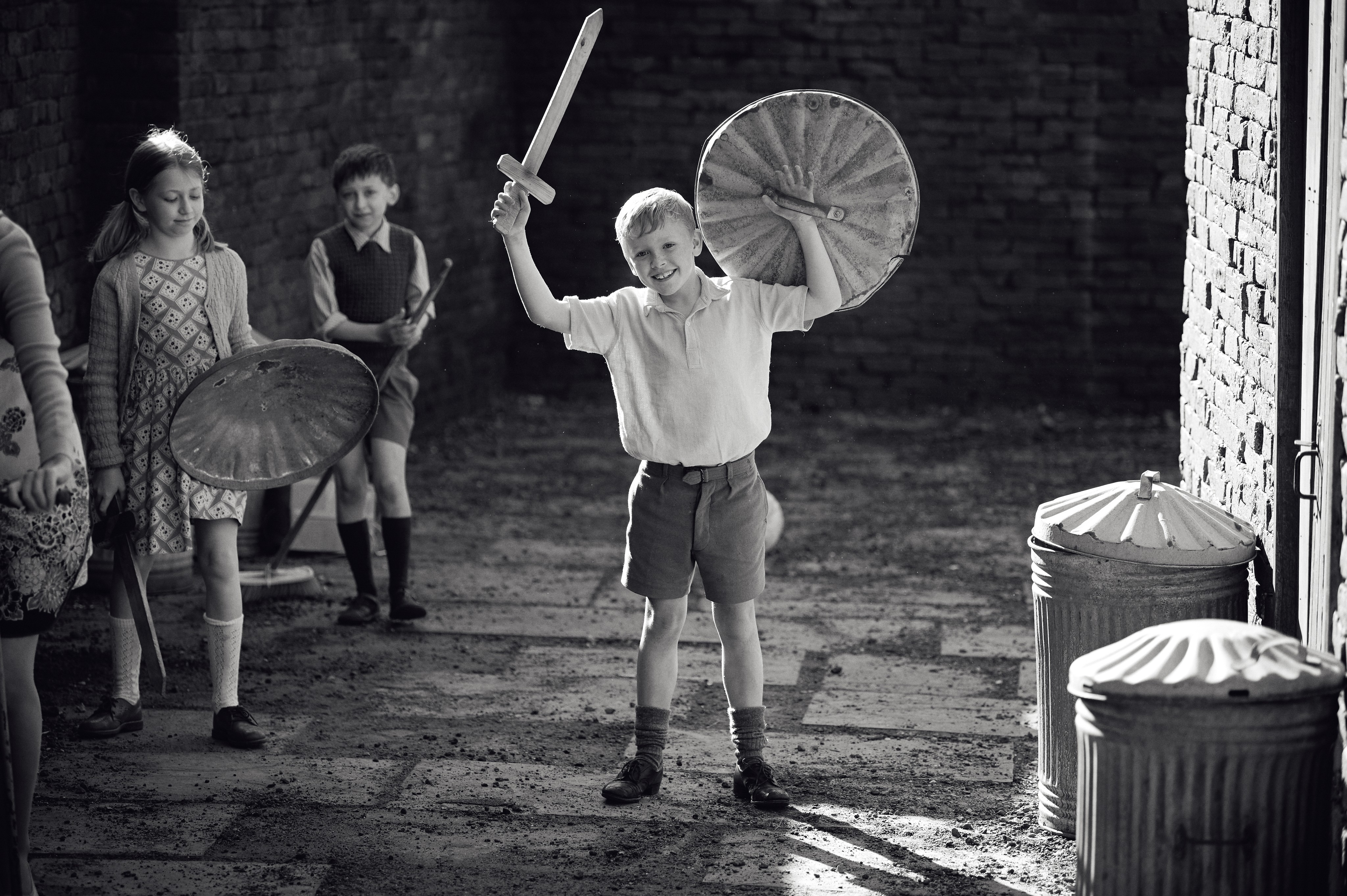 We're basically looking at a semi-autobiographical tale of what childhood was found in the director's life. Whenever you have someone tell a personal story to the audience, it's hard to know if it's believable. But as you're watching, it helps to compare to something like Alfonso Cuarón's Roma and Stephen Daldry's Billy Elliot that's unforgettable. In Belfast, it lets us step in time decades ago for 97 minutes to explore what life is like if you were a kid in the streets of Ireland. Ever look at old photographs or hear exciting stories from your grandparents about their days in youth? It will be reminded of this for the best, and I applaud someone like Branagh for keeping things simplistic and not heavy-handed.
Maybe not everything is based on what he experienced, but you can tell he brought his earnest soul to tell this story through the perspective of little Buddy. The first five minutes hooked me immediately. It begins with a colorized overlook at present-day Belfast, followed by a pan-up to discover an alley of kids playing in black-and-white. Next, buddy walks home and is right in the middle of a riot that's a clash between Protestants and Irish Catholics on the streets. While we can look at this and say it's a look back at someone's tribute to their home, it's also a lovely welcoming coming-of-age tale of always remembering your childhood and where we come from. Sometimes in life, we can take for granted the people we meet every day or family members who make us who we are now, wherever we are. The impact people have on our lives is essential to show how we progress from time and time again. Even the simplest moments in here where the family is talking or taking on an authentic cinematic experience in the theater with everyone together, it would be impossible to find anything at least relatable.
Taking into account Buddy's family's struggles isn't easy to say amongst the cultural surroundings while keeping what he loves intact. Everybody has or currently is going through difficult times, but it's usually best to believe there's hope within ourselves and the world, especially the period that's taken place here. They're a family who doesn't see themselves moving away despite being in an area where it doesn't seem safe at the moment for being Irish elsewhere. Making a better life for immigrants isn't always easy, but sometimes it could lead to big dreams.
The ensemble in here was all talented, with a couple standing out as a surprise. Jude Hill makes his acting debut as Buddy, and we have another excellent child performance this year. I found this child-like wonder charming and bright, which we should always see in kids at that age; he also perfectly nails the comedic and dramatic beats. But who surprised me the most out of everybody? That would be Mr. Jamie Dornan as Pa. He's an actor I have given him a ton of crap for his acting in the Fifty Shades trilogy and Robin Hood, but who would've thought 2021 was the year to impress me with his and Barb and Star Go to Vista Del Mar. As Pa, he's the absent father who doesn't spend much time with his family while working construction in England since the pay is a bit higher. You feel the stress he doesn't want to face when all he wants is to make a better life for his family. Trust me, Dornan was great, and I'll even say he's worth getting a Best Supporting Actor nomination for his best work yet.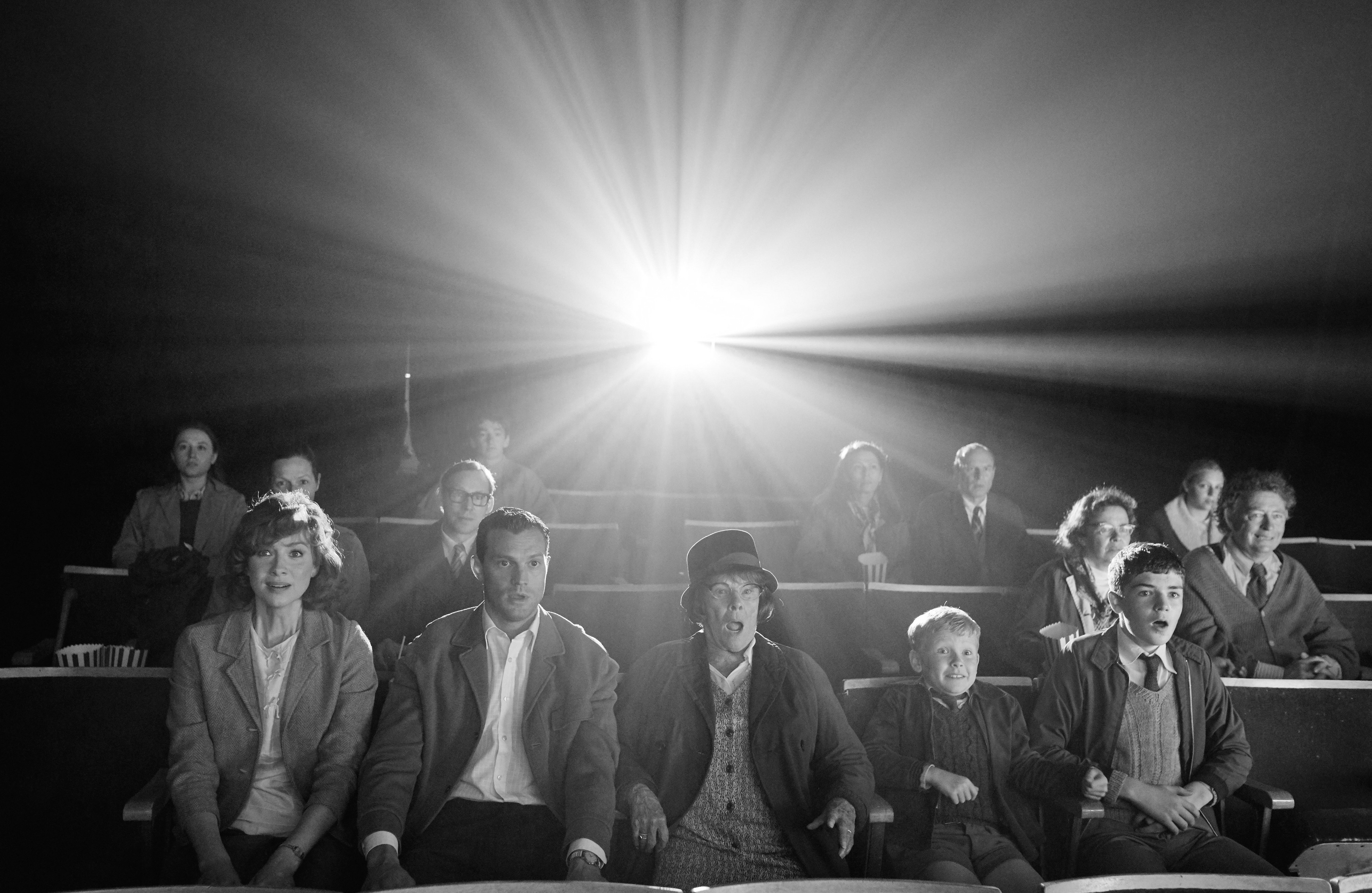 Caitríona Balfe as Ma is the long-suffering wife who doesn't want to worry about things, but she could stay reserved when the scene calls for it. I haven't seen Balfe in a ton of stuff besides a few appearances here and there, and she shares great chemistry with Dornan. We also have Judi Dench and Ciarán Hinds as Buddy's grandparents, and their scenes together will make anyone, including me, remember their time with their own grandparents. It made me miss my grandparents from my dad's side, which made me sad that I hadn't seen my other grandmother in person in over a year.
The decision to make this black-and-white was the right move since it probably wouldn't have the same effect with it stayed in color. Haris Zambarloukos', a frequent collaborator with Branagh, cinematography is absolutely beautiful, and I said this recently with C'mon C'mon, it doesn't come off as showy. As for problems I had, they're basically nitpicks that aren't a big deal. Because of its setting, I sometimes had difficulty figuring out what the characters were saying since their accents were thick. That's why I have subtle on my TV or when I watch practically anywhere, but that's just me.
Is Belfast worth seeing in theaters next month? 100% guarantee. Like last year with Promising Young Woman, Focus Feature has another on its hands regarding this current awards season. Above everything to take away, there's no better way to compliment a film than to say it's a wonderful experience. You'll laugh, maybe shed some tears, and leave with a sense of thinking life will be good. There have been many talks of how this will fair well for awards, but I think we could see an early front-runner for Best Picture. And I feel this earns my time for a second viewing once it plays everywhere.
Final Thoughts: Belfast is one of the year's best films for sure. Kenneth Branagh's love letter to his hometown is full of life that's hard to resist. Indeed a personal film that manages to transport you back in time, it's funny, heartwarming, and gives a sense of hope to all.
Grade: A-