There's this sense of knowing life is gonna be better whenever there's an animated movie with Phil Lord & Christopher Miller's names attached to it. For being a fan of the pair, they haven't made a terrible movie they've been a part of, from Cloudy with a Chance of Meatballs, The Lego Movie, to the Oscar-winning masterpiece Spider-Man: Into the Spider-Verse. Though The Mitchells vs. the Machines was produced by them and directed by Michael Rianda in his feature debut, this is going to be one to watch all over again.
What's the Story: Young Katie Mitchell (voiced by Abbi Jacobson) embarks on a road trip with her proud parents Rick (voiced by Danny McBride) and Linda (voiced by Maya Rudolph), younger brother Aaron (voiced by Rianda) and beloved dog Monchi to start her first year at film school. But their plans to bond as a family soon get interrupted when the world's electronic devices come to life to stage an uprising. With help from two friendly robots, the Mitchells must now come together to save one another — and the planet — from the new technological revolution.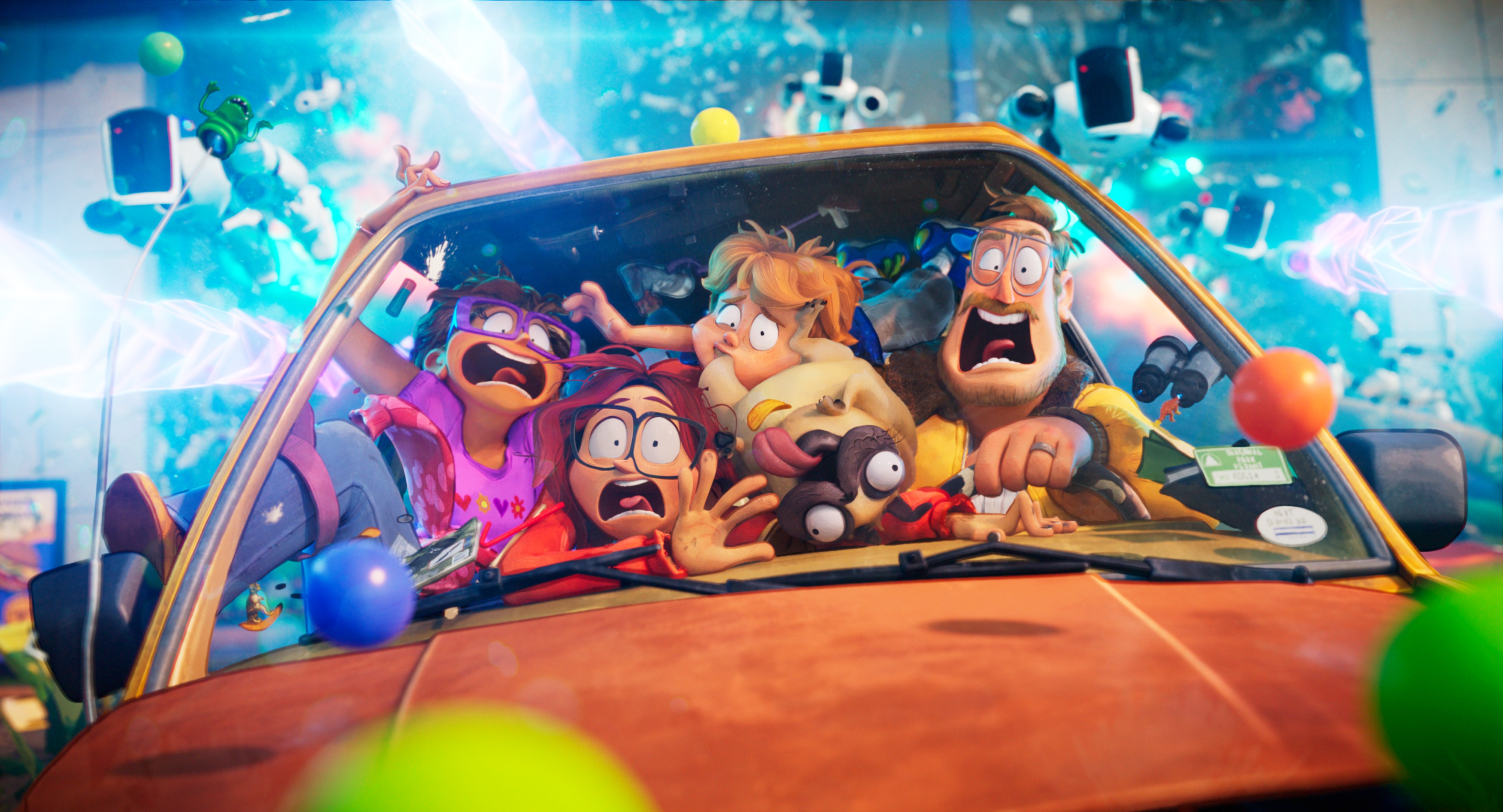 I was already anticipating this when it was scheduled to come out last fall under the kind of generic title "Connected," but what do you think happened with everything else that didn't come out last year? Thankfully, Sony traded it off to Netflix with the original title they went with, and now everybody was going to watch a crazy adventure that a creative team worked very hard to get done. Who knows if any of the other animated movies will be like for the rest of the year since The Mitchells vs. the Machines did its job at making me smile through its entirety.
My mind was wondering if Rianda and co-writer/ director Jeff Rowe (Gravity Falls) wanted to make this film relatable to those who have a weird family and wrote a story that's on being a combined tale of A Goofy Movie meets The Terminator because it starts out being a typical road trip comedy that switches into a sci-fi adventure. If that was their intention, it'll win over everybody with the bonus of a robot apocalypse that will be curious about our phones will become sentient. For a movie that's almost two hours, no moment was slow when you're wanting this family not only to save the world but become close again and they don't feel that connection for a while. Sure, it might be predictable where things go, but that doesn't take away from the entire experience.
The animation is undeniably unique when you watch the trailers, and it's more breathtaking than I thought. It looks stylish like what we saw in Into the Spider-Verse but looks like it came straight out of a children's illustration book in the character designs and a lot of beautiful shots that's too good to look at. Sony Pictures Animation has improved with their work over the years, and it's crazy to pull off an original style.
Another reason everything was in its place was the fun voice cast they brought in. The biggest standout came from Abbi Jacobson as Katie because almost anybody can see themselves with her having a unique personality and being a full-on movie nerd, and I thought she handled her own feeling for her. Even Danny McBride as Rick Miller impressed me with his vocal performance as someone who's trying to get his daughter to see eye to eye in what they engage in. But then you have Maya Rudolph as mother Linda and Rianda as Katie's dinosaur-obsessed younger brother Aaron, adding to the variety of funny talents to complete the family. Also, I can't forget about Olivia Colman and Eric Andre.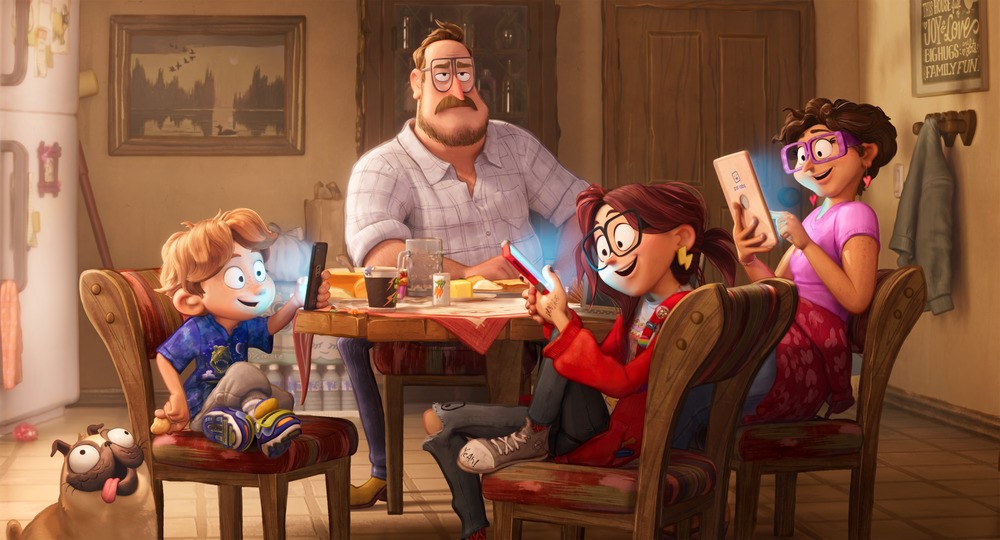 But isn't it just a family movie kids could watch? Adults will also laugh since this was the first movie of 2021 to make me laugh consistently. There was rarely a joke that didn't work when it's easy to understand a pop culture reference or a running gag that doesn't get old. You'll know what type of humor you're gonna get when Lord & Miller are involved. I might just say the two funniest characters I didn't see coming were these two dumb robots: Eric (voiced by Beck Bennett) and Deborahbot 5000 (voiced by Fred Armisen) who tags along with the Mitchells that had some hilarious moments amount every time.
Watching this and providing a message of the importance of technology is here, it's a lesson to be seen on both sides of taking the time to connect with people face-to-face while proving to showcase your skills online to show your creativity. Though there was this funny moment when everybody goes crazy when there's no internet connection. And at its core, it's a father-daughter story easy to buy into with this relationship between Katie and her dad to be better with this weird robot uprising going on in the background. Those overall family moments were needed, and I won't lie when commenting I teared up a couple of times, particularly in the first 14 minutes. Who knew this would have a good heart.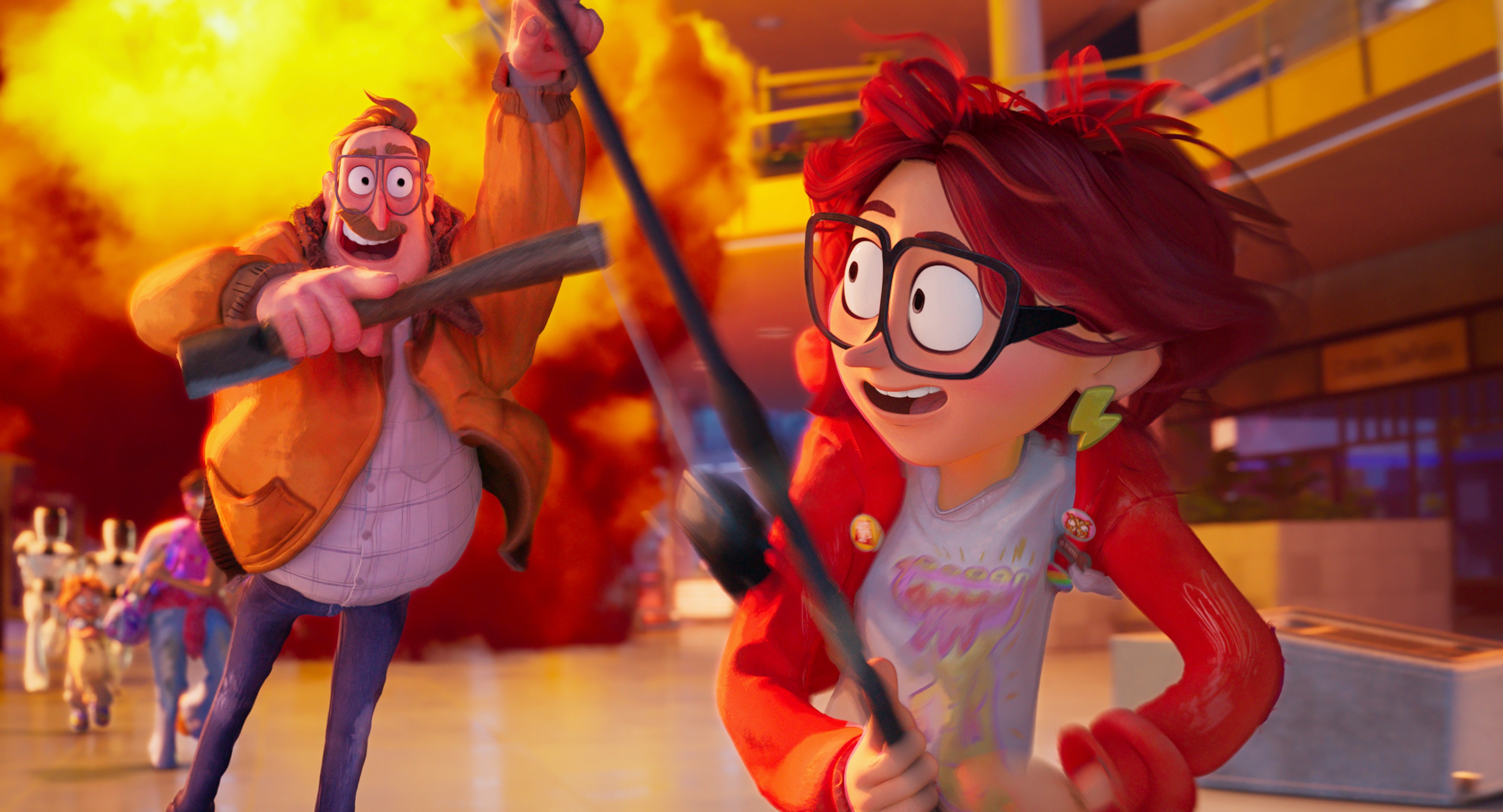 I'm glad this got to stream on Netflix, but I would've loved to see this in theaters and make it a moderate box office hit. I knew was gonna love it when the trailer stopped a year ago, but not this much. Everybody and their mothers will be over the moon to see this get nominated for Best Animated Feature, but we shall see what else the animation slate unfolds to dethrone the current front runner. And thanks to this, discovering Alex Lahey and her song "Every Day's The Weekend" is a win.
Final Thoughts: I love The Mitchells vs. the Machines. Setting a high bar for the best movie so far this year, the animation style is cool, there're tons of laugher throughout, and it's energetic, thanks to its script. What a delightful piece of entertainment everybody needs to watch on Netflix and will have little to complain about. I say this is worth recommending 100%.
Grade: A-