Just when I thought I saw the movies that would be up for Best Picture at the upcoming Academy Awards next month, The Father came in and swoop into the race at the last minute after its momentum has risen over the past few months with six nominations, including Best Picture, Best Actor, Best Supporting Actress, etc. Just hearing about already knows what you're getting into with this drama, and it's definitely one that'll stay with you after it's over.
What's the Story: Anthony (Anthony Hopkins) is a man in his 80s who is visited by her daughter Anne (Olivia Colman) to his London flat every day since he is currently suffering from dementia and needs another caretaker after an incident with the last one. Since he's an older man who can't seem to take care of himself living alone, his memory becomes worse with his loved ones and his reality.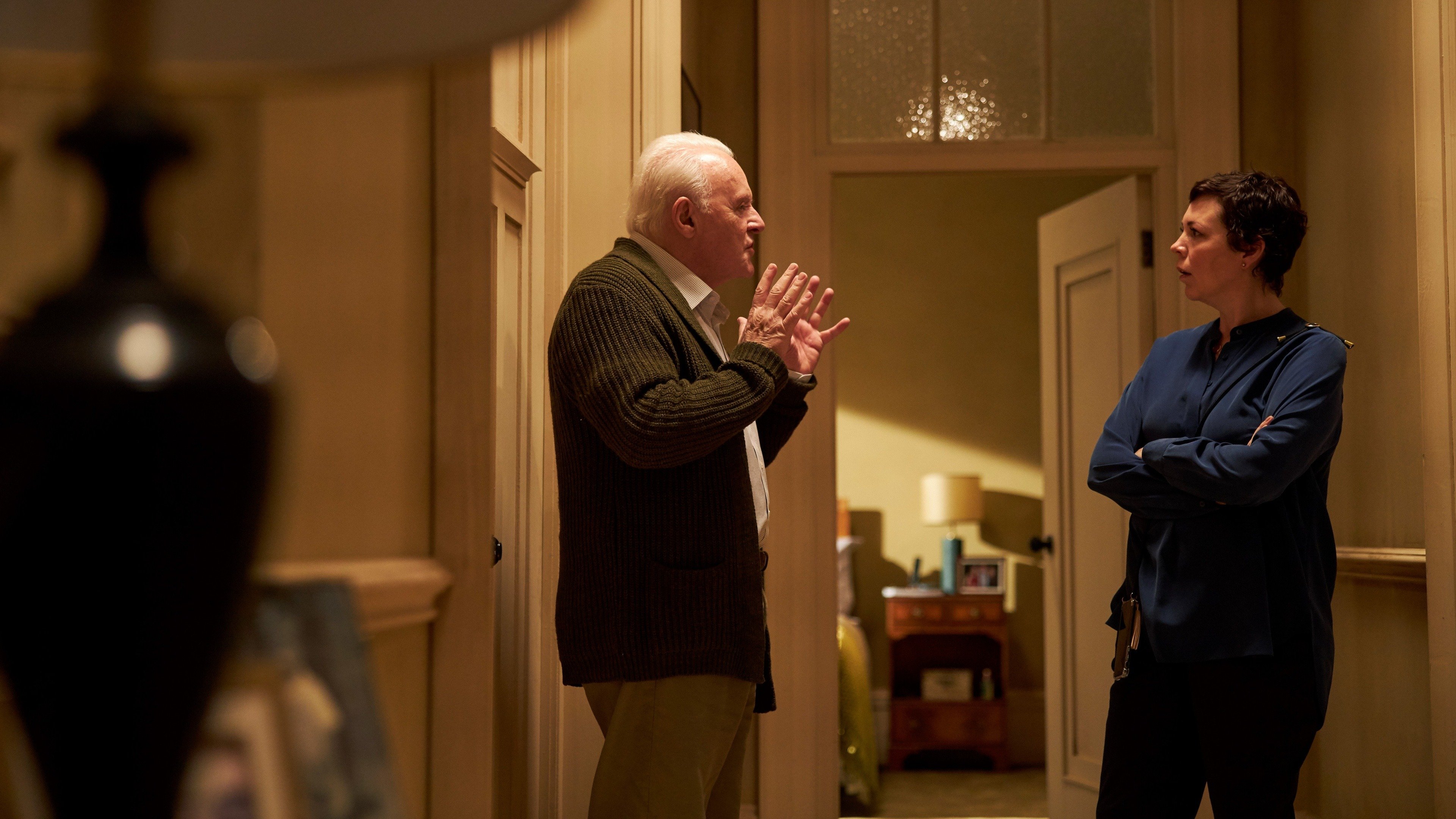 Writer-director Florian Zeller makes his first film behind-the-camera as this was adapted from his 2012 play Le Père and co-wrote its screenplay with Christopher Hampton (Atonement). One of many films that made its debut at last year's Sundance Film Festival and shown at the Toronto International Film Festival, The Father has been talked about for a while and, of course, I had to wait until it was on VOD to watch it since it wasn't playing anywhere during its limited release. Everybody who has seen it has said great things about it, especially Chris Stuckmann, who made it his number one film of 2020 for personal reasons. For some, it might be a rough experience watching this if they know anyone personally dealing with this disease, but The Father is an excellent drama through and through.
Much of the credit has to go to the director Zeller, the writing, surprisingly enough the editing from Yorgos Lamprinos and the production design took in making his stage play into a film that doesn't have multiple settings when most of it takes place in this apartment. Translating his play into a film probably didn't sound too hard for Zeller to accomplish, since this acts as a play on its right. This is on the line of a slow-burn character study that lets you into Anthony's mind and feeling as if you're too confused about your surroundings and questions if your mind is suddenly messing with you.
The writing doesn't play in that straightforward kind of way; it has a unique way of messing with your mind, taking us from Anthony's perspective, asking the same questions. We usually see this from the side of those who are trying to help, but we more see on the side of the one who has it. Is Anne going to Paris? Does she even have a husband? Why does Anne look completely different? Am I living in this flat alone or with my daughter? Are what are we seeing all real or just a part of a different reality altogether? That sounds confusing on its own, but that was probably the point where I started to just follow what's happening in front of me.
If there was anyone who might be in major competition with Chadwick Boseman to win Best Actor, there's no doubt Anthony Hopkins as the titular role is another favorite out there. In what I believe is his best performance since his unforgettable role in The Silence of the Lambs, he puts in an overwhelmingly powerful role that didn't feel like I was watching one of the best actors alive today when I just saw this older gentleman dealing with this strange occurrence in his head. He disappeared, honestly. The emotions he carries make you do the same where he's just scared of the moment he's in, not knowing what's going on and getting some empathy towards him. The last scene with him alone will have you feeling emotionally overwhelmed.
After Olivia Colman won her Oscar for The Favourite, I was waiting for her to take on another performance that will put her back in the Oscar race and she has done it again with an emotional role as Anthony's daughter, Anne, who tries to keep everything together. The scenes she shares with Hopkins deliver both a comforting and almost heartbreaking path in their relationship, especially when Anthony was talking to Imogen Poots' character that will sure to stick with her until the next scene. What else can you say besides fantastic?
When you get older, you now understand how troubling those who are/were dealing with dementia or Alzheimer's. What I can find in appreciating about how dementia is depicted is how it's never made to be a joke or ever becomes manipulative in shying away from the subject matter. Even as we all get older, losing your memory should be the scariest feeling in the world. Whether it's a grandparent or any other family member, it's just hard to think about that is how times are changing and it can come at us. There have been movies that are similar in capturing dementia, like Amour and Still Alice, and I never watched them because it would be just depressing for a teenager to watch. While The Father can be labeled as depressing as well, something about it helps you understand it more in being fully immersed. Watching this made me think about my grandmother on my mom's side, who has been dealing with this for about a year where she had to leave her home and is currently in a retirement home because it was the right time because of her age. I hate how I haven't seen her in-person since last May, but, hopefully, I can very soon.
Final Thoughts: The Father completely captivates you with its too-realistic portrayal of dementia that writer-director Florian Zeller's directorial debut did so well with Anthony Hopkins giving his best performance in ages. A bit of a slow burn, but it's a story that gets through you as it continues. Grade: A-