What's the Story: Taken place in the 1980s, Jacob and Monica Yi (Steven Yeun and Han Ye-ri) have moved from California to rural Arkansas to a mobile home in the middle of nowhere with their two children Anne (Noel Kate Cho) and David (Alan Kim), as Jacob hopes to grow Korean produce to gain of living the American Dream. The family home changes completely with the arrival of their sly, foul-mouthed, but incredibly loving grandmother (Youn Yuh-jung) starts living with them.
Minari was another film from last year that made a great impression at the Sundance Film Festival, where it had the pleasure of winning both the U.S. Dramatic Grand Jury Prize and Audience Award. This was something I was eager to look forward to, especially from A24. Much like my experience watching Nomadland, I had the chance to buy a ticket from Film at Lincoln Center's virtual screening back in December before it quickly sold out. Watching this in the comfort of my house still made me miss going to the indie theater since I haven't gone back in what feels like ages, but this is the kind of engaging story to be invested in and everybody else will feel the same.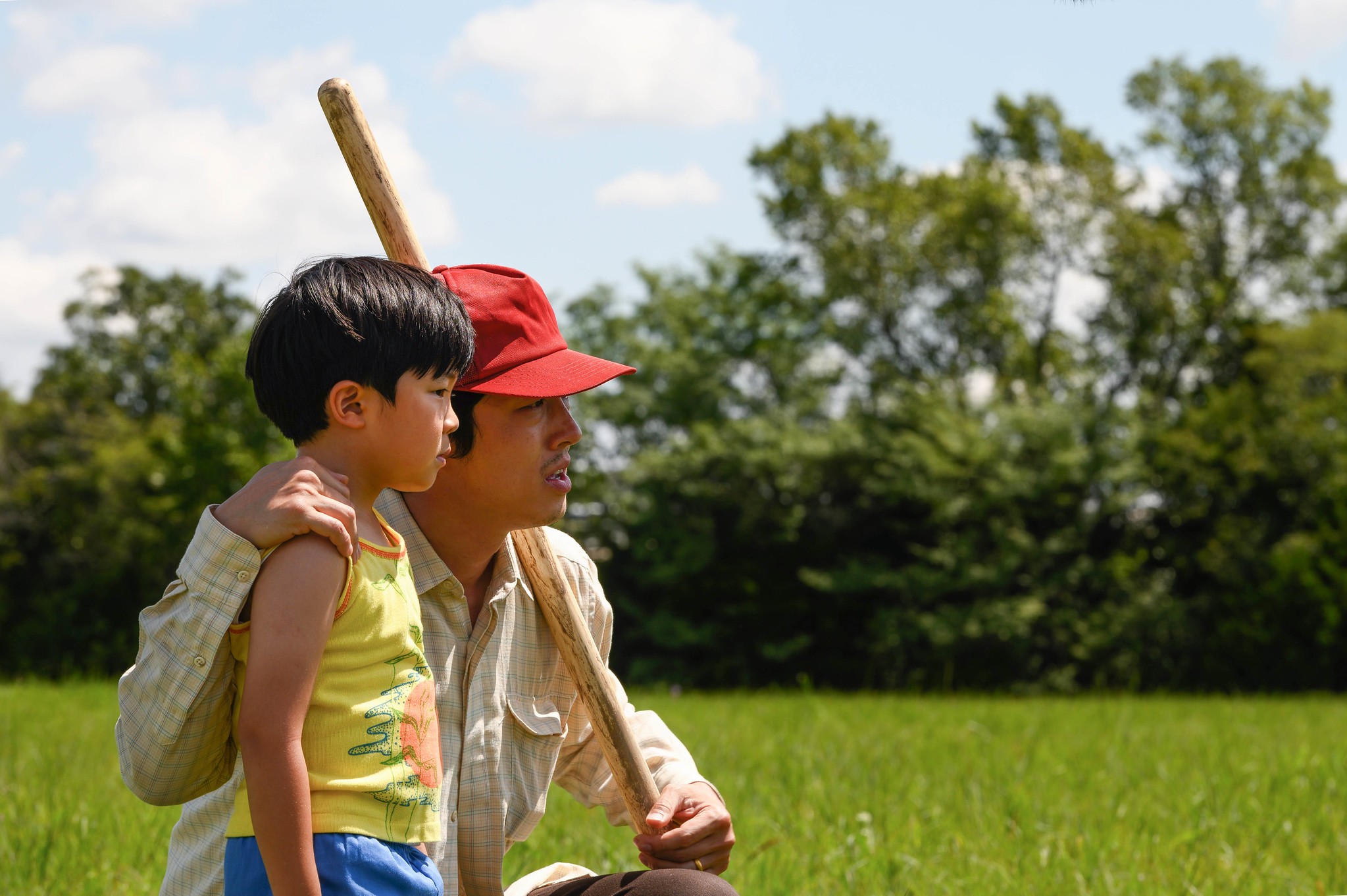 Writer/director Lee Isaac Chung isn't a name in the industry I heard of before as his one recognizable piece of filmmaking came from 2007's Munyurangabo. Said to be semi autobiographical when he was a young boy, it resembles a story you want to listen to your grandparent talk about and just want it to never end. I didn't want to know much about what goes on, and what can most can appreciate what Chung does is giving an honest look at American life from non-Americans trying desperately to get what they came for, wanting them in succeeding in making that dream a major milestone in life.
Chung's attention realized to full effect through his direction and script in how the Yi family plays almost realistic in just watching how each member deals with a certain circumstance whether it comes through hope or desperation, it's impossible to but be emotionally driven with everything placed within the story that one must've gone through the same experience.
All the performances shouldn't be ignored around this Oscar race because these are some of the strongest cast of actors from any film released this past year. Steven Yen, out of everybody in this ensemble, as Jacob is enough to see him in more films in the future. He has really stepped outside his popular role of Glen from The Walking Dead. I have yet to watch Burning, which I heard he's great in, but he's the ideal patriarch to care for the most in wanting this character to provide well for his family the best he can with this farm he's working with and for himself.
But while he's much so Best Actor material, I also have to give praise to young Alan Kim as David and Youn Yuh-jung as Grandma Soon-ja for breaking through their respective performances. Kim as the Mountain Dew-loving and playful so gives one of my favorite performances from a young actor where he lights up his screen presence along with sharing scenes with Yuh-jung as the grandmother who travels from Korea to America to live with them, and they often leave moments of humor that work effectively. With this and another A24 film The Farewell, it will make you miss taking with your grandparents, especially during these times. I also can't forget to mention Han Ye-ri as Jacob's wife Monica, Noel Kate Chom as the oldest daughter Anne and Will Patton as Paul, the religious and helpful partner of Jacob on his farm.
The entire film movie, in a way, never seems predictable. An immigrant story that'll see through people's minds. This is also another drama where the dialogue is spoken through English and Korean that didn't become distracting between the characters. Yet, what's loving about Chung's screenplay is how the Yi family is taking accustom to their new surroundings in how the world would treat families of a different race, and it's portrayed poignant enough to where it goes for that authentic feel throughout.
Some more elements that will sure to please others while watching are Lachlan Milne's mesmerizing cinematography to capture a sense of beauty and nuance when anything takes place outside. And the score by Emile Mosseri really sets the film perfectly with its mood. Seriously, it's so great I didn't know afterward he's the same composer who provided the music for The Last Black Man in San Francisco (worth watching btw). It was available back then, yet it is new to listen to.
Probably the one flaw I and some might have with this is knowing it's much more of a slow burn vibe, but my attention was still there till the very end. Few A24 movies come out this past year, but that doesn't mean it shouldn't skip out on the awards love. The Golden Globes made the dumb decision to nominate it for Best Foreign Language Film, despite being an American film, first and foremost. Hopefully, it can gain more momentum with it now released to show those a slice of life, similar to what Parasite did over a year ago. Something about its quiet and almost relaxed nature of it all is enough to put it in my top ten of last year.
Final Thoughts: Minari gives the viewer a glimpse of how a Korean-American family tries to accomplish the American dream most would hope for, and it's excellent. Definitely a slow burn and didn't move me to tears, but Lee Isaac Chung crafted a special one with fantastic performances and an unforgettable score. Knowing his next project in the works is a live-action remake of Your Name makes me more pleased to see how'll that will turn out. Grade: B+