Watched Date: 10/17/2020; Re-Watched Date: 1/12/2021
Aaron Sorkin has been around for so long that anyone who's a fan of his techniques will see anything he does. And those who can't appreciate what he does should just keep their opinion to themselves. We all expected his recent Netflix drama, The Trial of the Chicago 7, to be good, but what came as a surprise that the timing of its release couldn't have come out at a better in the climate of recent protests.
What's the Story: What was meant to be a peaceful protest outside the Democratic National Convention in 1968's Chicago turns into a violent confrontation with the police and the National Guard. A year later, seven people were charged by the federal government with conspiracy and more. Those on trial include Abbie Hoffman (Sacha Baron Cohen), Jerry Rubin (Jeremy Strong), Tom Hayden (Eddie Redmayne), Rennie Davis (Alex Sharp), David Dellinger (John Carroll Lynch), Lee Weiner (Noah Robbins), (John Froines) Daniel Flaherty and leader of the Black Panther Party Bobby Seale (Yahya Abdul-Mateen II).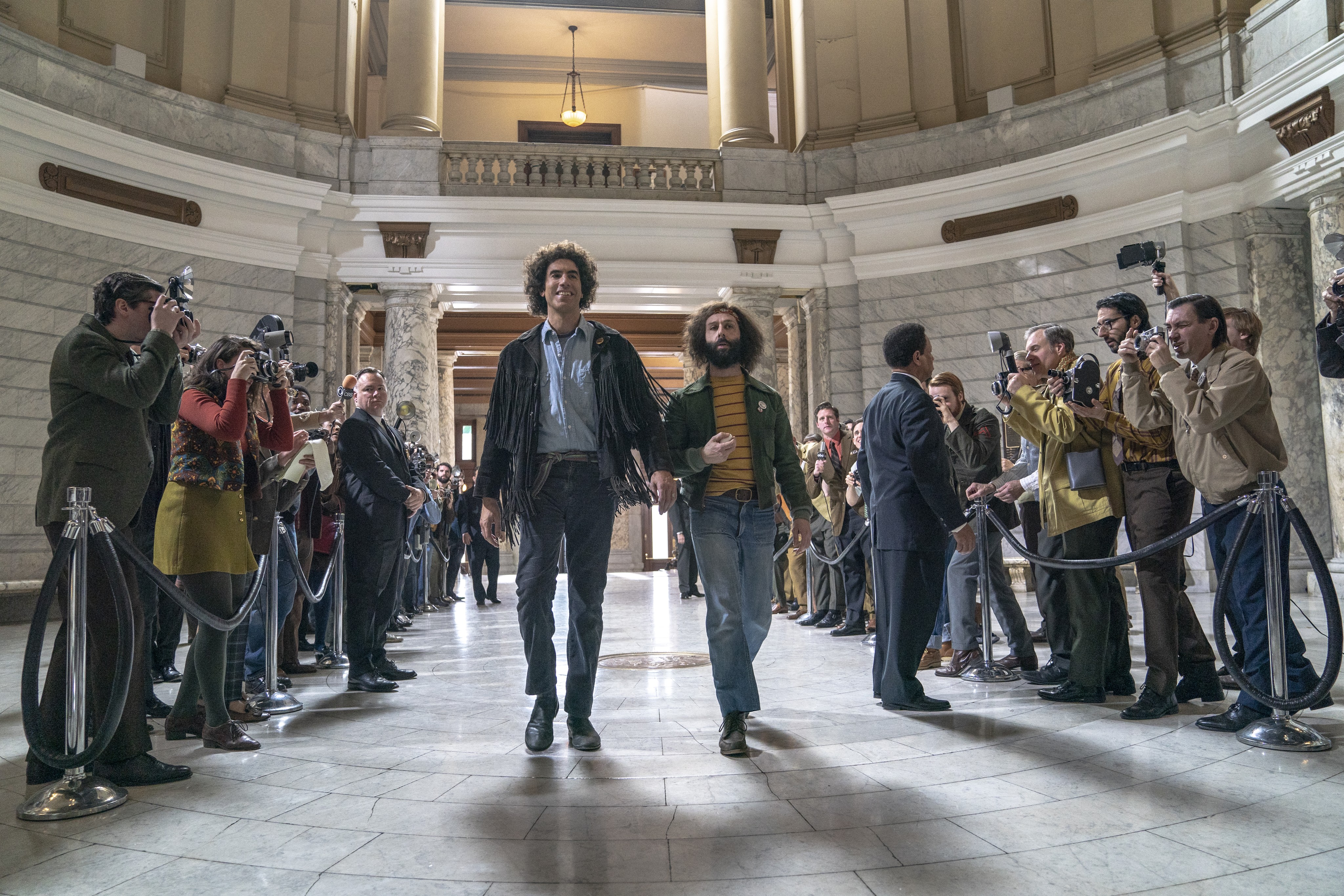 The talented writer/director is best recognized for pushing out fascinating characters (fictional or real-life) combined with sharp dialogue. With his screenplays for the amazing The Social Network or Steve Jobs showcasing his skills, this marks Sorkin's second time in the director's chair after 2017's Molly Game. His directorial debut, which earned him an Oscar nomination for Best Adapted Screenplay, was just alright; I didn't love it like everyone else. But he had the story planned out in 2007 with the legendary Steven Spielberg attached to direct it at some point. That didn't go through since the Writer's Strike happened, so he stepped in after it was passed around other directors since he must've known more about the subject at hand. Considering this look to make this a worthy courtroom drama, it succeeded high enough to be a favorite for most people out there.
Since they based this on a true story, I'm a little surprised they didn't teach us about the 1968 Democratic Protest in school, but it's a good thing in telling a story to unfold most intriguingly. A likelihood of finding the characters' unlikable won't be a complaint since we're on their side, hoping for the best outcome without having no clue what'll come for them.
Being how this Sorkin's second feature, he still isn't enough to call him a superb director just yet. There isn't much of a style we'll probably get used to seeing, but I can still say it's a bit of a step up this time around. But like everyone else, I agree he's a better writer, and here he has given us a great screenplay that's much more suited as a film rather than a miniseries you'll see on HBO. It has that Sorkin dialogue that isn't surprising to listen to, especially during the courtroom parts that reminded so much of another well-written drama from him, A Few Good Men. The film takes its narrative frame in including the trial scenes and flashbacks of what was leading up to the riots from different perspectives. Despite being a tad slow paced, especially around the first act and towards the end of the third even after a re-watch, everything in between left me invested, and that's also credit to some fantastic editing work by Alan Baumgarten.
Would the story be better if it was a different director instead? Probably, but it was still good they let Sorkin strengthen his improvements as a double thread without it appearing preachy.
Just taking a gander at who's in this, I can easily call this the best ensemble of the year because nearly everyone does a great job with portraying these characters without leaning on one side to any of them. I truly cared about them throughout since it's for us to decide to root for them on this trial as defendants. From Cohen, Mark Rylance, Frank Langella, Strong, Abdul-Mateen II, to Redmayne, any of them are honestly Oscar-worthy.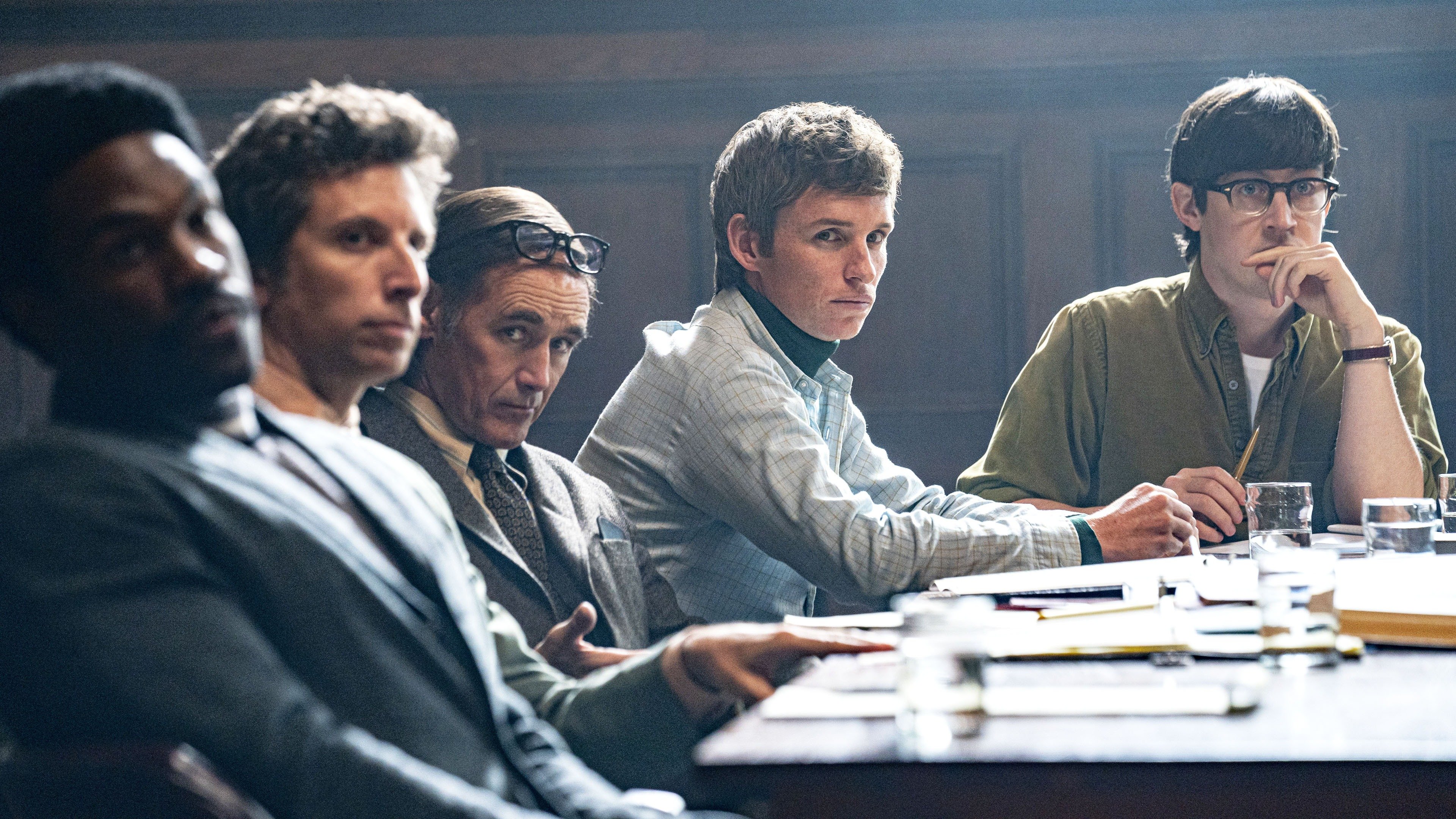 My favorites who steal every moment would be Sacha Baron Cohen and Jeremy Strong as Abbie Hoffman and Jerry Rubin, respectively, the founding members of the Youth International Party a.k.a. Yippies. Strong, the recent Emmy winner for Succession (Need to Watch), shows us again he has an amazing screen presence, while Cohen gives the dramatic and comedic side to himself in the best performance he has given. But who also impressed me were Eddie Redmayne as Students for a Democratic Society leader Tom Hanson and Mark Rylance as the seven's defense attorney William Kunstler for giving rousing performances of their own. Even Joseph Gordon-Levitt as assistant federal prosecutor Richard Schultz and Michael Keaton for the brief time he had as U.S. Attorney General Ramsey Clark doesn't get overshadowed too much over the large ensemble.
But if we're giving some kind of award for "Best Villain," it would no question go to Frank Langella as Judge Julius Hoffman, no relation to Abbie. Seriously, I never hated a character in a drama this much, and that's a credit to his role as the judge who's totally being unfair to the defendants' side, especially against Abdul-Mateen's Bobby Seale when he wants to say something to the court and when it comes down to examining evidence.
Since this came out at a time where the world was into chaos, it's crazy how timely and relevant we can compare this story to what America has gone through. Like many, I'm sick of hearing about police brutality and people being brutally attacked during riots that didn't start violet to begin with. Sorkin didn't know the tragedy that falls under the innocent lives of Breonna Taylor or George Floyd during the Black Lives Matter Movement from this past summer; that's just timing, and it's a growing issue that isn't going away since the cycle repeats itself in the history books. This was supposed to be a peaceful protest, but the parallels are hard to come by between what took place in 1968 and 2020. Not we should give everything the treatment of violence, but will one side listen? No. The consequences are never rewarded. Whether it was right or wrong, this trial shows my support for this gang that shows any things needs to change for today's society.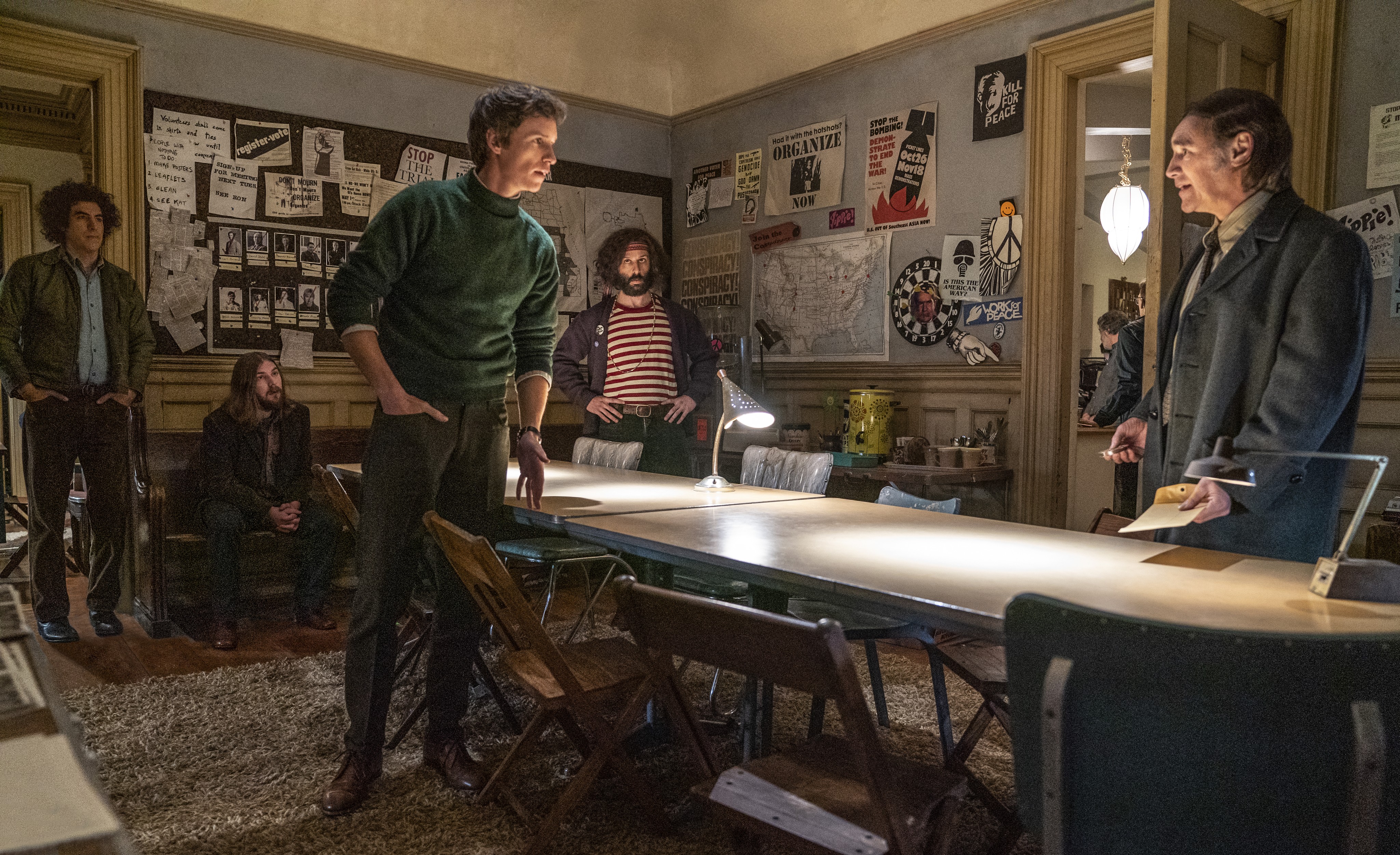 I can kind of see some won't be fond of watching this since it can be called "crowd-pleasing," but shown to be bland from its story. A political film like this will have certain reactions from both sides. It's something to be presented in history classes, but it should know it has moments true or false to what appeared in real-life. There was a moment where I thought it was all made up for the film, but it did happen, and it's absolutely shocking. But if I have a say with how it ended, if true, it ended on a pleasant note that'll make you stand up and cheer, despite being labeled "cheesy."
Seeing a film like this in the theater would've been nice to overhear everyone's thoughts right when it ends. Most awards outlets consider this a real Oscar contender, much so it has a strong chance at winning Best Picture. Possible? I wouldn't blame them since it's one that stays true whenever you watch it. We might see some other nominations for Best Original Screenplay, Editing, and Supporting Actor for almost anyone based on how great they were.
Final Thoughts: The Trial of the Chicago 7 marks another solid effort from Aaron Sorkin as a director that's better than his debut. It's a courtroom drama I was invested almost entirely by how timely the story was. Even though I can't call this one of my favorite films of 2020, the writing, the editing, and its ensemble are worth re-watching again, and it's one of the streaming service's biggest hits.
Grade: B