Stage plays have been around for decades as the best form of entertainment, and it's such a bummer nobody has experienced it on the Broadway scene for almost a year. Luckily, watching George C. Wolfe bring the late Pulitzer Prize-winning playwright August Wilson's Tony-nominated work to life with Ma Rainey's Black Bottom will probably bring you back by how well-crafted this latest Netflix drama came to be.
What's the Story: Chicago, 1927. A recording session. Tensions rise between Ma Rainey, her ambitious horn player and the white management determined to control the uncontrollable "Mother of the Blues".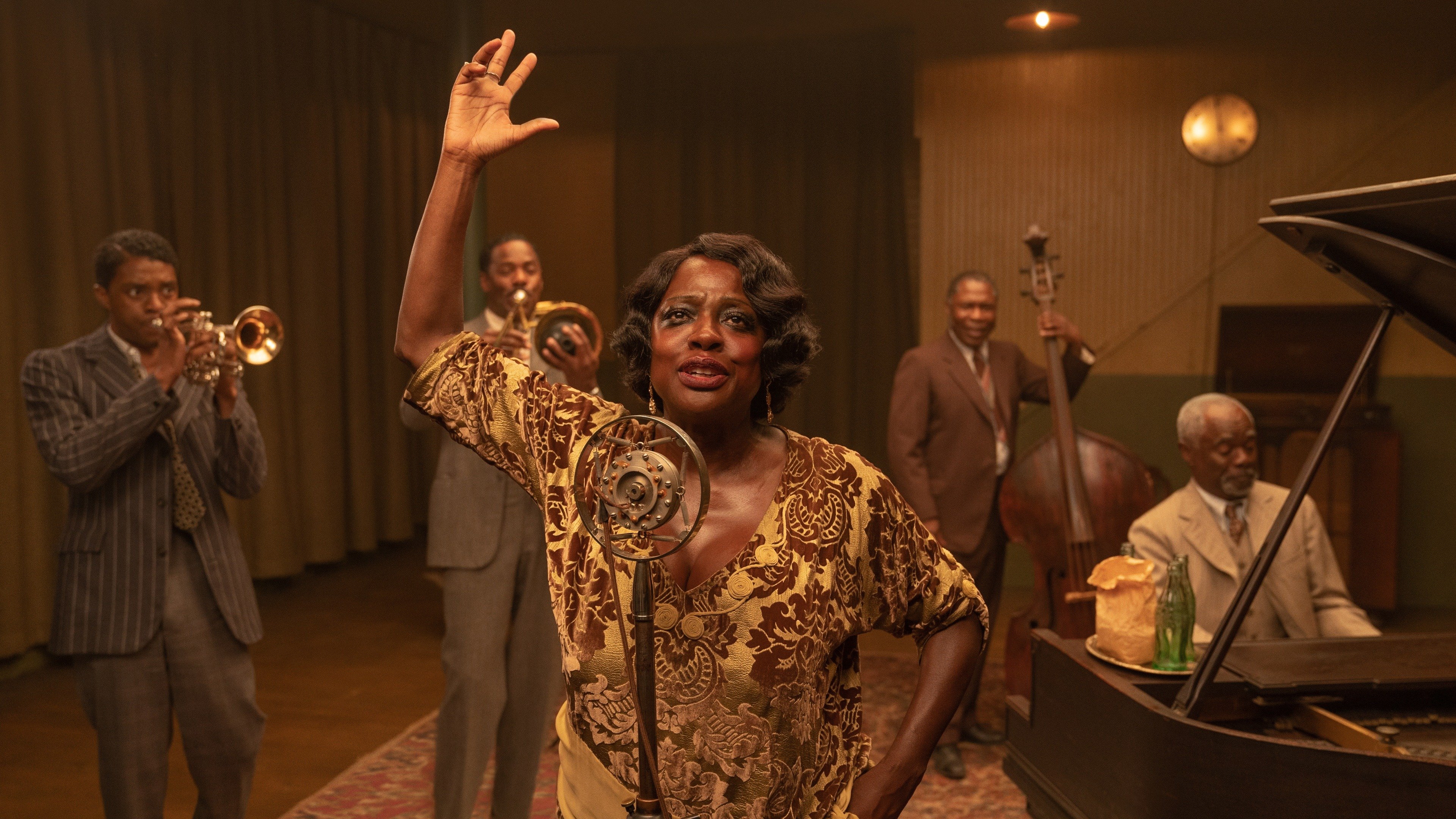 An adaptation of an August Wilson play isn't new here with this release, as the last time happened with 2016's Fences, which was one of my favorite films that year. Also, what's wrong with you if you don't like this? And though Denzel Washington didn't direct Ma Rainey's Black Bottom, he serves as a producer this time when he originally wanted to make this story on HBO years back. But now we have a film that'll already be a total Oscar-contender that does everything to, hopefully, keep your eyes on whatever device you'll watch this.
Everything about this is all new to me since I've never even heard of Ma Rainey, but in the hands of Wolfe, who's primarily known as a theater director and writer Ruben Santiago-Hudson, to make this real-life story will make you wish you were a fly on the wall with what went on during this recording session. With the idea of Santiago-Hudson taking on Wilson's words that he wrote during a time where he has been writing about the African- American experience in America, it was a challenge to make this well-worth people's time to value the worth of those who went through being successful.
This takes place in one day with the singer and her band trying to get through recording some songs as quickly as they can. Wolfe's translation comes on the same effect as watching the play come to life, and it'll likely work for those who went into this knowing little as possible. Its limited two locations with the characters talking about whatever's on their minds just so happen to provide the style to the forefront. As simple as it was, it honestly didn't need to go outside of what we got since it's very much so entertaining.
Seeing how it took place in the late 1920s, you can already expect for the characters living in a period that might not be well-adjusted yet, but it's this kind of music that drives record sales. Something that we see Ma Rainey proves that's still going on the day is finding the respect for someone that's an African-American artist that doesn't just mean the voice, honoring what she does in delivering the blues. And with the temperature rising and tension brewing amongst everyone, you can't understand it might be the driving passion that keeps pushing toward in whatever medium that follows.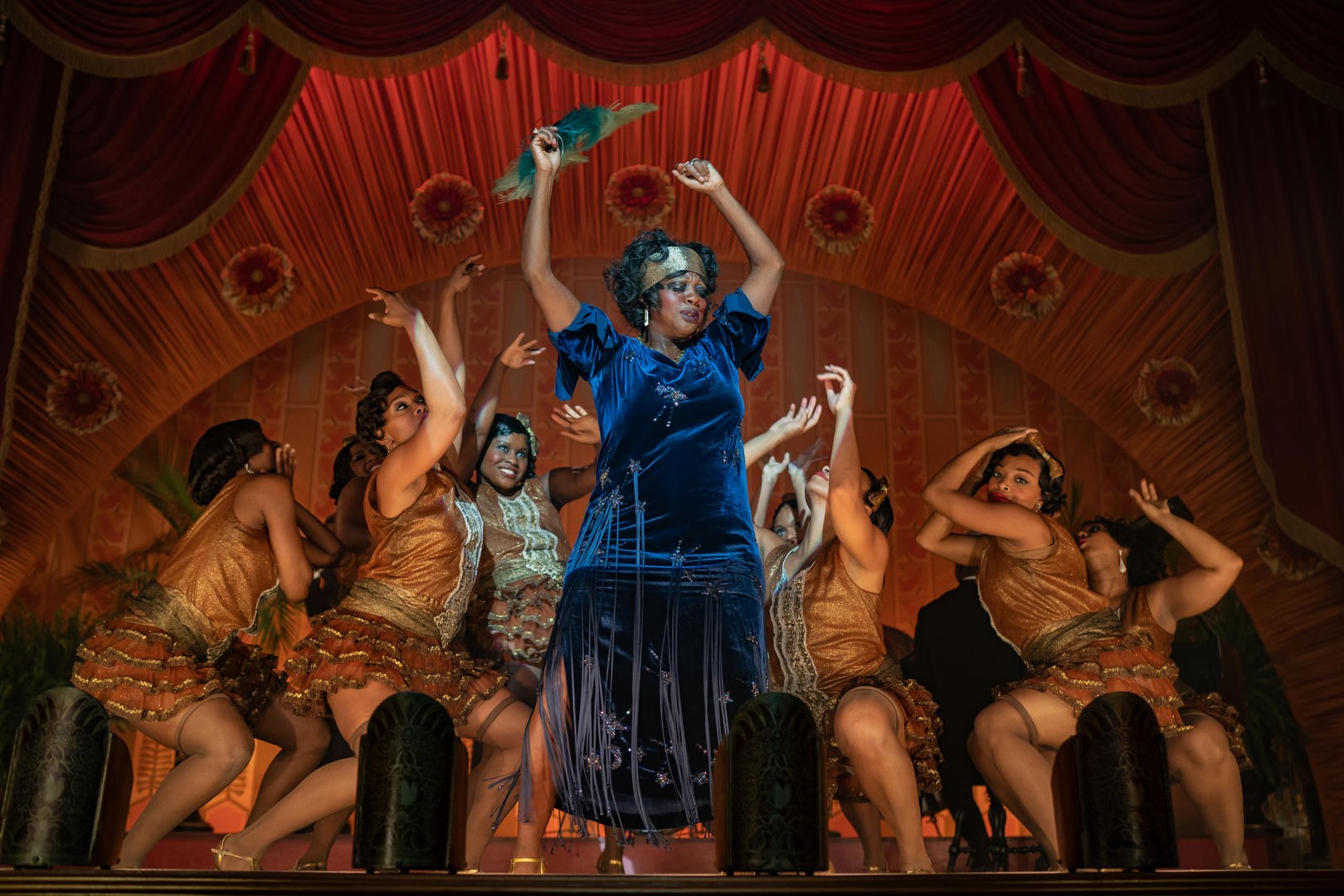 Viola Davis won her Oscar for a tremendous performance in Fences, and the role of Ma Rainey continues to prove she's one of the most talented actresses working today. Watching her command the screen wasn't too shocking, but to say she disappears here might be an understatement. Her take on the late singer shows she's very demanding to make sure she gets what she wants before recording anything.
She won't be taking any crap from anybody, whether that means making sure her nephew Sylvester (Dusan Brown) does the introduction of the titular song despite his stutter or wanting a Coke and waiting until she downs it all. I also couldn't believe it was her since she's nearly unrecognizable with the gold teeth, eye-makeup, showing she isn't messing around.
Davis was great, but it's Chadwick Boseman as Levee Green who stole the entire film. His death in August still doesn't feel real, and it's a celebrity death I can't over. 2020 has given the world stand out roles from him in this and Da 5 Bloods. Looking at what he got here, the late actor gives the best performance that will be talked about not only for years but what could be a posthumous Oscar win for Best Actor. Levee's the trumpet player who's determined to leave the band to start his own. The range of emotions Boseman professes from the character is powerful, especially in two scenes where he's monologuing that blew me away, that tells where he came from. The latter legit made me cry not just because he's cursing at God, but knowing this is the last appearance on film that'll many of us will never see again. With that, it's great to go out on a high note. Even if he was still alive, I would still call this his greatest performance yet.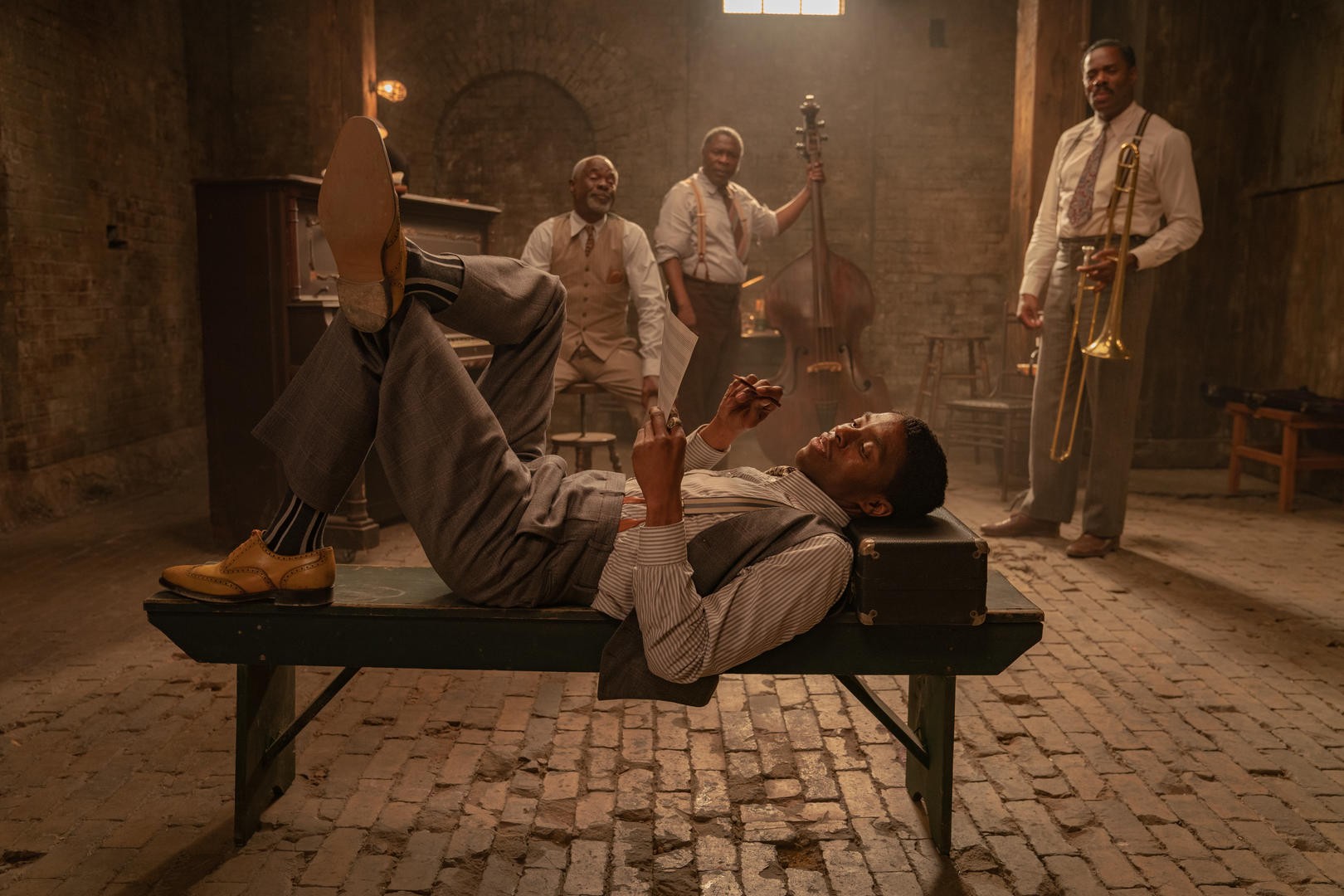 The rest of the supporting cast shouldn't be left out from the underrated Colman Domingo as Cutler, Glynn Turman as Toledo, and Michael Potts as Slow Drag played excellently to their parts. And it can't be a worthy period piece without mentioning the amazing costume and production design of it all.
A few problems it might have with some people that are can feel long despite it being a pretty quick 94 minutes with a pace similar to watching a play. Most of this is a dialogue-driven picture, but there's nothing to complain about since the screenplay and Wolfe's direction is wonderful. And it can feel like it wasn't acting like a film for a few moments in how certain lines were delivered.
Final Thoughts: Ma Rainey's Black Bottom had the same effect as watching the stage play, and that's a wonderful way of saying it's a must-watch. George C. Wolfe brought August Wilson's' vision to life the best he can with Davis' commending performance, while Boseman gives one of the year's best performances that's unforgettable. Netflix has another Oscar- potential film that's worth the attention.
Grade: B+