Not that this will ever happen (hopefully), but if the end of the world were supposed to happen, the best way to survive would be to be a bunch of funny people to be surrounded by? Well, This Is the End, made that question clear. If you ask me, that would be too hard of a question to direct at me.
What's the Story: Jay Baruchel visits his pal Seth Rogen in Los Angeles for the weekend and stops by James Franco's house for a housewarming party along with a ton of other celebrity pals. But the night doesn't go as planned as earthquakes happen and blue beams appear in the sky, which could only mean one thing… the end of the world has leashed upon the Earth. Leaving behind Baruchel, Rogen, Franco, Craig Robinson, Danny McBride, and Jonah Hill, all of them must survive while staying put inside Franco's house.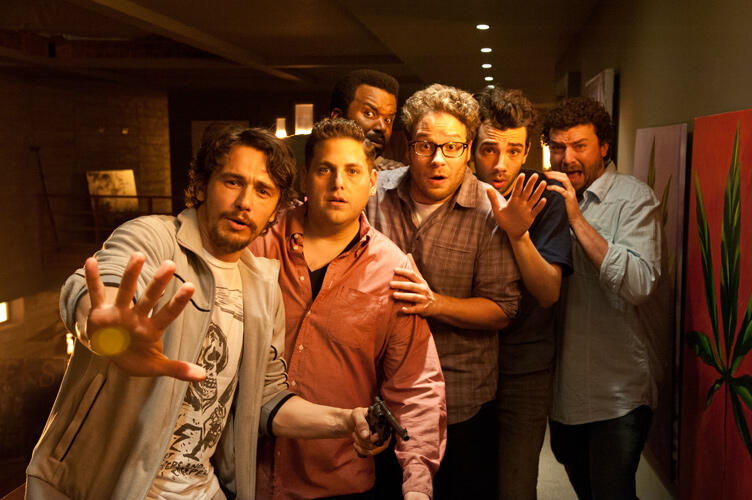 Written and directed by pals Rogen and Evan Goldberg in their directorial debut, I was so excited about This Is the End when it was first announced that I saw it opening day, along with my first taste of delicious Cherry Coke. For starters, they base this whole movie on Jason Stone's short from 2007 entitled Jay and Seth versus the Apocalypse, which features both him and Baruchel. Just the idea of an apocalyptic comedy with some of Hollywood's biggest comedic stars sounded exciting. Actually, when my sister was in college, her campus was one of the first people to see it, and she liked it. The trailers made me laugh, I've come to like the primary stars for a while at that point, and the duo's directorial debut managed to be one of the most hysterical movies of the entire year. And when you're responsible for writing Superbad, a.k.a. the best comedy of all-time, that's what I call a win right there. I was kind of surprised by how well this was directed with a look that doesn't appear glossy with its limited locations but made it work to stretch the original short into a natural runtime.
This has an incredible ensemble that couldn't have been better if I say so myself. All six actors (Rogen, Franco, Hill, Baracael, McBride, Robinson) have been good in the past, depending on what they were in, and you can tell they had so much fun working off each other since they're comfortable enough to be on screen. Some of them have been in other movies with each other (Pineapple Express, Knocked Up). The concept of these actors playing themselves in a way the media portrays them is funny to the point where it doesn't become such an inside joke. Most of the time, they do play the same characters in all their movies, but it isn't such a problem here. It's so exaggerated to where Rogen is actually into weed, or that Hill comes across as the sweetest person on Earth, or Danny McBride is an a-hole, and he totally is in the movie where he wasn't even invited to the party. Everybody shines, and I didn't think this waste any of them, becoming the weakest link out of the group. They all give great performances, mostly Rogen and Baracael since both of them are the crucial characters. The funniest has got to go to Jonah Hill. This nice persona he's giving off didn't get old one bit, and he crushes every scene he delivers.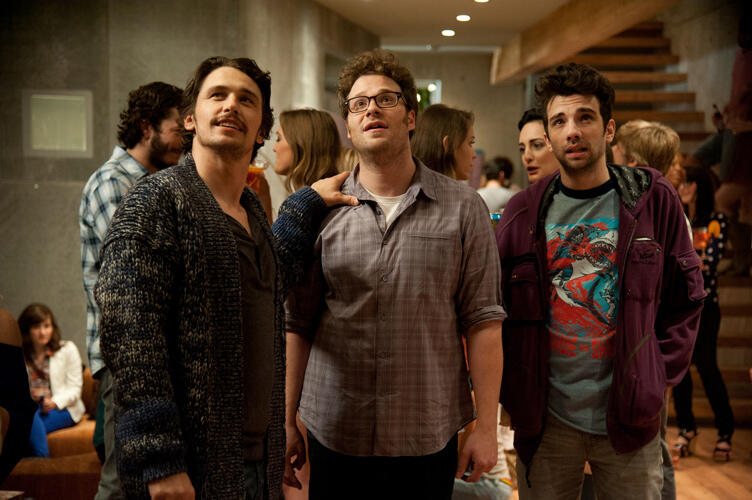 Even the cameos worked for the time it included them, mainly because most of them fell in the massive sinkhole outside Franco's house. It was cool to see Rihanna, Jason Segel, Kevin Hart, and others. And though Michael Cera is also in here for a brief time in the first act, he made the most of it with a version of himself that's so unlike the characters he played since he's basically coked out of his mind at Franco's house. You also have Emma Watson for a little, but she made me laugh. 
This is such an original story with dialogue that helped, and you believe that this cast had a great time since it would've been a different experience for all of them if they hadn't. Even though these are just actors, you don't want to see them die while the world is on fire, that's for sure. There are some references to other movies or their own previous movies from their respective careers and others in general. To quote Hill, "Sick reference, bro. Your references are out of control. Everyone knows that." Even the terrible movies they were in, and the jab at Your Highness, the medieval comedy with Franco and McBride, was something I appreciated because that was a bad movie, and the world is glad that it never got a sequel. 
When it's funny, it made me laugh out loud. It's the kind of humor that this crew always goes for, especially when it's all improved and making fun of each other, but for a premise like this, it can't go wrong. And while almost all the jokes hit, there were a lot of dick related jokes that can get a bit tiresome for most people, but they're still outrageous, regardless. I haven't watched this in a long time, and I was cracking up constantly throughout, even after it was over while doing anything else. So many funny scenes in this, but one scene that I still don't know made me laugh the hardest was the argument between Franco, McBride, and the porno magazine with McBride delivering one of the funniest lines in the entire movie, "I mean, you're getting all worked up over a f–kin' porno mag! Who has god-n porno mags anymore? Welcome to the twenty-first century, Buck Rogers!"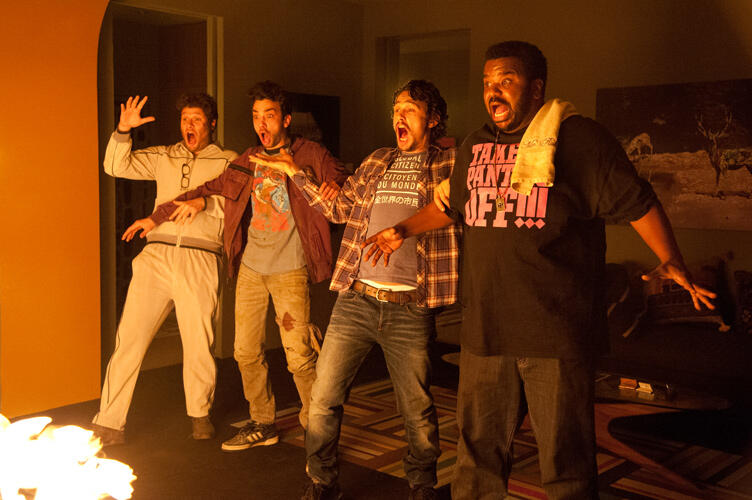 2013 not only gave us this summer hit, but it also provided audiences with Edgar Wright's The World End, which came out a couple of months later. Of the two which do I believe is better? I think both are underrated comedies that have received little attention since they came out, but I would have to say The World's End is slightly funnier since it has that unexpected weight the story had that made it better.
And this is a spoiler for the ending because I have to talk about the epic cameo that closed the movie right, and Backstreet Boys' appearance made my day. I heard they were going to be in this before it came out, and I thought they were going to be in it for five seconds and get killed by a blast or something. Nope, they're up in heaven performing "Everybody (Backstreet's Back)." As someone who loves Backstreet Boys, I had to love this. 
Final Thoughts: This Is the End is a hilarious meta apocalyptic comedy that's balls out funny throughout that's so self-referential of itself it's not fair. And because it's a comedy, it made me laugh from start to finish. It's not to say this is the most groundbreaking movie to be released in theaters, but you just have a ball watching, especially with a crowd who appreciate something this funny or those who aren't easily offended. Those who like these actors will have no qualms with what Goldberg and Rogen brought as directors.
Grade: A-