If you take a look back at the films in the com­ing-of-age genre, there haven't been a lot rep­re­sent­ing the gay com­mu­nity, let alone a wide re­lease that is­n't of­fen­sive in some way, shape or form. We just had one of my fa­vorite movies of last year, "Call Me by Your Name" and no­body even saw that. Now, we have "Love, Si­mon," a wide re­lease that's per­fect for fans of the John Hughes clas­sics from the 80's. And if Hughes were still alive to­day, I think he would be proud of how these types of movies have changed over the years. And "Love, Si­mon" is a prime ex­am­ple of that fact.
Based on Becky Al­ber­tal­li's 2015 novel "Si­mon vs. the Homo Sapi­ens Agenda," 17-year-old Si­mon Spier (Nick Robin­son) has a fan­tas­tic and nor­mal life with his lov­ing fam­ily, whom he loves back, and his friends in high school—but he has a huge se­cret that he has­n't told any­one: he's gay. But when dis­cov­ers that an­other high school stu­dent anony­mously came out as gay un­der the name "Blue" on the school's blog, it gives the chance for Si­mon to fi­nally re­late to some­one with the same feelings.
I en­joyed some of the most re­cent movies from the com­ing-of-age genre, so I was ac­tu­ally ex­cited to see what "Love, Si­mon" had to of­fer. It should be noted that this is the first teen film re­leased by a ma­jor stu­dio to fo­cus on a gay ro­mance. This could be a ground­break­ing gay ro­mance or a touch­ing, yet emo­tional, film that hits you in all the right places. But the rea­son why I loved "Love, Si­mon" is be­cause it's one movie every­body must watch at some point in time.

Di­rec­tor Greg Berlanti has been in the tele­vi­sion cir­cuit for a long time; he's been a writer on "Daw­son's Creek" and the shows from the Ar­row­verse. But with "Love, Si­mon," he's tasked to take part of the ro­man­tic dram­edy, and he han­dled it quite well. This is also a mil­lion times bet­ter than "Life as We Know It," his last film. Given the lack of movies where the main char­ac­ter is gay, this is the right movie to set stan­dards right. Eliz­a­beth Berger and Isaac Ap­taker ("This is Us") adapted the screen­play from the novel, and it's such a well-writ­ten script. And while there might be some a cou­ple high school clichés, it still works, even if does­n't feel that orig­i­nal. There are some en­gag­ing con­ver­sa­tions be­tween al­most every char­ac­ter, and they felt to­tally gen­uine and not at all bor­ing. The way Si­mon tries to fig­ure out who he's been chat­ting with was pretty unique, and you can't help hop­ing that he finds that spe­cial some­one, since he and his email pen pal get to know each other pretty well.

Robin­son is one of those young ac­tors that's re­ally shoot­ing for a great lead­ing role in his ca­reer. Com­ing a long way from "The Kings of Sum­mer" and "Juras­sic World, " his Si­mon is such a lik­able char­ac­ter that you in­stantly latch onto from the be­gin­ning. You feel con­nected to his hid­ing his se­cret, and with all the emo­tions that go along with that. Any­time Robin­son's name is men­tioned, this is the first thing that will pop into my head.
Deal­ing with the stress of com­ing, Si­mon still has a well-mean­ing re­la­tion­ship with his par­ents (Jen­nifer Gar­ner and Josh Duhamel), which are the per­fect ex­am­ple of awe­some par­ents in movies that you want to hang out with, and the chem­istry be­tween his core group of friends Leah (Kather­ine Lang­ford, "13 Rea­sons Why"), Abby (Alexan­dra Shipp, "X-Men: Apoc­a­lypse") and Nick (Jorge Lende­borg Jr., "Brigsby Bear") is ex­cel­lent.

Amid of the ten­der mo­ments sprin­kled in the film, there were some hi­lar­i­ous mo­ments that caught me off guard. The bal­ance of dra­matic and comedic scenes did­n't de­rail the film, which is per­fect. Most of the fun­ni­est scenes come from Tony Hale's vice prin­ci­pal try­ing to be cool around the stu­dents, as well as Natasha Roth­well's por­trayal of the drama teacher.

I did have one is­sue with the film, and that's the char­ac­ter of Mar­tin (Lo­gan Miller), who black­mails Si­mon into not telling his se­cret to any­body. He's ba­si­cally the only char­ac­ter I re­ally never cared about in the first place and any­time he's on­screen, it comes off as an­noy­ing and not re­deemable in the end.

We all have mo­ments where we want to tell our friends our per­sonal se­crets, but we're ner­vous about how they'll re­act. Al­most through­out my years in school and to this day, it's dif­fi­cult to tell some­one that you have feel­ings about some­one. Will peo­ple treat you the same or dif­fer­ently? That's the strug­gle Si­mon faces through­out "Love, Si­mon." As a straight in­di­vid­ual, I can't say I re­late to Si­mon, but it's easy to un­der­stand where he's com­ing from, and the film ex­poses us to those mo­ments where we're emo­tion­ally strug­gling and want to hug a friend or some­thing.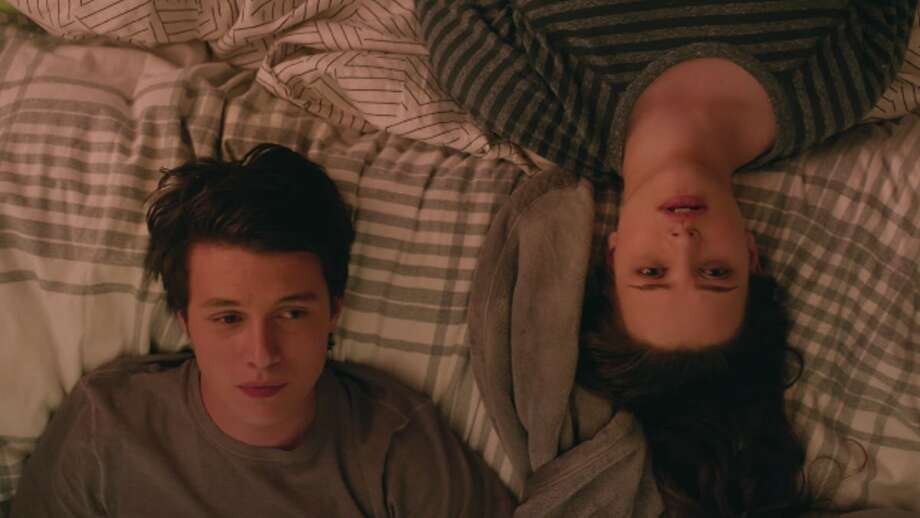 By the end, "Love, Si­mon" comes off as a rel­e­vant story that hon­estly touched me. Its sub­ject mat­ter can be ap­plied to nearly every­one, as we can all re­ally feel like we're in Si­mon's place with what he's go­ing through. It's most def­i­nitely up there in the ranks of "The Perks of Be­ing a Wall­flower," "Lady Bird," "The Fault In Our Stars" and other great teen movies that pretty much de­fined the genre. And just like those movies, "Love, Si­mon" is go­ing to be rec­og­nized as a clas­sic in the near fu­ture. Search­ing for love can be the hard­est thing to do in life (I can re­late,) but some­times we must open up to hope­fully find it one day.

Heart­felt and re­lat­able to al­most every­body, "Love, Si­mon" is hon­est and well-told in one of the most charm­ing and un­der­stand­able teen ro­mances to come out in re­cent years. Grade: A-