What's the Story: Following the economic collapse of a company town in Empire, Nevada where it doesn't even exist anymore, Fern (Frances McDormand) packs up everything up into her van and sets off on the road after the Great Recession to explore a life outside of conventional society as a modern-day nomad in the landscape of the American West.
Nomadland is one of those smaller films that was mentioned almost a year ago, yet there were little details about it. Back in September, it made its premiere at the Venice Film Festival, which won the Golden Lion award, followed by winning the People's Choice Award at the Toronto International Film Festival. Everyone got the chance to see it from festivals with nothing but wonderful things said about it. Since I didn't want to wait until February or wait till it's available for VOD, I was lucky to buy a ticket for $12 to watch it through a virtual screening online from Film at Lincoln Center, and I got one before it sold out. A drama like this was either going to intrigue me or bore me. Fortunately, this was undoubtedly one of the best films that brought a brief glimmer of hope for what has been a dry route in entertainment.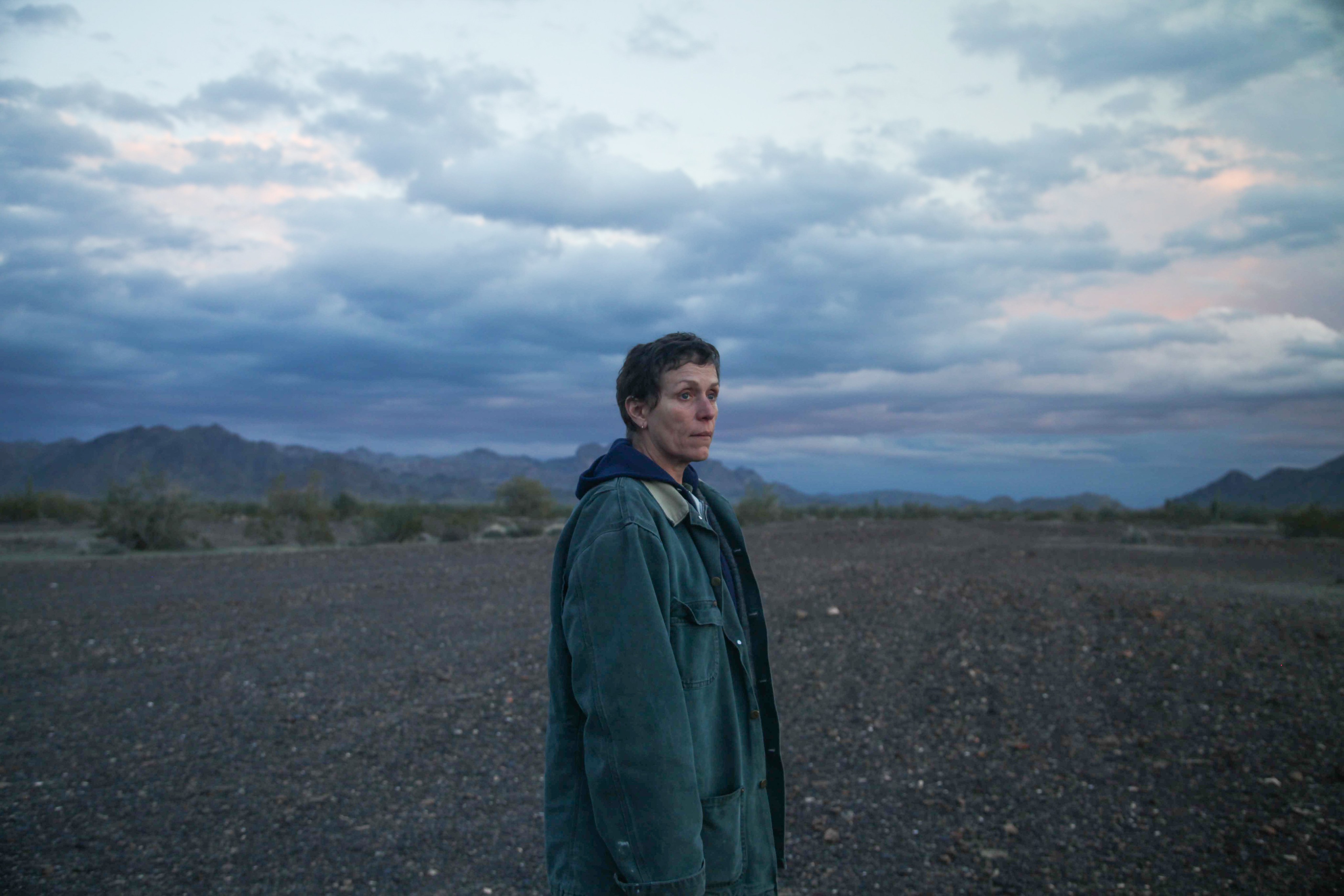 Writer-director Chloé Zhao is a director some might've heard as this is her third film following 2015's Songs My Brothers Taught Me and 2018's The Rider, but she will be making the big leagues next year as she's responsible for helming Eternals, one of Marvel's next big blockbusters.She adapted this from Jessica Bruder's non-fiction novel Nomadland: Surviving America in the Twenty-First Century to tell this story that never felt more relevant now more than ever. Without Zhao's involvement, I don't think this wouldn't hold higher standards. Not only did she handle the directing and writing, but she also produced and edited it. I haven't seen everything so far, but this is the most beautiful direction and screenplay that's going to be dominating in awards season. Currently, in the world, people's living situations have been very difficult since this pandemic hit the world where most can't afford to live in homes anymore because of financial reasons and must learn to make what they have outside, but we're getting the chance to capture to part of American life probably most of the population doesn't know about those who are living as nomads- people who live in their vans and traveling the country.
But who's better to be the focus of the film than the versatile Frances McDormand, who also serves as a producer. As Fern, she's an older woman living life on her terms with no help from others, living in a life of freedom that can be taken either pleasantly or hard. One of her first roles since winning her second Best Actress Oscar for Three Billboards Outside Ebbing, Missouri, this is another phenomenal performance to show why she has always been great in her career. It's so much an interesting character study to see how she's dealing with her living situation, but even she states it early on by saying, "I'm not homeless, just houseless" because it's her choice. She is living in a time where she doesn't have a lot since she lost everything. But that doesn't mean she won't give up that easily. Fern takes on any job she can get to find some kind of resources, and it's one of many reasons this character is the most fascinating to watch out of every movie I've watched this year. I also have to mention David Stratham, giving a terrific performance as another fellow nomad named David whenever he shows up, and the scenes he shares with his co-star are moving.
Something that felt so authentic while watching was the other actors' Fern meets along her journey, and the reason it was authentic was that these are real nomads playing themselves in this. It's incredible how they got non-actors to be in it talking about their real-life experiences in the past to where they are now, since I honestly would've thought they were professional at first. These moments might be brief, but Zhao captures them so well that you don't want it to end. Be on the lookout for Linda May and Charlene Swankie and for the monologues they provided.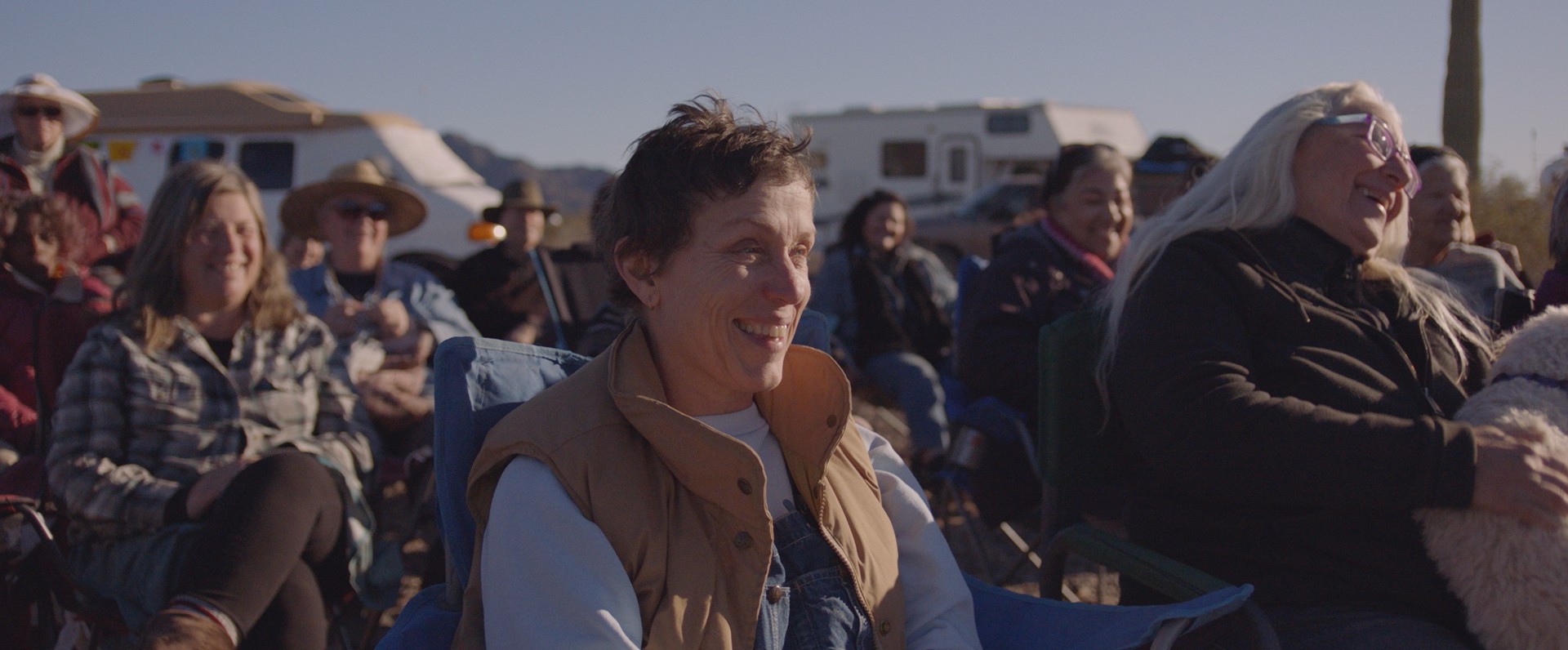 It's a quite moving experience that kept me invested entirely, as if I was reading the novel they adapted it from, which is a major compliment on my end. Some might even find the story as a modern take on a classic story about the recession. I haven't read the novel, but if they offered this for us to read in school, I would've completed this in a few days. The one film that has a similar feel to it is Wild with Reese Witherspoon, with a character dealing with her past while exploring everything America offers. Once it began with Fern's journey, it had this easy-going vibe I latched onto and wondered if I would do the same thing as this character and I'm someone who probably wouldn't last that long. The thought of getting to live in a van was something I thought about years back, but it sounds cool traveling to places you always wanted to see and find the chance to interact with others who might have interesting backgrounds about themselves.
Joshua James Richards' cinematography is breathtaking just watching everything outside in the desert, especially just watching the sky and makes you want to gaze at the stars at night, in a warmer temperature. One-shot, in particular, was worth taking in the beauty. And the score by Ludovico Einaudi (The Father) isn't used that much, but it fits the melancholy mood so smoothly within a certain scene when it's all quiet.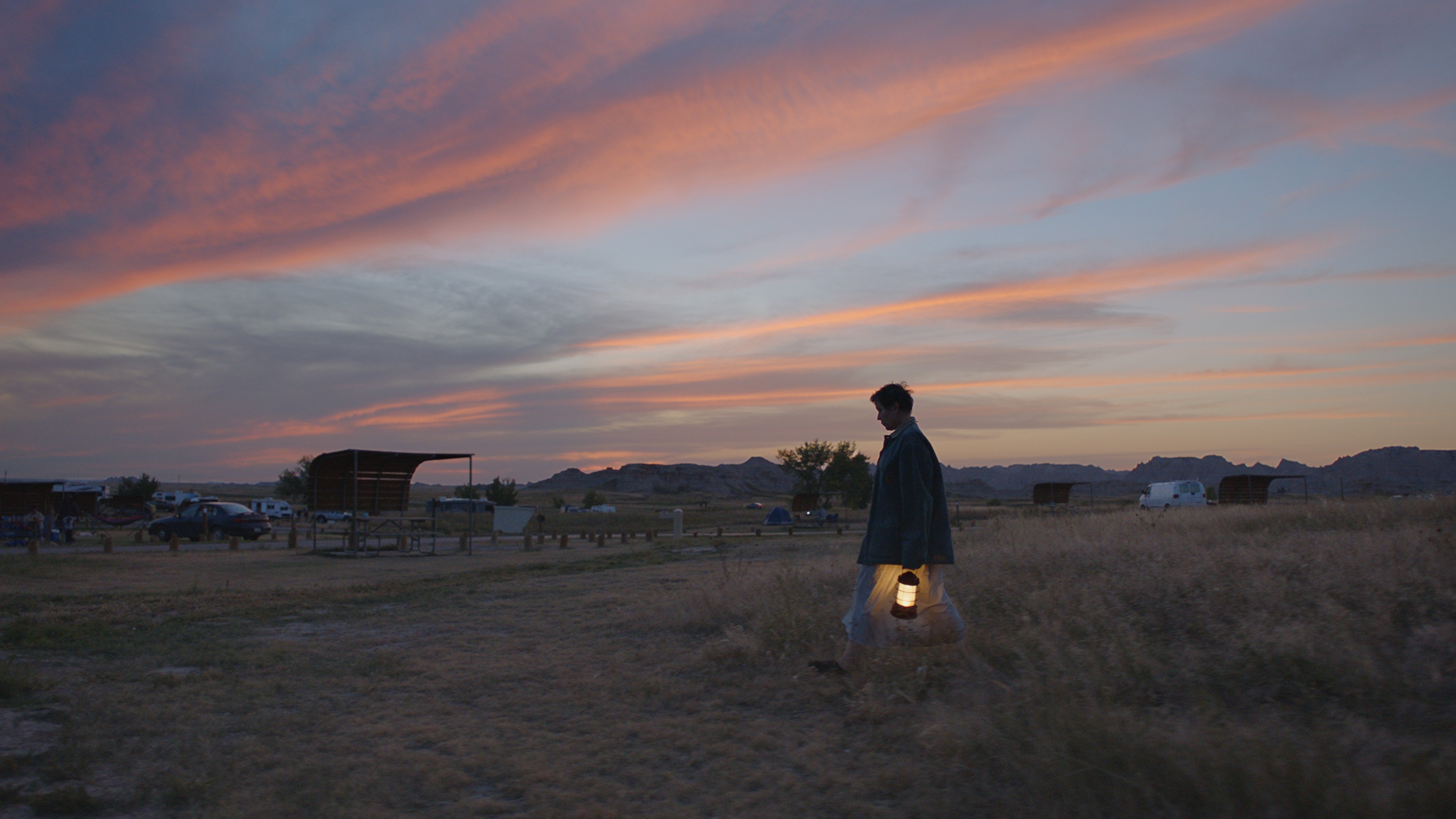 If there were any issues the film has, there weren't a lot to not categorized this as great. This isn't a film that won't be for everyone, as a few scenes near the end of the second act were a little slow, despite the rest of it being surprisingly well-paced. And there will those who might feel like there's no real narrative in its storytelling, which starts to make me worried the general audience will be on the opposite side and not get it. Before I pressed play, I only knew about the small detailed premise and watched the short teaser, knowing nothing else. But even though we're just watching McDormand in a van, which involves using a bucket for a bathroom and taking different jobs along the way, I couldn't stop thinking about this days after watching it. This year has been the downer year of all our lives, and it made me sad we can't interact with people without being too close. The best thing about Zhao's taking on Jessica Bruder's story is showing that being a nomad or taking part of this community will not be an easy lifestyle to latch onto, especially if it's anything involving your van in the desert.
Seeing a film like this in theaters would've been special, especially if I saw it at the Landmark Keystone theater, where I always go to see smaller films like this, which is hard knowing I haven't gone there this year. But right when I first watched it, I have a strong feeling this will be a strong Oscar contender with a few nominations. However, I can honestly see Zhao getting nominated for Best Director and can see this as the frontrunner for Best Picture as of right now. And I would love to see her take home the statue. McDormand will easily get nominated for Best Actress, but will this land her third win? Possibly. After this, I'm more excited to see what this director does next in the future.
Final Thoughts: Nomadland is one of the best films of 2020 that needs to be viewed by everyone. Zhao offers a poetic and moving glimpse of how life moves for people living this way. With McDormand giving another outstanding performance in her career and a beautiful screenplay behind it, it's another win for Searchlight Pictures. Again, I was hoping to like it after so much positive word of mouth, and it's most likely to be in my top ten of the year. If you have any interest and my thoughts were enough to persuade or any other review who has talked about this for months, please see this when it has its release in February.
Grade: A-