Nobody thought we would ever see more of these guys on the big screen since we last saw them over a decade ago. But when it seems like everything in the world gets us down and desperately needs some good entertainment, thank goodness for finally getting Jackass Forever. Because let's face it, nothing cures our brief stance of depression than watching old friends reunite and get hilariously hurt for our amusement.
So we officially have a fourth installment in the long-running docu-comedy franchise with the pals from the classic yet controversial MTV show: Johnny Knoxville, Steve-O, Chris Pontius, Dave England, Jason "Wee Man" Acuña, "Danger" Ehren McGhehey, and Preston Lacy. I never watched the show since I was WAY too young and my parents would've blocked the channel altogether. However, some would argue the movies, Jackass: The Movie (2002), Jackass Number Two (2006), and Jackass 3D (2010), are even better since it's cinematic, and I actually rewatched them last summer along with commentary from The Wangers all through June. Jackass Forever would also be my second time seeing anything from these guys after the Oscar-nominated (yes) Bad Grandpa. But, of course, everybody, including me, knows we aren't expecting Oscar-caliber greatnesses when walking into the theater; it's the same antics Knoxville and company get into that require millions of viewers not to do these students as warned at the beginning. To please me, all that had to do was make me laugh throughout its 96 minutes. Luckily, it ended up being a great time for fans alike.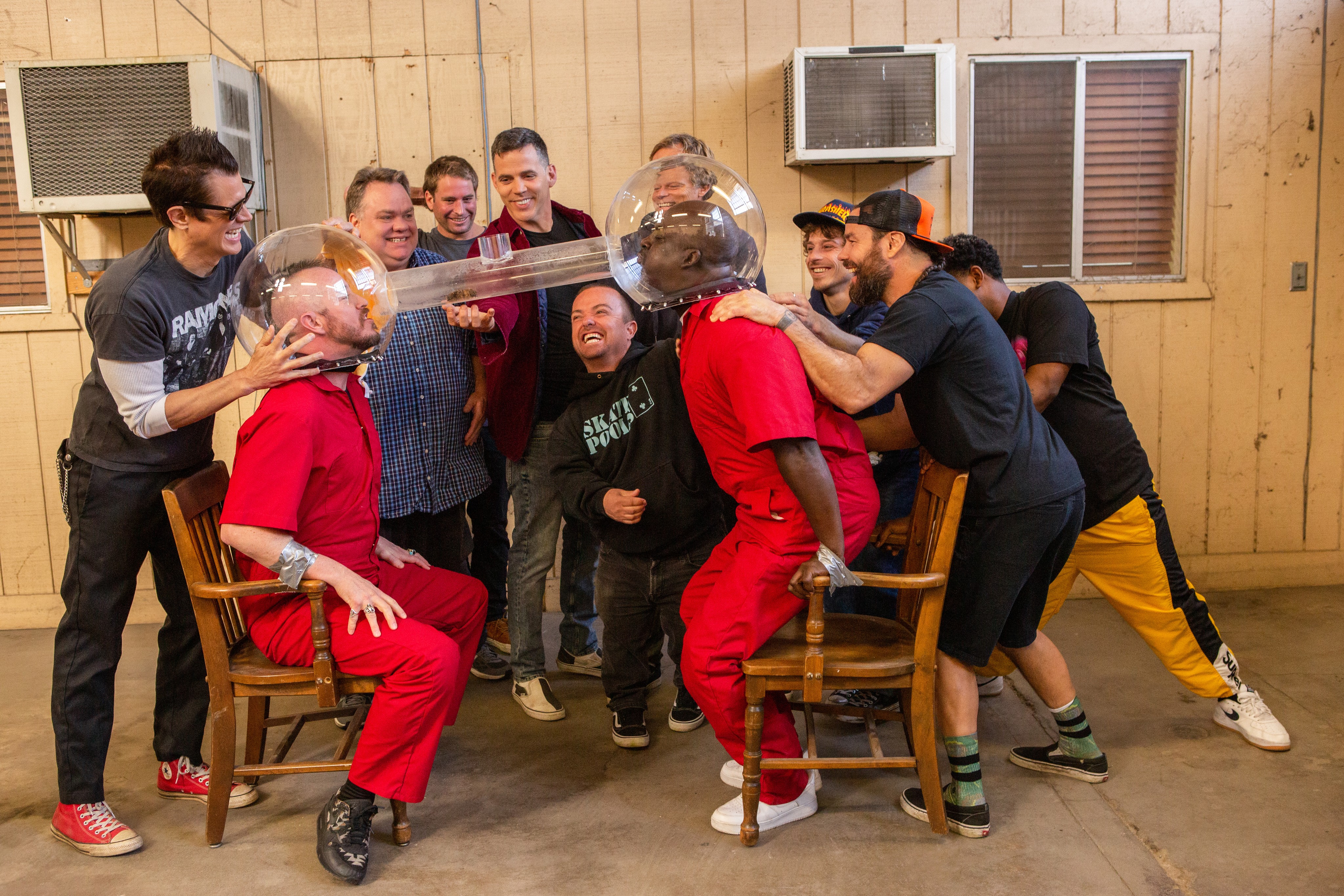 One thing not to expect from any of these movies is a grand plot. Instead, the only narrative is insane moments of stupid creativity stunts one after the other, with the gang possibly regretting being apart once it's over. And if one's fear with this new movie is thinking it'll be tamer since they've gotten much older than they were 20 years ago, that won't be an issue. They know they're older, and watching this didn't indicate any signs of slowing down. Since those who grew up watching them are probably in their late 20s to early 30s, there isn't anything new to the structure. So you're either onboard or not after the fantastic opening title sequence that might be their best, a send up of classic monster movies the only way imaginable from this crew.
What I've always enjoyed about all these now is everyone looks to be having fun again since they've been friends for a long time. The chemistry blossoming between all of them never gets stale when they're out there filming with director Jeff Tremaine and the rest of the production crew to go through some batshit shenanigans. I've always enjoyed Knoxville, Pontius (my favorite), and Danger Ehren, especially. Of course, two members are missing out: Ryan Dunn, who tragically passed away in 2011, and Bam Margera after getting fired during production (Though he appears in "The Marching Band" stunt). But we got a few new additions in Sean "Poopies" Mcinerney, Zach Holmes, Rachel Wolfson, Jasper Dolphin, and Eric Manaka, and what a great first impression from them joining in the cast. Would I be up for the challenge to join these crazy guys? I'm too much on a wuss with anything they come up with these days. But, the newcomers blended in well with the familiar faces.
Though it's important to know the target audience wants the stunts/ pranks to live rent-free in their heads once it's done, and these don't fail. How they come up with fresh ideas years later kind of astounds me. I didn't find myself worried since I had a basic idea of what they'd pull off with each other, whether it's successful or not. A lot of them handled the hardest laughs thus far this year. Some of my favorites include Steve-O getting his junk covered by bees, Ehren in a series of "Cup Test" that had the most audible sounds of "ohhhh" during that time, and a segment early on called "Silence of the Lambs" that stood out the most. Though one involving Preston has been locked in my brain for an odd reason that I couldn't stop laughing at when the next scene continued. We also have some repeated gags they've done before, like bringing back Irving Zissman, briefly (I wanted more of him, honestly). A few got mild chuckles out of me, and most of the animal pranks usually make me feel uncomfortable every time, especially anything with snakes. One stunt, in particular, showed Knoxville seriously injured after another encounter with a bull, showing these injuries are severe. At this point, anything with a bull leads to being worried.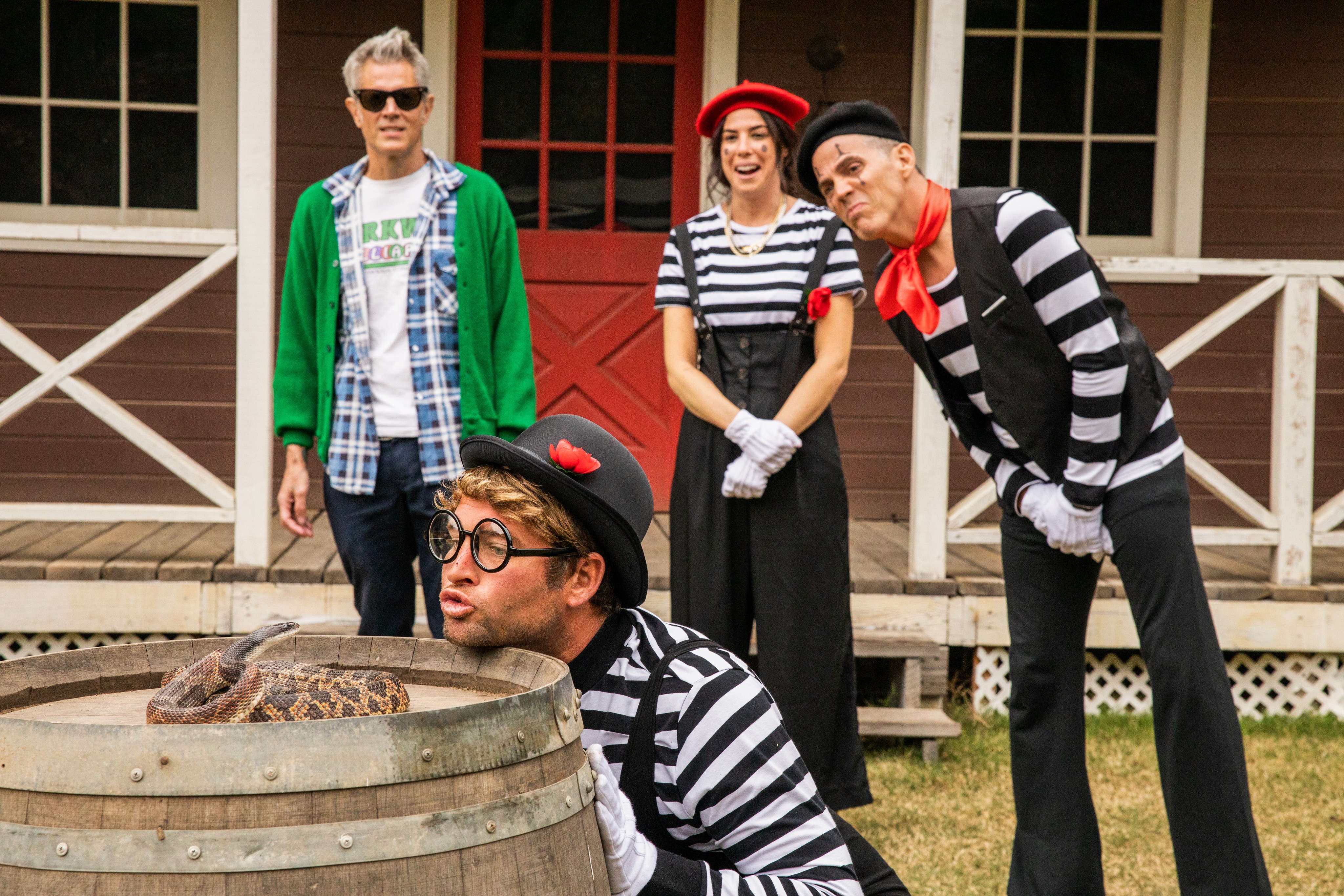 The best part of knowing you really liked it is when you're still laughing right as you leave the theater and I did just that as I was walking to my car. Watching this made me miss studio comedies since they've become a faded memory and they shouldn't. The enjoyment of Jackass keeps getting better in time, surprisingly. Nothing more memorable than losing your mind throughout, being grossed out along with the rest of the people in your showtime, even being unaware of full-frontal nudity that I wasn't planning on seeing that afternoon. The sad thing is I'm always bummed when it ends because I'm up for more.
Was it worth the delay? Well, it made waiting painful, but Jackass Forever won't disappoint longtime fans as the boys brought us another laugh-out-loud entry that I couldn't keep the smile off my face. Maybe it's not perfect, but it's just an absolute blast watching these pranks and stunts on screen that had me cringe and look away. Still, this had me non-stop laughing from start to finish. This certainly won't pursue non-fans this late in the game if they weren't into this humor, but for some, it'll be the funniest theater-going experience they've been a part of in quite some time. Will there be a possible number five? Dreams can come true.
Where does it land amongst the rest of the franchise?
Jackass Number Two
Jackass Forever
Jackass 3D
Jackass: The Movie
Grade: B+