It's kind of funny how before 22 Jump Street came out seven years ago, the discussion about comedy sequels was pretty much kept at a minimum. That's mostly true because sequels can be a tough act to follow, but doing one of a successful comedy is the hardest in recapturing what people liked from before. But as we approached Phil Lord & Chris Miller's next adventure for our undercover pals, this is how you do it right.
What's the Story: Although they made their way through high school successfully, an investigation at a local college brings big changes for undercover officers Jenko (Channing Tatum) and Schmidt (Jonah Hill). When Jenko meets a kindred spirit on the football team and Schmidt infiltrates the bohemian art-major scene, both men begin to question their partnership.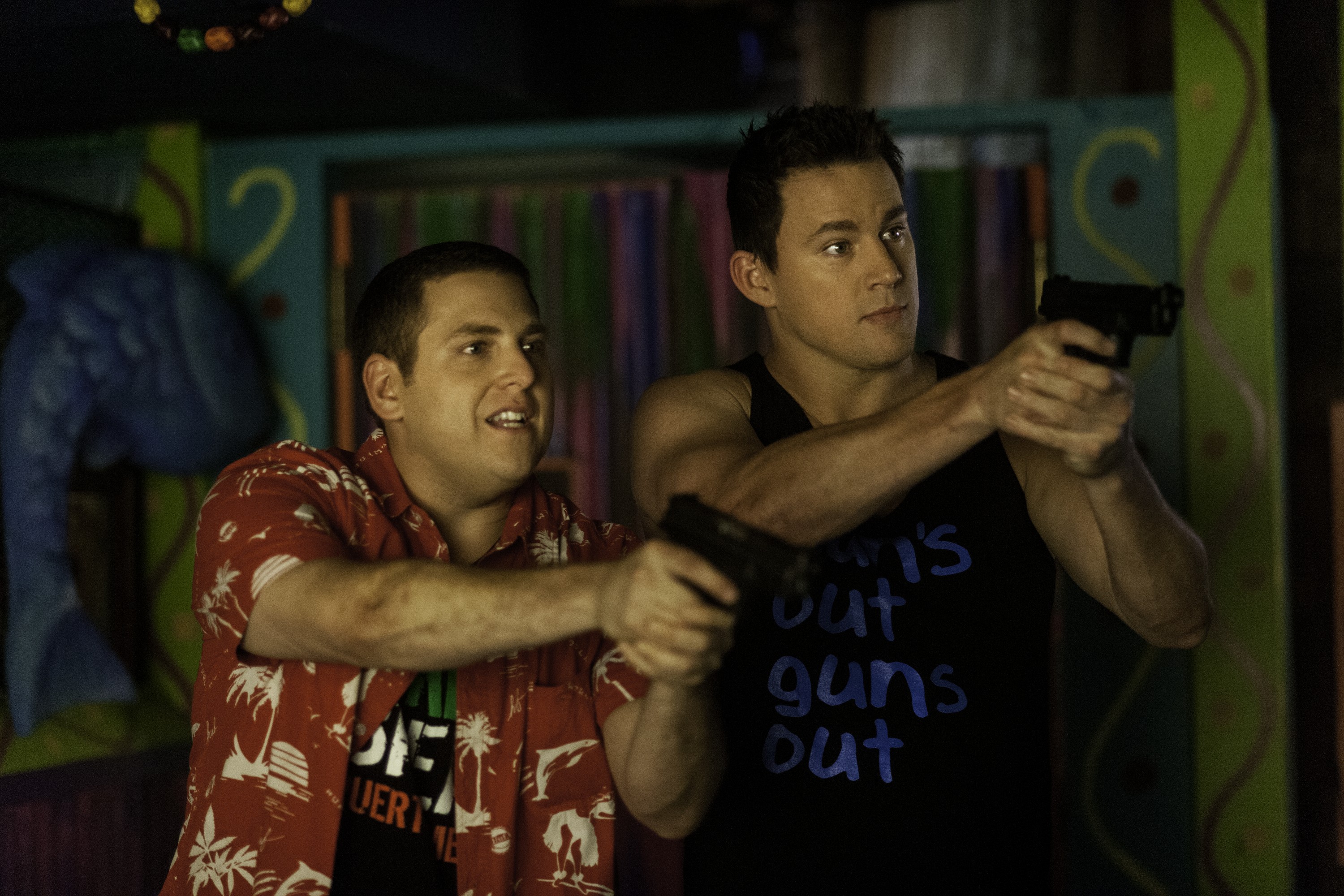 21 Jump Street came out of nowhere. It was like meeting your best friend's friend from work that you're not sure you'll get along just from prior conversations, and once you meet that person, they turned out to be cool. Not only was it the funniest movie of 2012, but it's also one of my favorite comedies. Rarely do movies based on classic television show get the sequel treatment, let alone one people wanted. This was another reason for being nervous, yet excited about having the plot almost identical except setting it in college. Nonetheless, I saw this and How to Train Your Dragon 2 (another amazing sequel) on the same day after wasting my Saturday morning taking the PSATs. Thankfully, 22 Jump Street accomplishes a second installment viewers might find better than the original. Probably the first in a long time since Jackass Number Two.
The way Lord & Miller ultimately handled this the same way as before was probably winging a potentially silly idea and put their vision into reality. Keep in the mind their last project was the critically acclaimed The Lego Movie a few months prior, so there that is. This duo could only make this work, and without them, those low expectations from before would've followed suit here. What I can appreciate is they and the writers (Michael Bacall, Oren Uziel, and Rodney Rothman) are here to acknowledge you're watching a sequel and will mention it's exactly like last time. Sounds repetitive? Not a chance; it's clever on how well-executed for the story how the guys don't want to do the same thing all over again.
Watching this again proves you can never enough Jonah Hill and Channing Tatum together. Their on-screen partnership was unexpected in the first movie, but they continue to be excellent here in still having perfect chemistry in every scene. Hill is always at his most funny when given suitable material and Tatum continues to show off he has such a great eye for comedy. Seeing how their characters are attending college is one thing, but how they reverse roles is different, and it's crazy not to see them almost like a married couple that needs to rely on change. No bromance will ever compete.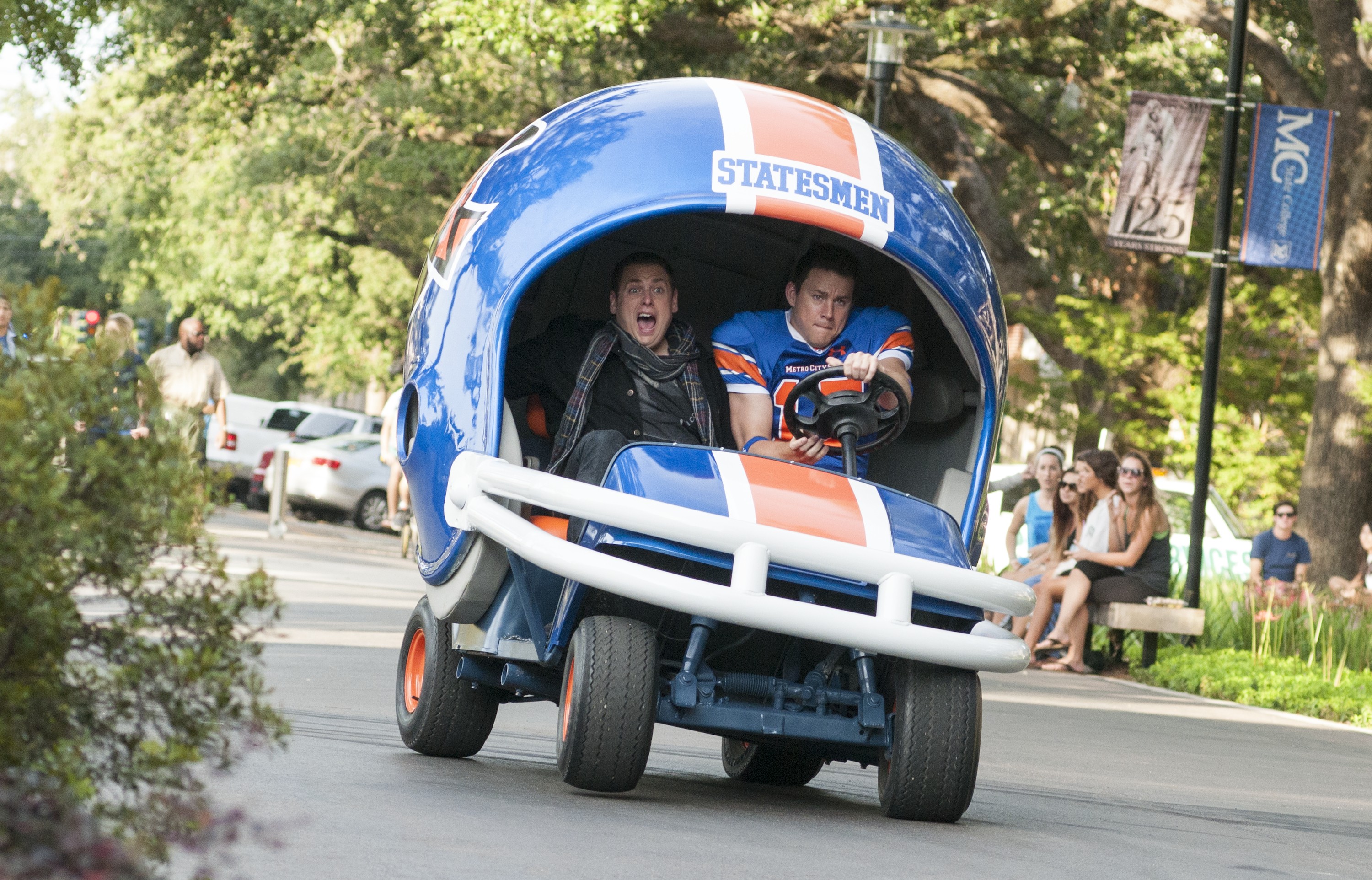 In a new setting and being undercover is one thing, but I like how in the first Schmidt became popular with the cool kids and Jenko with the geeks; now Jenko becomes popular when he becomes a football player where he becomes instant buds with jock Zook (Wyatt Russell), while Schmidt has a more laid-back experience when he hangs out with Maya (Amber Stevens West), an art major who might be a little out of his league, in the middle of finding the dealer of the new drug, Why-Phy (Work Hard? Yes, Play Hard? Yes), going around campus. I will say the romance between Hill and West wasn't as strong as the one with him and Brie Larson in the first film, but though it works, mostly. The relationship between Jenko and Schmidt goes through the same paths, and it's easy to know they have to do everything together, it would've been the same.
Even Ice Cube as Captain Dickson has more screen time this time, and he's better in here than before, including being responsible for one moment involving a revelation in the second act nobody saw coming that was absolutely gut-busting when I first saw this in theaters where it was almost an on the floor of a movie theater kind of hilarious.
The trailers might've not sold everybody when they were released since there was a strong chance the best jokes were spoiled or didn't sound funny to show in an attempt to bring people in, but let me assure you this might have more laughs than expected. Those humorous scenes that you remembered from before are in here, and they can be very self-aware of the best way of keeping you smiling every five minutes. Since there's another investigation of a new drug, they accidentally ate some Rice Krispies Treats laced with them and go on a bad/good trip, or a bust at the beginning with one of the best lines uttered by Tatum, "My name is Jeff." This was already getting me onboard knowing most sequels are never as good, but still provide nods to keep those jokes coming with its simple plot that won't become confusing.
For being an action-comedy, the action is better, which I didn't know if Lord & Miller could do. You got your shootouts, car chases that will cost the department more money, and a third act climax set during spring break that officially made this bigger is better with its budget. They were a lot of fun to watch, even when you know it's going to get silly during them.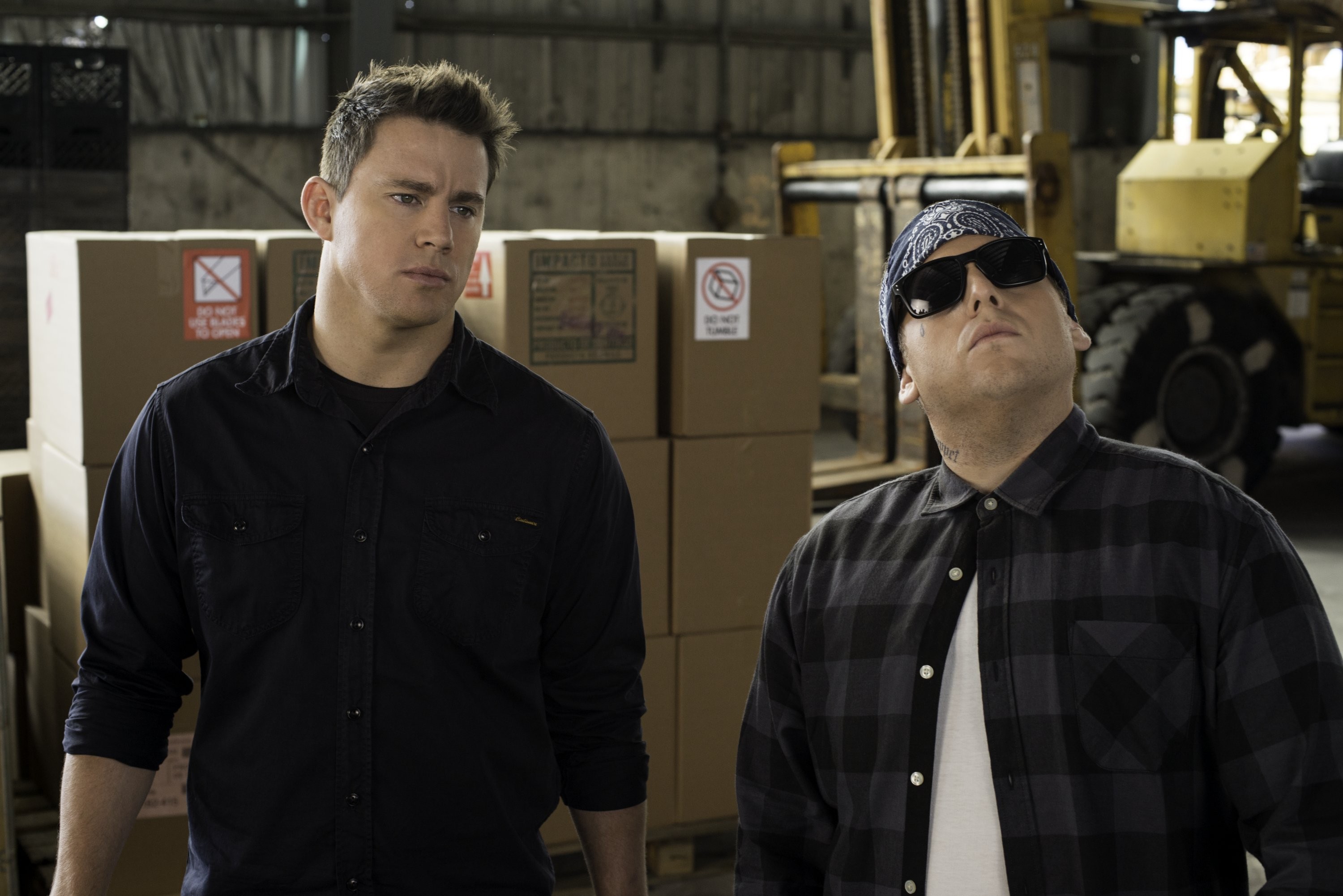 In terms of negatives, some jokes weren't as funny when watching this again, and Jillian Bell's character Mercedes, Maya's roommate, really has a one-note joke throughout, which is commenting how old Hill is and got a bit tiring after the second scene she appears in.
But what made this even more great was discovering how meta it goes forth in becoming. It could get tiresome for some that just wouldn't get it, but as someone who appreciates that kind of humor when done correctly, that just makes it memorable. We deserved this for making the original a hit. All this had to do is not becoming another Hangover Part II on our hands, but it wasn't as this knew what it wanted to be and embraced it without leaving us feeling depressed. From everybody I know, they're also big fans of what we got, which shows in the positive reviews and box office, unpredictably debuting at number one at the box office and become the 14th highest-grossing film of the year (Domestic: $191 Million/ Worldwide: $331 Million).
In the end, 22 Jump Street is the best thing we've gotten for a follow-up. I think I still prefer 21 Jump Street being funnier, but it relieved me to not see this as a failure, in an equally paired match that I love. But if that's not enough, this provides what I believe is the funniest end credits sequence ever put to film, and had a genius way of capping it off. You may think I'm joking, but I'm not. Now, can we finally get a third movie already? And not that stupid crossover idea with Men in Black, I mean a real sequel. Because that's all I've been wanting for years now and nothing has come close.
Final Thoughts: 22 Jump Street is the rare comedy sequel that works in the perfect way possible. Funny throughout, self-aware, and the perfect chemistry between Hill and Tatum making this almost better than its predecessor.
Grade: A-