Watched Date: 1/5/21
So many movies from last year are labeled "hidden gems" since a lot of them came out On Demand or on streaming services that got the sudden word of mouth. In this case, Spontaneous is the classic example of a strange coming-of-age comedy that should be talked about more as we continue to live with our lives.
What's the Story: When students in their high school inexplicably start to explode, seniors Mara (Katherine Langford) and Dylan (Charlie Plummer) struggle to survive in a world where each moment may be their last. As an unexpected romance blossoms between them, they soon discover that when tomorrow is no longer promised, they can finally start living for today.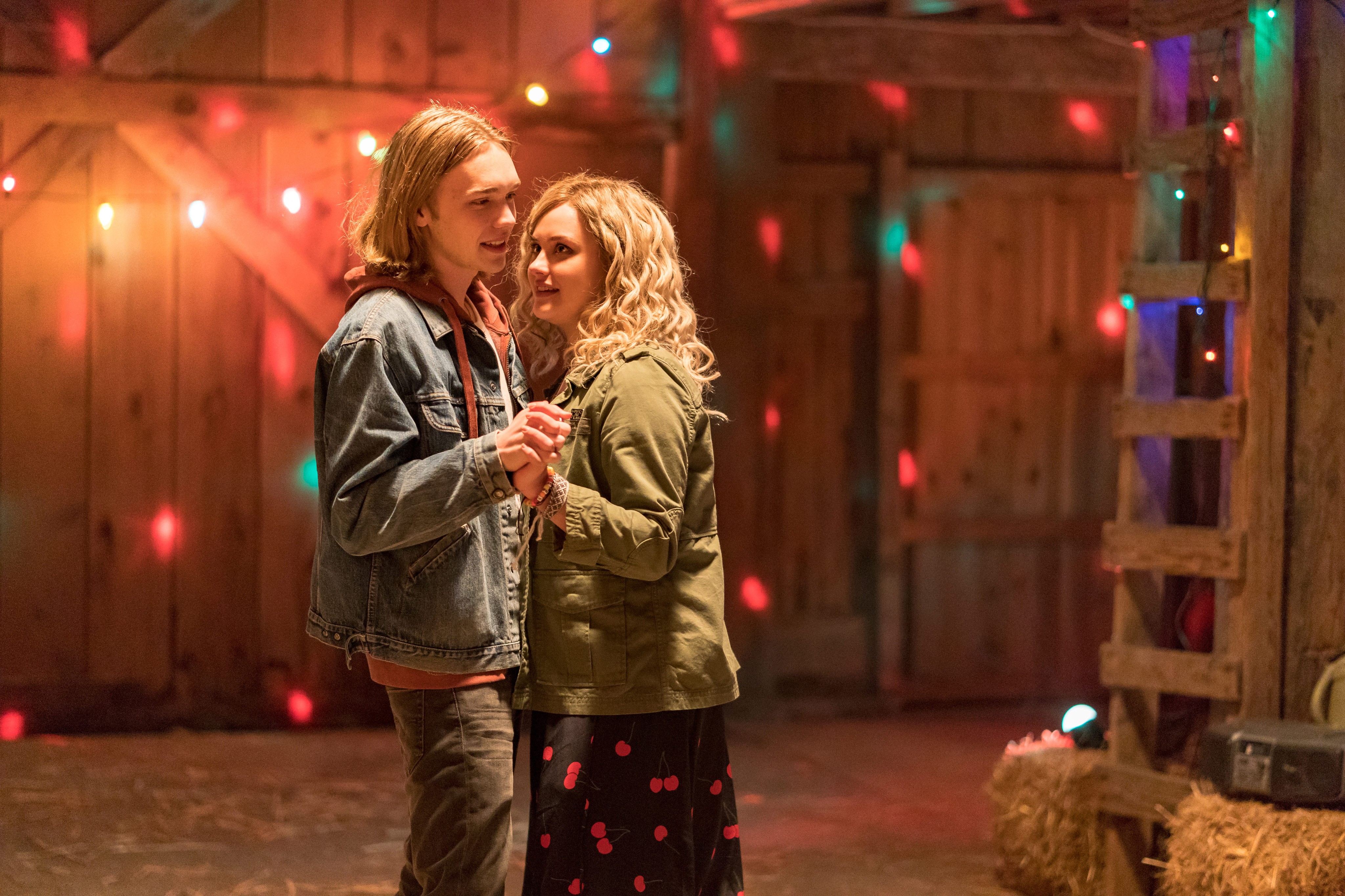 It wouldn't be a shocker that Spontaneous doesn't sound familiar, and I never paid attention to it until some of my mutual friends online spoke positively about this adaptation of Aaron Starmer's novel. So, while I was during my catch-up period from a few months ago, it wasn't gonna do no harm to rent this to see if it was actually good what others have said. Though I can confirm I was nervous since the trailer didn't sell me. Was I in for a film that's not straight-up horror, but a dark comedy that stays in relevancy? I wasn't sure, but I couldn't believe how much I ended up finding this excellent.
A typical high school movie this is not. Just the thought of somebody suddenly spontaneously combusting sounds horrifying when it could happen to anybody at the drop of a hat unexpectedly. If this happened in the actual world, that would still be the strangest thing to occur right now. Writer-director Brian Duffield in his directorial debut provides a central romance most likely to see as similar to The Fault In Our Stars right in the middle of this WTF moment for this one senior class. Why is it happening? We might not have the answer. Absurd it may sound, it allows you to get behind what Duffield wants to take away from this, along with having it be funny throughout that takes you by surprise.
The heart of the film can be found in the performances and chemistry from Katherine Langford as Mara and Charlie Plummer as Dylan. There's only one word to describe them: Charming. Seeing them as this YA couple was easy enough, but these are two different people who build a close relationship that was believable with no faults. Langford, in particular, gives her best performance as Mara, who's in a situation where people are dying around her and finds the humor and dark side of it all. And I've been waiting to see Plummer shine after his breakout role in All the Money in the World. Luckily, there's a liking to Dylan, who always had a crush on Mars and finally made a move of either of them exploded. Just the two of them together worked better than I thought.
The story also made me wonder if most people have a limited time to live. There should never be a wasted moment to spare. In the sea of unexpected deaths, getting close to someone helps, and you're hoping nothing goes wrong between our leads. Kind of made me wish I had the chance to reconnect more with my first crush. Don't you ever have that feeling of falling back to liking that former girl or guy you used to have feelings for? That's me currently. Finding love is out of the question, but truly confessing my feelings sounds weird, but life is short, so why not?
But while it's hilarious and hints at being cheesy, there's this deep connection that's too true to what we still see today. You know someone will combust at some point, but you're nervous about when it could happen. There are some crazy parallels with this not only coming out during a pandemic but how we all react and deal with death or any other tragedy that comes within our lives. Whether it be a scene that mirrors a school shooting, drug overdose, or anything that can serve as a metaphor of how we normally see deaths of high school students in a weird, yet provocative way and how it keeps happening. That wasn't what I expected, but it's very true to how we process those things. My favorite moment occurs in the third act, with Langford in this scene with someone I couldn't get over because it feels honest. I watched that scene again the next day before the rental period was over and I legit feared up it was that good. Would this have done decent numbers at the box office if it came out in theaters instead? Probably not, but it might've gained a cult following.
Final Thoughts: Spontaneous is a film I took a chance on, and I'm glad to be on the side of having a blast. Dark, sweet, and provides good humor throughout, you can't help but to love the performances/ chemistry from Langford and Plummer with a storyline that's surprisingly relevant and moving. Hopefully, my thoughts will encourage you to check out this overlooked flick. Grade: B+