'The Croods: A New Age':
Watched Date: 12/21/2020
First up, DreamWorks Animation released their second sequel this past year following Trolls World Tour with The Croods: A New Age. It's kind of surprising we got one, to be honest. The original movie from 2013 made for an enjoyable adventure for families, and it was nominated for Best Animated Feature at the Oscars. This wasn't going to happen at first after years in development with it being canceled at one point, and it only got a Netflix series that didn't make a big impression. My reaction seems about right.
What's the Story: Searching for a safer habitat, the prehistoric Crood family discovers an idyllic, walled-in paradise that meets all of its needs. Unfortunately, they must also learn to live with the Bettermans — a family that's a couple of steps above the Croods on the evolutionary ladder. As tensions between the new neighbors start to rise, a new threat soon propels both clans on an epic adventure that forces them to embrace their differences, draw strength from one another, and survive together.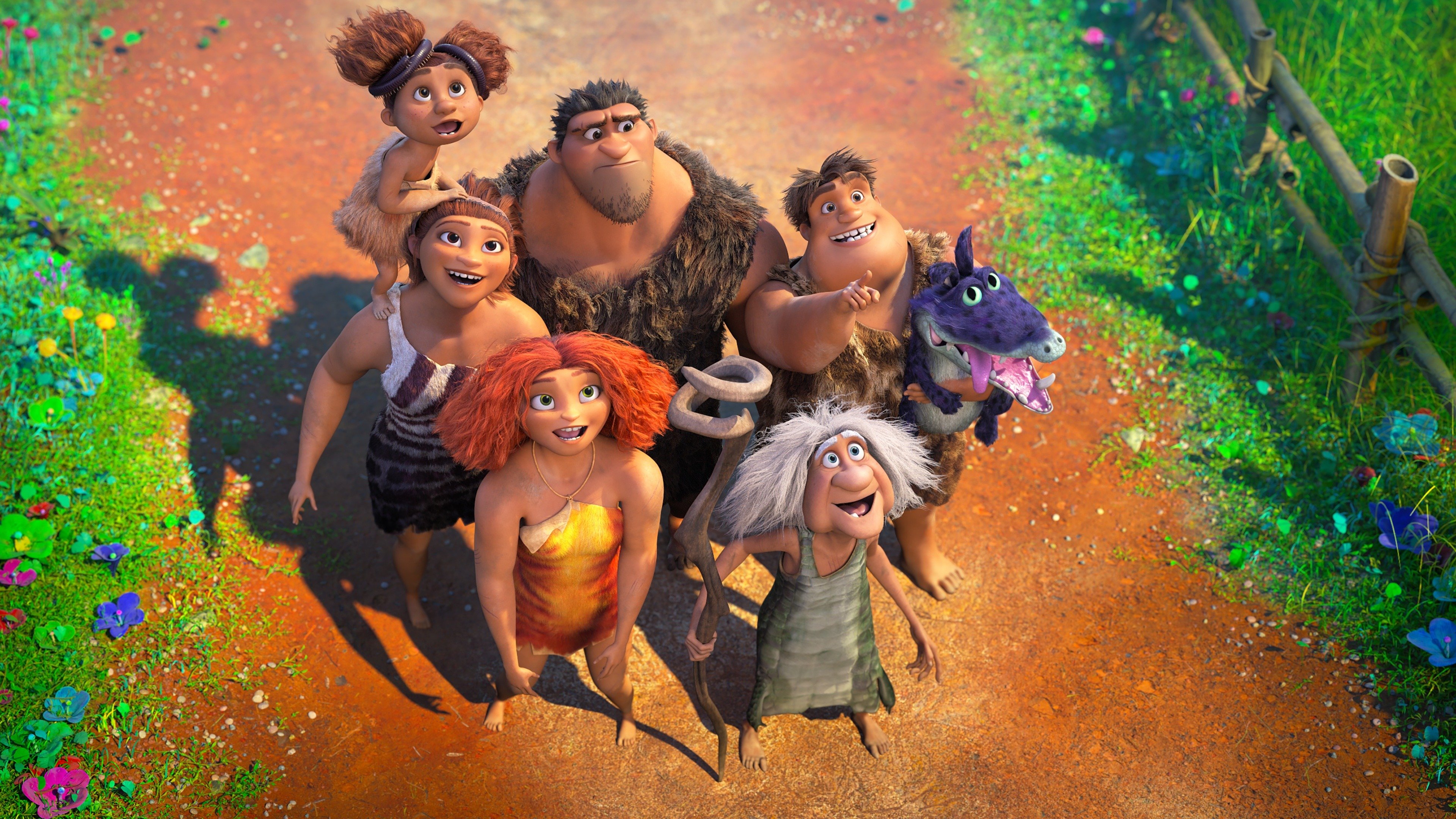 I'm not sure if people were clamoring for a sequel of the prehistoric family, but we needed anything family-oriented towards the fall. Thankfully, Universal's strategy of releasing their movies on VOD weeks after being in theaters (probably still in theaters now). Was I expecting the most amazing thing in the world? No. But many will consider this a serviceable watch, including myself.
I wasn't looking for this to become the greatest sequel from the studio's filmography, and it's one where it's going to appeal more towards children than adults who were probably forced to watch. But it's easy to see how some will put this under forgettable. Much like the first movie, it's impossible to not be engaged with the beautiful and colorful animation throughout.
As for the vocal performance, the returning cast did the best they can with voicing their characters. Will I ever complain about Nicolas Cage as a caveman? Nope. I didn't the first time around, and he's still good as Grug. Then you also have Ryan Reynolds and Emma Stone as Guy and Eep being all lovey and talk about their possible future together. Catherine Keener, Clark Duke, and Cloris Leachman (R.I.P.) are given their usual material. The new cast features the likes of Peter Dinklage, Leslie Mann, and Kelly Marie Tran as the Bettermans. Out of them, Dinklage as the patriarch Phil didn't disappoint.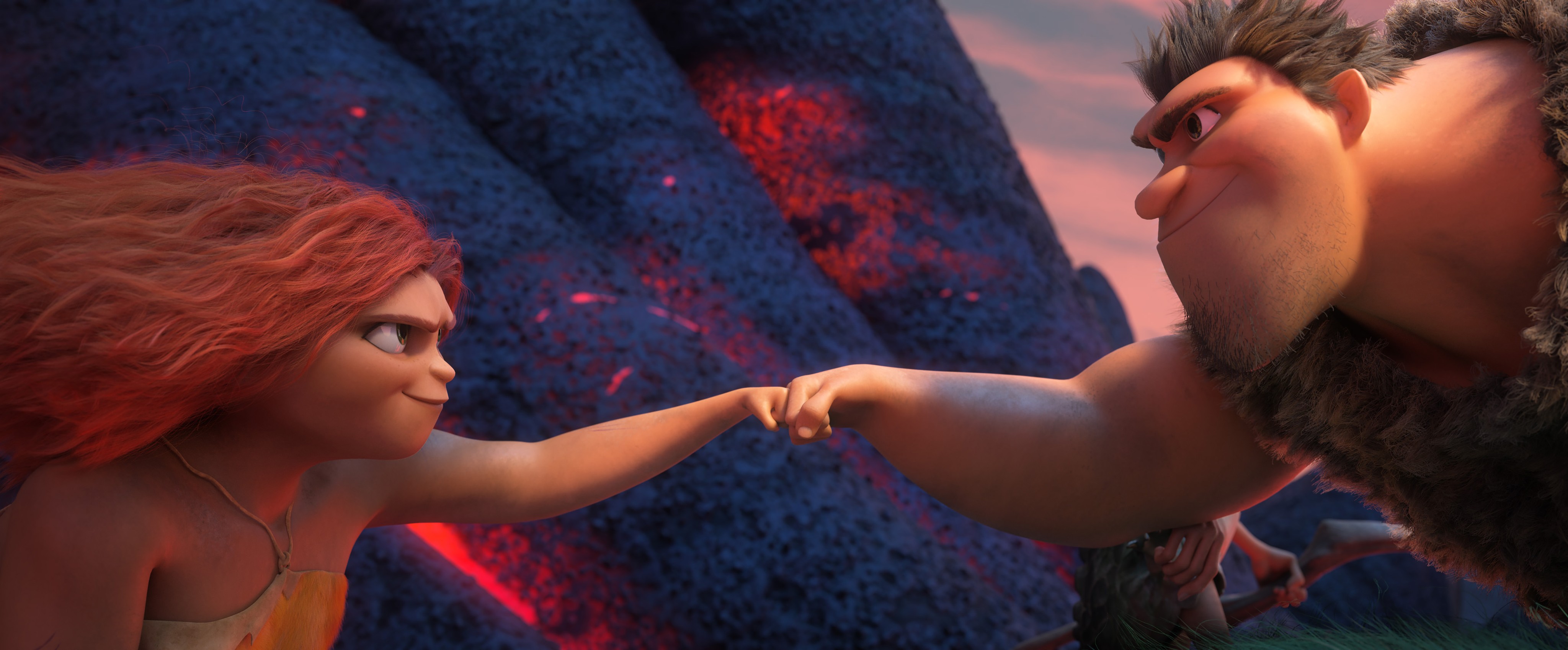 When it comes to the plot, The Croods: A New Age doesn't have the most interesting story, unlike its predecessor. The characters are more of the same, tossed on with dealing with changes and differences that we've seen done times before. There are modern references that didn't work consistently when it tried to be funny, even though I did laugh more than I thought. But before the third act, it loses the momentum a bit when it shows that the Croods are your typical cave people and the Bettermans are more sophisticated beings.
Final Thoughts: The low expectations I had before watching The Croods: A New Age might've helped a bit as I probably feel the same way about its 2013 original here. It's a decent enough sequel for families to enjoy with its cool animation, humor to appeal to some, and good vocal performances that can't be beaten. Grade: B-
'The Midnight Sky':
Watched Date: 1/19/21
Next up, let's talk about The Midnight Sky, the latest Netflix sci-fi drama starring and directed by George Clooney. Here's how the story goes: Augustine Lofthouse (Clooney) is a scientist who works alone in a research station in the Arctic and must venture out of his way to get a message to the spacecraft Aether from returning to earth after a global catastrophe.
As much as I like George Clooney branching out as a prominent director for almost 20 years, The Midnight Sky made me nervous because he had the misfortune of helming two major disappointments previously with 2014's The Monuments Men and 2017's Suburbicon. A tale of space and protecting those in danger should've been exciting enough, but its high potential falls dim.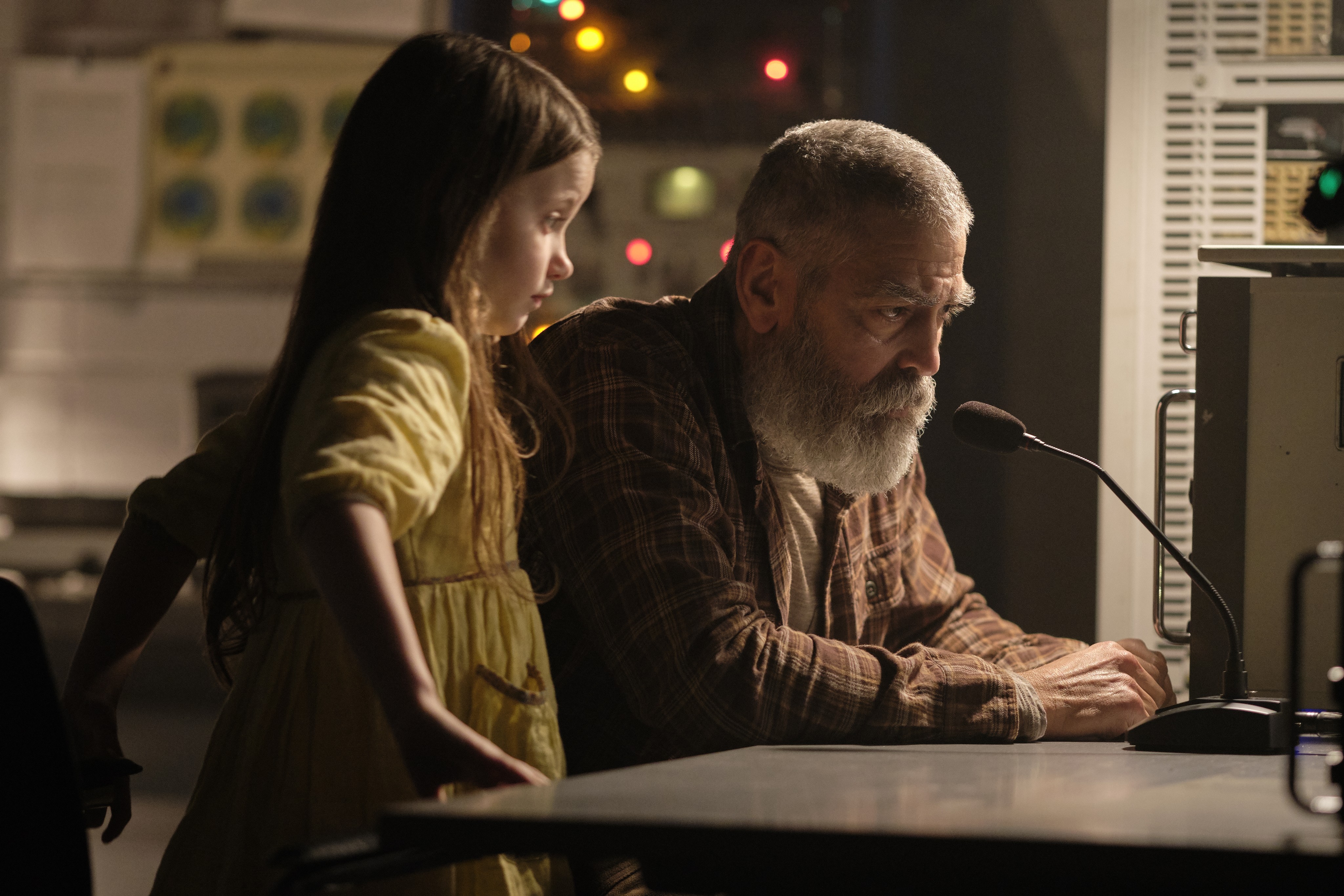 We're focusing our attention on two storylines here: Clooney's Augustine and this little girl named Iris on the ground and the crew of astronauts in space. This would be a case of one being better than the other, and the former is when it is the most engaging. Though when you have those two together, it doesn't entirely match when it wanted to make out of it. Showing off its relevant theme that's pretty easy to pass on, that's a promise that doesn't go forward with that enough since it doesn't allow any time to be involved with characters and the perilous situation that'll come ahead for them.
Clooney based this on Lily Brooks-Dalton's novel Good Morning, Midnight with The Revenant screenwriter Mark L. Smith to give it some life, and it rather makes for a bland story to get viewers invested for a slow two hours. What this failed to be was making me emotionally attached when mostly everything the movie offers is forgettable and feels pretty empty. As someone fond of outer space movies, it's kind of derivative of other movies like The Martian, Passengers, and Gravity; just without the amazement of two of them. I did get into the relationship between Augustine and Iris around the first half, then it's not much else after. But even you think the crew stuff could save it, that's when it gets boring, and there are like 20 minutes focusing on them without cutting back to Clooney. The use of flashbacks with a young Augustine (Ethan Peck) was pointless until a revelation that wasn't needed.
This has a well-meaning cast that you wish were in a better movie. Clooney's performance was the best out of everybody since there's more to get from his character outside from being this quiet loner, and despite not having a lot of dialogue, newcomer Caoilinn Springall worked well alongside his co-star. The likes of Felicity Jones, Kyle Chandler, David Oyelowo, Tiffany Boone, and Demián Bichir did the best they can despite not exactly caring for their characters.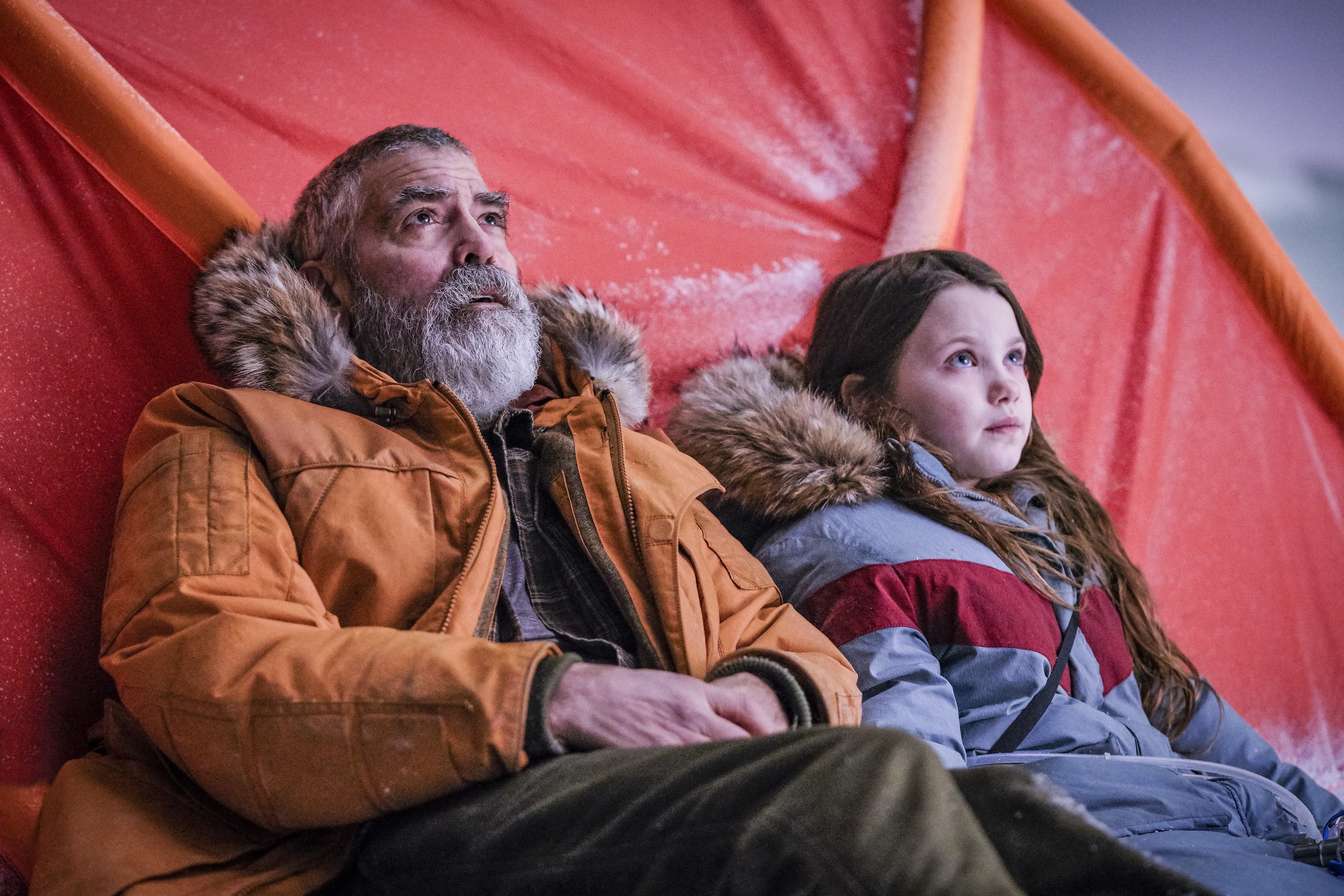 On a technical achievement, those were easily the biggest positives that stood out the most. The visual effects looked spectacular for a Netflix original, the production design captures the future appears beautiful, and composer Alexandre Desplat provides another solid score. So, it wasn't a surprise that it received an Oscar nomination for Visual Effects.
Final Thoughts: The Midnight Sky benefits from stunning visuals and everything else on a technical level. Unfortunately, it's another boring dud from George Clooney as a director since this lacks an engaging story and characters to care about. Two months after I watched it, I forgot all about it. Grade: C-
'Another Round':
Watched Date: 1/18/21
Do I always watch foreign-language films every year? Not exactly. Not it's going to be a requirement whenever one is most talked about, and it's like 2020 is Another Round (or Druk in Danish). Directed by Thomas Vinterberg, four high school teachers- Martin (Mads Mikkelsen), Tommy (Thomas Bo Larsen), Peter (Lars Ranthe), & Nikolaj (Magnus Millang)- decide to try this experiment psychiatrist Finn Skårderud theorized that everyone should have a blood alcohol level of 0.05 to see if it can improve their lives with consuming alcohol before and after work.
I've never heard of Another Round until the end of the year when it's been suddenly appearing on best-of lists and some mutual friends really enjoyed it and all said Mads Mikkelsen's performance was incredible. It was worth the watch just to see how I'll like it, and it gives us a glimpse of a midlife crisis I certainly won't take part in.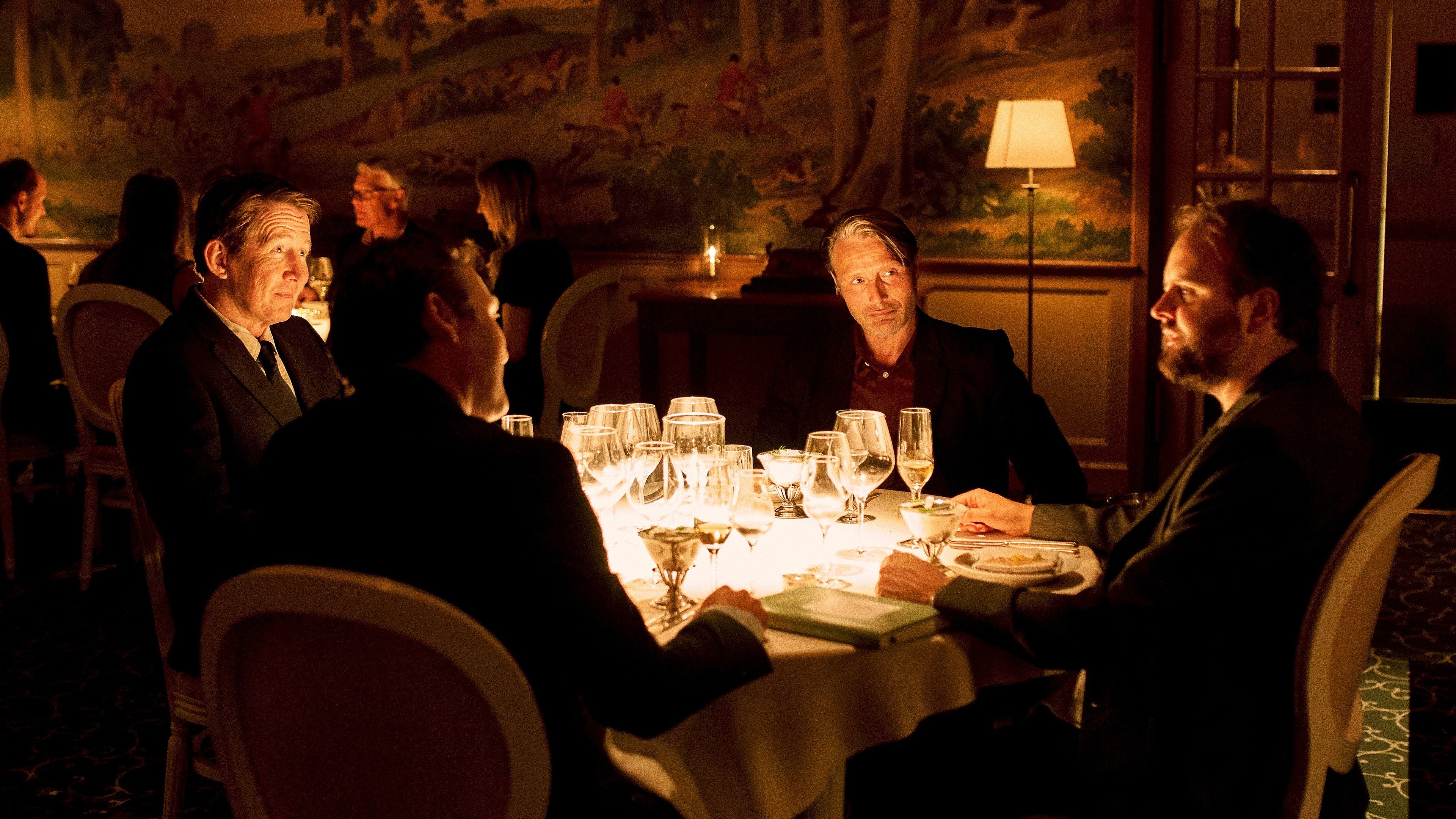 This is one I knew little about before renting it, but it would easy to assume it was going to be a crazy time since it involves drinking. However, Vinterberg didn't romanticize the culture the Danish goes by over there in following these friends who are struggling with life, and testing this theory could be a way of improving. It starts well with them doing better at their jobs, more so better when they were sober. But once you know they're going to increase their intake, it probably is the same in how it affects their personal lives. It would be people in real-life to do this, or so much will go wrong, which makes me scared this might get an American remake. Coming from someone who doesn't drink, those who've been sober for a long time tells the story isn't about substance abuse but will feel brand new again with the difficulties of life.
Re-teaming with his The Hunt director, Mad Mikkelsen's performance is fantastic, which everyone said to be true. He delivers a subtle role that doesn't become crazy when the script wants it to be when his character goes down that path. And it's Mikkelsen, so you're never going to expect a terrible performance from him. Everybody else from Thomas Bo Larsen, Magnus Millang, and Lars Ranthe made for a great pairing of friends that I believed from their first scene together or when going off this experiment.
It blends a good amount of comedy and drama without riding the line of getting ridiculous. Predictable as it was and finds itself as a slow burn that might not make this re-watchable right away, you take away how honest it handles those who take alcohol while having fun with its moments. Though it wasn't one of my favorite movies this past year, I will say it provides one of my favorite endings that made me feel free, while taking me by surprise. Obviously, we have our front runner to take home the Oscar for Best International Feature Film, because what else is it against?
Final Thoughts: Though Another Round was a slow burn as expected, Thomas Vinterberg's latest is more thought-provoking and profound than I thought. Beautiful, surprisingly funny, and it's carried by fantastic performances, especially from the always great Mikkelsen. Sufficient to say I glad I took a chance with this. Grade: B
'I'm Thinking of Ending Things':
Watched Date: 1/10/21
Lastly, the film that took me a while to finally watch back in January is Netflix's I'm Thinking of Ending Things from writer/director Charlie Kaufman. Based on Iain Reid's 2016 novel of the same name, a young woman (Jessie Buckley) takes a trip with her boyfriend Jake (Jesse Plemons) on a snowy drive to meet his parents at his family farm. Upon arriving, she begins to question the relationship and everything else that surrounds her.
You came to expect fascinating things whenever Charlie Kaufman's name is anywhere near a film, which is a major credit to writing Being John Malkovich, Adaptation., and his Oscar-winning work on Eternal Sunshine of the Spotless Mind. His latest marks his third feature film following Synecdoche, New York and the stop-motion animated drama Anomalisa. The impression I got from watching the trailer was automatically knowing this would not be a traditional psychological thriller that won't please casual viewers who might want something different. I honestly thought this wasn't going to be for me, and my conclusion after it was over was thinking it was good. But also, "What?" while having a deep conversation with myself about what it could all mean.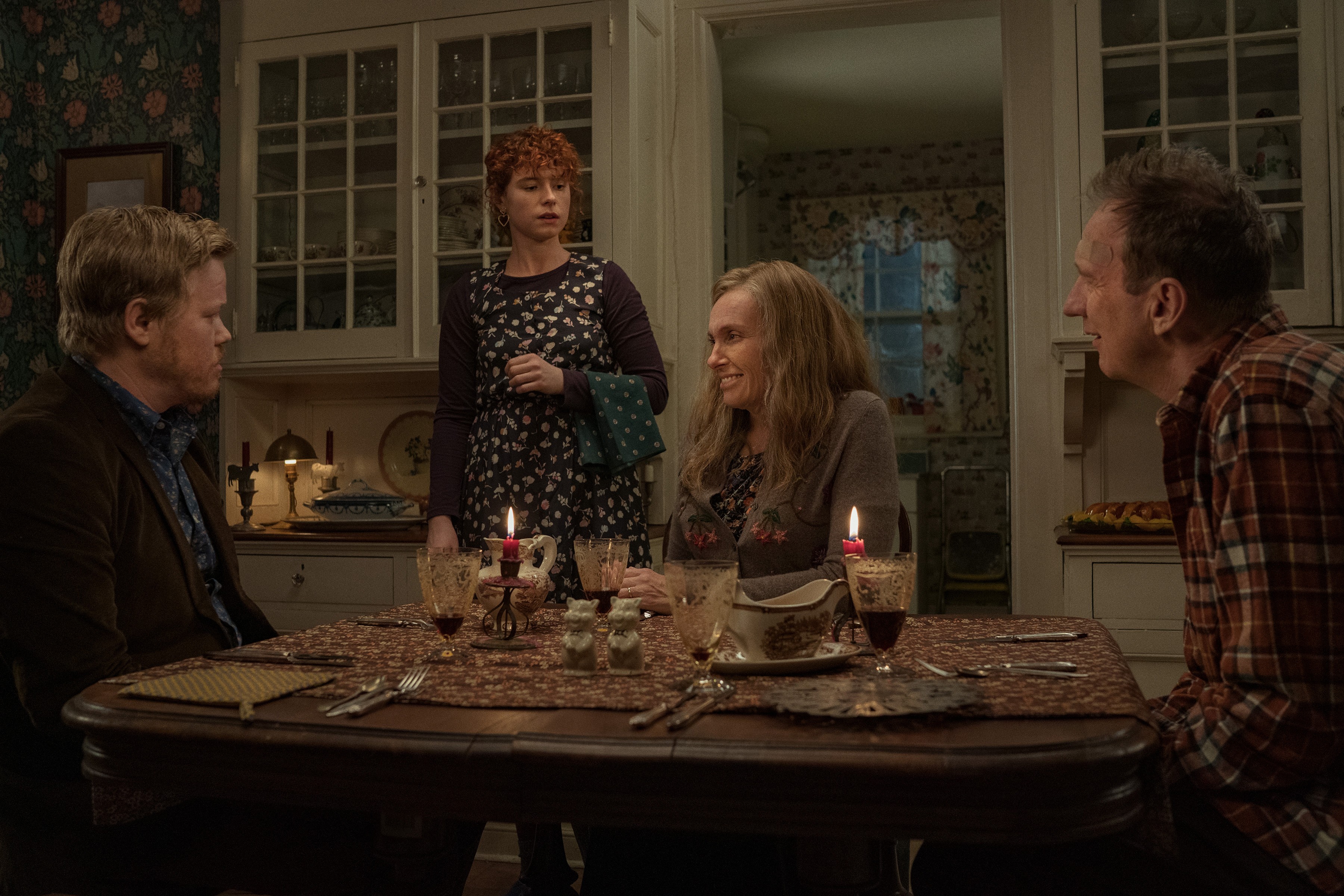 Never even knowing lick about the novel upon its release, it got positive reviews from readers, noting the tension was attached throughout. Will I read it? Well, I rarely read now. But you can tell Kaufman was the right person to make it work in its direction and writing. He doesn't give you everything right away and just wants us to have the ease of uncertainty, wondering if we should be afraid of what's going on?
The performances really come down to just Jessie Buckley, Jesse Plemons, Toni Collette, and David Thewlis, but they were all wonderful here. There is a creative meeting with the significant other's parents, though not in a way we've possibly seen before. Buckley and Plemons have a bulk of screen time together and both give the best performances of their careers through this relationship that might be going somewhere or not. Their long conversations while on the drive are weird just based on the topic at hand, but you lean into them. And Collette and Thewlis as Jake's mother and father aren't in it as much, nothing wrong can be said with their performances too.
I'm Thinking of Ending Things shows off a plot that suits well with what must go on in Kaufman's mind when it goes in one unexpected direction to the next. Because it might be too hard to fully understand what's happening. A theme he goes for normally is identity crisis and the meaning of our existence. Throughout, changes with the name of Buckley's character, along with her job, or what has happened with Jake in his home. Frustrating it can get, it makes you positively question things. For someone who still doesn't understand the meaning of Vanilla Sky after three re-watches, I could be smart enough to get the point under deep research.
It goes for a slow burn that won't be pleasing for everyone when a lot of scenes are long when set in one location, and fully aware it's over two hours long. The last stretch gets weird, and it started to lure you in what it's telling us, but it's shown to be almost beautiful in itself. The cinematography from Polish DP Łukasz Żal with its 4:3 aspect ratio was a pleasant touch.
Final Thoughts: With I'm Thinking of Ending Things, Charlie Kaufman has probably made his most complex and bizarre film to date. Did I love it? Not quite. But did it keep my attention? It did. Without reading the source material, it was like watching a lucid dream come to life on screen. It ain't for everyone, but it messes with your head. Grade: B