Watched Date: 10/25/2020
Out of the craziest things 2020 gave us, nobody would've expected Sacha Baron Cohen to reprise one of his most iconic characters to give a good dose of laughter most needed in Borat Subsequent Moviefilm. And when it's a comedic mockumentary involving Cohen and his crew, you just know it's gonna be a crazy/shocking experience for all.
What's the Story: After the release of the film, Borat Sagdiyev (Cohen) has become famous all over the world, but a disgrace in Kazakhstan for humiliating his county, forcing him into hard labor. He's then given a second chance when his government decides to send a gift to Mike Pence to earn the respect of Trump to make Kazakhstan great again. But Borat's plans to return to America changes when his daughter Tutar (Maria Bakalova) tags along and makes alterations to the journey of the country in an unexpected way.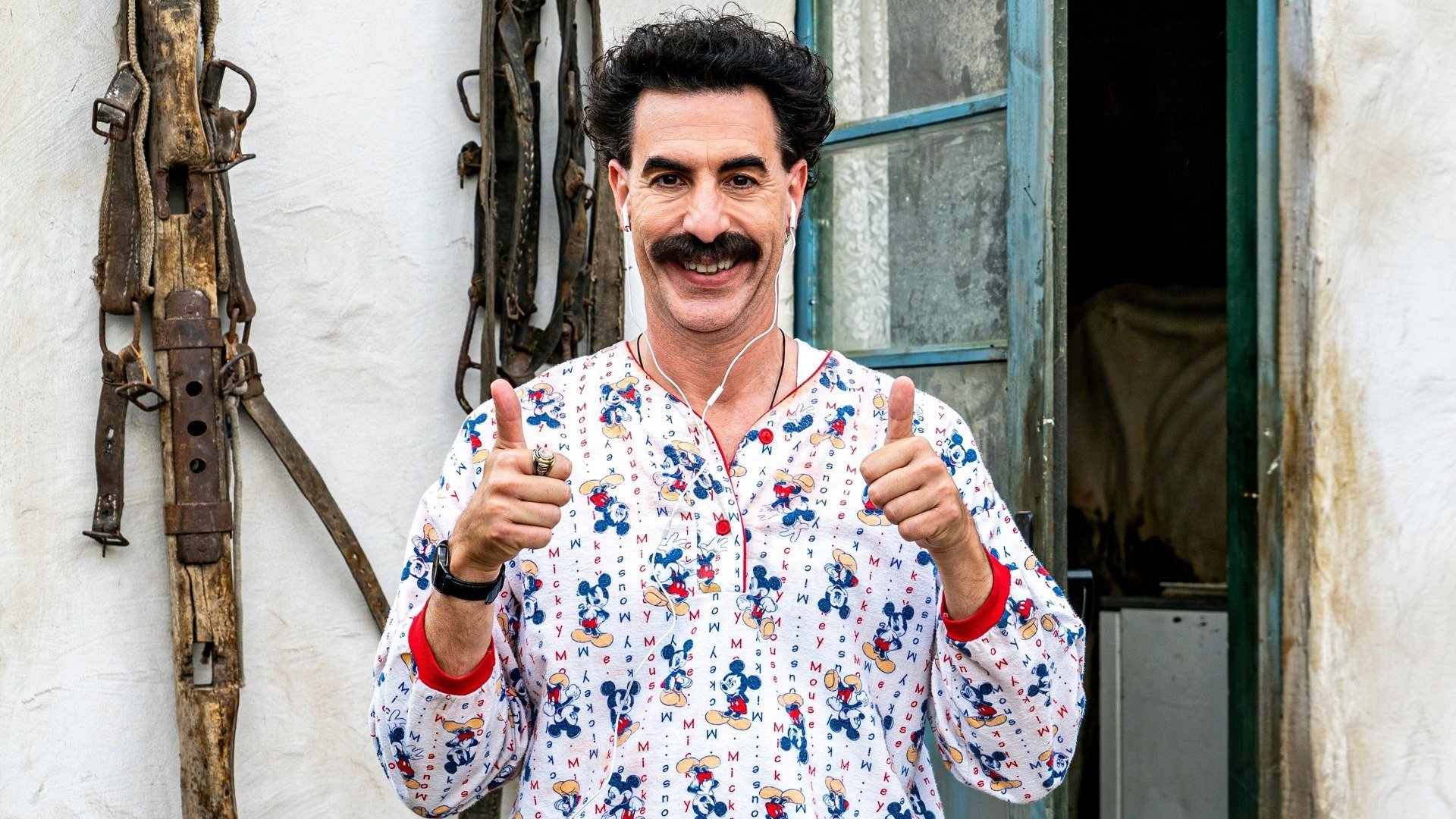 14 years later and it's unbelievable the original Borat was a huge sleeper hit at the box office, becoming a pop culture phenomenon. After re-watching it to see if I've grown a positive mind with it, I can admit I was wrong and consider the original movie hysterical. It's not one of my favorite comedies of all-time, but this controversial award-winning mockumentary was a ton of fun. But who could've guessed its star brought this character out of retirement to provide some insight on America in cringe-satire fashion? Amazon Prime debuted this right before the election to deliver a sequel that, while not as funny, will stay on fan's minds for a while.
Already acknowledging it won't be superior is already a given since a lot of comedy sequels are like that. I did question how director Jason Woliner and his team of writers were going to keep someone like Borat in a society where things have drastically changed since his last visit. Also, people will quickly recognize him in an instant because of how popular he is. Here we have a movie that holds nothing back in exposing the themes of society that either get overlooked or examined closely without a second thought. Just like before, it's quite impossible how these stunts get by with no one knowing. 
Cohen could do this performance in his sleep, and he still can make those laugh. It's funny how his other comedic roles failed to be memorable in other movies (Brüno, The Dictator, The Brothers Grimsby), but that's because I feel the commitment he brought to playing Borat shows off he's still the same weirdo out of touch who needs to know what has changed in the world. But while he's great, we should be on the lookout for newcomer Maria Balkalova as she's an unexpected scene-stealer as Tutar. Borat's daughter was the perfect partner to tag along this adventure as someone who adds much more to the story that tackles a woman's independence and not conforming to typical gender roles. Their relationship worked so well with the stupid antics they get themselves into. 
Like before, it's going to be a movie that's going to be labeled controversial when you just know it'll definitely offend so many out there. I saw this coming since Cohen is a political actor, especially against Mark Zuckerberg and Facebook, and uses whatever he can to get any kind of message front and center to address along with presenting a spot of change that can be resulted for the world, risk and all. But it doesn't play lightly towards the Republican party, which can be a pleasure to watch. It's crazy how they kept this a secret for an entire year, and half of it took place when the COVID-19 pandemic was getting serious and it must've been nerve-racking filming at an anti-gun rally in Olympia.
And you know what? I thought this was funny. There wasn't a moment that made me laugh hard where the first movie had tons of memorable moments from National Anthem or "Not Joke," but I was laughing consistently, for the most part in how these sequences got filmed and witness the shock of them. One of which involved Tutar swallowing a plastic baby after eating a cupcake and "wants it out." Some gags were hit-or-miss when it goes for it being funny or political. But I can see this sequel won't get as many laughs as before in terms of shock value.
For this to come out a decade later might feel dated for the character itself, when the shock value might not be as effective as before. It sets up as a timely comedy that probably won't be too common later. But two moments totally surprised me, including the talked-about scene with Rudy Giuliani that was all over the news when it first came out, and a third act revelation that took balls to show.
Final Thoughts: Borat Subsequent Moviefilm might not be as funny as its 2006 predecessor, but it's a solid sequel that's still able to be hilarious and shocking when it wants to be. Cohen continues to be the ballast actor in the world to pull this off again, while Bakalova will be talked about for years to come. Grade: B