How's it's going, everyone? There's a goal I'm going to set on myself, and that's to review the 2020 movies I watched in the past few months that I didn't get to talk about before the Oscars since I was playing catch-up and didn't get my thoughts out after. I will pair most of them into combos, which includes this one that features my take for The Call of the Wild, The Rhythm Section, and Extraction.
'The Call of the Wild':
Watched Date: 1/23/21
The Call of the Wild is directed by Chris Sanders in his first time directing a live-action feature after doing How to Train Your Dragon and Lilo & Stitch, and this is based on the classic 1903 novel from Jack London. Following a St. Bernard called Buck who was stolen from his home and taken to the Alaskan Yukon where he becomes the latest sled dog and wonders what's his purpose in life in the wild.
Coming from the perspective of someone who has never read the book or watched the prior adaptations, this source material is all new to me. But would prior experience probably help to gain more enjoyment? Maybe not, but I finished watching The Call of the Wild feeling underwhelmed when it should've been better. A part of me desperately wanted to be interested in the story, but the first half was honestly a bore to get through, which heavily features the dog Buck as a CGI creation. It's a decision I wasn't sure about when the trailer dropped, and much as I wanted to care, it stepped on being too distracting. We've seen other movies where CGI animals are usually the best when they call for it. Buck felt so fake the entire time that he didn't feel like a dog when a motion capture performer was there instead. So are the rest of the animals. I wouldn't mind if they originally made this an animated movie instead.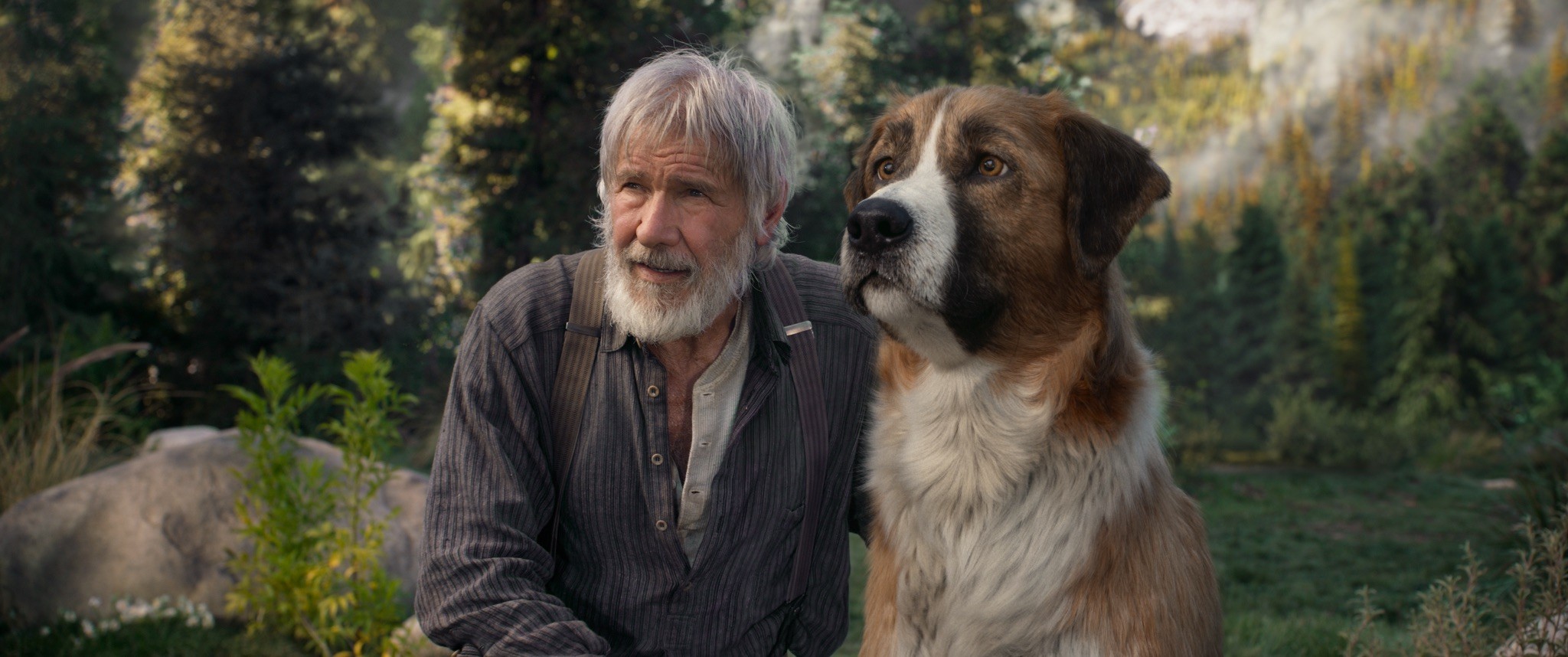 Right when Buck meets John Thornton (Harrison Ford) and keeps him as his trusty companion was when it picked up a bit. Speaking of Ford, he gives an excellent performance that's right for him as this man who's in the stage of grief after the death of his son, and he tags with Buck on this adventure of a lifetime. Even when he's probably isn't interacting with anything, the chemistry kind of feels genuine. He wasn't in the first act enough, but he made me pay attention when he's on screen. 
Sander's direction combined with Janusz Kaminski's cinematography gives a gorgeous look from its outdoor scenery, almost making anyone want to go on an extended hike. But there wasn't anything emotionally supportive within the story when it wasn't funny when it wanted to be or didn't capture those heartwarming moments to make me feel. Who knows if others would feel this way, but seeing a trained dog acting alongside Ford would've added some depth.
As for the other characters, it's always great to see Omar Sy, even if he was only in the first act. Dan Stevens, on the other hand, his character must've been from a different movie because his role of Hal requires him to be over-the-top for an odd reason, having no clue who made him crazy in every scene he's in. From what I heard about the book, it was much darker when this was made more so for families aside from a few scenes that are violet for its younger viewers.
Also, I actually enjoyed John Powell's score used well in this, and it sounded pretty similar to the music he provided for How to Train Your Dragon. I'm a sucker for a good dog movie, but when its budget is about $150 million and it doesn't make me feel, it can be unimaginative.
Final Thoughts: The Call of the Wild left much to be desired when the CGI became distracting, leaving it to be forgettable in the long run. But it's fine enough for families to watch, especially for Ford's performance, look, and John Powell's score. Grade: C+
'The Rhythm Section':
Watched Date: 1/21/21
The Rhythm Section comes from cinematographer and Emmy-winning director Reed Morano (The Handmaid's Tale), and it's based on the Mark Burnell novel of the same name. The story follows Stephanie Patrick (Blake Lively), whose life turns for the worst after her family was killed in a plane crash, only to find it was a terrorist attack. Soon after the discovery, she sets out on the path of revenge for those who were responsible.
It took me almost a year after it came out in theaters, since I really wasn't in a rush to watch this. Just judging from the trailer alone, it looked like an action thriller that was going to captivate me or be completely bored from the look of it. Unfortunately, The Rhythm Section falls under the latter because this was a drag to get through, to be honest. 
What underwhelmed me as to why it won't have a lasting impression on me is that it had the potential to be a solid revenge flick if executed properly. And Barbara Broccoli and Michael G. Wilson of the James Bond franchise produced this and probably wanted to start a new franchise since it's adapted from a book series. But with all the secrets and mysteries that were supposedly surprising, it was not shocking and eases its way into a bland two-hour experience most won't get back.
One of the few things I can give a positive insight from here is Blake Lively's performance. She has really been impressing me over the past few years with some good roles under her name (A Simple Favor), and it's easy to say I was excited to see how she can handle becoming an action heroine, even if it's just for one movie. I believe the commitment she's able to provide to her character (minus a pretty bad accent she's working with), but the sad truth is there's nothing about Stephanie is worth caring about. She goes around the world tracking down those who were involved and either does the job or not. 
Even the action sequences and the editing didn't make matters better in how Morano delivered them. Not that it was Olivier Megaton-level of awful, but the urge of excitement was lacking. However, there were two sequences I didn't think were too bad: One was this fight scene between Lively and Jude Law's former MI6 character, Iain Boyd, that looked brutal, and this one-take car chase that kept my attention. But I couldn't help to wonder why the editing choices were poorly made. Just the opening credits were already a warning. There were also some weird music choices included that lose their tone or weirdly.
The fear I had was that it was going to ultimately bore me, and the pacing needed extensive work here because I lost interest quickly due to it having no fun or style when it looks very depressing. When you can't get involved in the story, it falls off completely when you realize she's technically responsible for most of the deaths.
As much as I didn't like similar movies like 2018's Red Sparrow or 2011's Colombiana, this makes them look good by comparison or makes an unofficial trilogy with life attached to it.It was like Paramount knew they made a potential flop and dumped it during a dry Super Bowl weekend, resulting in a box office bomb.
Final Thoughts: The Rhythm Section could have easily been a solid action vehicle for Lively, but what we got was a film delivering no style or resorting to nothing fun, making for a frustrating and boring watch to find its viewers keep in suspense. Grade: D+
'Extraction':
Watched Date: 1/6/21
And finally, Extraction is the latest action film to stream on Netflix from Sam Hargrave in his directorial debut. When an imprisoned drug lord's son has been kidnapped in Dhaka, Bangladesh, Tyler Rake (Chris Hemsworth), a black market mercenary is hired to rescue the kid in what could be an impossible mission to accomplish.
I didn't catch Extraction when it first hit the streaming service last spring. This was based on the graphic novel entitled Ciudad, which was co-written by producers Anthony and Joe Russo. And while it attaches their names similar to 21 Bridges, only Joe wrote the screenplay. Hargrave is known as a stunt performer who previously worked on a few Marvel movies. Most student coordinators who tackle directing are hit-or-miss, but I was curious to see how he can handle the action on his own. This will not be on the caliber of Shakespeare, and you can call this a fun ride for certain viewers out there.
Love me some Chris Hemsworth when we see him outside the MCU and become the action star that utilizes his talents well. While most of us couldn't buy him as a hacker in the borefest Blackhat, you can't go wrong with his performance as Tyler Rake. He really does the best he can in this action and kind of gets into his character's mind, even while there's not much to him. Of course, he's the hero with a tragic past that'll always stay with him.
Hargrave shows some promise as a director for future action movies in discussing the different set pieces that were better than I thought they would be. Those who love seeing hand-to-hand combat scenes while being in shock at how bloody it turns will be pleased. There's one sequence everyone has been talking about, which is this one-take that lasts about 11 minutes. Nothing else topped it after, but I couldn't help myself find it tense in all of it with some obvious cuts to stitch it together. The stunt work throughout deserves some credit. The main villain was lame and doesn't add much until we find out about him. 
The story feels very barebones to where it's nothing new we haven't seen before; whether in terms of action (John Wick) or similarities to the plot (Man on Fire). Does it become predictable? Yeah, not too many surprising moments. Even the lack of character development made it hard to care for either Tyler or the kid. I wanted to know more about Ovi in hopes to find the relationship between the two works, besides being the son of a drug lord. Their chemistry was decent, I just wanted a bit more aside from one scene. As far as straightforward action movies go from Netflix, you'll probably have a better time rather than what 6 Underground failed to become. By the time I've seen this, it became the most-watched original movie on the site and it's getting a sequel soon. Who knows if it'll be good, but I'll watch it to see it's some improvement.
Final Thoughts: Extraction isn't the most amazing movie out of Netflix's catalog from a story standpoint. But while we might label it as a dumb action showcase, there's some fun to be had with Hemsworth's performance and its exciting set pieces. I knew what I was expecting, and it probably won't disappoint others. Grade: B-