Seeing Eddie Murphy back is going to be a breath of fresh air for long-time fans. As someone who worried his career was fading after a string of terrible movies under his name, you just hope he can climb up the stairs of glory to see him return to making us laugh. Now 33 years later, he and some returning cast have come back to be a great time with the long-awaited sequel Coming 2 America.
What's the Story: Prince Akeem Joffer (Murphy) has just been crowned king of the fictional African nation of Zamunda and has become King. Once he discovers he has a long-lost son named Lavelle Junson (Jermaine Fowler) while on his first to Queens, New York. He and his loyal aide Semmi (Arsenio Hall) take a jet back to America to search for him so he can become the rightful prince of the country.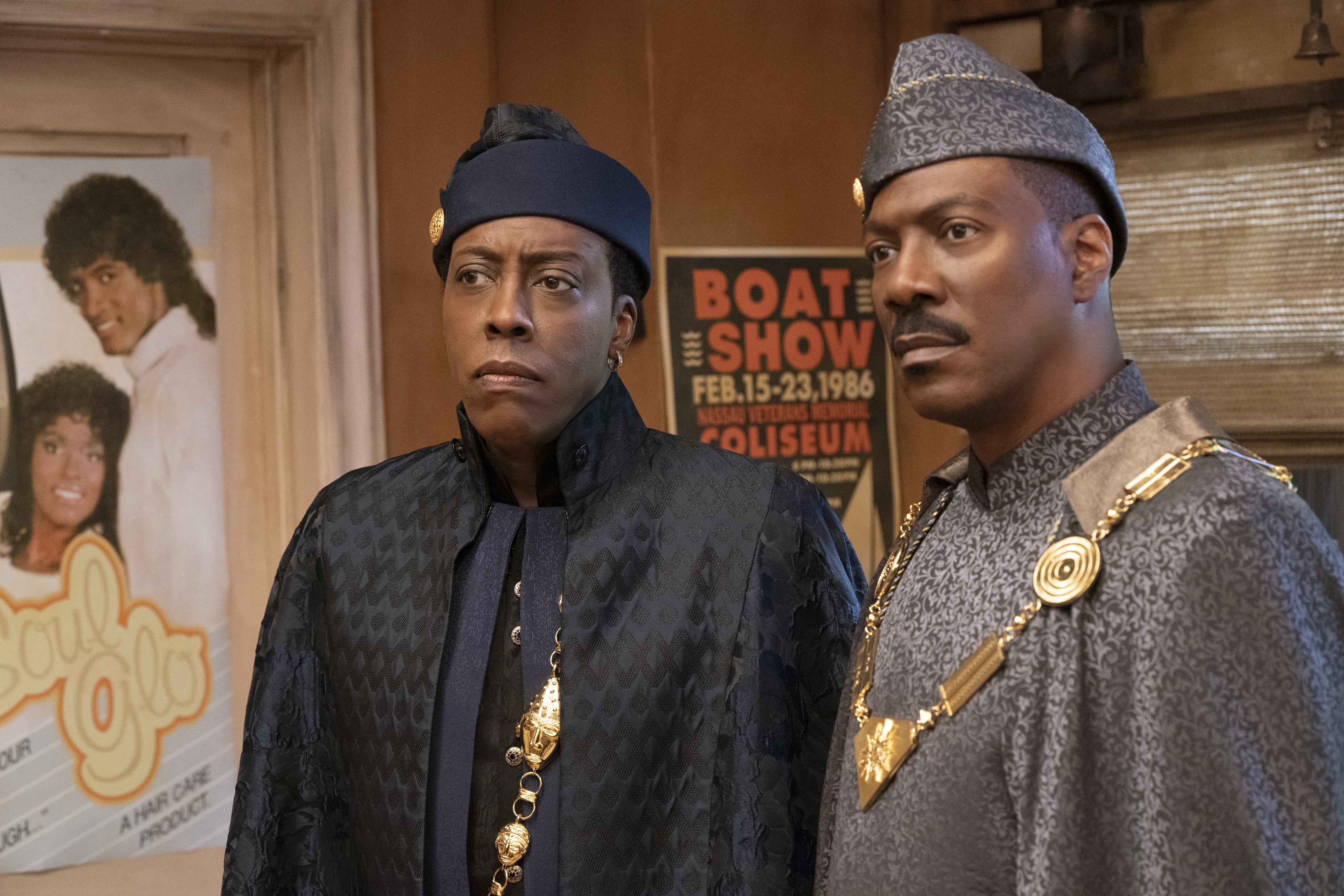 1988's Coming to America is one of my favorite movies to come from the comedian's career, where it was a simple fish-out-of-water story that worked surprisingly well when it's funny and has a heart with its prince finding love in Queens, becoming the third highest-grossing of the year domestically and received an Oscar nomination for Best Makeup. This was one of my most anticipated movies of last year when it was originally scheduled for a December release, but Paramount Pictures sold it to Amazon Prime to stream it months later. Since its lead hasn't made a sequel in a long time, it did worry me the same fate would be like them (Nutty Professor II: The Klumps, Beverly Hills Cop III), and it's a common thing that not every comedy sequel will reach that height of success because it will lean towards flat-out hysterical like 22 Jump Street or downright embarrassing like Zoolander 2. I knew deep inside this would not be better, but after it was all over, I couldn't help myself thinking this should've had the potential to be something outstanding.
We don't have John Landis helming this, but there was some confidence in learning director Craig Brewer (Hustle & Flow, 2011's Footloose) would take over instead. Most were already onboard in this after helping Murphy make his comeback two years ago with Netflix's entertaining biopic Dolemite is My Name, and I'll give him credit for making a beautiful-looking movie and for re-teaming with his star. For me, the problem with why Coming 2 America falls short is the script. Written by Kenya Barris and the original film's screenwriters Barry W. Blaustein and David Sheffield, most of this was basically the same movie as before with another character and rarely delivers anything new to old school fans. Except for this time, Akeem's "bastard" son sparks up a romance with someone in the African country that could've used more spent more time with. With that in mind, this is one of those cases where it takes on the nostalgia aspect fairly too heavily without feeling entirely fresh whenever it contains a callback or a joke that's been done before but feeling a bit tame with its PG-13 rating rather than an R.
The performances were what you've come to expect. Eddie Murphy gives it his all in reprising his role as Akeem, but from what I was watching, he honestly doesn't give much to do as the principal character; he's more or less like James Earl Jones in almost following the patriarch footsteps and felt more like a supporting role this time around. Everyone else from the ensemble who's returning was also fine. Seeing Arsenio Hall again is always pleasant, even though I wanted the writers to give Semmi more to do, and Shari Headley hasn't aged a day playing Lisa again. Comedian Jermaine Fowler of Superior Donuts fame kind of warmed up to me right around the second act as Lavelle when there's not much to him. Then you also have familiar faces from Wesley Snipes, Leslie Jones, Tracy Morgan, and Kiki Layne as Akeem and Lisa's oldest daughter Meeka, who I thought was the most interesting child because she wants to take over the throne, but can't since it has to be a male heir. It was kind of nice to see Mr. Clarence, Morris, and Saul from the barbershop in Queens again for a couple of scenes, which made me question how they're still alive all these years later.
Where the original offers so many laugh-out-moments that's easy to think back to in how clever they were written. It was a problem of knowing I didn't find myself laughing that much. That's mostly because a lot of the jokes didn't hit the way I wanted them to, particularly since some of them feeling outdated or just playing on the same gags we've seen before.There were times I certainly chuckled, and that was when it was happening during flashbacks of the first movie to be lazy or when it wasn't trying too hard to making you on the floor almost dying of laughter.
The best compliment I will easily provide this movie with is the wonderful costume design from Oscar-winner Ruth E. Carter brought to represent Zamunda so boldly. Even when a scene wasn't holding my attention, I had to admire the different, colorful outfits that are being worn by the characters, especially Fowler's wardrobe when he's now in Zamduna. And the makeup effects for them the actors portray other characters aren't too bad, despite not providing the time to present us with more than one new character with this round. Not that I was mad watching this; it just made me want to watch the first again, and I'm a fool for nothing doing that task all week in preparation.
Final Thoughts: As much as I wanted to love Coming 2 America, this was a very disappointing comedy sequel that's not on a par with its much better predecessor. It's more of a retreat of the original that offers little laughs and not utilizing Eddie Murphy enough, unfortunately. Compared to the other live-action sequels he made in the past, there's an effort to be found, but the familiarity of this sadly bogged it down to feeling uninspired at times. Die-hard fans might find this fun, but it's more of a letdown from me. Grade: C-