With the fulfillment of the genre that's been coming around recently, we got A24's latest horror flick Hereditary to be able to keep people up at night with what was experienced. But if there's gonna be one scary movie to come out in 2018, the crown still goes to A Quiet Place, thank you very much. Will it be one of those movies where the general audience will not attach to it? Because it has an "F" on Cinemascore (never take them seriously, btw).
What's the Story?: Annie Graham is married to her husband Steve (Gabriel Byrne) and lives with their two children Peter (Alex Wolff) and Charlie (Milly Shapiro, Broadway's Matilda) in this remote house in the woods. After the death of Annie's mother, the matriarch of the family, she learns some secrets that are put upon herself and her family that might not go well for them in the process.
Normally, whenever A24 released a horror movie, there's a chance that not everybody is gonna love it because it isn't a mainstream horror movie that might not be marketed for normal audiences. Which shows why I thought The Witch was underwhelming, and though some thought didn't like it, It Comes at Night was underrated. After hearing this first premiered at Sundance, it's shocking to hear a horror film like this was getting positive buzz surrounding it. But I decided to purposely avoid the trailers for Hereditary and didn't want to know little about the plot going into it. A while this won't end up as one of my favorites of the year, Hereditary doesn't end up becoming like any other original horror movie to come out lately.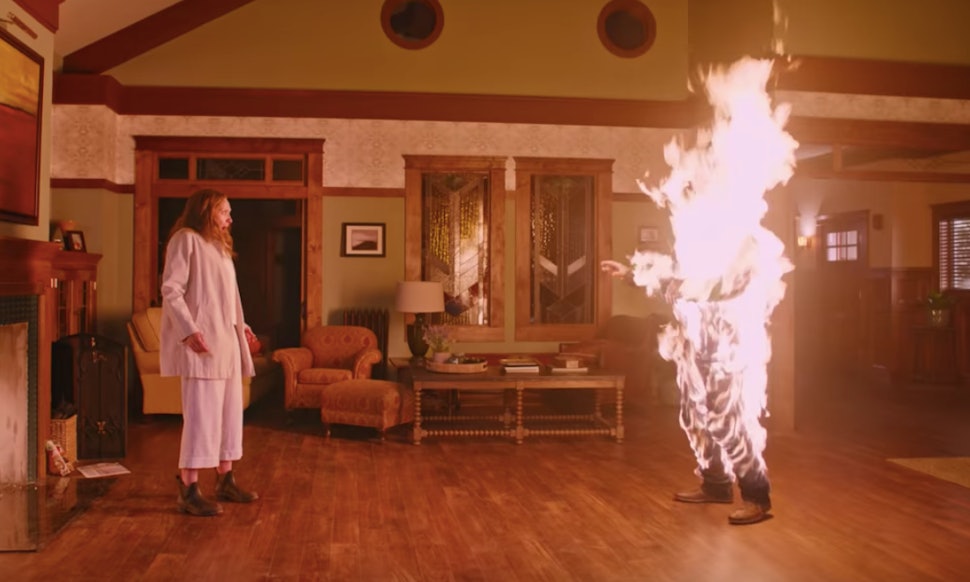 This is Ari Aster (known for directing short films before this) first time writing and directing a feature film, and you can see his directorial debut comes from an artistic vision into crafting a film that has its senses of grief, guilt, nervousness, scared, etc. This felt like more of a drama than horror, which isn't a bad thing. His style, combined with Pawel Pogorzelski's beautiful cinematography, isn't hard to look at. The imagery that Aster throws into Hereditary is the kind that makes you feel unhinged and too nervous to swallow anything down your throat after witnessing what just happened.
The moments where it has to invoke the family drama out of this come off as almost heartbreaking. It's mentioned that Annie never had a good relationship with her mother and it doesn't help when has problems with the rest of the family. As the film continues, it gives us some background information about what happened before and it's hard to imagine what a family like that has gone through. It may sound like exposition given to the audience, but it's general information that's really needed.
This isn't particularly scary, but Aster does a good job at not having any jump scares or having a scene involving loud noises. Hereditary does a solid job at building suspense.
One of the most underrated actresses that come up in my mind is Toni Collette, and she gives the best performances from her career since her Oscar-nominated role in The Sixth Sense 19 years ago as she gives perfectly put in all different kinds of emotions in most of the scenes she steals from. This isn't just acting shockley or afraid when given her direction, that's just how great she is as a performer when the film continues down the road.  If she gets nominated once again for her performance in here, I wouldn't be surprised since this is one of the best this year.
An interesting hobby Annie does in her spare time makes miniatures in one of the rooms in their house and it's a part of Annie's career where she designs detailed settings from her house with these dolls to anything that recently happened to her and with the family.
Milly Shapiro, in her first major role, as Charlie. She doesn't say much but she sets the tone. Does she get to be the creepy kid in the entire movie? No, she doesn't. But you can clearly see why she's upset since she was her grandmother's favorite.  
And I have to give major props to Alex Wolff (Jumanji: Welcome to the Jungle) for giving a very emotional performance as Peter Graham. Most of the decisions where the camera is just steady on his face were practically brilliant when you just know he's not feeling well or something might spook him out of nowhere.
For me, I can't honestly say Hereditary is "great" in my mind after just only one viewing because my main problem is this is a slow burning movie, which is what to be expected. This doesn't make the movie entirely boring by any chance, but it can make some scenes feel long after its first act and should've made the movie 20 minutes shorter, in my opinion, where there are a few scenes that tend to drag without anything happening.
This also has one of those endings where it needs to be explained on some video giving context to the purpose of what was going on. It does make me wanna rewatch it and explore more of what it was foreshadowing.
Hereditary is gonna be talked about all year long as most will have it in there best list. For me, it was close to being up there, but it wasn't quite there to be considered a "great film" at the moment. People are hailing this as one of the scariest movies ever made, and it's frightening, sure, but not of all-time. There were some moments that are gonna be remembered and Collette's performance is one of those reasons why. I would say it this year's The Witch, but at least this had moments that freaked me out. I'm curious what his follow-up is gonna be in the future.
Hereditary, while a slow burner, shows to be an unsettling and unpredictability emotional horror movie that's perfectly acted and explores a deeper meaning into its story.
Grade: B