What's the Story: Based on Matthew Quick's 2008 novel of the same name, Patrick "Pat" Solitano Jr. (Bradley Cooper) was recently released from his eight-month stint at Baltimore's Karel Psychiatric Facility, where he's labeled bipolar after nearly killing a man who was cheating with his wife. Now hit with a restraining order, Pat moves back in with his mother Dolores (Jacki Weaver) and his father Pat Sr. (Robert De Niro), a live-or-die Philadelphia Eagles fan. Since at home and not taking his medication, Pat is fully determined to win Nikki back by getting into shape and reading the books from her high school syllabus while having a positive look at life. Things take a turn when Pat meets Tiffany Maxwell (Jennifer Lawrence), a recent widow and a mysterious girl with her own problems. Starting as friends, they offer to help each other, with Tiffany asking Pat to be her dance partner while Pat wants to deliver a letter to his ex-wife through Tiffany.
The buzz surrounding Silver Linings Playbook was getting real near the end of the year and it almost caught up to me. I don't remember having strong feelings from watching the trailers, but it's one of those films that was gaining much attention around that current awards season. Eager to see it, I didn't catch it in theaters until that January when they expanded it, and it was the one movie that weekend that looked more interesting than the new releases. But I honestly didn't have many expectations when I just wanted to see what everybody talked about since it premiered at TIFF. How did I didn't see this in December baffles me since I completely fell for Silver Linings Playbook, thanks to its all-star cast and premise.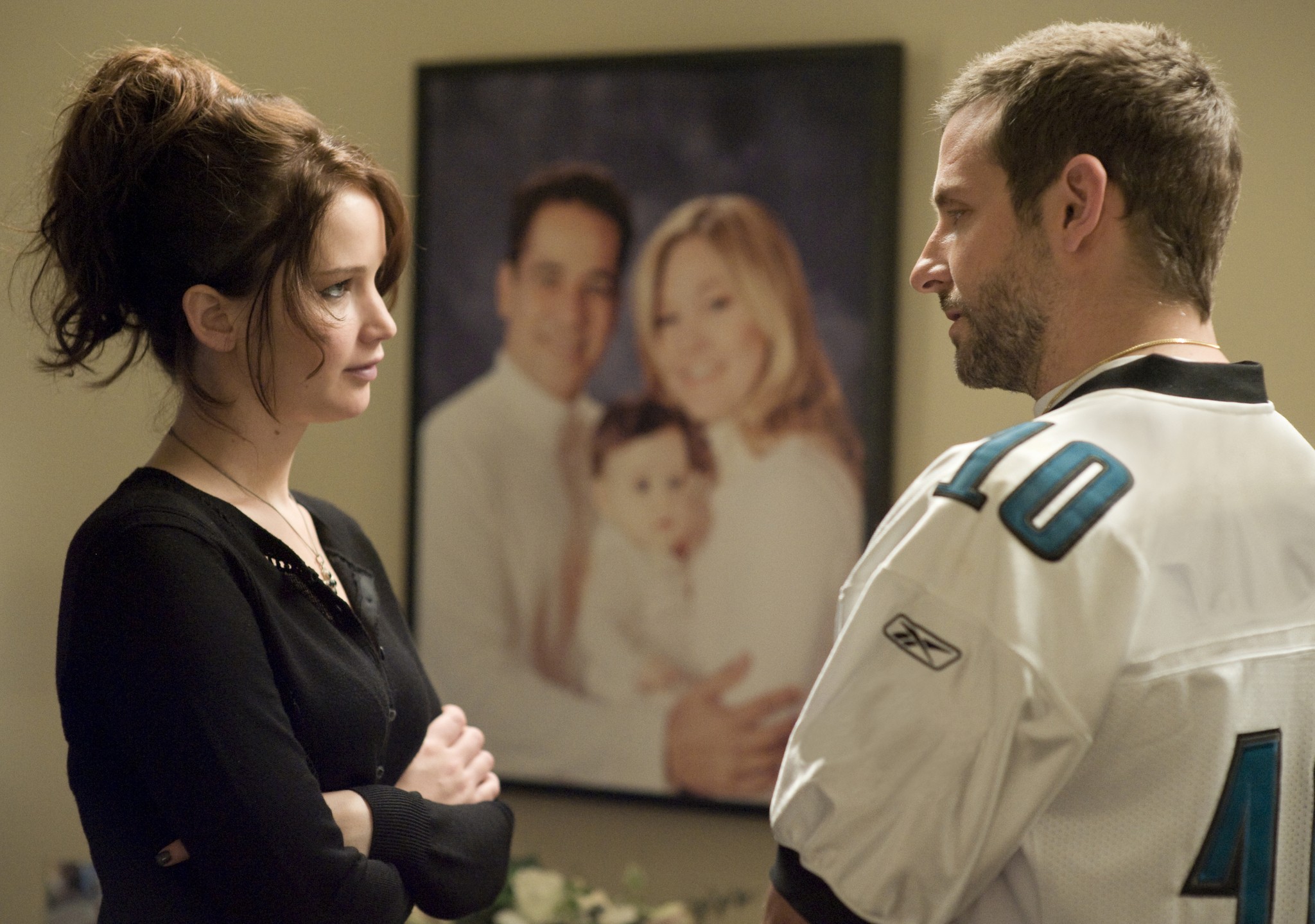 Believe it or not, this was the first time I've ever heard of bipolar disorder in its meaning, which I learned can switch people's moods or just a form of depression. Then after it was over, this made me wonder if the people around me at the time had it without labeling them as "crazy." To take on a story following two characters with this condition was walking a tightrope of how it'll come off, depending on how this treats people with it. But in the hands of writer/director David O. Russell, coming back from his comeback with the Oscar-winning The Fighter, he understands he wants the viewers to go through this emotional ride with how each character is going through, good or bad. You can tell this works well as a dramedy mixed with romance where the first half doesn't pull away from showing how Pat is adjusting to life after his breakdown, almost feeling terrible in hoping he's in the right mindset. And it's afterward that becomes more on the lighthearted side in how Pat and Tiffany are willing to help each other despite their problems.
The biggest compliment Russell deserves credit for is that there's this genuine authenticity where these performances were believable enough to find them realistic and watch them go through life. For what is essentially a rom-com, the story is grounded than expected for the kind of film it's gearing towards. Focusing on someone who has this condition is somewhat relatable for those who also have it. For those individuals to help each other bring their calmness down can show the importance of needing comfort to be better people. And what's even better is that it's not entirely predictable as it leaves with a shifting note to end things.
Everybody in here is at the top of their game. Bradley Cooper gives the best performance of his career by far. This was probably where I indeed saw him as an actor after a few comedic roles here and there. Still, in here, it shows he has a great dramatic range in his portrayal that's convincing and making him a better man when nothing will trigger him, like hearing Stevie Wonder's "My Cherie Amour." His performance as Pat is the much-needed proof he's a talented actor then and especially now. And alongside him is Jennifer Lawrence. Just when we thought we could've loved her more in The Hunger Games, she improved herself with this role. As Tiffany also has bipolar, you would think she's mental, but she's still a girl to care about deep down. At first, she was ride when she and Pat first met, which made me worried I wouldn't like her. But that must've been the entire point. Both have tremendous chemistry that starts pretty awkward, to intense, to friendly as the film progresses. These two don't have the best history since Pat is labeled insane from his breakdown while Tiffany's been labeled "the town's slut" and they say anything without a filter. The scene that always sticks out when re-watching this is the diner scene when she's opening up to him after her husband died, followed by Pat doesn't understand how he could have anything in common with her. That explodes quickly that shows the anxiety one goes through in a raw fashion, going from 0 to ten in a matter of seconds.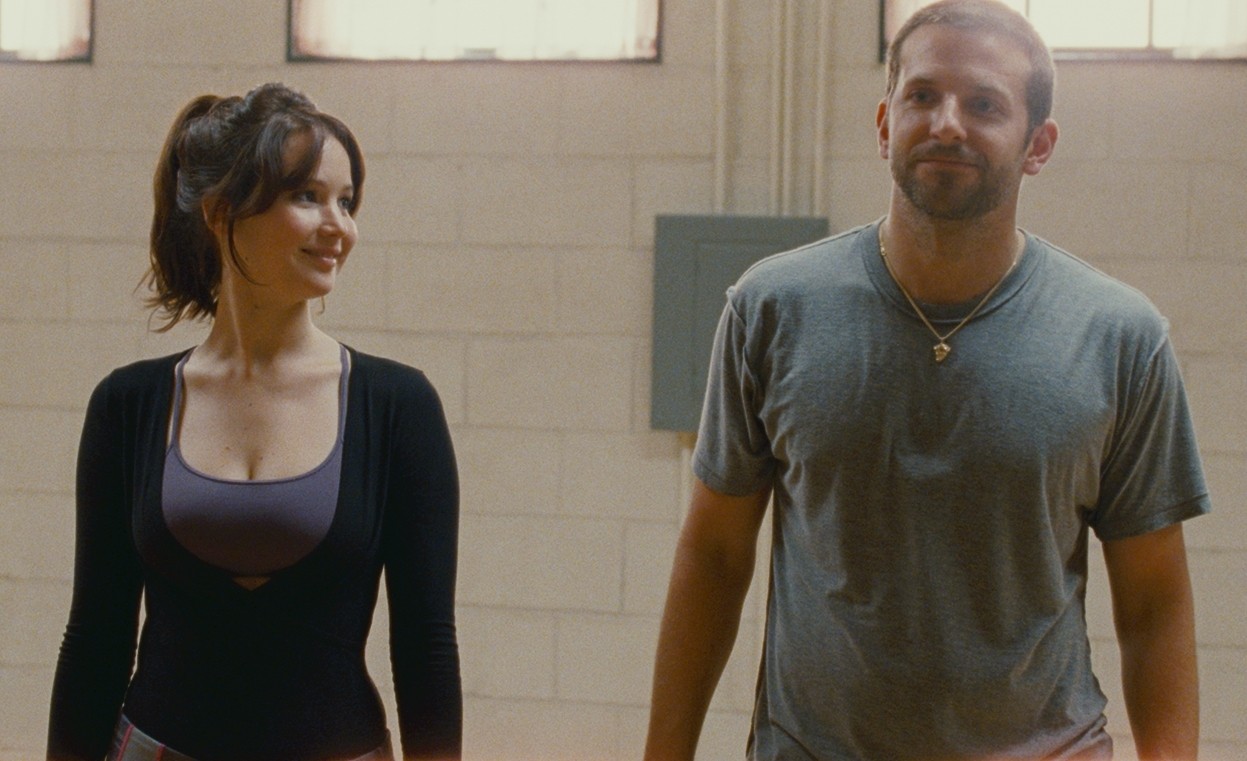 And the ensemble as a whole is nothing short of greatness. As much as I love Robert De Niro, some of his roles before this were pretty lame on the level of not caring as much as she could be. But honest to God, he gave his most committed performance in years, and it's great to see. As Pat Sr., he's the kind of father that doesn't look to care about anything besides the Eagles and his superstitions/ juju more than the well-being of one of his sons. Was it strange for a New Yorker to root for the Eagles? It kinda was. But De Niro has a scene where he's talking to Cooper to get him to attend the Eagles/ Giants game, and it's almost heartbreaking when he wants to connect to him is when they bond over their favorite team. That was the moment that got him the nomination. As Pat's mother, Jacki Weaver serves her purpose well in the supporting role, and how great was it to see Chris Tucker in movies again.
Even when it's supposed to be severe due to the subject matter, it can sometimes get quite funny. The tone feels like you've taken medication that starts crazy and then settles down afterward, and it works well, a credit to O. Russell's treatment of the adaptation that genuine. Try thinking this as a mixture of Punch-Drunk Love, 50/50, and As Good As It Gets meshed together, except I actually like the former two (I'm not too fond of AGAIG). This felt like a real movie without thinking I was watching actors sometimes. After it ended, it made me question having these different emotions inside that can make us a little self-centered.
If a film leaves you with keeping a flattering look without noticing the wrong things, that's an automatic win. But Silver Linings Playbook did become one of my favorites of 2012 until I kept thinking about it where I don't think anything could ever top it. Everybody I know loves it as much as me, and so does the Academy, since it was nominated for eight Oscars, including Best Picture, Director. Of course, Lawrence won Best Actress for her work, so far becoming the second youngest actress to win. Deserving to win for Jessica Chastain? That's debatable.
Overall, Silver Linings Playbook has been one of my favorite films over the past nine years. A brilliant, interesting, and engaging dramedy that's able to be heartwarming to bring a surreal look at bipolar that hasn't been presented before. With the help of David O. Russell's direction/ writing and an outstanding cast in front of the camera, what's not to love about this classic?
Grade: A