'Infinite'
Let's start with Infinite, which streamed on Paramount Plus and is the latest from director Antoine Fuqua. Based on D. Eric Maikranz's novel "The Reincarnationist Papers," it follows Mark Walhberg's Evan McCauley, who has been having these hallucinations of memories he's never visited despite knowing these skills he mastered. That's because he's a recantation of an "Infinite." Being sought out by this secret group, Evan must work with the Infinites to unlock the key to saving them.
Did anybody know this was coming out? No, because it seems like Paramount didn't want to hold a place in theaters and decided to dump it onto their streaming service after just releasing two trailers two weeks before its release. I didn't care much about Infinite coming out since the only sounding interest was the concept alone, and it is what I would call a bad action movie.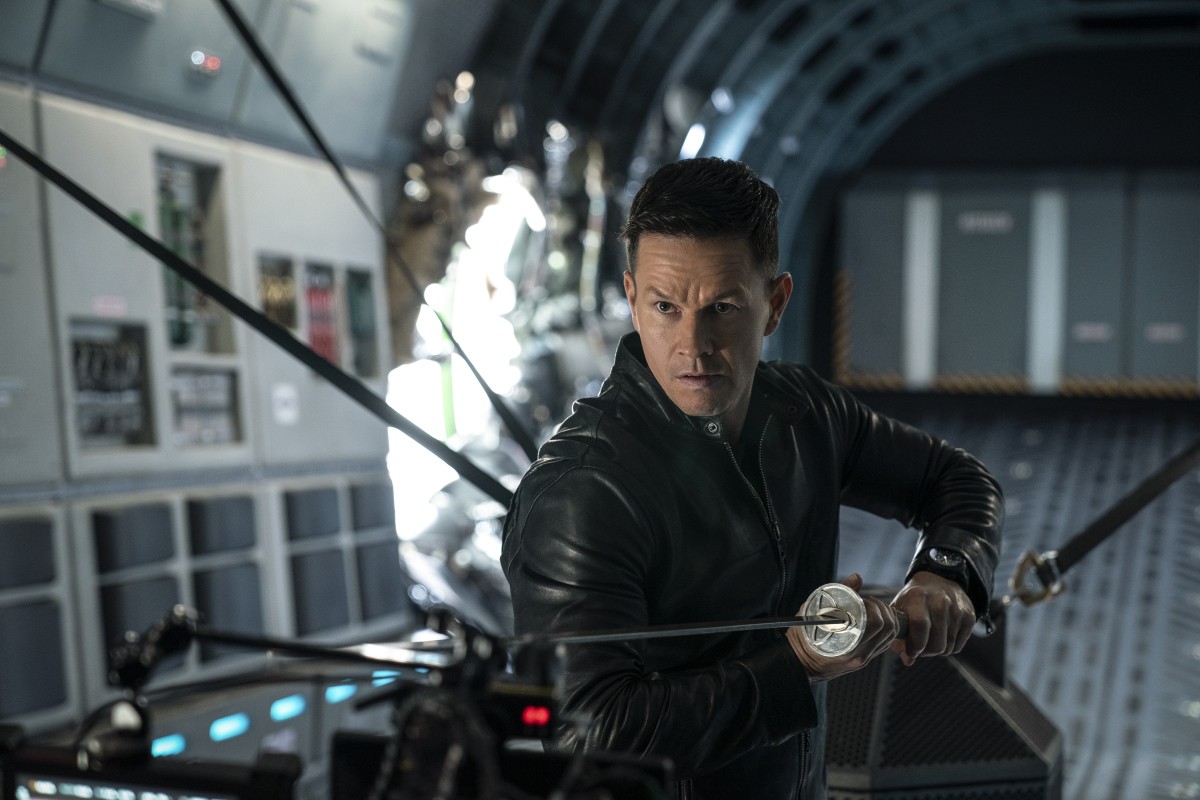 There's nothing wrong with having a plot revolving around reincarnation because that's always cool to explore in the world of sci-fi, but the overall execution was somewhat dull that couldn't keep my attention. Maybe it was unsure how it was from the book, but it's sad when Fuqua couldn't get his feet off the ground in how messy the script was. At no point was the action entertaining since it's never anything particularly new we haven't seen in better movies like The Matrix or Wanted.
The cast is one that you wish was in a better movie than what we got instead. I've seen Mark Wahlberg in worse movies out there, and this is just another performance of his that isn't one of his best, unfortunately. I knew right away this wasn't a character I would like when he delivers narration with the question, "Did you ever have a dream so real it felt like a memory?" and that there's nothing to find compelling about him when he didn't seem to fit the role, for some reason. Chiwetel Ejiofor doesn't try anytime he plays an over-the-top villain, and he's the one trying to find the movie's mulligan for his own game. Everybody else from Sophie Cookson, Toby Jones, and probably five minutes of Dylan O' Brien were wasted with what they offered here.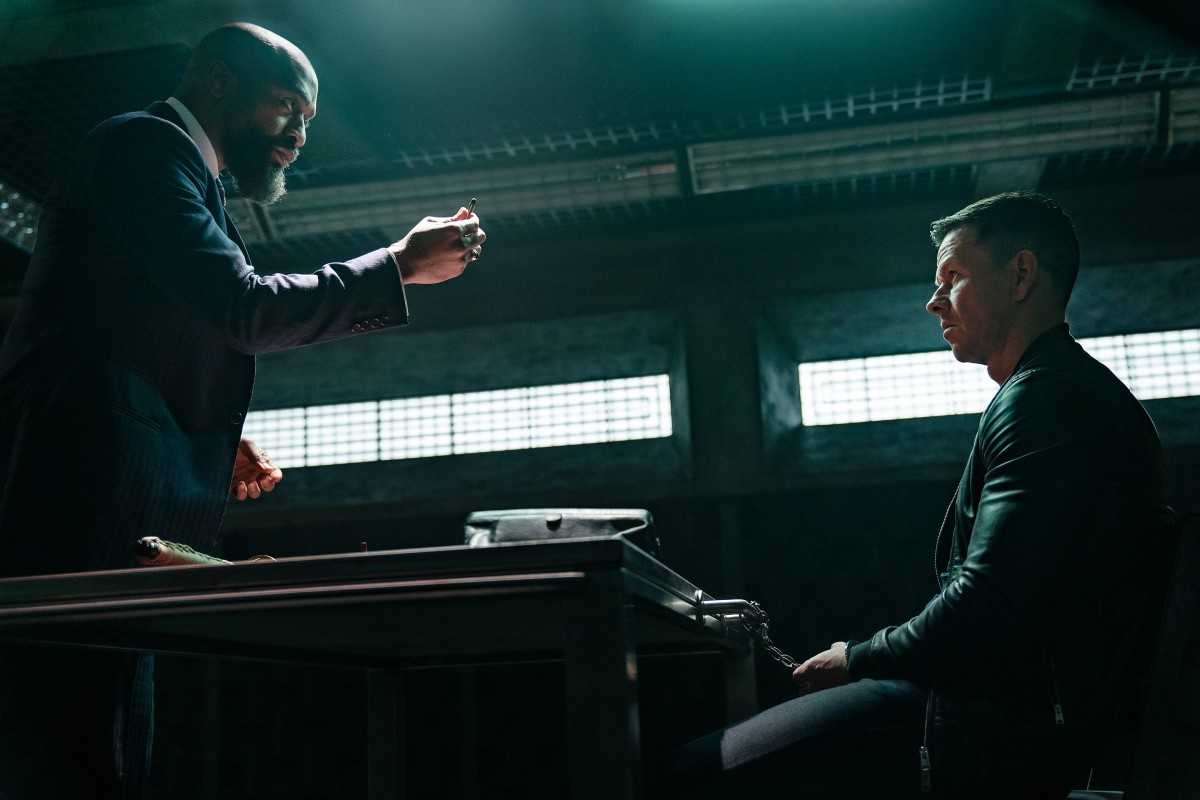 The problem why this never reached the status of being a good movie is the script itself. This doesn't do a great job in taking the time to let us know how this world makes sense and is riddled with unbelievable dialogue all over the place, especially those expositions scenes that couldn't make me care less about whenever they appear. There's no point in recommending anyone to watch Infinite since you're most likely to forget all about it when you watch something else right after. This gave it all it could muster up, but there's isn't enough there to get by even if it did come out in theaters.
Final Thoughts: Infinite is one of the dullest sci-fi movies to come out in a while. Even with a kinda cool premise at hand, it gets overshadowed quickly by uninteresting characters and a poorly executed script that makes you want to watch better similar movies than this.
Grade: D+
'Those Who Wish Me Dead'
Next up is Those Who Wish Me Dead, which was in theaters and on HBO Max for a month. Based on Michael Karyta's novel of the same name, Hannah Farber (Angelina Jolie) is a smoke jumper dealing with the struggle of an unfortunate forest fire in Montana. Standing watch at the watchtower, she finds a boy named Connor (Finn Little) on the run after witnessing the murder of his father by two assassins hunting after him. By that, Hannah has to keep this kid alive and safe.
Hearing neo-western and Taylor Sheridan together is a pairing I like to hear. I'm a fan of Sheridan as a screenwriter with Sicario and Hell or High Water to his name, and Those Who Wish Me Dead marks his second feature following 2017's Wind River. This wasn't one I was excited to watch, but I didn't rush out to watch it. I didn't know what to expect from this, but I've needed a watchable Angelina Jolie action movie since we haven't gotten a god one in what feels like forever. And this is one that didn't stay with me, unfortunately.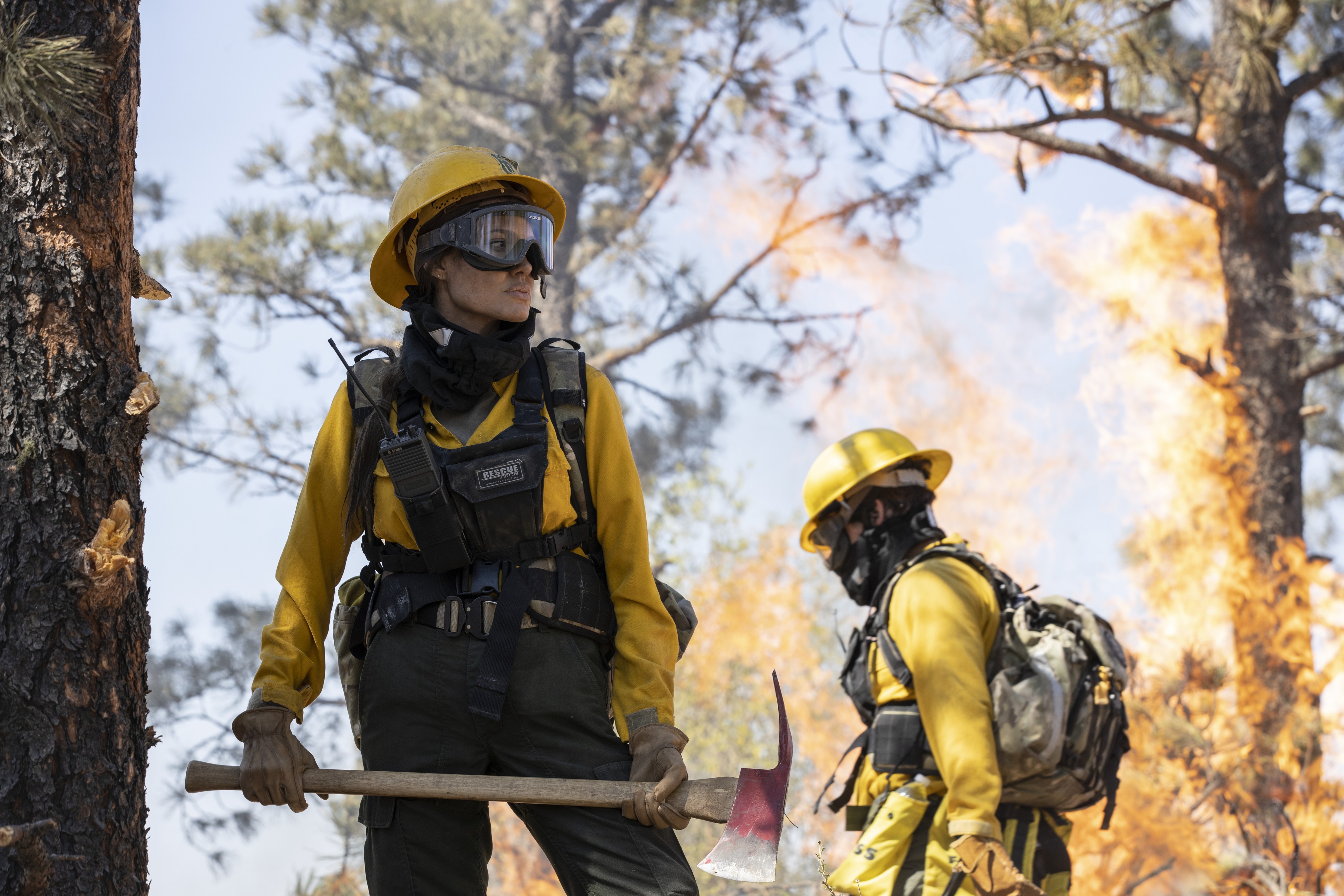 From the storyline alone, this sounds like it came straight out of a mid90s action movie with some bankable star at the time, also from the setup of Jolie's character. However, even Sheridan's lens behind this adaptation, it fairs less than his previous work where it didn't have that slow burn tension he usually brings, or the writing didn't leave much captivate of feeling those stakes.
Angelina Jolie leads this vast cast, and it's been a while since we've seen her in an action-type lead. Her performance as Hannah won't be in her top ten, but it's a good enough performance despite me feeling her character wasn't fleshed out more. The scenes she shares with young Finn Little could've been more substantial, but it wasn't harming anybody. Honestly, the rest of the cast from Jon Bernthal, Aiden Gillen, Nicholas Hault, and Medina Senghore as Bernthal's pregnant wife were a bit more interesting than Jolie.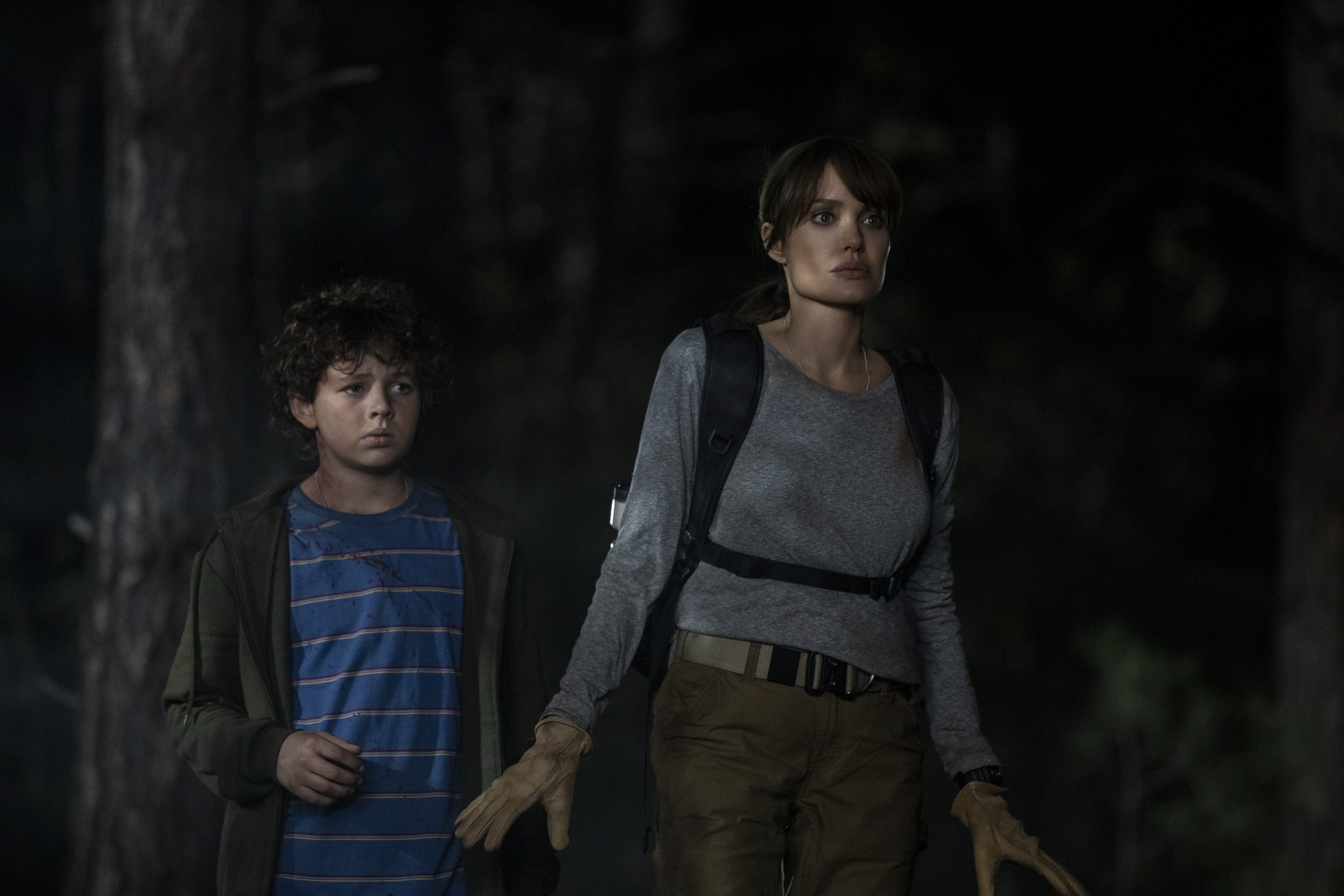 Sheridan still shows to be a competent director, but this wasn't enough to say this is his best. It's a story that contains the dangers of its characters staying alive from both assassins and a severe wildfire, so double peril. All this is needed is to take one element out, not make it a tad essential to follow. While they're great performances, I didn't feel there wasn't enough character development or the information Connor was keeping secret, leaving it to end quite abruptly all of a sudden. No emotional stakes were found to find this nothing more than predictable.
Final Thoughts: Those Who Wish Me Dead is an action-thriller that feels like it came straight from the '90s with more grit. That said, this is not quite on par with Taylor Sheridan's other work since the stakes weren't felt and the script could've been more fleshed out to be more investing.
Grade: C+
'Spirit Untamed'
Let's switch things over to talk about all things family-friendly with DreamWorks Animation's Spirit Untamed. This follows a girl named Fortuna "Lucky" Prescott, who moves back to the western town of Miradero where her father Jim still lives. There, she meets a wild Kiger Mustang she forms a connection with and calls it Spirit.
This is one of those movies I forgot was coming out because I don't think anybody was paying attention to Spirit Untamed. We're looking at another take on the titular horse following the 2002 Oscar-nominated Spirit: Stallion of the Cimarron. I re-watched it last year, and while there's not much, there is some beautiful 2D animation and a sweet Bryan Adams soundtrack. Remember "Here I Am?" And apparently, this is a spin-off of the Netflix series? Who knew? The trailer made it look like a straight-to-DVD feature instead of releasing in theaters back in June. By the end of this, I couldn't care less of what was happening throughout.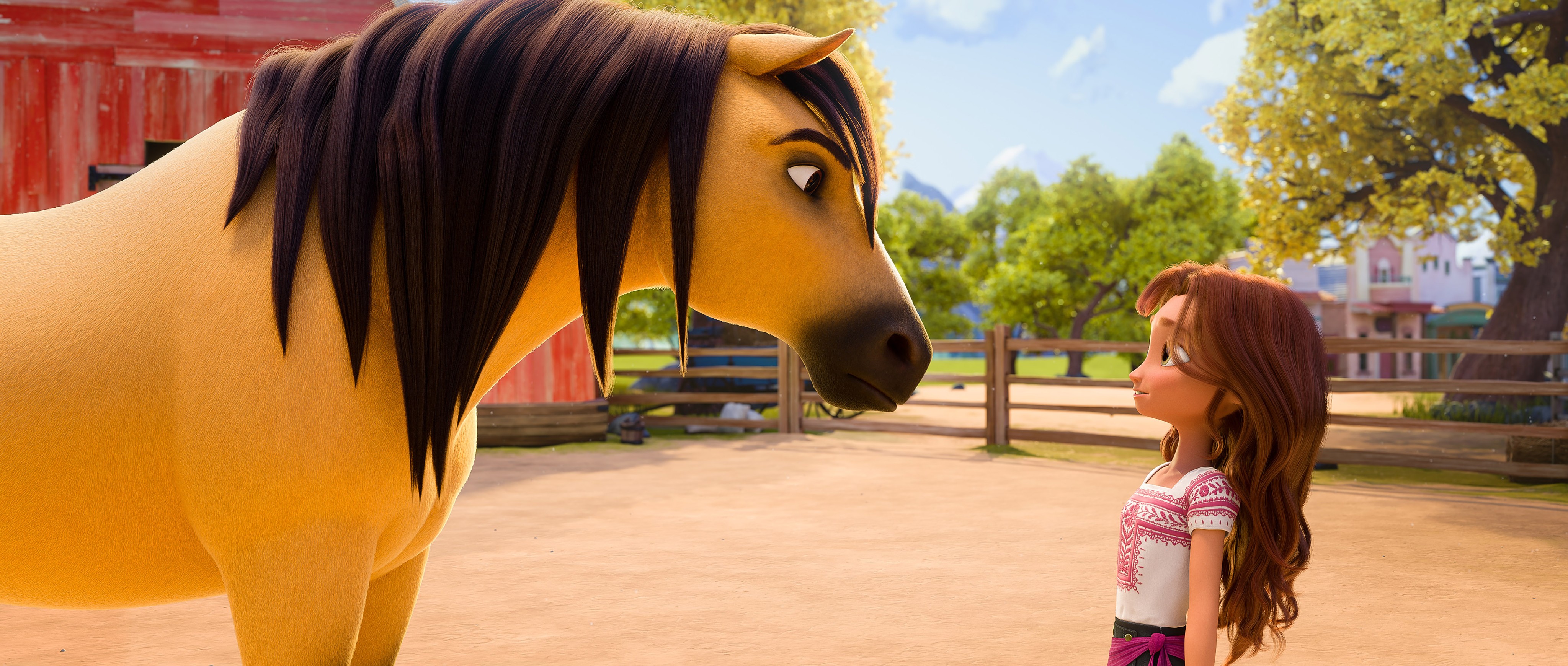 Is that to say it's bad? No, because there's some thought this new movie could bring a new generation of kids to be attached to a younger audience, namely young girls. It's definitely made for kids or equestrian lovers. The movie boasts an impressive voice cast from Isabella Merced, McKenna Grace, Marsai Martin, and Jake Gyllenhaal, of all people. For the most part, they were fine when not having the best writing to work with. Does the animation pop as visual? This was a back-and-forth aspect since I found the backgrounds surprisingly beautiful, while the characters looked awfully bland even with the modest budget.
But I started thinking about this, and it doesn't do its job at being a heartwarming family movie where the focus is on this courageous girl and this horse. It's always important to have a special connection to living animals, but it's around a story on the side of predictable and doesn't pus forward in being anything more. The first movie was more of visual storytelling with narration that works; this offers more of the experience of the bonding of friendship to gravitate its viewers.
Compared to the other DreamWorks Animation productions, I find this to be ranked lower amongst the other underwhelming movies from them where there's isn't much that recaptures the magic as before. My interest didn't held too strong, where it won't be for children to follow along this adventure to go up a gang of outlaws going after these horses. Unfourtenly, you'll likely find this nowhere near the best animated movie of the year.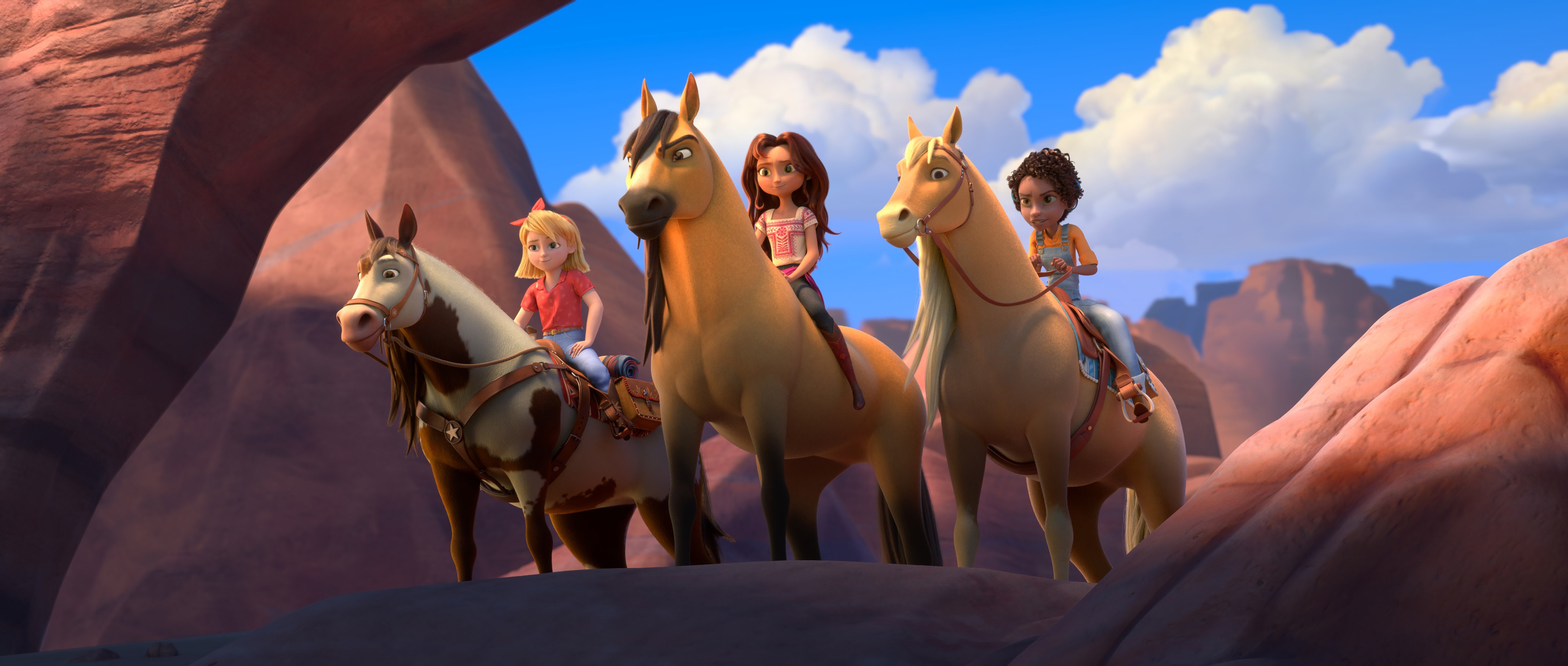 Final Thoughts: Spirit Untamed is harmless for children to watch. But besides the commitment of its voice cast and beautiful albeit bland animation, there isn't anything special about this with a predictable and unmemorable story, lacking the spirit of its 2002 predecessor.
Grade: C
'Peter Rabbit 2: The Runaway'
Finally, after many delays, Sony released the long-anticipated sequel, Peter Rabbit 2: The Runaway, the one family movie everybody was raving about getting. Director Will Gluck returns to tell the story of Peter (voiced by James Cordon) and his friends living life in Mr. McGregor (Domhnall Gleeson) and Bea's (Rose Byrne) garden. Now that Bea has published a illustrated story book that paints Peter as a rebel, his efforts to find himself in the world come when he meets Barnabas (voiced by Lennie James), an old family friend, which makes him figure out who he wants to be.
I'm not a fan of the first Peter Rabbit, released in 2018. Sure, it did well at the box office, and some found Beatrix Potter's live-action adaptation cute and funny, but where was the charm? It was attempting to be cooler than Paddington, and I found it a mediocre family movie. So I couldn't care any less with a sequel even though I know it'll have its admirers out there. The good news is it's better, but that's not saying much.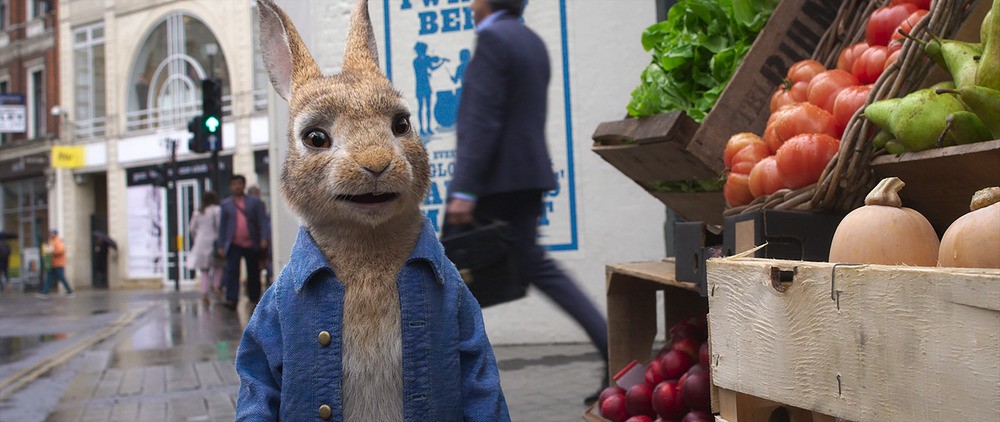 If I had a kid, would this entertain them? Surely when it has the same feeling as the first with some neat CGI for the animals and might even find themselves laughing, I certainly thought it had a few moments for the adults. It has some alright meta-type humor. You're there to watch Peter on another mischievous adventure that can be digestible. But was this more obnoxious? Not entirely, but they still don't get the job of finding it charming to enhance it. Because even when it goes be a commentary on commercialism, that can be hard to pull off when done right.
Cordon's vocal performance as the lovable protagonist will still annoy those who can't stand his voice, including me. But he's getting a paycheck, so what do we know. We're two movies in, and they haven't given me a good reason to care for Peter as a character, hijinks and all. But the rest of the cast feels wasted for being in this. You got Margot Robbie, Elizabeth Dubicki, and Aimee Horne (replacing Daisy Ridley) as sisters Floppy, Mopsy, and Cottontail, and it took everything in me to figure out who is who. And Rose Byrne and Domhnall Gleeson did the best they could, while it's interesting seeing Gleeson flex his comedic chops a bit.
The story here it's pretty forgettable, and the plot itself is rather boring. Once Peter meets Barnabus, they plan this farmer's market heist to steal dried fruit where it's not hard to know what will happen. And while this has a few funny moments, the rest of the other jokes fall flat, or they might be clever, yet not enough to make me laugh. There's a random needle drop of Green Day's "Boulevard of Broken Dreams" I honestly was buying into. Then it was ruined what will become a running gag calling back to its self-awareness part. Speaking of which, they lean too much on the selling out aspect where David Oyelowo 's publisher character wants to make Peter more commercialized, which makes Bea worried about what it can do to her books. It's winking to the audience I couldn't buy.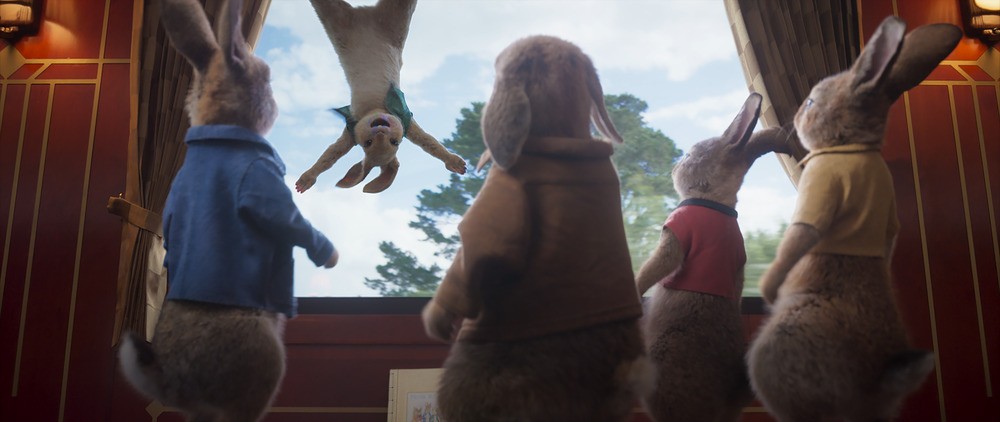 Honestly speaking, Peter Rabbit 2 barely did anything to make me think it would be better. While it has some merit to be good entertainment for children, adults won't get much out of it except listening to Vampire Weekend when you're not busy. Did you even know it came out?
Final Thoughts: Peter Rabbit 2: The Runaway delivers what I expected that's about the same as its predecessor. It's okay for little kids and a little better, but it's a sequel with minimal laughs and charm to warrant this being made.
Grade: C