What's the Story: In Los Angeles, a mysterious unnamed Driver (Ryan Gosling) is a Hollywood stuntman and mechanic. But at night, he moonlights as a getaway driver for criminals. He goes by these rules: he doesn't carry a gun, give him a time and place, and he gives you a five-minute window, anything that happens over that minute means you're on your own. As he starts getting acquainted with his neighbor Irene (Carey Mulligan) and her son Benicio, Driver grows fond of them as her husband Standard (Oscar Isaac) is about to be released from prison. All the while, things take an unexpected turn that could endanger the lives of those he cares about.
If you ever looked at lists compiling the best films of the last decade, I can guarantee you'll see Drive on half of them without question. Based on James Sallis's 2005 novel of the same name, Nicolas Winding Refn's neo-noir crime drama was all that was talked about when it was coming out, and the buzz was at its strongest out of the Cannes Film Festival where Refn won the Best Director Award.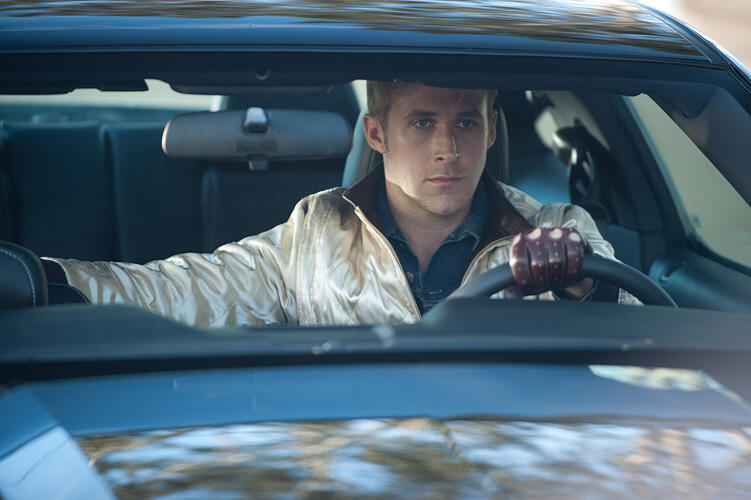 I didn't see it in theaters since I didn't pay too much attention to it. But after watching it recently in writing this review, it's strange how my thoughts have improved over time. My first viewing was in March 2012 when I got it from the library shortly after it came out for home release and thought it would be nice to watch it after a rainy day of school. I thought it was good, though I didn't get why some labeled it a "masterpiece." The second time happened about three years ago when it was on TV in my college dorm and strangely, I had a more positive attitude about it. Now, I would go as far as to say Drive is a great film to finally get behind.
Who knows what it was, but this time it was able to grab my attention since I now know what to expect and not what the trailer sold me. Refn was already known for Bronson and Valhalla Rising, the former is excellent, but this is perhaps his most commercial film where it's possible to put you in a trance-like state of mind that's much more than a cliché crime film. He and writer Hossein Amini (The Wings of the Dove) crafted an unpredictable piece of work to keep you glued to the screen and become wrapped up in what's happening in a straightforward story. And I believe his direction is something special going on here, especially for future filmmakers. Some might differ in the way it's paced. At first, I was taken it back by how slow it was, but aside from maybe two moments where it might stay on a shot long, I don't find it to be a problem now.
The performances all around were great, especially from Ryan Gosling, whose performance as the Driver is top three in his entire career. As this character to pull off, he's more interesting because we don't know much about him, having us resonate through his facial expressions and limited dialogue. The character has been compared to the modern-day Man with No Name. Throughout, you're wondering about this guy's past with this calm and almost subtle performance with the knowledge of knowing he possibly could kill you. A man with a few words, but a man wanting to get his life out of trouble and be in peace. He also makes where that sweet scorpion jacket look cool. If only I had the courage to buy it for a potential costume.
Everybody else from Carey Mulligan, Oscar Isaac, Bryan Cranston, and Ron Pearlman excels in their roles. Pearlman actually had a line that made me laugh when describing a car that it has been locked in my mind since. The most surprising turn I wasn't expecting came from Albert Brooks as Bernie Rose, the former film producer turned crime boss. Who would've thought the comedian and the voice of Nemo's dad can turn into a fascinating villain when he shows up. I can see why he wanted to go against type in how complex he wanted to take this role.
When I watched it again, I started to pay attention and became in-depth with the plot. There's a lot of significance I got that I didn't get ten years ago. It has a character who wants to escape this dark world when he starts to care for Irene and his son, wanting to be in a normal world. Are we convinced the Driver is a good or bad guy? When things are on the line, that's when the stakes become more real quickly for these characters.
But if you're one of those who haven't seen Drive yet, just know first hand this isn't a straight-up action movie. There are only two action sequences that were exciting to watch; the rest sets itself as a slow-burn thriller that a lot won't be fond of. When you watch the trailer, you shouldn't expect this to be the next The Fast and the Furious or The Transporter. Stupidly enough, a woman in Michigan filed a lawsuit against the studio, FilmDistrict, who thought it lacked action. I don't think it went anywhere. And when it gets violet an hour in, it's a common criticism where it can get overly bloody all of a sudden. It was a surprise by me, but some might think it's why it didn't do well at the box office. But when this came out when I was a freshman in high school, I seriously doubt anybody saw it in my grade, and if they didn't, they probably hated it.
But even if you're not a huge fan, there are no complaints to say about the soundtrack because it rules and on its own. The music involved has that comfortable and retro vibe for a late-night drive or just a random trip to the store. Cliff Martinez delivers a memorable synthesizer score. As the choices of adding other tracks like Chromatics "Tick of the Clock" during the opening, "Nightcall" by Kavinsky featuring Lovefoxxx over the credits, and what I think is the film's theme "A Real Hero" by College and Electric Youth will get stuck in your head since its THAT good. And when talking about Newton Thomas Sigel's cinematography, that's enough to say it's one of the best-looking films all year.
Drive is one of those films where people used to be split, where one side loves everything about it, and the other side thought it would be more than an arthouse flick. I've come around to it, but it can be annoying for those to downplay on it, thinking it's pretentious. To that I say, don't be that guy. Film critic and upcoming director Chris Stuckmann has this as one of his all-time favorites, which I can understand. And one of my favorite videos he's done is an analyzed look explaining what happened in it, and I thank him for helping those who also loved it only he understood it. The fact that it wasn't a mindless blockbuster made it more enjoyable in how well-constructed it is. But how did only earn one Oscar nomination for Best Sound Mixing? It should've easily been honored with nominations for Best Actor for Gosling, Cinematography, and the biggest snub of all: Brooks for Best Supporting Actor.
Final Thoughts: Though Drive wasn't as action-driven as it sounds from the premise, Nicholas Winding Refn's adaptation finds a way to be enthralling in its beautiful direction, soundtrack, and performances from Gosling and Brooks, respectively. It might not have been one of my favorites back in 2011, but it's a damn good film nonetheless.
Grade: B+