Just because you have a movie that's made for a sole demographic, that doesn't necessarily mean it can still be enjoyable. Better yet, most of Disney's roster of live-action re-imaginings hasn't been the most impressive, especially in the past couple of years, but I think it's fair to assume 2015's Cinderella is one of the better additions, and after watching it for the first time since seeing it in theaters six years ago, that still holds.
What's the Story: After her father unexpectedly dies, young Ella (Lily James) finds herself at the mercy of her cruel stepmother (Cate Blanchett) and stepsisters, who reduce her to scullery maid. Despite her circumstances, she refuses to despair. An invitation to a palace ball gives Ella hope that she might reunite with the dashing stranger (Richard Madden) she met in the woods, but her stepmother prevents her from going. Help arrives in the form of a kindly beggar woman who has a magic touch for ordinary things.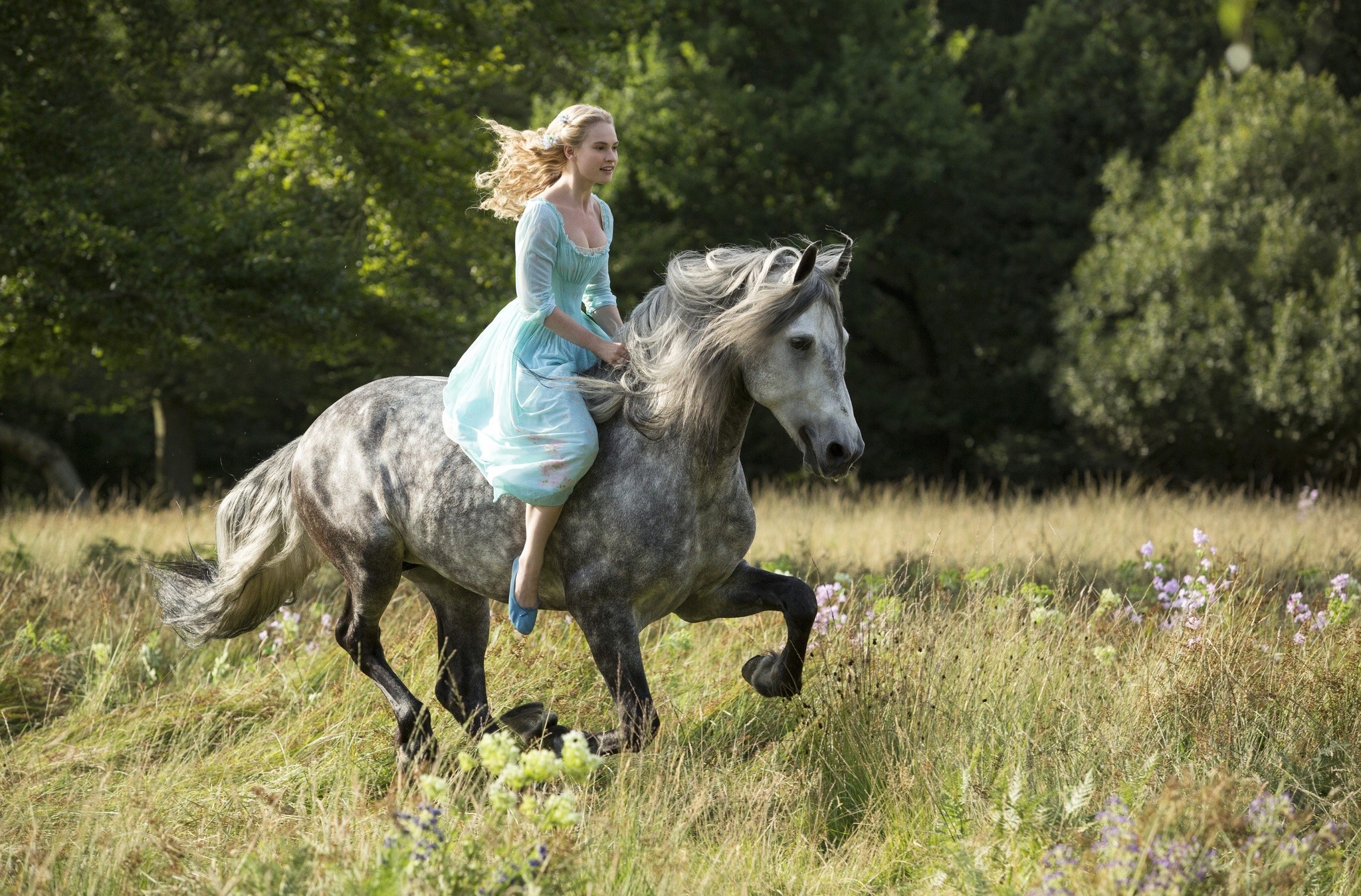 Growing up with a dozen Disney VHS tapes, I remembered watching the original 1950 classic as a kid, and it was probably my favorite animated movie from that era of the company. I even watched the unneeded sequel that came out 52 years later. There's been a fair share of different adaptations based on the classic tale, from Drew Barrymore in Ever After, Brandy in the popular television movie and Anna Kendrick in Into the Woods just months before this came out. Some hesitation was surrounding Cinderella because I can see this getting a new touch, but still questioning why another iteration was needed. But I was wrong since this remake was a surprise as it was for everyone else, probably.
Because this was another re-telling of the tale, the hype was about a 6 out of 10 since it's a story done so many times and it was unsure that this would be any different. But it looks like director Kenneth Branagh took some notes to make this with no notable changes. The reason I and some didn't care for Alice in Wonderland and Maleficent was that it didn't stick to the original and just failed to meet those expectations. And unlike both of them, the effort to make us feel like we're actually in this believable fairy tale world. Everybody who has lived knows the story, but it's told most faithfully and takes advantage to be fully imaginative in taking familiar beats and a few new ones so writer Chris Weitz (About a Boy) could expand it more than almost 80 minutes. The first act was a bit slow since we're seeing Cinderella's mother and father before their passings, but while there wasn't much new stuff after, it still unravels some charm along the way.
Most didn't know who Lily James was before this came out. She became the object of every guy's affection after delivering an amazing performance as Cinderella, giving more to the role that I didn't expect.Quite honestly, this might be my favorite actress who has played the character since James was the perfect person to embody kind and hope, even when you always feel bad when she's treated like crap by her step-family. She takes her mother's words to her heart when doing what Cinderella can to make herself happy, which makes her another headstrong female character for Disney.
Cate Blanchett, as the wicked stepmother Lady Tremaine, brought out the nasty side of her from the first frame of her along, but she does a superb job at making us feel nothing but hate for her. She only has one range throughout, which is to be bad in not caring one bite about her stepdaughter, yet you know she's going to nail it, nonetheless, when they give her character more than being cruel when she's more worried what would happen to her and her daughters after he second husband dies. Game of Thrones' Richard Madden as the Prince made for a likable counterpart to James' role, and they both had genuine chemistry where you buy these two will eventually fall in love, despite having one encounter in the woods and yet know they want to see each other again.
Taking the story to darker territory wasn't the case here as this thankfully is more on the lighthearted side watching everything come to life with its surroundings of enchantment, really beautiful Oscar-nominated costume design work from Sandy Powell, and pretty spectacular production design truly captures the wonder. Staying grounded in having the music or having the mice talk was another thing that I never took issue with. And Branagh doesn't try to make everything over-the-top when taking chances of keeping the most around the source material.
Some humorous moments didn't work that well, feeling out of place, and I can see where some will think Helena Bonham Carter as the Fairy Godmother (and the narrator) can feel like she was in a different movie, but it's a movie that follows familiar patterns, which is alright by me. But its message about being kind to everyone around while also trying your hardest to be yourself stays true to what we found from before. In life, we all should find our true love and hope they can see us for what we are.
Those who grew up watching the animation, especially young girls, might've found this another comforting film to watch for a possible new generation. As forgettable as I thought Cinderella was going to end up being, it was a surprise that's the same as being transformed into an elegant dress just in time for the ball waiting to be danced with.
Final Thoughts: Cinderella is one of the few live-action Disney remakes that's able to stay faithful to its animated counterpart in a satisfying way. Brought together with a breakout performance in the lovely Lily James, this is a delightful fantasy that'll warm anyone's heart.
Grade: B