Watched Date: 12/29/2020
I always wondered when somebody was going to have a movie with it being surrounded by the popularity of Eurovision, and it has finally come true. Even if Netflix's Eurovision Song Contest: The Story of Fire Saga doesn't hit all the notes, there will be some who'll get a kick out of it.
What's the Story: When aspiring musicians Lars (Will Ferrell) and Sigrit (Rachel McAdams) are given the opportunity to represent their country at the world's biggest song competition, Eurovision, they finally have a chance to prove that any dream worth having is a dream worth fighting for.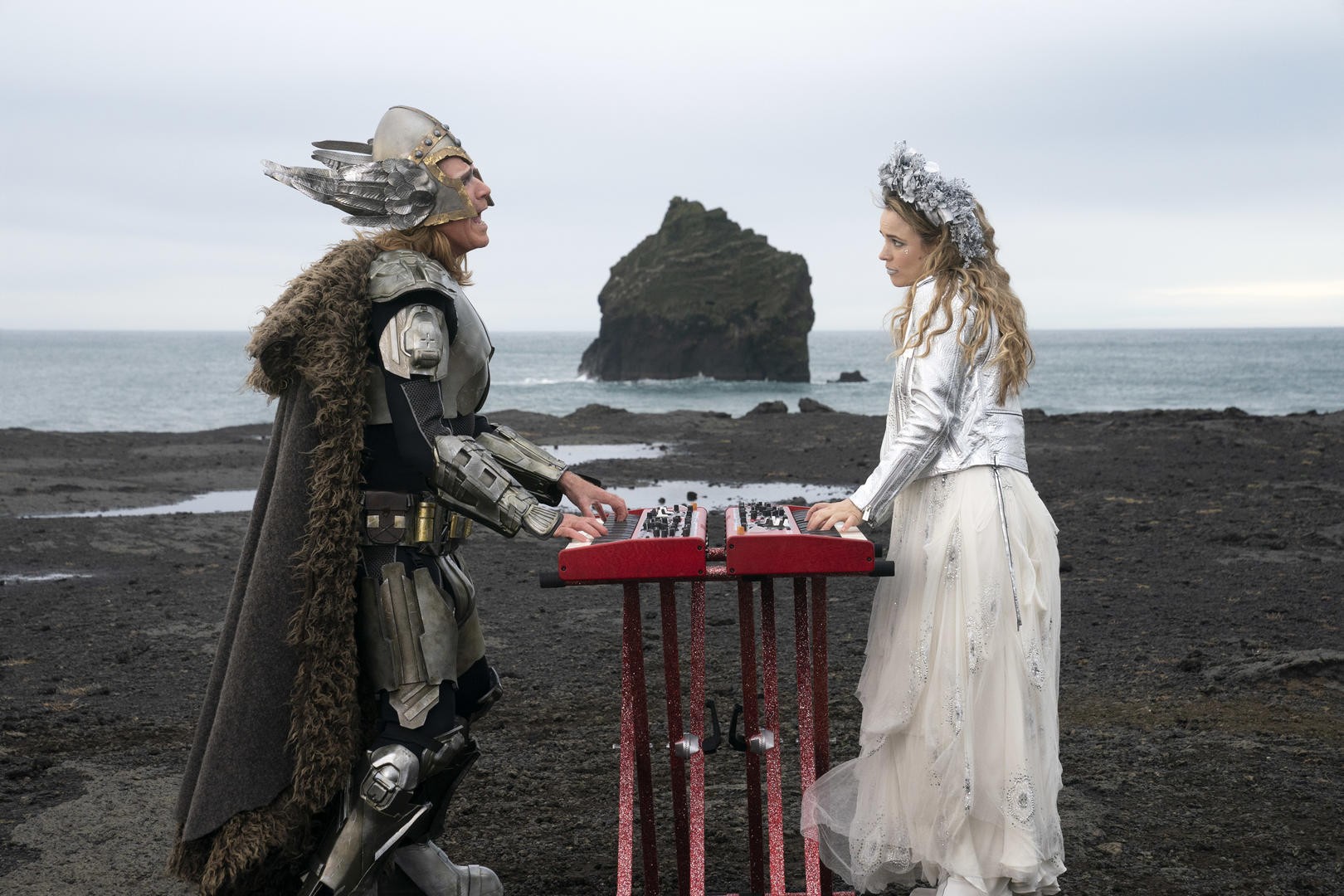 The real Eurovision is a singing competition I've heard about for about six years, to be honest, and it's where every country competes to sing original songs to the world. One of the famous artists that became successful I knew beforehand was ABBA and Celine Dion. A movie about this could easily work, but it can seem nervous with Ferrell in the lead. He's always been one of my favorite comedic actors; he just has been in a string of unfunny comedies after the other, including the Razzie-winning Holmes & Watson. With the combination of these two, you might know exactly what you're in for, and I can say this is his most consistent movie in the past five years or so.
Having prior knowledge of the titular competition could benefit your viewing experience.It stinks this past year's event had to be canceled after COVID-19 ruined our lives for the worse, but Wedding Crashers director David Dobkin brought it to the small screen, even when it should've worked a lot better. Written by Ferrell and Andrew Steele, this goes for a fairly predictable story about taking chances and finally making your dreams come true. Most of us already watched sports-related movies with Ferrell in the lead, and this isn't any different from this formula.
Speaking of which, Ferrell's performance is fine (playing the same character he usually plays) as Lars, who's been wanting to win Eurovision ever since he was a kid and still aims for this as a new middle-aged man from Iceland. On the other hand, Rachel McAdams was the best out of the two. Maybe it was because of her character I enjoyed the most, but something about her presence with her side plot worked. There was nothing wrong with them playing off each other when we all figured one has always loved the other for a long time.
The other performance who stole the show was Dan Stevens as Russian singer Alexander Lemotv, and this shows he should be in more comedic roles. He plays the role you might expect from him, which wasn't a bad thing. Pierce Brosnan as Ferrell's father, whose age difference doesn't make much sense, plays that cliche person parent who's disappointed in his child's dreams. I honestly wanted more of Demi Lovato since I was excited to see her branch out into acting, but she's not in it much, sadly.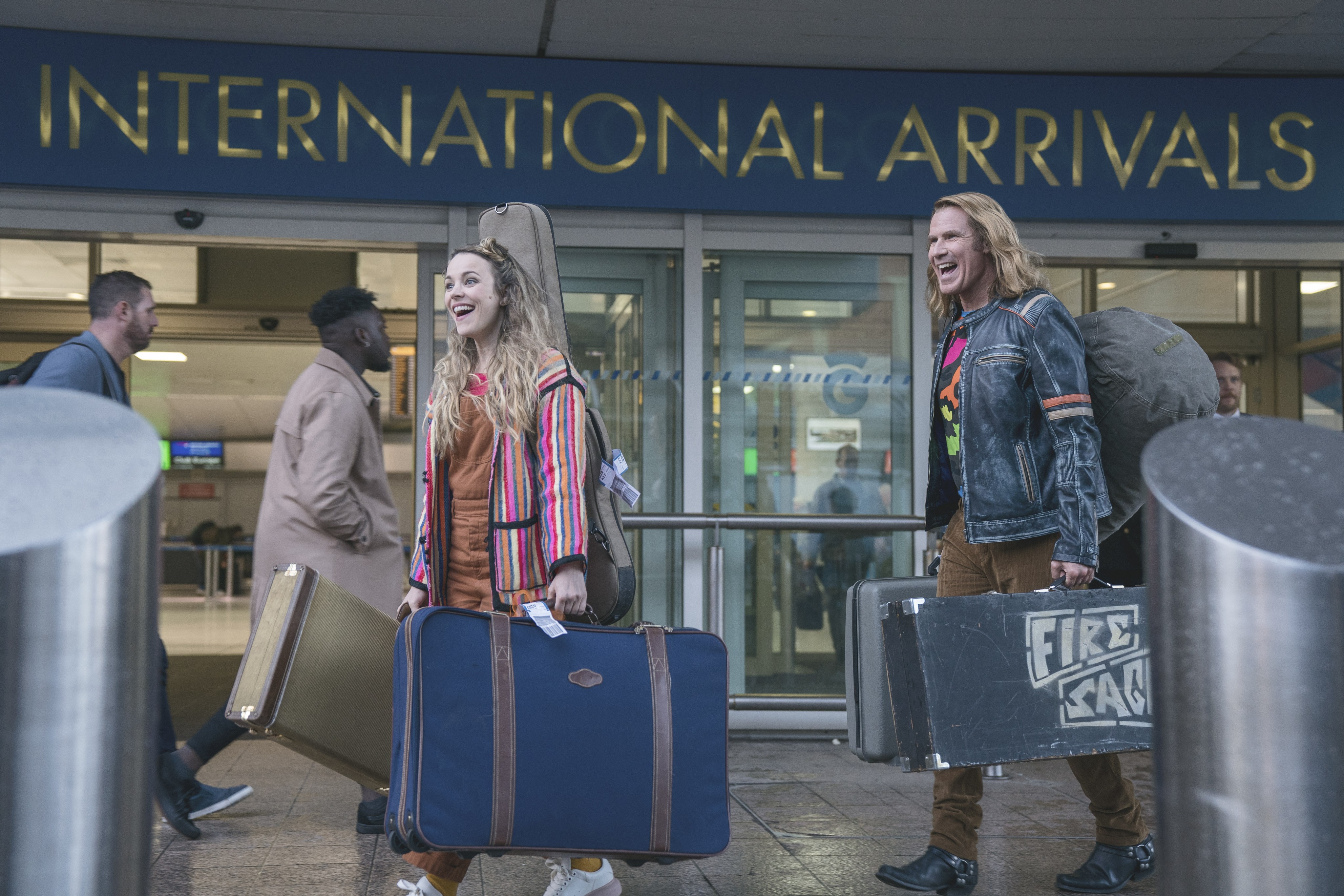 As for knowing if the comedy hits here, it needed to be more funny. There were a few laughs that came from me, but every other joke about them just didn't work or go on for too long with things overly repeated from before. And this is also a comedy that didn't need to be two hours long when it would've been fine for a nice 90 minutes if it didn't have all the padding to stretch out the runtime.
It wouldn't be a movie about Eurovision without the music. Much like the contest itself, some songs are hits and misses depending on who's singing. Some good camera work on stage, if it was meant to be a spoof of it or not. I will say I wasn't a fan of this Pitch Perfect-like moment called "Song-A-Long" when it came out of nowhere and was different from the entire movie. But the two songs I thought sounded wonderful were "Jaja Ding Dong" and "Husavik (My Hometown)," the latter of which plays at a pivotal point later on, and I couldn't stop listening to it after it was over. If there was any song, I would love to see get nominated for Best Original Song for the Oscars, the Academy needs to consider this because it's one of the best songs from a movie of the year. But like everyone else when they watched it, "Jaja Ding Dong" is so catchy, it'll get stuck in your head quickly.
Final Thoughts: Eurovision Song Contest: The Story of Fire Saga had potential to be an entertaining enough comedy, but even though it's not that funny and runs too long, it might have its fans to be pleased by its performance from Ferrell and McAdams and a couple good original songs. This is more middle ground with Ferrell's past work, though it's not saying much. Will it be forgotten in a matter of days? Probably. Grade: C+