Watched Date: 1/29/21
You gotta feel bad for the Broadway community this past year when theaters in New York were forced to shut down because of the pandemic, leaving no one could see stage plays or musicals in person for a while. Since we have to wait patiently for In the Heights to be released, Disney had the bright idea to come out with Hamilton to give the world an ounce of joy people needed right then and now.
What's the Story: The original Broadway production of the award-winning musical that tells the story of Alexander Hamilton, first secretary of the treasury, blending hip-hop, jazz, R&B and Broadway styles, filmed from the Richard Rodgers Theatre in New York.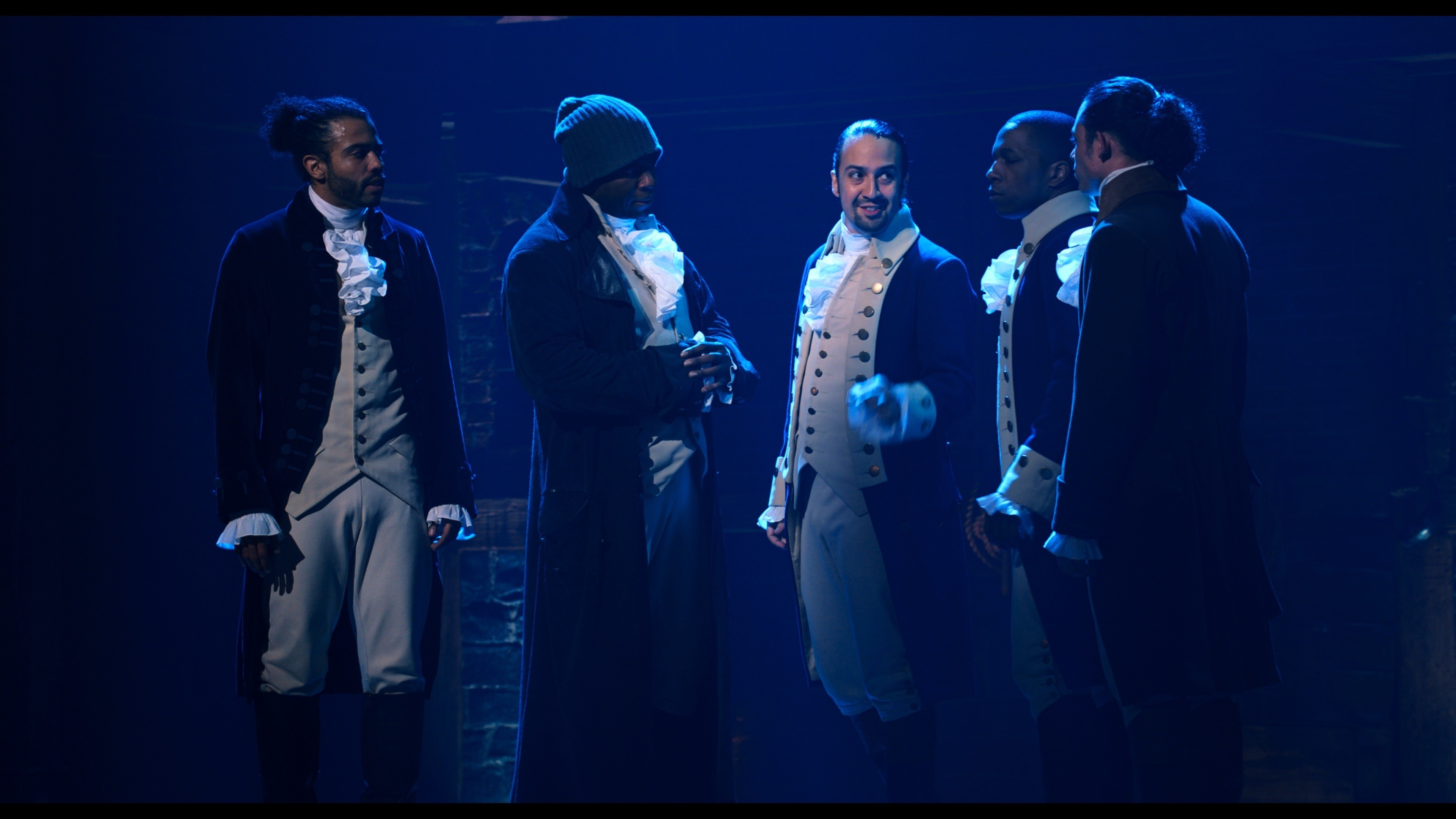 Lin-Manuel Miranda's 2015 musical about Alexander Hamilton has been the most popular and talked about Broadway show for the past few years, even after it won a whopping 11 Tony Awards. It's best known as the one show that's impossible to buy a ticket to. It came to Indianapolis two years ago and my mom saw it, and I would've gone, but the performance was at the venue I used to work at that past summer and haven't gone back since. But now those who have been dying to see it can finally can without paying over $100 as Disney bought the rights for $75 million and threw in on their streaming service (Disney+) instead of its originally planned theatrical release of October 2021. And this is coming from someone who went into this cold, never listening to the songs in advance or really knowing the history of its titular founding father. The hype has been real for years now, which made me want to lower them so I wouldn't get my hopes up. My initial first impression: It definitely has the same appeal of experiencing an actual show, which is a positive.
My assumption thought they shot this last year, but director and producer Thomas Kail made it back in the summer of 2016 Richard Rodgers Theatre over the course of three performances with the original Broadway cast before they left the original production. And this is not a film adaptation in the same vein as Dreamgirls or Les Misérables; it's just the stage musical filmed. It was hard to know how to talk about this since I didn't know I should look at this as a film or musical. In the long run, it works better than one would imagine. You're basically getting the coolest history lesson ever recorded with music and top-notch production design that just takes place on a single stage with a rotating platform. It worried me it would not leave much interest, but they pulled it off.
You're watching it, wondering how the cameras were able to capture everything with no mistakes found, and it can be immersive when you know an audience is in attendance or feeling like you're also on stage performing along with the cast. Just from glimpsing at everything else from a costume design, lighting, and choreography standpoint, they never came across as lackluster, and presenting this as a film version of the show didn't come off distracting.
History and music buffs alike will have a field day in how it recaptures the rise and fall of Hamilton more than just knowing he's on the ten-dollar bill. It's all based on the biography by Ron Chernow that not only paints a picture of American then and now, but throws a spin to its storytelling, and it's some interesting information from one who didn't research beforehand about his time in the revolutionary war and his family life. Not only that, but it gives the opportunity to present these historical figures as actual people with how the county was going to become. Having the story told his way often felt energetic and helps to connect to the characters. Just the central rivalry between Hamilton and Aaron Burr, the man who shot him, could've been an entire show on its own in what the former tried to accomplish.
Then it wouldn't be a watchable musical without a stellar cast of performers behind it. We know them now, but they weren't recognizable names yet. Lin-Manuel Miranda became a huge name after this and he's incredible as Alexander Hamilton, to no one's shock. The presence he brings to every scene he delivers is better than before, especially in the second act. The two standouts that I expected to be came from Daveed Diggs and Leslie Odom Jr. in their roles of Marquis de Lafayette (first act)/ Thomas Jefferson (second act) and Aaron Burr, respectively. You're always glued to the screen whenever they're performing, and it's important how big they were after this. Both won Tony's with their performances, by the way. Other names I don't want to forget to drop: Anthony Ramos, Renee Elise Goldsberry, Okieriete Onaodowan, Phillipa Soo, and Jonathan Groff.
But it's hard to not get obsessed with the overall music, as I can now see why it's addicting on repeat listens. Blending the genres of R & B and hip-hop with spoken word rapping in its songs fits into the time, thanks to Miranda's contribution to its lyrics. "My Shot" is the only one I heard before, but "Satisfied," "Wait for It," and "The Room Where It Happens" are solid in their own right, along with the impressive musical numbers.
Aside from a few swears taken out to keep it a PG-13, its length of 160 minutes probably will be breezy for some. It feels a tiny bit long after the first act, and that could be just me. But different from a typical narrative, it's hard to not see this as a crowd-pleasing piece suited for everyone. This is one I can't see being told as a cinematic film since it might be impossible to recapture as a feature.
Final Thoughts: Hamilton easily captures the energy and sensation first found in the stage musical and transfers it profoundly in the film version that will capture old and fresh viewers to its exciting music and show-stopping performances. A job well done that shouldn't be waited for too long to find major enjoyment. Grade: B+