We've seen plenty of erotic dramas that never amount to anything special. At least with Stanley Kubrick's Eyes Wide Shut will make you, you probably won't forget this anytime soon after it's all finished. For those who caught on early to what this means will have nothing to complain about, but for the rest of us having a hard time trying to the meaning of everything, it might be a masterpiece in disguise some needed to sit on. Even if I watched this a decade ago, having a mixed reaction makes sense.
What's the Story: Dr. Bill Harford (Tom Cruise) and his wife Alice (Nicole Kidman) are an upper-middle-class married couple living in New York City with their daughter. After she told him she contemplated having an affair with another man and other sexual fantasies she has, Bill couldn't shake the thought of it from his head. Becoming obsessed, he goes on a night-long odyssey, leading to a secret, underground party.
Eyes Wide Shut came out in the summer of 1999, and it was, unfortunately, the last movie directed by the legendary director Stanley Kubrick, who passed away on March 7 at the age of 70, five months before the release of the film and six days after showing Warner Bros. his final cut. It has taken me a long time to finally watch this because while Kubrick's filmography requires the right kind of taste to enjoy them, this was the one I heard a few polarizing opinions on. That's mainly from those who saw it in theaters 21 years ago and thought to be underwhelmed with the results, especially when it happens to be his last film. Including this, I have only watched four of his films. Trust me, I know. After finally this erotic drama, I can see why something like this will have people split down the middle, including me.
This holds the Guinness World Record for having the "Longest Movie Shoot Ever" with 400 days of production. That right, it began shooting in November 1996 and completely wrapped in June 1998. Just hearing about that sounded very odd, but you have to consider a director like Kubrick is a director who takes its time with shooting whatever he wants. The way he shot was beautiful within every scene and you can clearly see he's very meticulous with his actors, probably getting multiple takes repeatedly until it's right. From what I've heard about him, he isn't the nicest director in the world, and I can believe that, but you have to give him credit for always working his head off for crafting something ambitious. Like always, the style he brought to this felt like it immerses us into the story.
Tom Cruise and Nicole Kidman were still married when they were filming, and they already starred together in Days of Thunder and Far and Away, respectively. But of the movies they were in together, this was probably the better one to watch. They had good chemistry with each other, but I honestly couldn't tell if they were trying to work out their marriage for us to see, or the acting was too good. That said, both of them give some of the best performances of their careers here. Cruise is the main star here since he holds much of the screen time, which made me curious to know why taking on this role put a hiatus for two years for this one movie since this was the first thing we've seen him in after Jerry Maguire in 1996. Kidman doesn't have a ton of screen time like her co-star, especially together, but she's still terrific. One of the best scenes in the entire film was the entire sequence where character Alice is high and gives this honest monologue about her feelings, telling her husband about fidelity. I couldn't take my eyes off the screen when it's real acting going on. Might I also add she looks so stunning in this?
You don't go into watching anything from Kubrick without thinking how beautiful it looks, and Eyes Wide Shut is no exception. Most of the time, you honestly feel like wandering around the characters to see what the background is in how visually impressive it all is, especially when nearly every frame of the cinematography is symmetrical, from my perspective.
The story was an adaptation of Arthur Schnitzler's 1926 novella called Dream Story, with Frederic Raphael co-writing the screenplay with the director, except this takes place in the present-day rather than taking place in the early 20th-century. When I first heard about this, I went in thinking it was going to be one thing about this marriage, but it's very different from what I expected. Because of that, I had no clue what was going on when it goes into the second act. We see Bill's rush of the night unfold as he encounters a series of encounters for what doesn't seem like it takes place for an entire night, from almost sleeping with a hooker named Domino (Vinessa Shaw) to meeting one of his old friends Nick Nightingale (Todd Field) about this secret sex party to getting the proper costume from a shop, witnessing the owner's young daughter (Leelee Sobieski) sleeping with older men.
As soon as Bill arrives at the secret society where people are wearing masks and having orgies, weirded out might be an overstatement. Does it become more in line with a porno when with the graphic sex happening? Not quite. Speaking of the masks, they are freaky to look at, and anytime where a scene has a dozen people wearing masks, this is the first thing that will be referenced. I didn't go in thinking it would be everything but sex scenes galore, yet those who have gone deep into the thematic imagery into this might understand it better than me or most people. And if you're looking for an alternative Christmas movie to watch, no one is stopping you from watching this.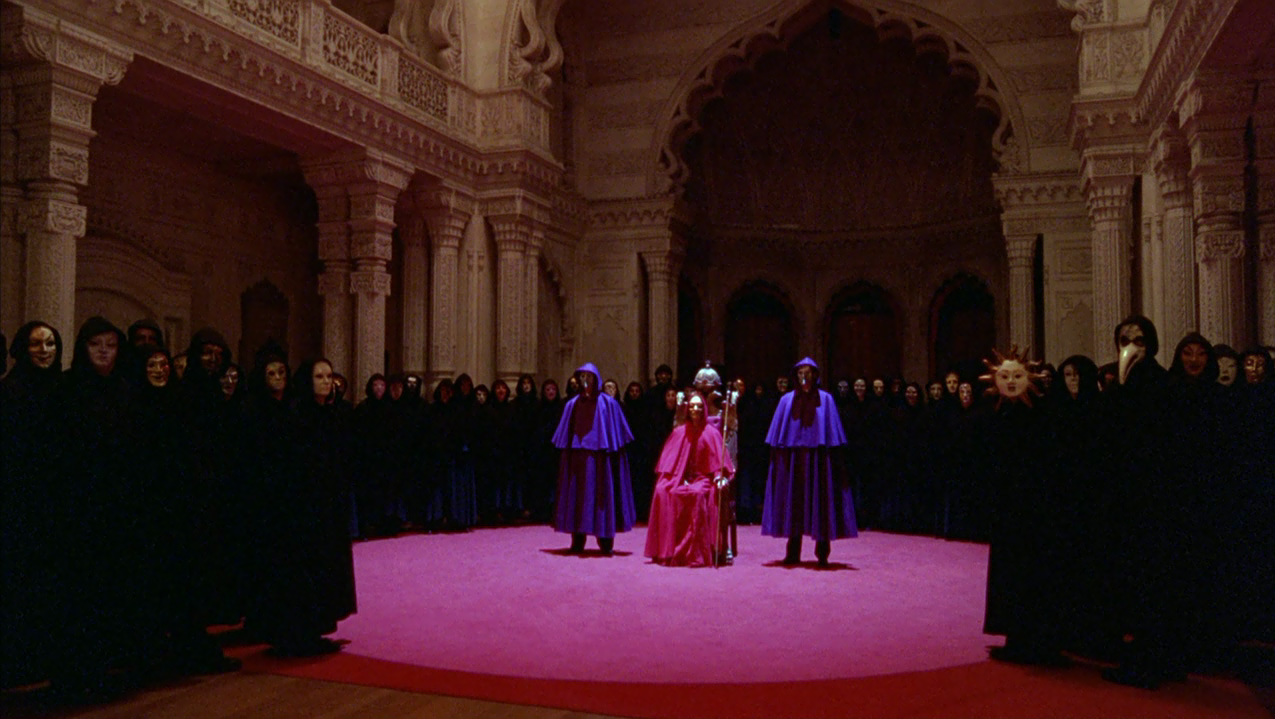 The pacing (159 minutes) becomes very tedious right when Cruise enters the party, and it's not common for Kubrick movies to go too long, but I don't exactly know if this was meant to be longer for what he originally envisioned before he died. So many scenes go on for a long time with characters talking for over five minutes, or Cruise walking a lot, for some reason. Long as it was, you can just imagine the countless takes both actors must've done to make it all worth it. Much like his previous work, my thoughts could change over time and think about the film in a new light, finding a new understanding from a fresh perspective in appreciating it. Some have said there's a theory about Cruise's character and what's been going on has all been a dream. I wouldn't buy into that if that were true.
Eyes Wide Shut is one of those dramas that will have filmgoers either loving or hating it, depending on your stance for the late director. For me, I have to think about it to understand it more and what it all means in the end and if it stays with me for a long time. Aside from the pacing and moments where you're not sure if you should be engaged in what the story brought, it's a well-shot drama with excellent performances from Cruise and Kidman. This is something most might not like, and it's pretty easy to see why without questioning it.
Grade: C+