While writer/director Cameron Crowe doesn't have a ton of films in his career, he always knows how to make the simplest of premise worth watching, which is enough to give most of them a re-watch anytime it comes to mind. But out of his feature films, 1996's Jerry Maguire has always been my favorite from him that managed to be the quintessential film combining a comedy, drama, romance, and even a sports movie all in one. Even when he just had three movies at that time with Say Anything… (1989) and Singles (1992), what's not to love?
What's the Story: When slick sports agent Jerry Maguire (Tom Cruise) has a crisis of conscience, he pens a heartfelt company-wide mission statement about how we should care about fewer clients and care personally relationships about the players that promptly gets him fired at SMI (Sports Management International). Desperate to hang on to the athletes that he represents, Jerry starts his own management firm, with 26-year-old single mother Dorothy Boyd (Renee Zellweger) joining him in his new venture. Banking on their sole client, football player Rod Tidwell (Cuba Gooding Jr.), Jerry and Dorothy begin to fall in love as they struggle to make their business work.
I was born the year Jerry Maguire came out in theaters and won everybody's heart. Recalling the first time I watched it would be hard since it was around the time I was catching up on movies everybody has been talking about, mainly those that grossed a ton of money at the box office. Something like this could've fallen flat entirely if it didn't depend upon its performances and a good script in hand, yet what we have here is a comedy-drama every living person needs to see at least once in their life.
Tom Cruise gives one of his best performances here as the title character. I'm not kidding when I say it's in my top 3 of his, and he has never looked more handsome. This is the kind of performance that needed for the character to be part energetic, part sympathetic when a scene calls for him to be emotional. In the same year he also came out with the first Mission: Impossible and still regarded as the action star we know already, we forget how great of a dramatic actor he is with his ranges and all. The character of Jerry is someone determined to get everything done in life when putting everything on the line while getting back to who he used to be. We, as the viewer, feel for him speaking his mind and was just hoping for anybody to understand where he's coming from and come back on top. You can say he's playing himself, but this is the best at him playing himself, especially when he's drunk and wearing shades at night. Could you even imagine Tom Hanks, my second favorite actor, played his part since Crowe has written this for him? Honestly, that's a thought I couldn't think about.
Without the rest of the supporting cast, the film wouldn't have worked at all when working alongside its main actor. Renee Zellweger is simply charming as Dorothy Boyd, who went along with Jerry after agreeing with his mission statement, and the connection between her and Cruise was very good while some might feel the romance wasn't all that memorable. Their chemistry was very believable.
Cuba Gooding Jr. as Rod Tidwell is the role that catapulted him into a big star after this and also his breakout role in Boyz N the Hood this as an Arizona Cardinals wide receiver who has a bit of an attitude problem and doesn't really play well not only on the field but doesn't know how to have a heart. Knowing his career hasn't been the best for him with a long string of terrible movies to his name, but he brought a ton of charisma to his performance that makes it impossible to dislike his character, and Cruise also brought the same chemistry he shared with Zellweger with him. Jonathan Lipnicki was adorable as Dorothy's son Ray, and this was only his acting debut. Because of his performance, I will always remember the fact about the human head weighing eight pounds. This also had future Oscar-winner Regina King, who doesn't age a bit, Kelly Preston, Bonnie Hunt, and Jay Mohr.
Crowe being both writer and direction on this plays with his strength much more when this was only his third movie about focusing on actual humans and goes on with their daily lives. What I've always loved about his earlier films is that his dialogue always sounded natural, people actually saying we've come to expect from them. He spent three years writing the screenplay, and real-life sports agent Leigh Steinberg inspired it. This didn't make me want to become a sports agent since I would have no clue of what I'm doing, but the main focus is not just about our lead being the best agent he can be, but finding the benefits of life and the kind of passion of getting through the difficult pathways, reminding everyone that we need love and success that makes us happy. Even for those like me who don't care about sports, you're always invested with what's going on with the drafts and contract information being talked about. The messages it offers is that life takes its time to figure out what's crucial for those who are at the top of the world and finding the people who are willing to stick with you, no matter what.
This does have it's well-earned heartfelt moments that didn't rely on them being cheesy, but the humor is very subtle without having a joke last too long. The funniest moment was when Jerry and Dorothy leave the office after he said he was about to start his own company, everybody was completely silent, and they just went back to work like any normal work shift.
While his directorial debut Say Anything… has the iconic scene where John Cusack's Lloyd Dobler holds to boombox outside Ione Skye's house, some of the most memorable moments from Crowe's work comes from here, and for good reason to why it's one of the most quotable movies ever in pop culture. Anybody who hasn't even seen Jerry Maguire would easily recognize some of the best lines in film history, from "Show me the money!" when Jerry's on the phone with Rod to keep him on as a client to "Help me help you." But one of my favorite scenes ever comes towards the end when Jerry flies back to Dorothy to win back her heart and gives this fantastic monologue, showing why Cruise never gets enough credit for his dramatic, with him saying the most romantic line in anything, "You complete me", followed by Dorothy saying, "You had me at hello."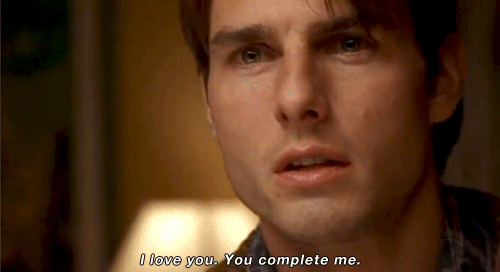 It also has a cool soundtrack that's always needed to make a movie from the director feel complete. Probably the most popular track is Bruce Springsteen's "Secret Garden," which gained more popularity after this came out. I also love the moment where Jerry was singing Tom Petty's "Free Fallin'" in the car after finding the perfect tune made me remember why I always sing that song while I'm driving. So, thank you, Crowe, for your good taste in music.
As for any flaws I might've had with the film, it runs longer than expected when it shouldn't have been almost two-and-a-half hours.
Along with this being the fourth highest-grossing film of 1996 (domestically), its positive acclaim leads it to five Oscar nominations, including Best Picture, Director, Actor, Original Screenplay, and Editing, with Gooding Jr. winning Best Supporting Actor. This might be a little biased, but Cruise should've won Best Actor over Geoffrey Rush for Shine. I haven't seen it, but his performance was one of the few that left a great impression in the following years. The "You Completely Me" scene alone is worthy of a win. At least he won the Golden Globe, though.
Jerry Maguire is one of those movies of the decade and now reminding us about how life can be the most stressful trait within ourselves, but it's important to know we should be inspired to do what we can to make us better people. Leave it to Crowe for giving us an unforgettable film in his filmography that made his name more noticed afterward, offering a great script and memorable performances, especially from Cruise. This film completes me, and it had me at hello.
Grade: A-